Mzansi Family Shares Journey From Township to Suburban Bliss in Viral TikTok Video
A South African family from the township recently shared their remarkable achievement of purchasing a stunning new home in the tranquil suburbs.
In the heartwarming TikTok video, a woman can be seen soaking in the moment as she chills by the pool
The post garnered a wave of positive and heartwarming comments from netizens, who were moved by the family's success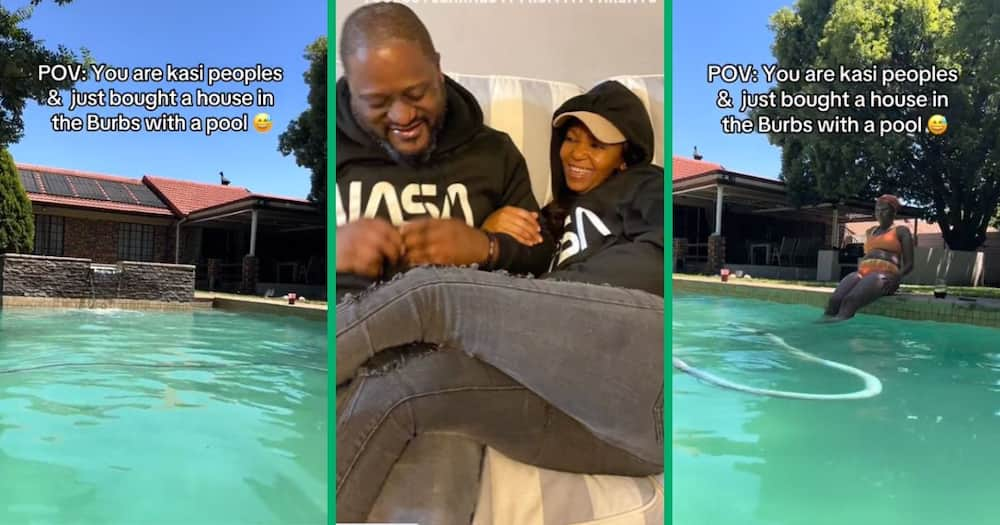 A South African family from the township recently shared their pride in buying a new house in the suburbs.
From ekasi to the 'burbs
They had finally left the bustling kasi, leaving behind the cramped quarters and constant noise for a new home, a sense of calm and tranquillity.
A video shared by @nthatimoropodi shows the beautiful home, which boasts a large pool, as a woman basks in the beautiful moment before jokingly asking her husband why she is recording a video of her.
The video was captioned:
"POV: You are kasi people and just bought a house in the burbs with a pool."
Such a move is inspiring and could be considered an achievement.
It often represents a family's hard work, determination, perseverance, and desire to provide a better life for their loved ones. It can also be a symbol of upward mobility and social advancement.
Mzansi shows the family love
Many netizens reacted to the video with positive and heartwarming comments. Others congratulated the family on their new and beautiful abode.
user1784599714487 wrote:
"It's been a year since I bought mine. But I've never used the poolaii I don't know where the excitement went ."
user9948185684993 said:
"My parents did this Then we learnt to swim from our friends and taught our parents how to swim. Congratulations!! ."
Nonty_M replied:
"Absolutely beautiful!!! Congratulations ."
m_mokoena said:
"Me and my husband while the kids enjoy but Heei we even buying digital things and we can't use them ."
blissfulafrica commented:
"Your home is beautiful enjoy summer in your pool area."
amandascheffers65 replied:
"Mara sis ."
Woman's newly painted pink house gets rave reviews
In another story, Briefly News reported that owning a home can be a major accomplishment, giving you a sense of pride and satisfaction.
A 22-year-old woman took to social media to show off her recently painted pink house.
Owning a home can give you a sense of stability and security. You will have a place to call your own, and you will not have to worry about moving out if your landlord decides to sell the property.
Source: Briefly News