DA Leader John Steenhuisen Makes Scathing Remarks About High Unemployment As SA Celebrated Workers' Day
John Steenhuisen's Workers' Day message paints a grim picture of unemployment and the cost of living in SA
The DA leaders said there was no cause for celebration as millions of South Africans don't have jobs and are struggling with unemployment
Steenhuisen encouraged citizens to vote the ANC out in favour of the DA-led moonshot pact in the 2024 elections
CAPE TOWN - The leader of the Democratic Alliance, John Steenhuisen, has questioned how South Africans can celebrate Worker's Day when unemployment is at an all-time high.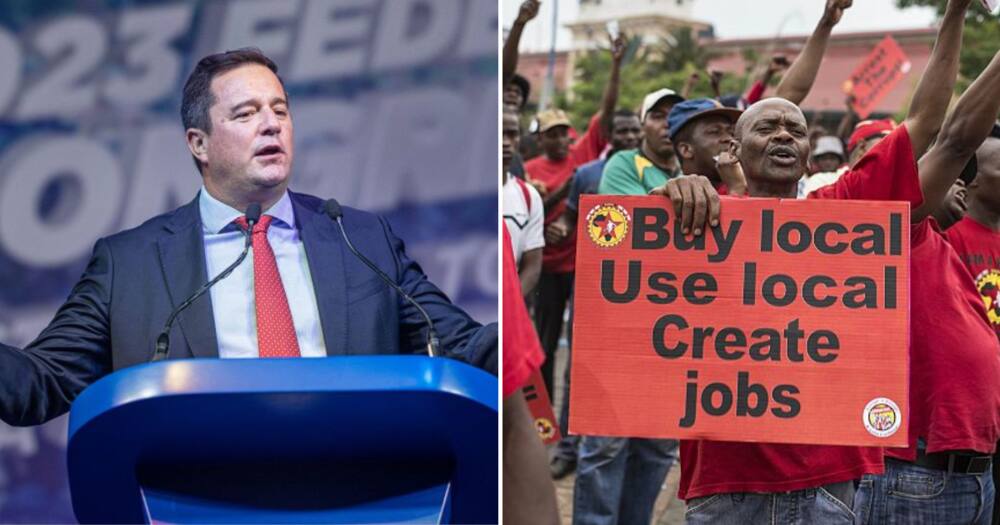 John Steenhuinsen laments unemployment in Workers' Day message
In a video posted on the DA's Twitter page, Steenhuisen said there was little to celebrate as youth unemployment in SA stand at 56% while weres who do have jobs can barely make ends meet because of soaring food and electricity prices.
While lamenting the state of the job market and economy, the DA leader poised his party as a solution. Steenhuisen said the DA-led City of Cape Town and the Western Cape government were doing everything possible to create jobs and an environment for entrepreneurs to succeed.
Steenhuisen encouraged South Africans to use their vote in the 2024 elections to swap out the "job-destroying ANC government" with the DA's moonshot pact government that would create jobs.
Parliament's presiding officers pay tribute to SA workers on Workers' Day
Meanwhile, Parliament's presiding officers National Assembly Speaker Nosiviwe Mapisa-Nqakula and National Council of Provinces chairperson Amos Masondo released a statement paying tribute to workers.
According to News24, the pair praised workers for pushing against the oppressive labour laws of the colonial and apartheid eras.
SA divided by John Steenhuisens Workers' Day message
Below are some comments:
@bnzmanoba said:
"Well said, John ANC no longer wants to make a change."
@BThaboDitsele claimed:
"It will be a bridge too far, I'm afraid."
@DeonTrytsman commented:
"It should be called R350-00 day instead."
@Indepentdepend1 suggested:
"He must raise that within the alliance structures ( DA/ANC)"
NUMSA slams ANC for "29 wasted years", saying Workers' Day comes as SA battles poverty and unemployment
In a related story, Briefly News reported that the National Union of Metalworkers of South Africa (Numsa) has taken a swipe at the ANC for wasting 29 years.
This comes as the country celebrates International Workers' Day on Monday, 1 May. Still, Numsa claims that the holiday comes as South Africa is contending with high levels of unemployment, poverty and inequality.
The union said the working class gave the ANC government a mandate through the 1994 elections. However, the party could not rise to the occasion after almost three decades in power, TimesLIVE reported.
Source: Briefly News