Aurora Expeditions' Ocean Explorer: Ship Charging Over R600K per Person Stuck in Freezing Arctic
Luxury ship Ocean Explorer has run aground in Alpefjord, which is located approximately 1 400 kilometres northeast of Nuuk, Greenland
Australians on board the Ocean Explorer are reportedly in high spirits despite cases of COVID-19 on the ship
Reports from Danish authorities indicate that the earliest a rescue vessel could reach the ship was Friday morning; according to Danish authorities
GREENLAND - Australian luxury cruise liner Ocean Explorer has found itself stranded in the icy grip of the Arctic.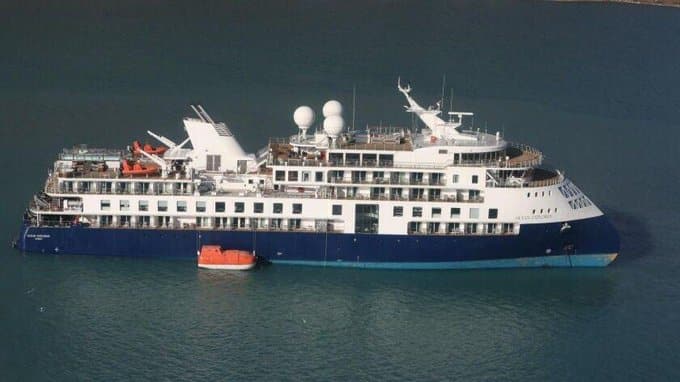 Cruise ship runs aground in Greenland
The ship, which was ferrying 206 passengers and crew, was navigating through the waters of Alpefjord, Northeast Greenland National Park.
According to the New York Post, Aurora Expeditions' Ocean Explorer, known for its hefty ticket price tag of more than R600K per person, ran aground in a remote area of Greenland on Monday, leaving it stuck in the freezing Arctic next to a glacier.
Reports have emerged that several cases of COVID-19 have been confirmed among the passengers on the luxurious vessel.
Retiree Steven Fraser, who is on board the Ocean Explorer with his wife Gina Hill, told The Sydney Morning Herald he contracted the virus aboard the ship.
"Everyone's in good spirits. It's a little bit frustrating, but we are in a beautiful part of the world. We're sitting right near the glacier," Fraser said.
Adding:
"We do have a couple of cases of COVID, but there's a doctor on board. A lot of people on board are quite elderly."
The crew of the ship have attempted to make it lighter in an attempt to free itself from the ocean floor, which is a mixture of sediment and silt from the nearby glacier.
The ship sank. Or did it? Titanic misinformation swirls
In another story reported by Briefly News, the Titanic inspired an emotional appeal blockbuster and expeditions to its watery gravesite - including a fatal one this week - but viral TikTok videos peddle a stunning conspiracy theory: the ship never sank.
More than a century after it went down in the North Atlantic Ocean, wild myths and urban legends about the luxury liner have continued to swirl, including that it was doomed by the curse of a mummified Egyptian priestess.
Source: TUKO.co.ke