Ace Magashule Wants Court to Reverse His Suspension & Suspend Ramaphosa Instead
- Embattled ANC secretary-general Ace Magashule wants the court to lift his suspension and instead suspend party president Cyril Ramaphosa
- The suspended SG alleged that he is being victimised by Ramaphosa's faction in the ruling party
- Magashule also reportedly wants the party's "step-aside rule" as well as his suspension letter from Ramaphosa to be declared unlawful
PAY ATTENTION: Click "See First" under the "Following" tab to see Briefly.co.za News on your News Feed!
Suspended ANC secretary-general Ace Magashule reportedly wants the Gauteng High Court in Johannesburg to reverse his recent ANC suspension. Magashule has asked the court to suspend the party's president Cyril Ramaphosa instead.
Magashule has served the ANC, Ramaphosa - in his personal and ANC capacity - and deputy secretary-general Jesse Duarte with court papers. In the documents, Magashule claimed that he is a victim of Ramaphosa's faction in the ANC. The court papers surfaced on Friday morning, 14 May.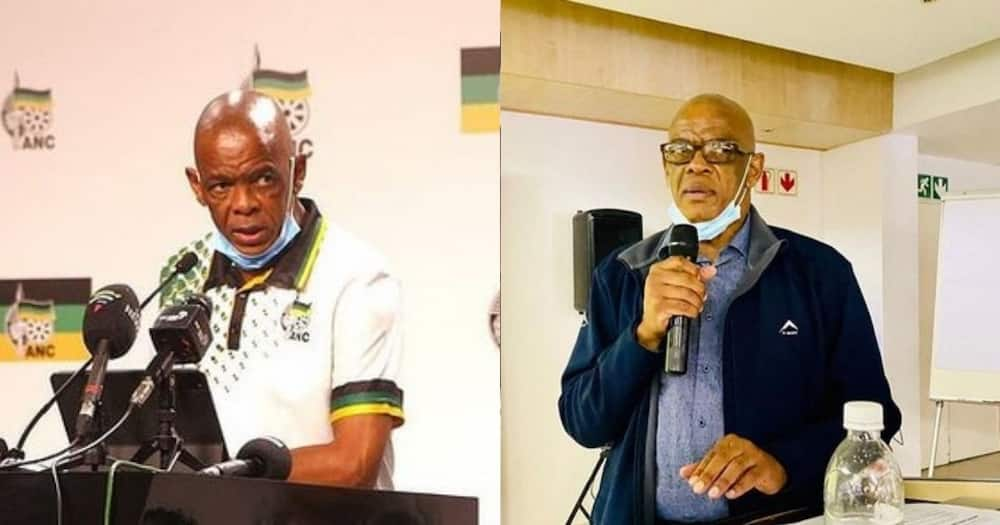 News24 reports that Magashule asked the court to hear the case on 1 June on an urgent basis. He also wants the party's "step-aside rule" as well as his suspension letter from Ramaphosa to be declared unlawful, unconstitutional and invalid.
The publication said Magashule also wants his suspension of Ramaphosa to be declared valid and effective until lawfully nullified. He also wants the court to declare the instruction for him to apologise to Ramaphosa for trying to suspend him unlawful.
TimesLIVE reports that Magashule also urged the court to declare unconstitutional the ANC's entire step-aside rule.
The outlet said the resolution was first adopted by the ANC's national conference in Nasrec in 2107 and was recently fine-tuned by the party's by the party's national executive committee for full implementation. It dictates that ANC members facing corruption or criminal charges should voluntarily step aside from their positions.
SABC News added that Magashule has until the end of business on Friday to publicly apologise to ANC structures for sending a letter of suspension to Ramaphosa. He will face further action if he fails to do so.
Earlier this week, the ruling party said it would further discipline Magashule if he did not apologise for trying to retaliate against Ramaphosa for his suspension.
Social media users have shared mixed thoughts on Magashule's action. Check out some of their comments below:
@ErnaLandman wrote:
"This is a circus. These politicians can do want they want and the tax payer has to foot the bill. Maybe rather use that money on something worthwhile... Healthcare or vaccinations?"
@Sibzwarona commented:
"This man loves playing games man. Let them tear each other apart, the country has always been on autopilot since 1994. The people they claim to represent remains very poor and hopeless."
@iLovePrecious97 said:
"This circus show doesn't seem like it's gonna end soon."
@duanefield40 wrote:
"I hope decisive action will now be taken against this flagrant disregard of ANC policy. He must be disciplined."
@KlaasGcino said:
"Ace is just desperate now. I thought he said charges against him are flimsy and weak, if he is innocent why does he not wait for his day in court and clear his name then he can take action against those who wronged him."
@TakaAkhanya added:
"What is he opposing really... Doesn't he form part of that particular decision??"
PAY ATTENTION: Never miss breaking news – join Briefly News' Telegram channel!
In other news, Briefly News reported that fighting corruption is one of the key focus points for Cyril Ramaphosa in his presidency. However, the head of state has been battling to unite his party in his quest to rid it from corruption.
On Wednesday, while speaking at the 150th birthday celebrations for Charlotte Mannya Maxeke in the Eastern Cape, Cyril Ramaphosa warned ANC members that being divided could be the party's downfall.
IOL reported the ruling party dedicated this year to the late struggle stalwart by declaring it 'The Year of Unity, Renewal and Reconstruction in the Year of Charlotte Maxeke'.
Ramaphosa made a plea with the ANC Youth League to assist in uniting the ruling party ahead of a movement to suspend many members should they refuse to step aside at the end of the month. The president reminded members of the elected leadership's mandate to unite and renew the ANC.
Enjoyed reading our story? Download BRIEFLY's news app on Google Play now and stay up-to-date with major South African news!
Source: Briefly.co.za