Magawa: Heroic Rat that Received Gold Medal for Detecting Explosives Retires
- Tanzania-born Magawa had an illustrious five-year career that saw him directly save the lives of people impacted by hidden explosives
- His handlers the Cambodia-based African giant pouched rodent has become slow and sluggish but in good health
- In September 2020, Magawa received a gold medal for his bravery, devotion to lifesaving and diligence on duty
PAY ATTENTION: Click "See First" under the "Following" tab to see Briefly.co.za News on your News Feed!
A hero rat celebrated for its ability to detective landmines is about to embark on a well-deserved retirement.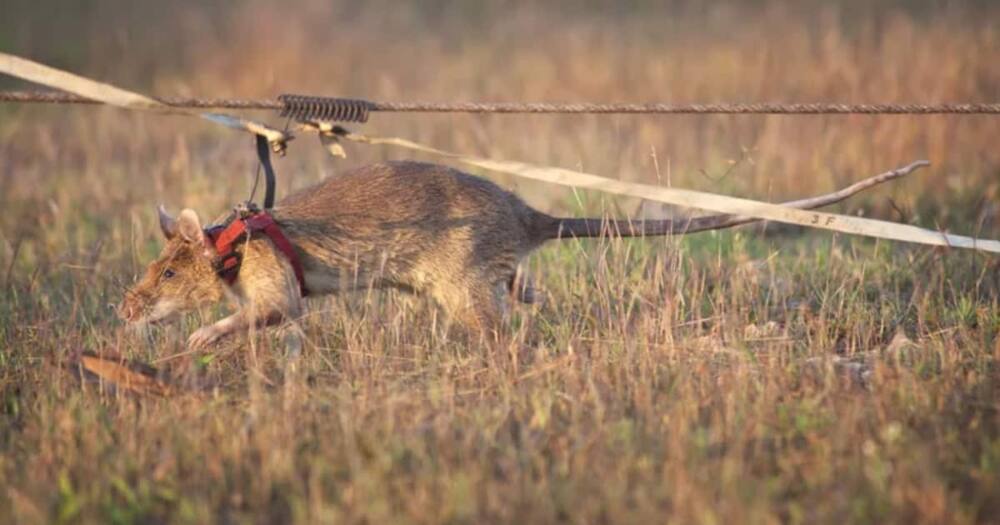 Tanzania-born Magawa had an illustrious five-year career that saw him directly save the lives of men, women, and children impacted by hidden explosives and war remnants.
PAY ATTENTION: Never miss breaking news – join Briefly News' Telegram channel
According to APOPO, an organisation that trained Magawa, who is now based in Cambodia, the African giant pouched rodent has become slow and sluggish but in good health.
"Although still in good health, he has reached retirement age and is clearly starting to slow down. It is time," APOPO said on Thursday, June 3.
The hero rat was born in Tanzania in November 2014. He grew up at APOPO's Training and Research Centre in Tanzania, where he learned how to sniff explosives.
Magawa then moved to Siem Reap in Cambodia in 2016, where he began his successful career.
During his career, Magawa found 71 landmines and 38 items of unexploded ordnance, making him APOPO's most successful hero rat.
Over the past five years, he has helped clear over 225,000 square metres of land, allowing local communities to live, work, play and be educated; without fear of losing life or limb.
Gold medal award
In September 2020, Magawa received a gold medal for his bravery, devotion to lifesaving and diligence on duty. Magawa was formally presented with the miniature PDSA Gold Medal, the George Cross's animal equivalent.
In other news about animals, Briefly News recently reported on a shockingly big snake that has just been dug out of an Australian toilet. A video of the unusual incident was shared online, but apparently, events like these are pretty normal down under.
The clip was shared on Twitter by the online news platform @nowthisnews. While an 8-foot snake in the toilet may come as a surprise to other people, it's clear from the clip that locals handle the lethal animal with familiar ease.
The carpet python was carefully removed by wildlife volunteers who helped the animal find a suitable home. They say it took some 'encouraging words and gentle persuasion but the job was done. recently
Enjoyed reading our story? Download BRIEFLY's news app on Google Play now and stay up-to-date with major South African news!
Source: Briefly.co.za