Young Conservationist, 9, Dedicates His Next Birthday to Planting 250 Trees
A dedicated young man from the KZN province has high hopes of saving the environment, dedicating his 10th birthday to the planting of over 250 trees
Incredibly, the conservationist has also completed 162 beach clean-ups to date, planted over 26 trees across 4 continents, and last year he raised over R31 000 at such a tender age
The inspiring boy hopes to encourage other children to take care of the environment with every new act of selflessness
PAY ATTENTION: Click "See First" under the "Following" tab to see Briefly.co.za News on your News Feed!
Romario Valentine is a 9-year old boy with a real passion for the environment. The pint-size planet warrior from Umhlanga, Durban, has dedicated the last 4 years of his young life to protecting our planet.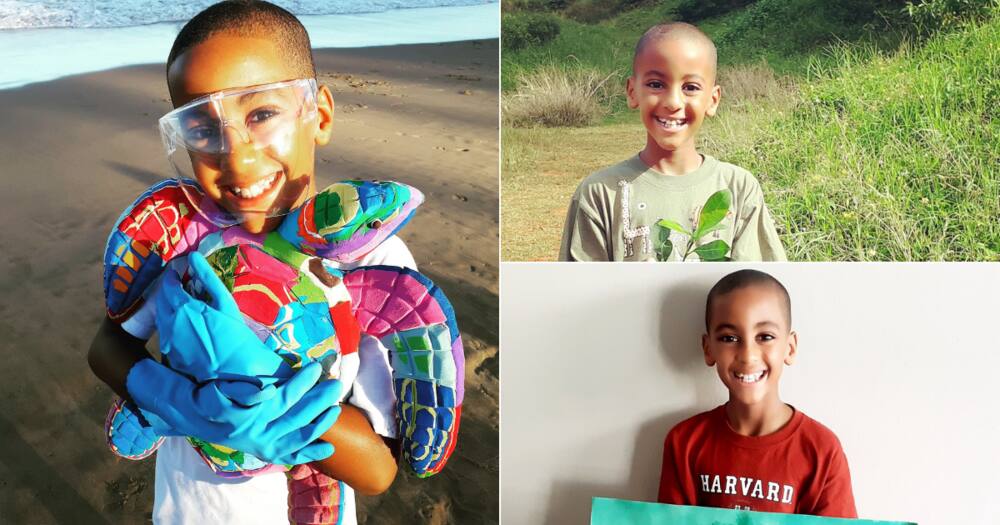 He has remarkably completed 162 beach clean-ups to date, planted over 26 trees across 4 continents, and last year he raised over R31 000 to go towards nature conservation efforts.
A Rising star
Although the little man is only in grade 4, Romario has quickly become a rising star in the conservation space.
He recently made history by becoming the youngest Ambassador for Ocean Sole, an industrious Kenyan company that recycles beach waste, turning the items into vibrant arts and crafts which can be resold.
He's also been featured by The United Nations, National Geographic Kids and Global Citizen for his inspiring work and activism. The rising star even appeared as one of 35 activists in "What a Wonderful World" a book by Leisa Stewart-Sharpe and Lydia Hill.
Romario wants to plant 10 trees for his 10th birthday
Romario celebrates his 10th birthday on 26th July and staying true to his selfless nature, he has once again decided to forgo birthday gifts to instead raise R30 000 on Backabuddy, to support two charities close to his heart, Birds of Eden and Zeitz Foundation
He also hopes to plant 250 trees, in line with the Zeitz Foundation's goal to plant 1 million Acacia trees over the next 10 years to help decrease the effects of climate change and increase our biodiversity.
"I would like to see an International Children's Tree planting day. Where world leaders and tree organisations team up with schools and communities to plant trees together. Children involved in reforestation programs from a young age, will help them become better citizens for the environment and slow down global warming," says the inspiring global change-maker, Romario
PAY ATTENTION: Never miss breaking news – join Briefly News' Telegram channel
Kind mailman returns Father's Day letter sent by girl to her dad in Heaven
A kind mailman touched many hearts after returning a letter from an eight-year-old girl to her deceased father.
According to the girl's mother, Sarah Tully, she was overwhelmed when the postman returned the letter.
Narrating how her daughter Sianna ended up writing the letter, Tully said the young girl wanted to celebrate her dad, who passed away when she was just four months old.
On Father's Day, the little girl begged her mother to let her post a letter to him. Tully's daughter asked her where her daddy lives, and she replied:
"Heaven on Cloud Nine."
Sianna wrote the letter in private, and they posted it.
When the kind postman came across the letter in Leicester, UK, he feared it would be thrown away because it did not have a stamp.
"Obviously, without a stamp or an actual address on it, it would just end up getting thrown away," he said.
He then spoke to his manager, seeking permission to trace the family and return the letter. He posted a photo of the letter on Facebook, and it got thousands of comments.
"I emptied mailbox, and there was a letter in a child's handwriting addressed to their dad in Heaven, Cloud 9. I'm trying to find the parents of the child as I would like to reach out to them," he wrote in part.
According to the mailman, he recently lost his father, and his heart went out to the child.
Within 15 minutes of posting the letter online, social media users linked Simon Sianna's mother, and on June 22, he returned the letter.
Enjoyed reading our story? Download BRIEFLY's news app on Google Play now and stay up-to-date with major South African news!
Source: Briefly News