It is easy to incorporate banting in your daily life. This low carb high fat dieting method has proved very helpful for people trying to lose weight while maintaining healthy fats in their diets. Since it is a low carb and high fat diet, it is abbreviated as LCHF. It is also called the keto diet because the low level of carbohydrates in your diet puts your body is a metabolic state known as ketosis. If you have been looking for banting dinner ideas, listed below are banting recipes with mince. Not only do these easy banting recipes maintain the banting diet they also taste heavenly and are very easy to prepare. Keep reading to get these banting mince recipes.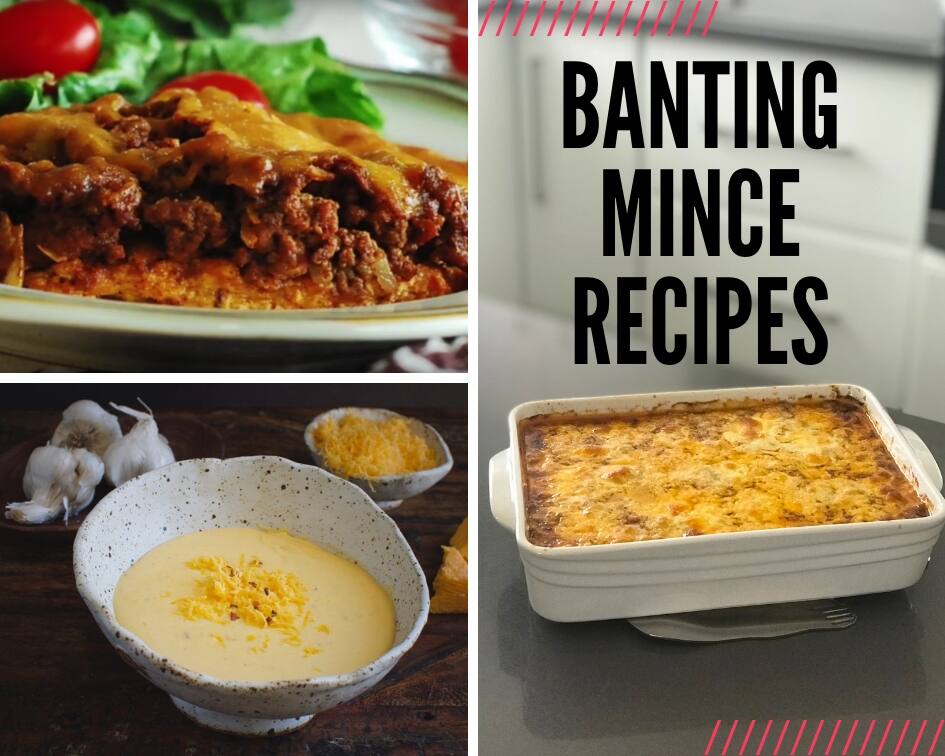 READ ALSO: Banting dessert recipes
Cheesy baked mince
This is a very cheesy, tasty mince banting recipe which makes the mixture of mince and cheese taste phenomenal.
Ingredients
1 kilogram of minced beef
250g of cream cheese
100g of grated cheese (half mozzarella and half white cheddar)
70g tin of tomato paste
2 cups of tomato sauce
½ cup of water
2 tablespoons of coconut oil
1 red chili (optional)
Method of preparation
Start with frying the tomato paste in a saucepan. Add the coconut oil and minced beef to the paste.
Once the meat is cooked, add the water, chili and tomato sauce. Let this simmer for a few minutes until it is fully cooked.
Preheat the oven to 180 degrees Celsius.
Place a layer the mince on a small dish. Then cut the cream cheese into slices, and place these on top of the minced beef.
Layer the cheese and mince alternating from one to the next ensuring the cheese is on the top.
Bake this in the oven for 30 minutes until the cheese on top appears bubbly and golden.
Bacon and mince beef burger casserole
This meaty mince recipe is just ideal for a banting dinner. The whole family is guaranteed to love it.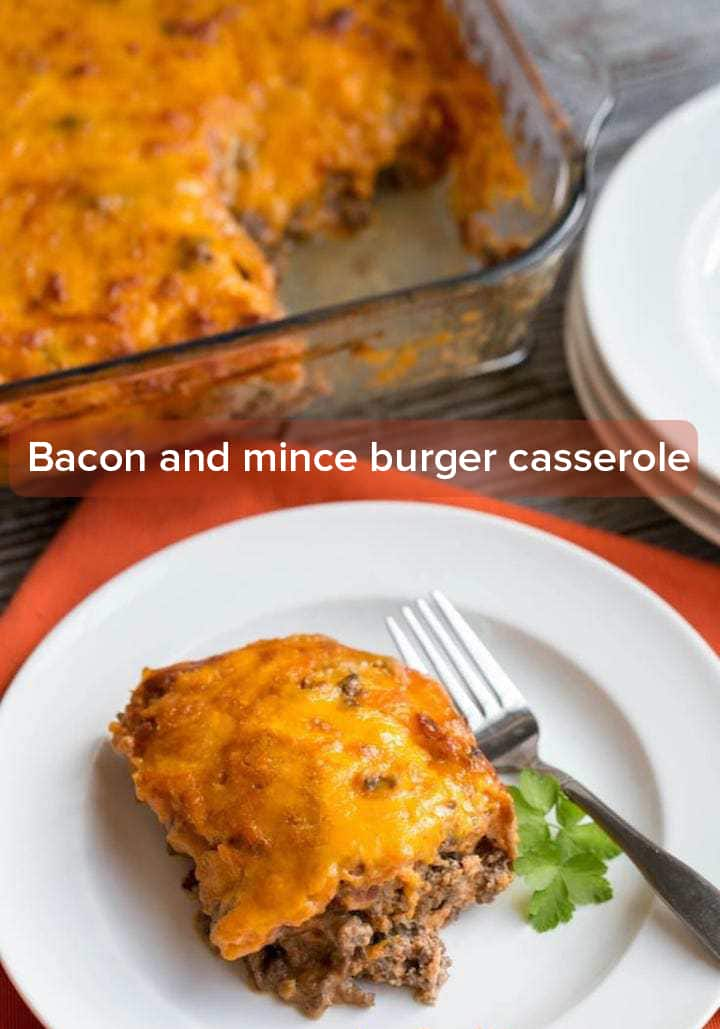 Ingredients
200g of bacon
450g of minced beef
1 tablespoon of butter
1 cup of whipping cream (heavy)
2 tablespoons of tomato paste
200g of shredded cheddar cheese
2 celery sticks finely chopped
2 tomatoes
1 garlic clove
2 eggs
Salt and pepper
Method of preparation
Preheat the oven to 200 degrees Celsius.
Take the bacon and dice it. Place the butter on a pan until it melts and fry the bacon in medium heat.
After that, add the minced meat to the pan. Increase the heat and stir while frying it until it brown and well cooked.
Chop your veggies (tomatoes, celery and garlic) and add them to the mixture in the saucepan with seasoning and ¾ of the cheese.
Grease your baking dish and add minced meat to the dish. Mix it up in there.
Take the eggs, cream and tomato paste and mix these together in a small bowl. Season it to taste.
Pour the result of this over the mincemeat and add the remaining cheese on top of the casserole.
Bake for about 15-20 minutes until the casserole turns golden brown.
READ ALSO: Banting breakfast recipes
Chicken casserole with broccoli and curry
This dish is low in carbohydrates and high in cheese. It combines vegetables with chicken and cheese resulting in a scrumptious banting chicken casserole.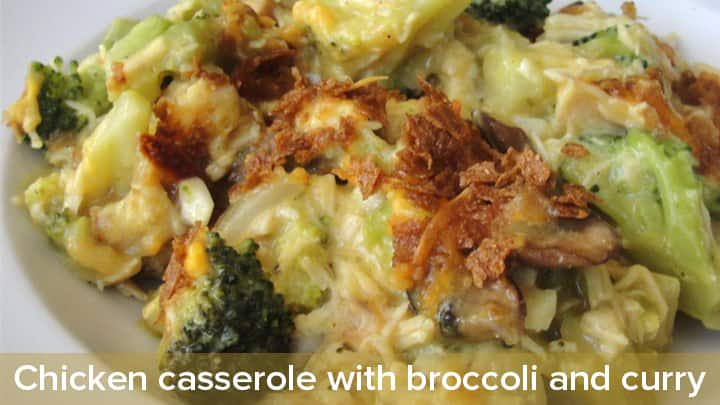 Ingredients
4 boneless and skinless chicken breasts. (Cut into lengthwise strips)
1 cup of mayonnaise
1 teaspoon of dried thyme
3 cups of a blend of cheese
Water or chicken stock
¼ cup of grated parmesan
6 cups of bite sized broccoli
1 cup of sour cream
2 teaspoons of sweet curry powder
1 tablespoon of lemon juice
1 tablespoon of lemon juice
Method of preparation
Preheat the oven to 190 degrees Celsius.
Take the chicken breasts and trim them lengthwise into about 4 strips each.
Place the strips in a saucepan and cover it with water or chicken stock until the strips are completely submerged under it.
Add seasoning and thyme to this and bring it to boil, once it boils lower the heat and let it cook for about 15 minutes.
If it still has water, drain it and shred the chicken strips and the broccoli into bite sized pieces.
Then take a large casserole dish and put the broccoli inside, cover it with cling wrap and microwave on high for about 1-2 minutes. If the broccoli seems a bit wet, drain it or steam it to get rid of the wetness.
Put the mayonnaise, sour cream, lemon juice, and hot curry powder in a bowl and mix it up.
Add the grated and Parmesan cheese to this and mix it in.
Put the shredded chicken into the casserole dish with the broccoli and the mix. Gently stir the ingredients to ensure that they are well scattered.
Spread the remaining cheese on top of the mixture, Bake for 35- 40 minutes for the cheese to brown and the casserole to bubble.
Taco Bake
This is a one of the best banting dinner ideas out there. It tastes delightful and is perfect for the whole family.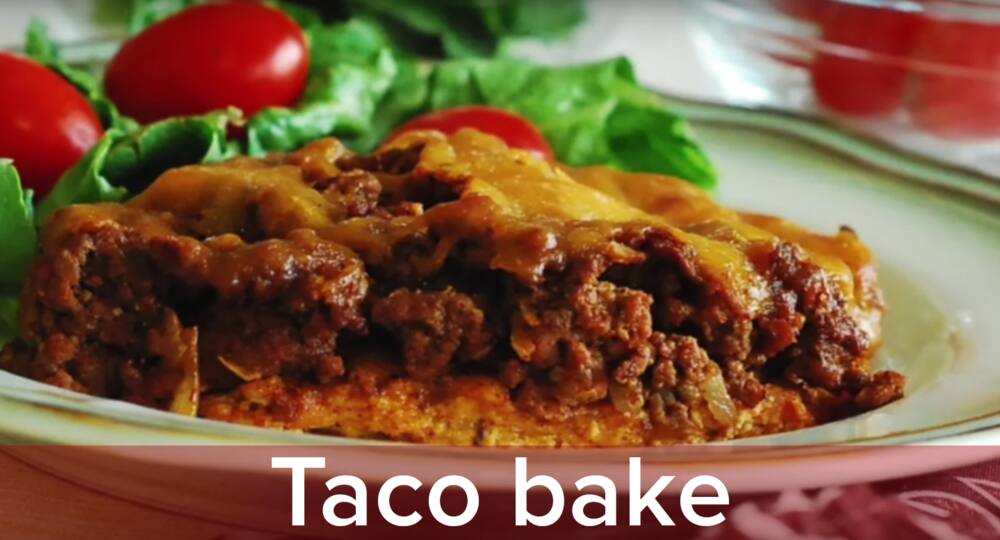 Ingredients
For the main dish:
2 cups of shredded cheddar cheese
½ cup of cream cheese
1/3 cup of heavy cream
2 eggs
¼ cup of water
450 g of minced meat
¼ cup of tomato sauce
½ cup of green chilies
1 medium sized onion
For the taco seasoning:
1 tablespoon of chili powder
1 teaspoon of salt
1 tablespoon of cumin
1 teaspoon of paprika
¼ teaspoon of red pepper flakes
½ teaspoon of onion powder
¼ teaspoon of garlic powder
1 teaspoon of sugar
1 tablespoon of ground black pepper
Method of preparation:
For the taco seasoning:
For the taco seasoning, all you need to do is mix up ingredients stated above. You can eliminate some of the ingredients or increase them in amount.
This recipe is ideal for making your own unprocessed home spice mix and you can store it for later or use it for several other dishes.
For the main dish:
Beat the two eggs and the cream cheese with a hand whisk until the mixture is smooth. You may come across some few lumps but there is no need to fuss about that.
Add the 1/3 cup of heavy cream and half of your taco seasoning into the mix.
Sprinkle 1 cup of the cheddar cheese to the bottom of a lightly greased casserole dish.
Add the egg mixture and spread it all round to the edges of the dish.
Bake this at 180 degrees Celsius for 20 minutes until it appears nice and golden. While it bakes, you can prepare the second section of your dish.
Fry the onions in a pan and add the minced meat. Once the meat is brown and fully cooked, you can drain the fat.
To this, add the ¼ cup of tomato sauce, the green chilies and the remaining taco seasoning mix.
Mix it all up and add ¼ cup of water. Let this simmer for 5 minutes.
The bottom layer of the dish should be ready at this point, take it out of the oven and add the minced meat on top of it.
Sprinkle the remaining cup of cheese above the mincemeat. Take this back into the oven and bake for 20 minutes.
The meal will be golden brown at the top when removed from the oven.
Banting cheese sauce
Cheese sauce can be used in almost every meal favourite of the century. It can be used as a dip with nachos, on fries, in a burger, with chicken nuggets and so much more. Get this recipe to help you make appetizing banting cheese sauce.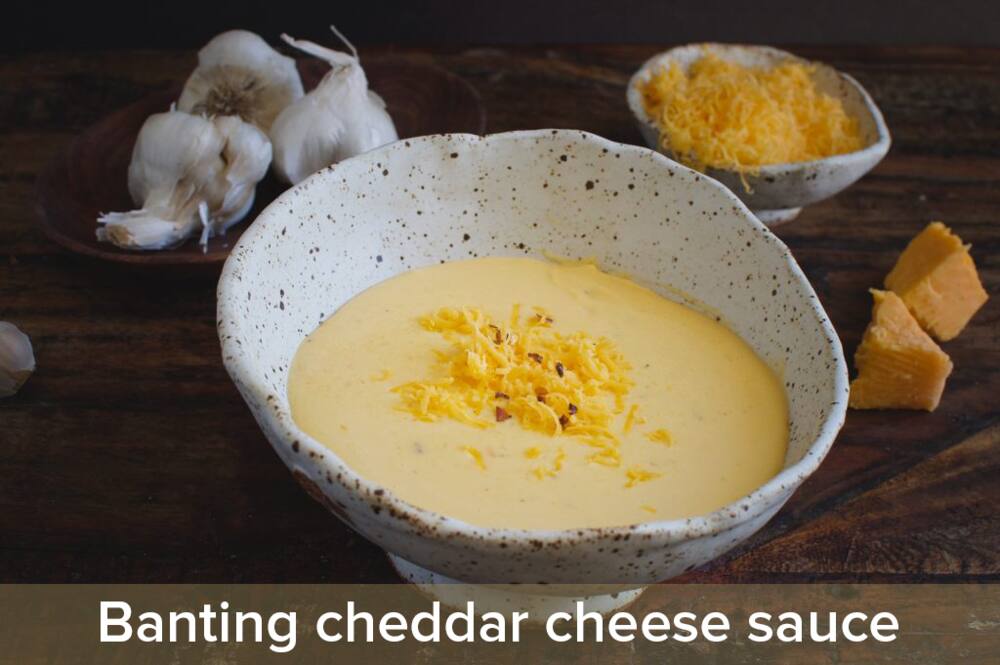 Ingredients
¼ cup of cream cheese
¼ cup of whipping cream
2 tablespoons of butter
¼ teaspoon of cayenne pepper
½ teaspoon of paprika
½ teaspoon of garlic powder
Pinch of salt
1-2 tablespoons of water
½ teaspoon of onion powder
Method
Take a small saucepan and under low heat, place the butter and cream.
Once it is heated, add the cream cheese into it.
Stir this mix, and once melted, let it simmer. When the mixture starts bubbling, remove it from the heat.
Take the cheese and grate it. Keep this aside.
Add the grated cheese into the mixture. Mix it up until it looks smooth and creamy. If the mixture is a bit thick, you can add water or cream, this will make it thinner.
It is important to note that the sauce should be eaten immediately or stored at room temperature. Refrigerating this sauce is not advisable because once reheated, the butter will separate and cheese clumps form.
You can use these easy banting recipes for making family meals. They are easy to execute and result in very scrumptious foods. Share this article with your friends to show them the banting recipies and let them know just how amazing banting is and how tasty it gets. Banting is not about boring food, its about taking control of how you eat.
READ ALSO: Banting soup recipes
Source: Briefly News