List of all Brenda Fassie songs ranked
One cannot talk about influential musicians in South Africa without mentioning the Late Brenda Fassie. Notably, Brenda Fassie is a celebrated global celebrity mostly known for the strong messages she communicated through her anti-apartheid Afropop music. She was not only admired for her music but also loved for her bubbly and striking outrageous personality. Read on to know about the best Brenda Fassie songs.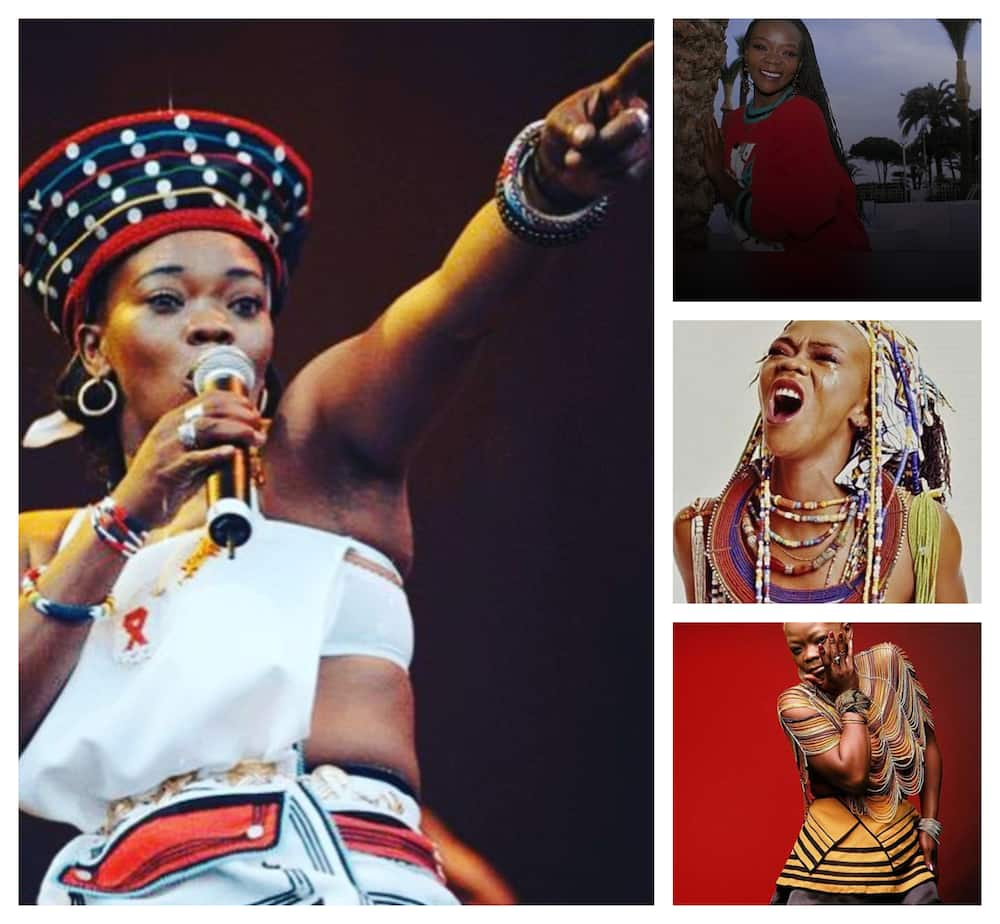 Who is Brenda Fassie? Brenda Fassie, known to her fans as Mabrr ,was an iconic South African singer whose musical influence touched the hearts of many not only in her country but across the continent. Brenda was referred to as the Black Madonna, Queen of African pop, or sometimes Madonna of the Townships. She embodied a strong stage presence and was very outspoken when it came to political matters in South Africa. When was Brenda Fassie born and what year did Brenda Fassie die? Brenda, mother to Bongani Fassie, was born on November 3rd, 1964 and was pronounced dead on May 9th, 2004, having been on life support after suffering from cardiac arrest. Here is a list of all her tracks that continue to carry her unmatched contribution to the political and musical scenes.
READ ALSO: Best Nasty C songs 2018
List of all Brenda Fassie songs ranked
Most of Brenda Fassie songs were about real life, and they told the story of people living in the poorer settlements of Johannesburg where she was a frequent visitor earning her tremendous popularity. Among her notable tracks are Weekend Special, Vul'indlela, and Black President. Here is a list of the ten best Brenda Fassie songs that took the South African pop industry by storm followed by all her other jams.
1. Weekend Special
Brenda Fassie Weekend Special, first released in 1984, is arguably one of her best songs. The song was dubbed as the side-chick anthem and was done by Brenda and the Big Dudes. Weekend Special is the song that made Brenda's musical career shine. Moreover, the tune of this song embodied her blueprint that offers a compelling African tale narrated in inimitable style and complemented by super–catchy afro-disco grooves.
2. Vul'indlela" (1997)
Brenda Fassie Vuli Ndlela, recorded in 2007, is a celebratory masterpiece about a son that was finally getting married. It became the ultimate wedding anthem in South Africa, and even the Late Nelson Mandela danced to the track during his state visit to Kenya. Brenda Fassie Vul'indlela won the Song of the Decade prestigious award at the 2004 South Africa Music Awards.
3. Black President (1990)
Brenda Fassie Black President is undeniably one of the most popular songs made about the struggles of freedom. This song was done in honor of the late Nelson Mandela and recounts all that he experienced while serving his long prison sentence. Black president was released in 1990 and true to her words (viva, viva, my people) on the record; Mandela was released from jail and became the first black president of South Africa in 1994.
4. Too late for Mama
Our list of Brenda Fassie popular songs cannot fail to mention Too Late for Mama. Brenda collaborated with another top musician, Chico Twala, on the song and it managed to acquire platinum status in 1989. Brenda Fassie Too Late for Mama recounts the story of a mother who is stricken down by lightning while fetching water. The mother tries to save her baby by hiding under a tree.
5. I Straight Lendaba (1992)
Fassie portrayed herself as a feminist, trendsetter, and a bad girl. It is her unconventional personality that made her get lots of fans all over the African continent. Brenda Fassie I Straight Lendaba refers to how individuals in townships talk. In this case, I Straight Lendaba is translated to 'I'm telling you straight' and the track was done at a point in time when Kwaito music popularity was rising in South Africa.
6. Wedding Day
Brenda Fassie songs Wedding Day is another great wedding banger that took South Africa by storm. Wedding Day is a track that remains one of most played songs in most wedding ceremonies.
7. Soon and Very Soon
Soon and Very Soon is one of the best Brenda Fassie's gospel songs of all time. The melody and everything about the song help uplift one's spirits while giving them hope of eternal life.
8. Mama
Mama song by Brenda Fassie is one of her best musical works as nothing supersedes a mother's love and affection. In the song, Brenda is saddened by the untimely death of her mother and expresses her grief. This song resonates well with most people who have lost their mothers or a mother figure in their life.
9. Memeza (1997)
Memeza is one of Brenda Fassie gospel songs that she performed with minimal backing of a choir. The term Memeza means 'shout' or 'scream', and in this song, Brenda is shouting against people with no mercy.
10. Higher and Higher (1985)
Even though Higher and Higher was done in the 80s, the song does well in showcasing the legend's lyrical skills. This is one of the reasons that it is among the top ten best Brenda Fassie songs.
11. Ngeke Unconfirm (1995)
Another popular Fassie's song is none other than Ngeke Unconfirm that was done in 1995. Brenda Fassie Ngeke Unconfirm pop music is of Kwaito nature owing to its bubbly electronics, snail pace four-four kicks and back and forth vocal chants.
Other Brenda Fassie songs listed
Brenda was the queen of music, and here are more tracks that she performed, some with the year they were released.
1984: Let's Stick Together
1986: No No Señor
: Touch Somebody (EP)
: Baby Bongani
1987: Ag Shame Lovey
1988: Umuntu Ngumuntu Ngabantu
: Why did you lie
1989: Don't Follow Me I'm Married
1991: I Am Not a Bad Girl
1992: Yo Baby
1996: Now Is the Time
1997: Paparazzi, Sum' Bulala
1999: Nomakanjani (Jiva)
2000: Thola Amadlozi, Nakupenda
2002: Myekeleni, Mama I'm Sorry
2003: Mali, Ponci Ponci
2001: Mina ngohlala nginje
1990: Ngiyakusaba, Ntsware Ndimbabe
1992: Boipatong , Hara Lebitla
2001: Life is going on
1994: Kuyoze Kuyovalwa
2001: Wewe
1994: Amagents
1989: Good Black Woman
2002: Come Duze
1999: Mpundulu
1997: Qula
1999: Kenang Bohle
Abantu Bayakhuluma
Akushesh' Akusheshe
Amalahle
Malibonngwe
Ngizobuya
Morena
Promises
Zola Budd
It's nice to be with people
You just need someone
Mirror
Ubani ozokufa
Ngwanona
I Won't Run
Monate
Shikhebe Shamago
My Baby
Duma Duma
Someone to love
Uyang'embarasa
Hamba sathane
Hero's Party
Shoot Them Before They Grow
The Lord Is My Shepherd
Baxakekile Oxam'
Ngizilahlela Kuwe
Bump Party Time
Generation
Hake Batle Sepe
Hintoni
Ngiyakuthanda
Kesiyile Bana Baka
Mingi Mingi
Orphan
Lekwaito
Sgubu Se Zion
Mbulali Wami
Tata Mxolele (Forgive)
You Give Me Joy
Moya
Msindo
Vuma
Oxamu
Tendercar
Jail to Jail
Kesa Phela (Live Remixed)
Kharilitshe
Let It Be
Shame
Phansti
Ungishaya Ngaphakathi (Inner Feeling)
Matshidiso
Ong Shapa Ka Mo Gare
S' Enza Sonke
Sgaxa Mabhanti
Sikelele Baba
Siyjola
Siyobanana
Sungxama
Stay Away (from My Man)
Street Girl
They All Want Me Down
Thixo Ongiphile
Thula Baby
Thula Vicky
Umfazi Uyazimela
Undikolota Malini
Zam'e Next Door
READ ALSO: List of all Tasha Cobbs songs
Even though MaBrr passed away nearly 15 years ago, it is evident that her music continues to live on. Search for Brenda Fassie all songs mp3 free download and listen to the deep messages passed through the songs. Also, you can visit YouTube to view some of Brenda Fassie videos. If you take a look at most of the Brenda Fassie songs above on YouTube, you will see that most of her fans continue to listen, enjoy and groove to her music to date.
READ ALSO:
List of famous South African musicians 2018
All DJ Black Coffee albums and songs
King Monada's Malwedhe made the top 10 summer hit songs list
Latest SA music hits 2018
Cassper Nyovest new album 2018
Source: Briefly News