Who is Siya Kolisi wife? Rachel Kolisi scandal
Who is Rachel Kolisi? Rachel Smith, popularly known as Rachel Kolisi is not a new name to the media. Moreover, if you were wondering why she shares a surname with the renowned Springboks captain and Stormers rugby player Siya Kolisi, Rachel is Siya's wife. You probably want to know why Siya Kolisi wife has suddenly become a topic of discussion on social media.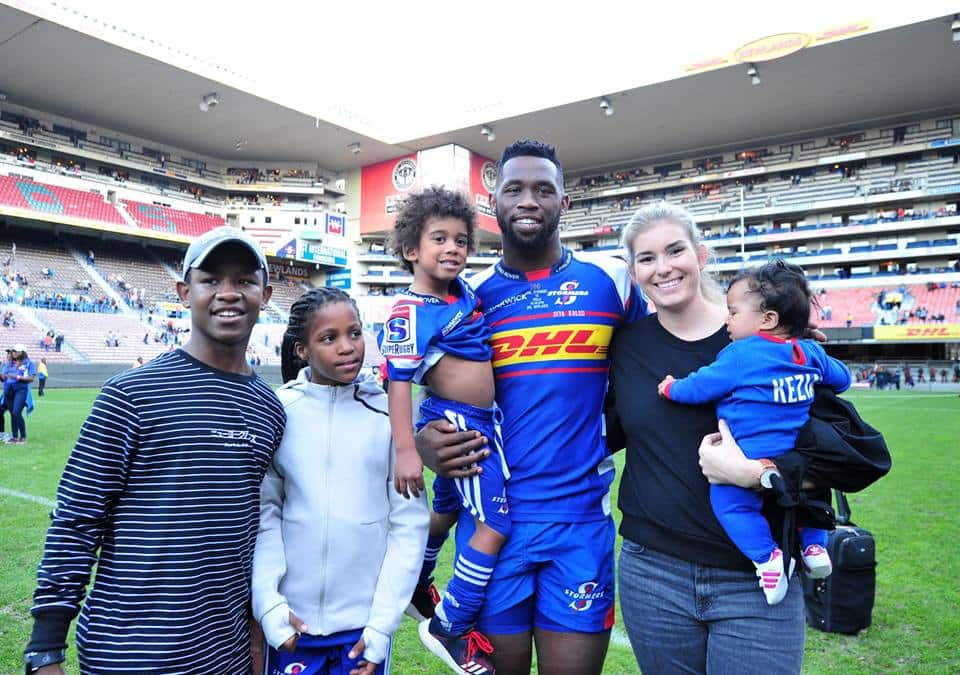 For the past few hours, Siya Kolisi wife has been the talk on social media for a not so strange reason. On Monday, Rachel Kolisi Instagram account was the center of everyone's attention. It is alleged that Rachel, via her Instagram stories, asked social media users to help her find out the identity of a particular woman. Rachel Kolisi claims that the woman sent her husband a picture of her butt and that got her exasperated.
This issue has stirred mixed reactions on social media, with most people terming her as insecure. Sometime last year Siya Kolisi wife flooded the headlines of most social media sites for trying to make it straight that her man was off the hook. That was after another woman called her husband 'a type'. It turns out that things did not go so well during this incident.
Angry Rachel reacts to the incident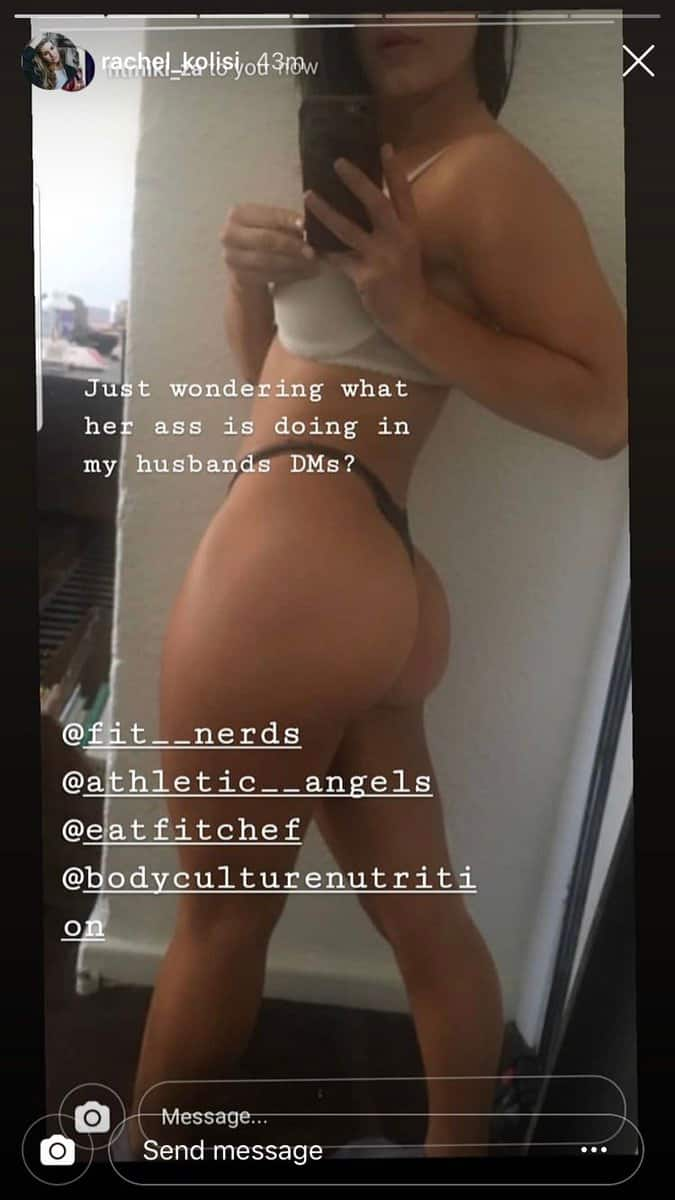 According to Mrs Kolisi, the woman in question had sent her husband a picture of her butt in his Instagram direct message. The enraged Rachel went ahead to re-post the same image in her Instagram stories. To add to it, she also tagged the woman's Instagram handle.
A few minutes later, she posted on her stories claiming that the woman in question had changed her handle from @fitmiki_za to @fitmiki_capetown. She also added that the woman had blocked her. In a bid to reveal the identity of the woman, the angry Rachel insisted that the lady in question trains at Virgin active in Claremont. In her defence, Rachel insists that she does not like being disrespected.
Hours later, Mrs Kolisi posted another video recording of herself emphasizing her bitterness towards the whole issue. In a rage, Rachel Kolisi stated:
'My face is so red because I'm so angry, but I just want to finish off the situation saying this: 'The days of women having to take shit and deal with shit and do nothing about it are over'.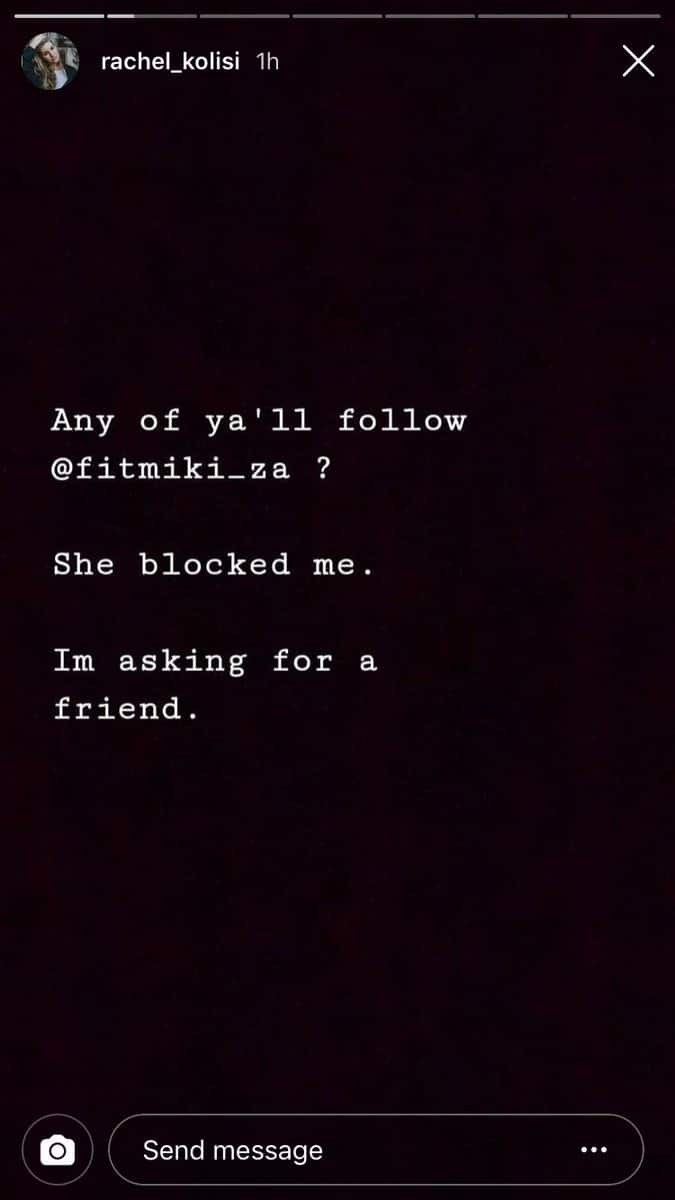 This whole issue has triggered a lot of controversies on social media. The past twenty-four hours have been troll-filled. Mrs Kolisi has suffered a lot of backlashes. Most people have criticized her for being insecure. Others in her support say that the mother of two is on the right for trying to guard her marriage and family.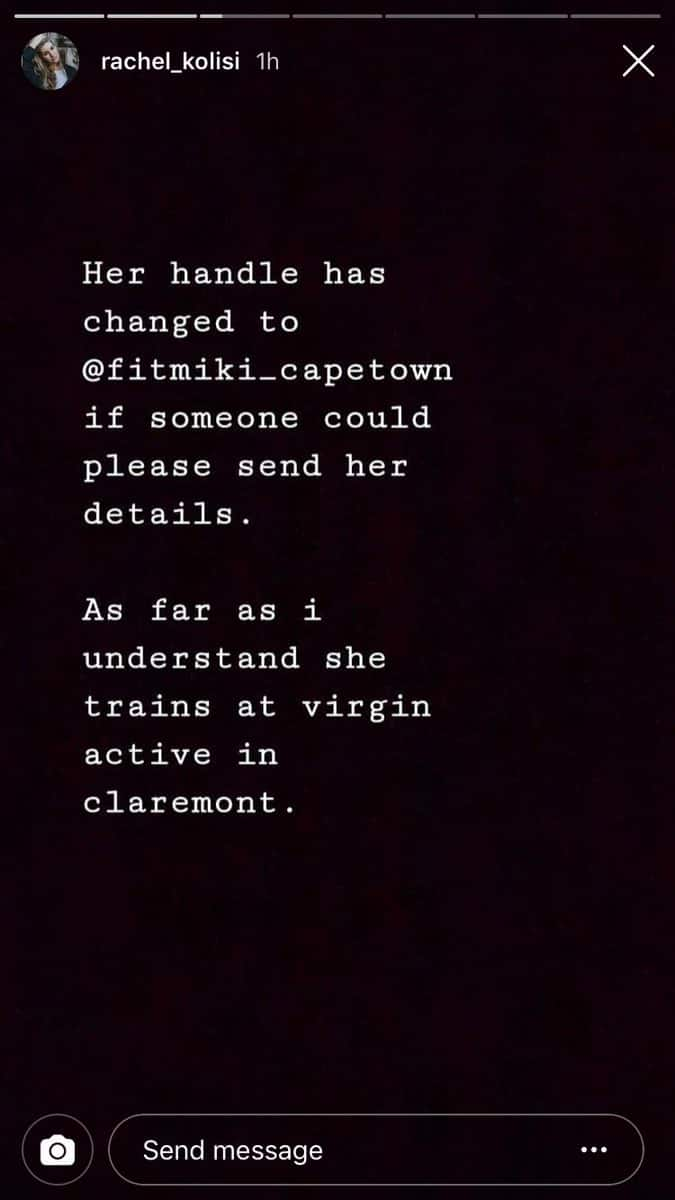 Could this be a sign of remorse?
After all this heated up Rachel Kolisi drama, she went ahead to deactivate her Instagram account. However, there are claims that she could suffer the consequences of sharing this suggestive picture of the mysterious lady on social media.
Verlie Oosthuizen, a social media expert from Wylie Attorneys, commented on the issue. Verlie claimed that Rachel had gone against the conditions of Regulation of Interception of Communications and Provision of Communication Related Information (RICA). That was so because she was in possession of the mysterious woman's picture without her consent. According to Verlie, Rachel could be charged with invading the mysterious woman's privacy.
READ ALSO: Rachel Kolisi slams Instagram model for sending pics to her man
Has Siya been cheating on his woman?
The mysterious woman, on the other hand, has also reacted to the matter after the long silence. The reaction is after the supporters of Mrs Kolisi threw shade on her for trying to ruin her marriage. In her defence, she went ahead to post on her private Instagram account that Siya had made the first move. She went ahead to say, "I'm not going to try to defend myself, but I have 100s of people messaging me telling me I'm a slut. What about him sliding into my DMs."
To make the matter more heated up, she shared screenshots of Siya responding to one of her stories on Instagram. She claims that Siya urged her to contact someone. These Instagram stories and her reaction on the matter have caused a troll on Rachel. Most people have come out in support of this mysterious woman, others urging her to take the big step of suing Mrs Kolisi for tarnishing her name.
On the other end of the road, Siya Kolisi has maintained his calm. He has not reacted nor commented on the matter, something that leaves everyone in a state of a dilemma concerning where his loyalty is in this matter. It is however unfortunate that his wife is slammed on this whole matter and yet Siya is alleged to be the soul cause of this uproar.
Whether she turns out to be insecure or right for protecting her marriage, this is the second time that the mother of two attracted attention for matters regarding her husband. Last year, she suffered backlash after she openly called out on another woman who claimed to have crushed on her husband, Siya.
The lady had openly called Siya her 'type'. In retaliation, Rachel posted:
'Siya is not 'a type'. He's a married man responsible for four children. Just a side note. I've been there for all the good times. But I've also been there for ALL the bad times. Honestly, this should go without saying. Respect my relationship and woman to woman. Respect me'.
What do you think about this?
READ ALSO:
3 times Rachel Kolisi called women out for crushing on her husband
Do we hear wedding bells? Sounds like Scoop Makhathini put a ring on it
Wife sends her husband's mistress a brilliant thank you letter
Source: Briefly News