60+ traditional dresses with pictures in South Africa 2023
South Africa is known as the Rainbow Nation because of its rich cultural and ethnic diversity. The nation has various ethnic groups, each with distinct traditional dresses. While some people choose to wear these outfits on a day-to-day basis, others reserve them for social functions.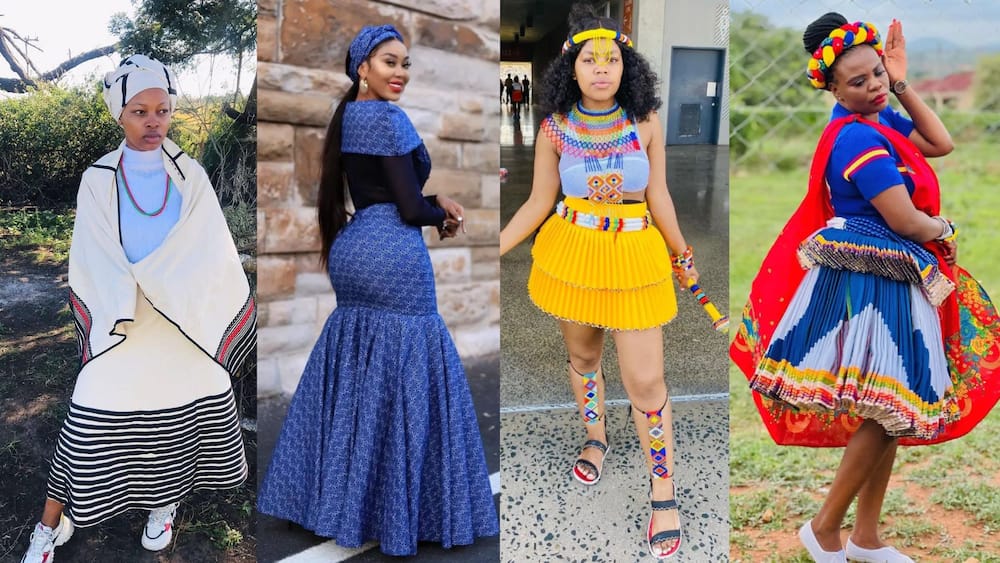 There are multiple designs of traditional dresses today compared to decades ago. Fashion designers and tailors blend modern styles with traditional elements, and the results are stunning.
Amazing traditional dresses in South Africa in 2023
There are numerous South African traditional dresses to choose from in 2023. They are drawn from various ethnic groups or communities. Below is a collection of fabulous designs drawn to inspire your next look.
White Bapedi traditional dresses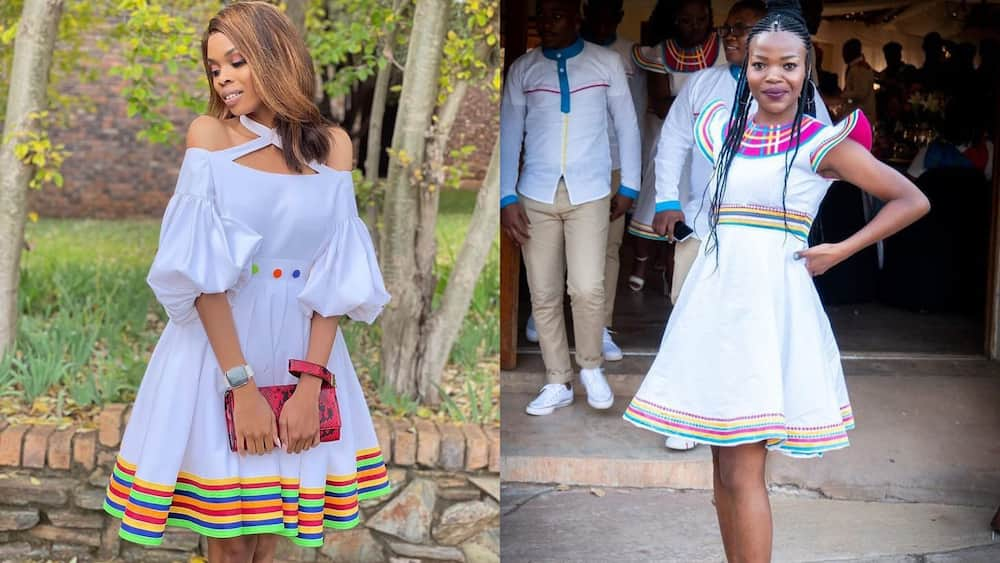 Bapedi traditional attire is usually made of beautiful bright colours. The community also has exotic designs. Bright colours signify people's happiness, while the designs symbolise their unique creativity.
Pink Bapedi skater
Sepedi or Bapedi traditional dresses usually feature ribbon trimmings at the bottom of an outfit on the hem of the sleeves. Pink is a pretty common colour in this community, and a skater dress with ribbons is an attention-grabber.
Amazing Sesotho traditional dresses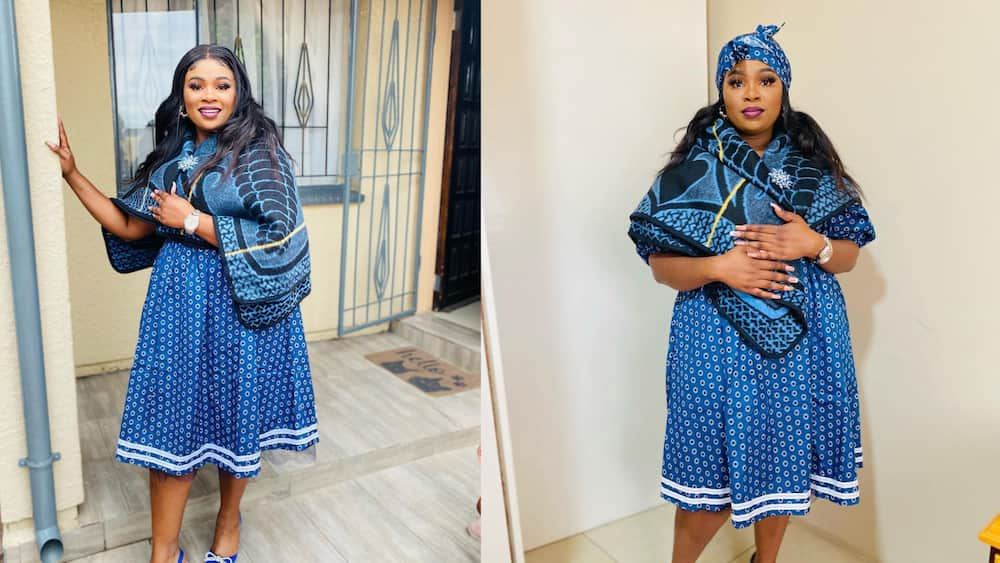 Sesotho women usually wear long dresses and skirts in vibrant colours and patterns. They also tie blankets around their waists. During special occasions, they wear a traditional Basotho dress called the seshoeshoe.
Fabulous Sesotho skater
Traditional dresses designs have evolved so much. Although the traditional Sesotho dress was straight-cut, skater designs have become quite popular. You gotta love how Sesotho women never leave their blankies, especially during functions.
Fancy pink Shweshwe outfits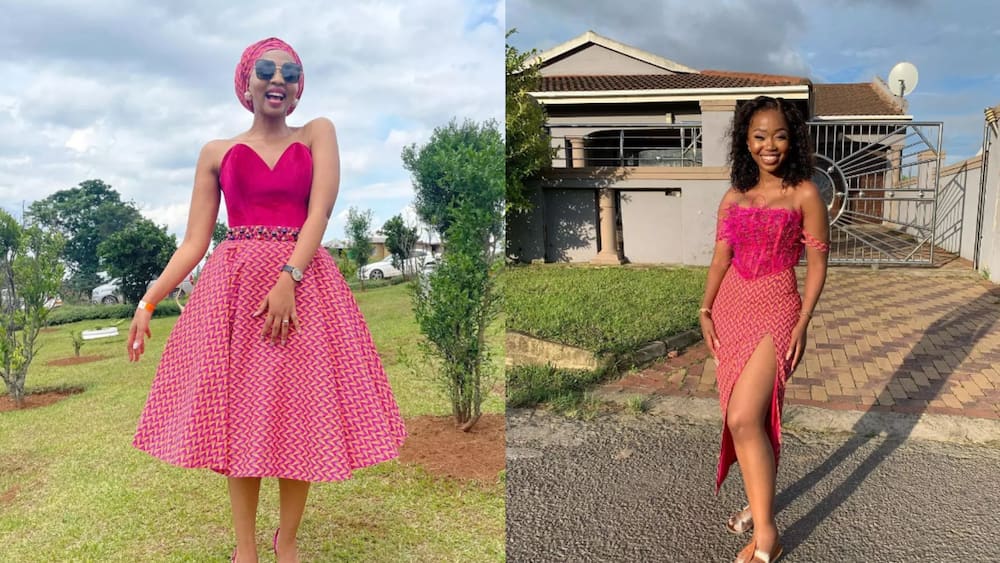 If you visit a South African fashion house, you will come across the Shweshwe fabric. Shweshwe is a printed, dyed cotton fabric widely used for traditional Southern African clothing. It was originally dyed indigo.
Sesotho wrap dress
With a tie waist that cinches on the slimmest portion of the torso, the wrap dress gives an ultra-slimming effect. You can achieve the slimming effect by rocking a Sesotho wrap dress for your next social function.
Must-see Xhosa outfits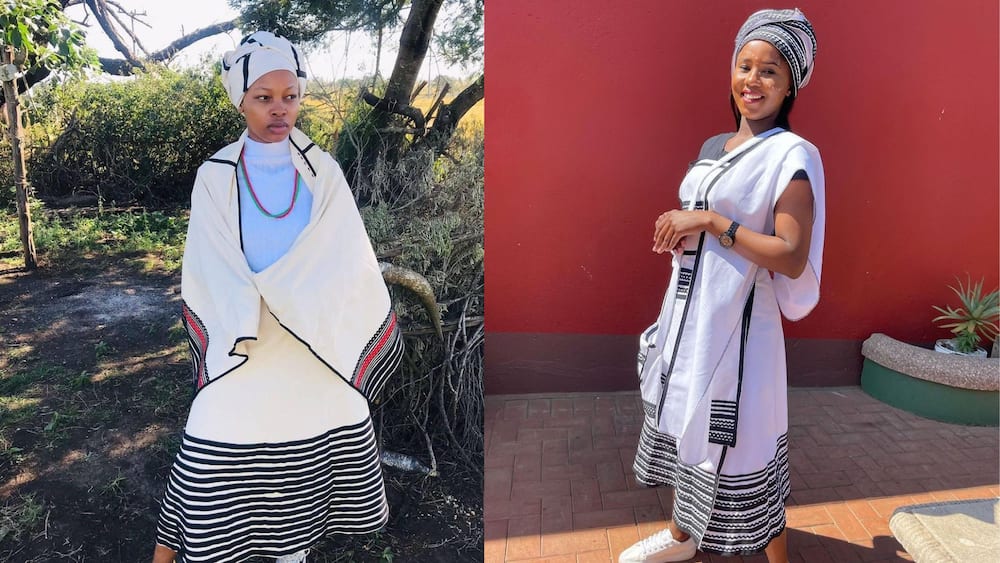 The Xhosa traditional attire is usually made up of a combination of beaded fabric, aprons, and long skirts. One of the common colour combinations in this community is black and white.
Blue and orange Xhosa dress
Besides black and white, the Xhosa also commonly wear red, orange, and blue. Their textile skirt is called isikhakha or imibhaco. This is normally accessorised with elaborate beaded necklaces called ithumbu.
Fancy strapless Xhosa designs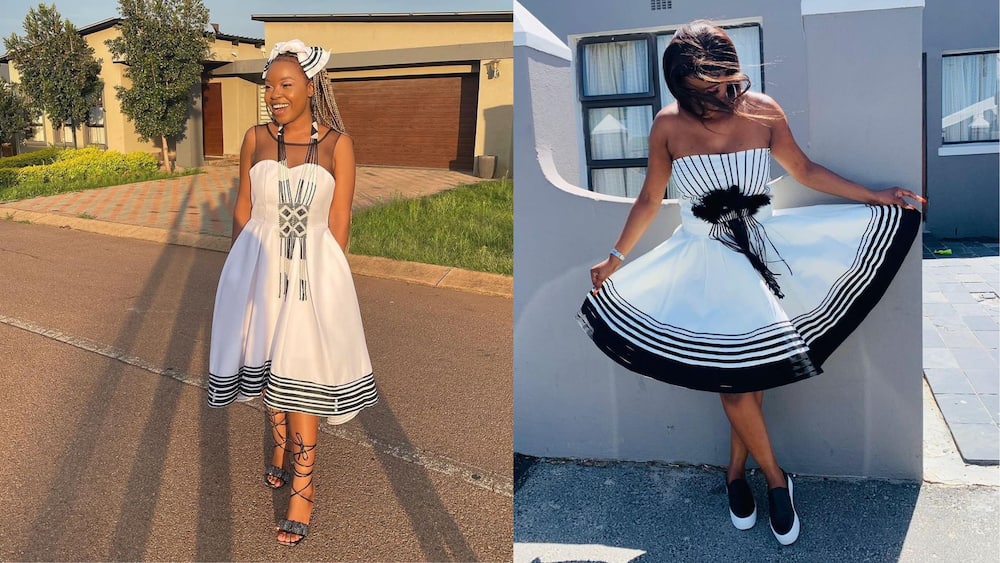 Modern dresses are now being created using traditional fabrics to make them unique and eye-catching. A strapless black and white Xhosa dress will make the eyes turn in any social function.
Pink and white Bapedi gown
The main colours in Bapedi clothes are turquoise, bright pink, yellow, blue and white. These colours are vibrant and work well for casual and less formal occasions.
Fabulous Ndebele designs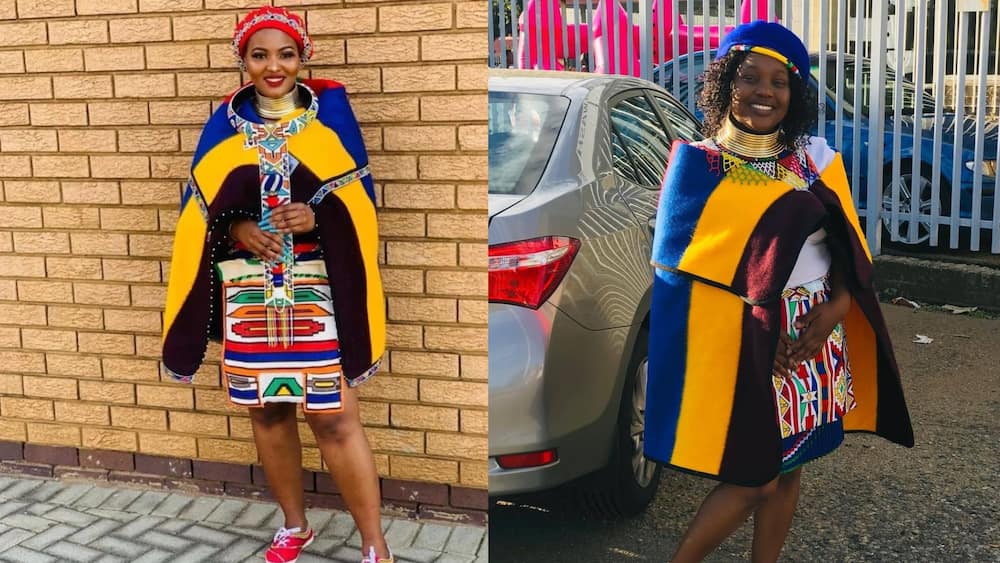 The Ndebele are Bantu-speaking people who mainly reside in the Limpopo and Mpumalanga provinces in South Africa. Ndebele outfits are known for their bold colour and beautiful beadwork.
Gorgeous Xhosa maxi
Are you looking for a statement piece from the Xhosa community? A beautiful maxi will do the trick, especially if accessorised with an elaborate black and white beaded necklace.
Blue Bapedi traditional attire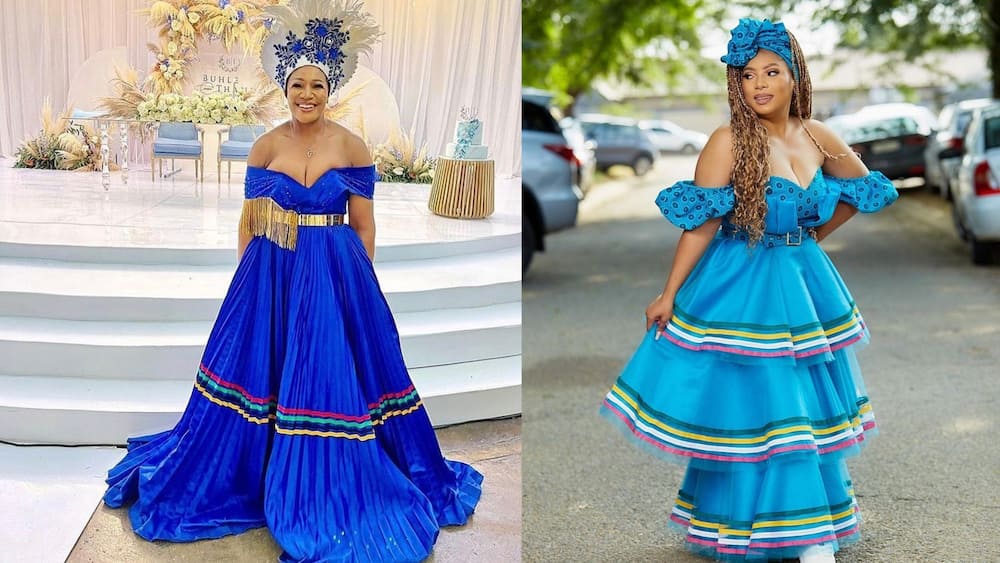 Off-should designs are all the rage in 2023. You can revamp your next Bapedi traditional attire by having an off-shoulder design, especially if you are not afraid of showing a bit of cleavage. These designs are ideal for evening parties.
Black and gold Zulu outfit
The Zulu community is known for its weaving, craft-making, pottery, and beadwork. A traditional Zulu outfit would be incomplete without beads. While this community is known for its love for bright colours, you can tone them down. The black and gold theme is lovely, isn't it?
Short Zulu outfits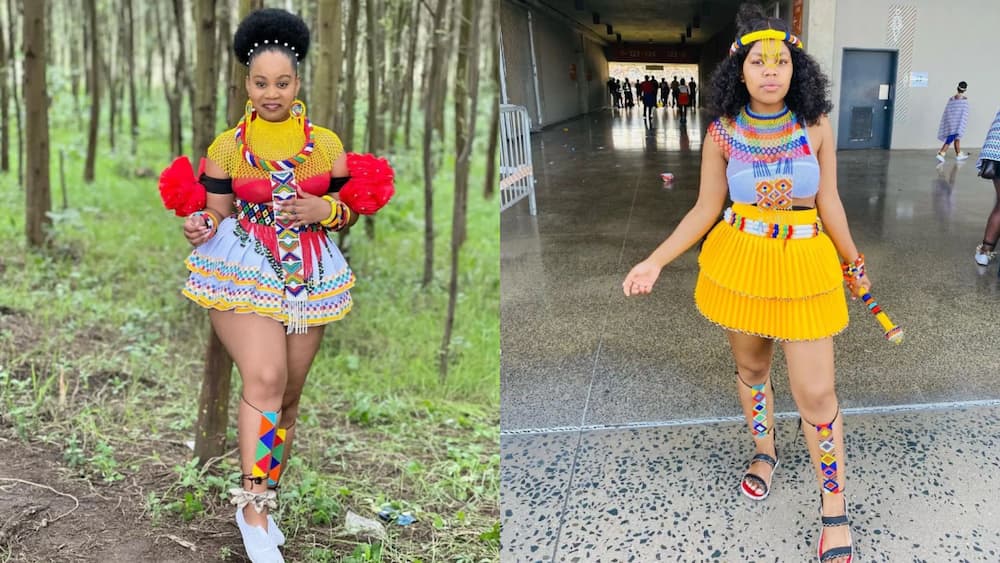 The traditional attire of the Zulu people consists of various elements, including beaded necklaces, bracelets, anklets, animal skins, and colourful fabrics. Did you know the colours used in Zulu outfits are bright and bold, and each has a symbolic meaning?
Modest Zulu design
Showing a bit of skin is normal among the Zulus, especially among young maidens. If the short outfits feel uncomfortable for you, you can cover up with a colourful apron.
Cute traditional wedding outfits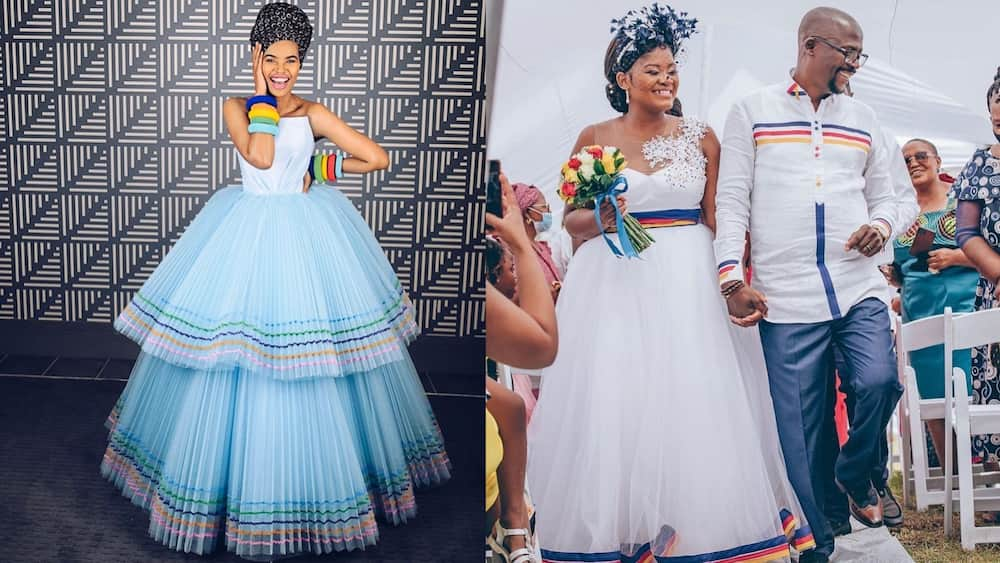 Modern brides who want to incorporate elements of their culture in their dresses are free to do so. The designs above are for Bapedi brides, who choose to incorporate colourful ribbons on their fabulous wedding gowns.
Fancy Ndebele dress
Modern Ndebele dresses are pretty colourful. They mimic their brightly coloured homes painted in striking geometric designs. The high-low design above is to die for.
Tswana mermaid outfits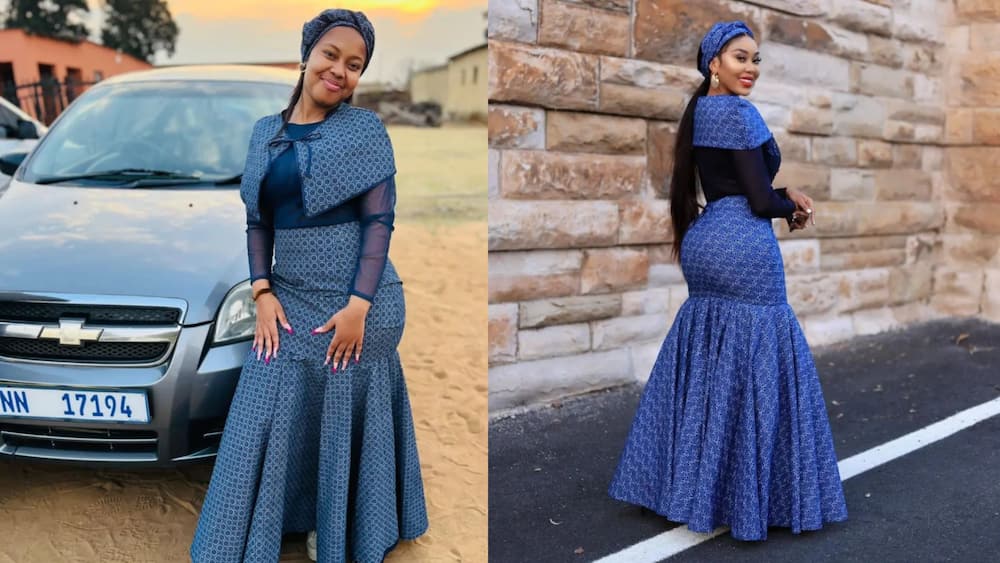 Tswana people commonly wear Shweshwe fabrics, especially in blue. The mermaid design gives a woman a more desirable hourglass silhouette by balancing out their upper body.
Short one-shoulder Ndebele design
One-shoulder dresses allow you to show off all those arm exercises you have been doing to tone your arms. You will, without a doubt, look stunning in a one-shoulder outfit.
Beautiful Venda dresses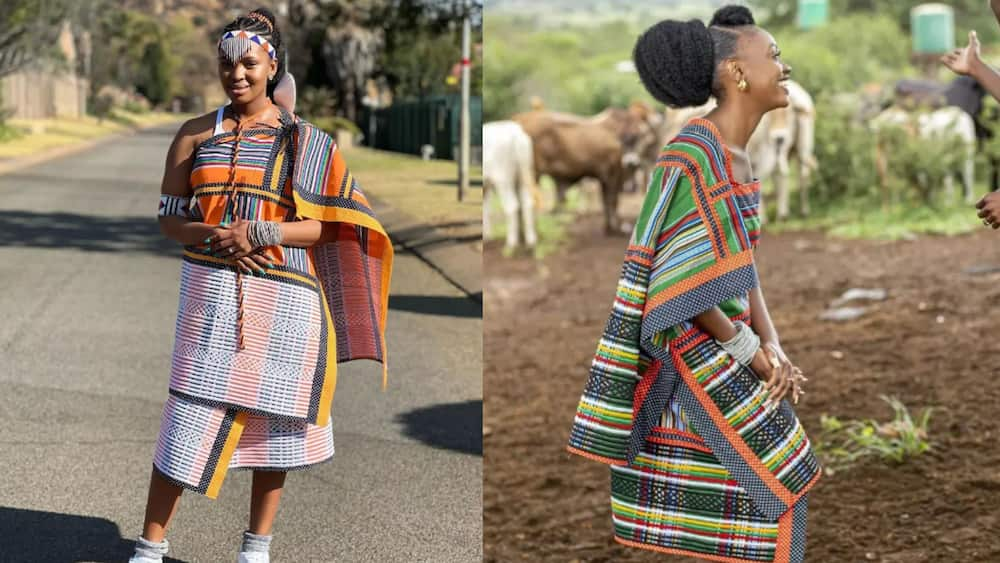 Venda traditional dress designs vary depending on occasion and age. Married women, for instance, wear a traditional garment made from goat skin. It comprises an apron called tshirivha, which covers the front and back.
Cute Ndebele dress and coat
Who knew that the striking geometric designs in the Ndebele culture can be incorporated into official wear. Though a tad busy, the suit above is elegant.
Strapless Shweshwe dresses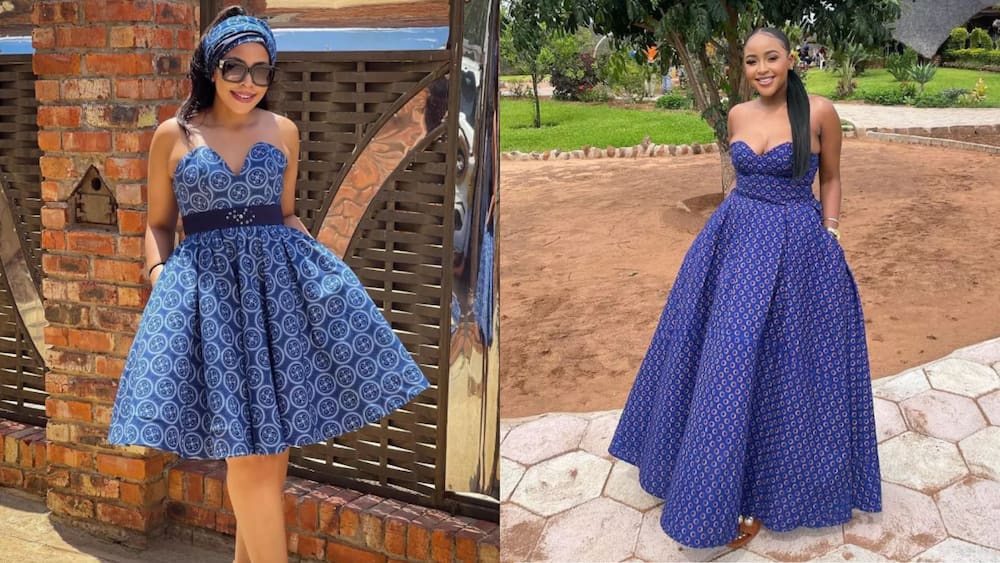 Strapless dresses help to accentuate a woman's curves. You have to admit that Shweshwe fabrics are beautiful, aren't they?
Lacy Ndebele design
Lace is a timeless fabric. It can be paired with multiple other fabrics for a classy look. You can wear the outfit above to church, parties, weddings, and other places.
Maroon-purplish Bapedi outfits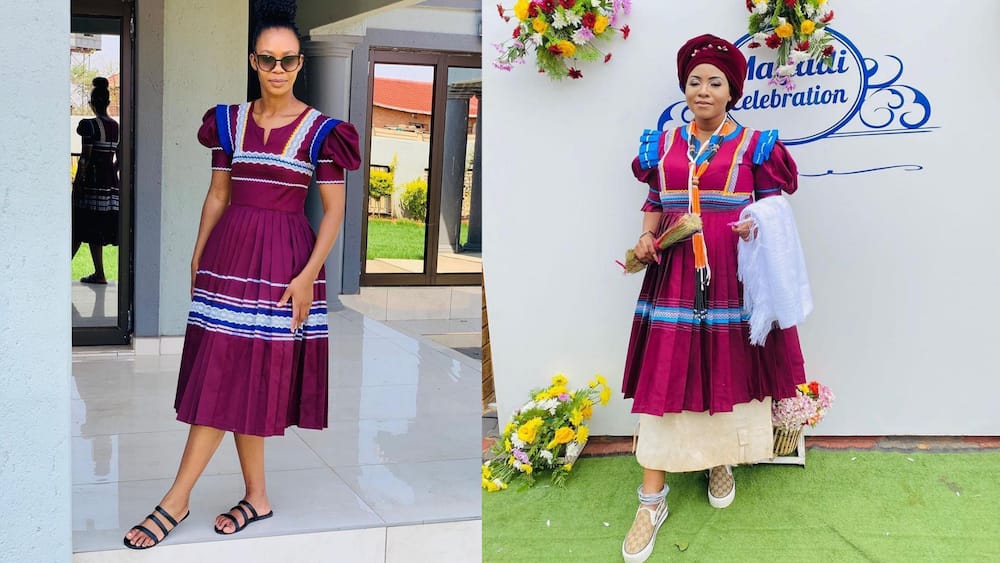 Maroon and purple are increasingly being worn in the Bapedi community. People love the maroon-purplish colour because it is a toned-down colour.
Blue Swazi look
Swazi women wear an ilihhiya or cloth. Married women often cover their upper torsos with the cloth, while single women sometimes wear beads only over their upper torsos.
Lovely red Swazi outfits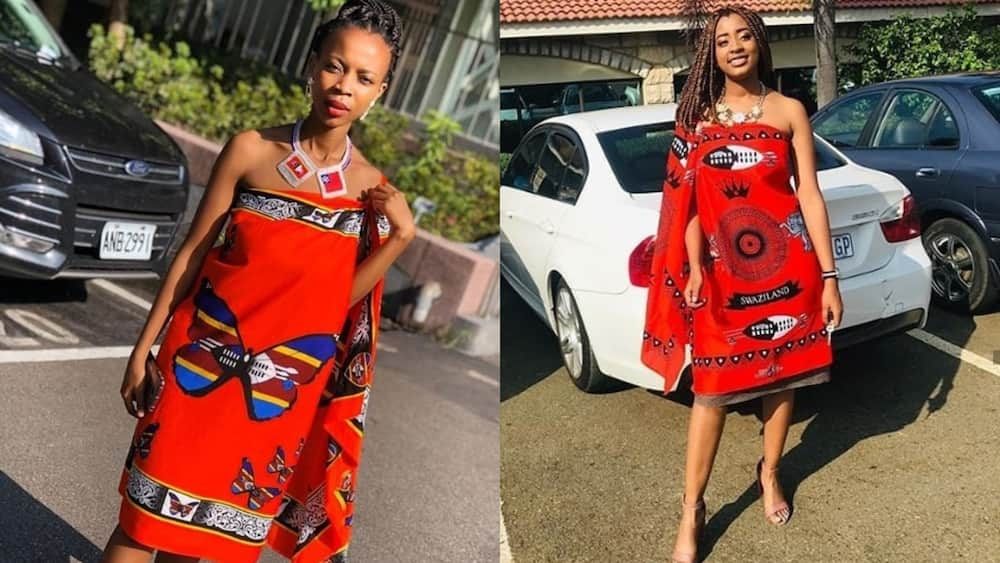 The Swazi ilihhiya is quite colourful. Women normally accessorise it with beads. Metallic and other non-beaded accessories are quite common in today's era.
Yellow Swazi outfits
Yellow, a colour associated with the sun, signifies warmth, happiness, hope, and spontaneity. A yellow ilihhiya is striking and suggests good and happy vibes.
Eye-catching Tsonga dresses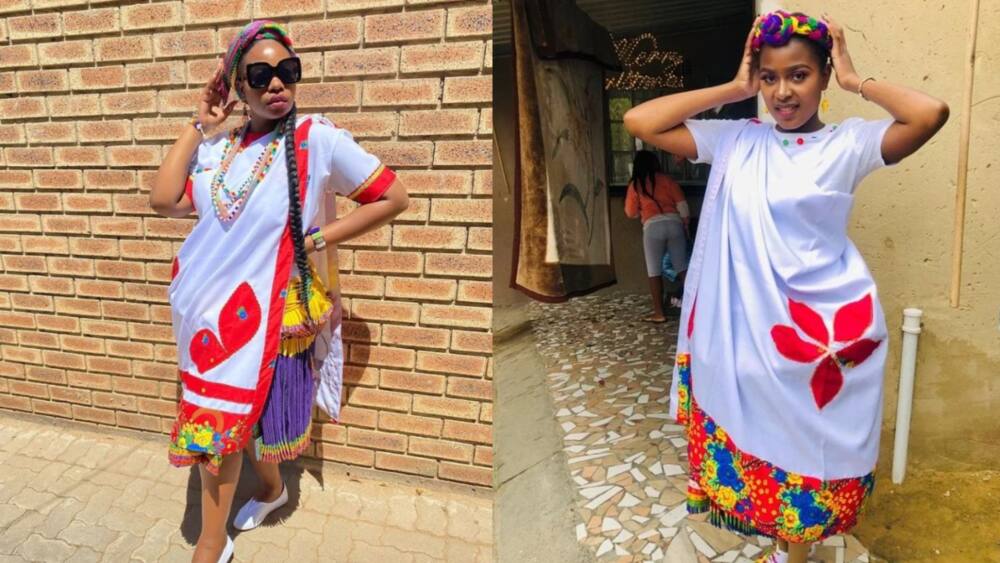 A colourful sash makes Tsonga outfits distinct. Tsonga women wear blouses and wrap-around skirts with V-shaped necklines. The sash comes in on top to complete the outfit.
Colourful Tsonga outfits
The Tsonga sash can be made in different colours. The purple ones above are beautiful and classy.
Cute pink gowns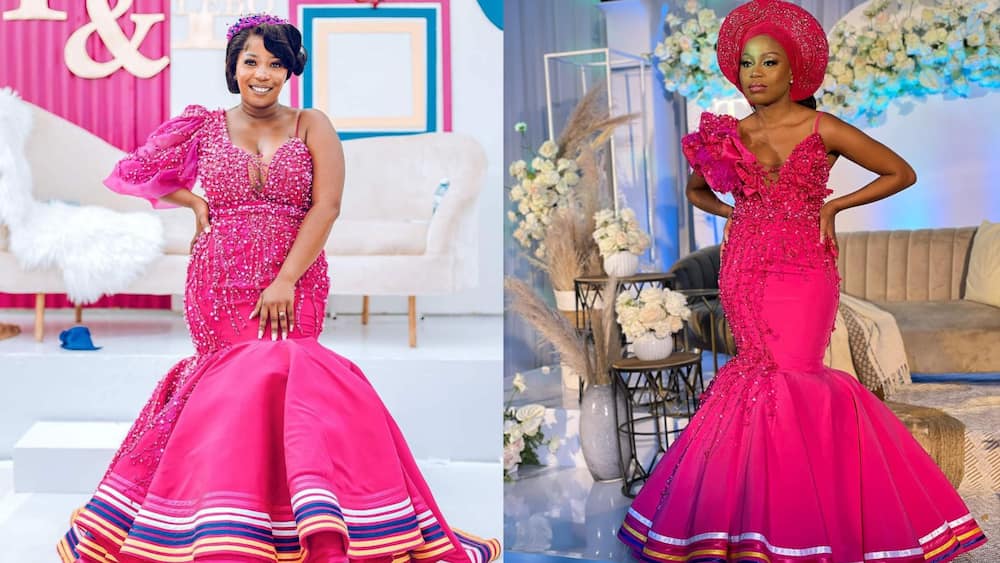 Did you know you can rock traditional Bapedi attire for women to an evening function or party? Have a pink mermaid gown custom-made for your body and wear it with pride.
Zulu goddess
Many Zulu women prefer white outfits because they are easy to accessorise with colourful beads. A pleated skirt in your preferred length looks best.
Tsonga kiddie outfits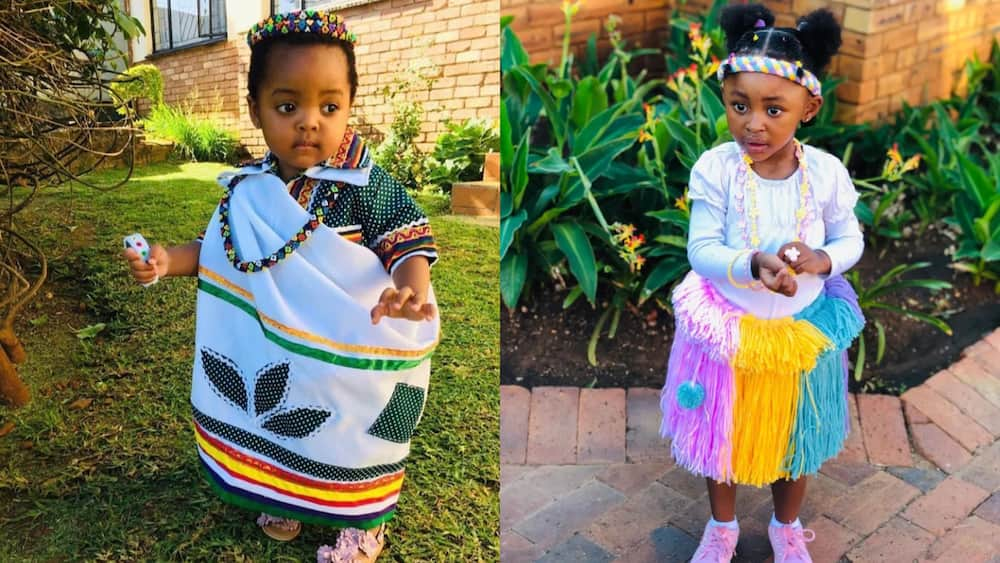 When it comes to African-inspired outfits, kids are not left behind. Kiddie outfits are as colourful as adult ones are. The cute headgear makes little girls look like African princesses.
Flattering yellow high-low design
Some women are not comfortable wearing maxi dresses because they are too long. For them, high-low dresses are the perfect alternative.
Colourful traditional dresses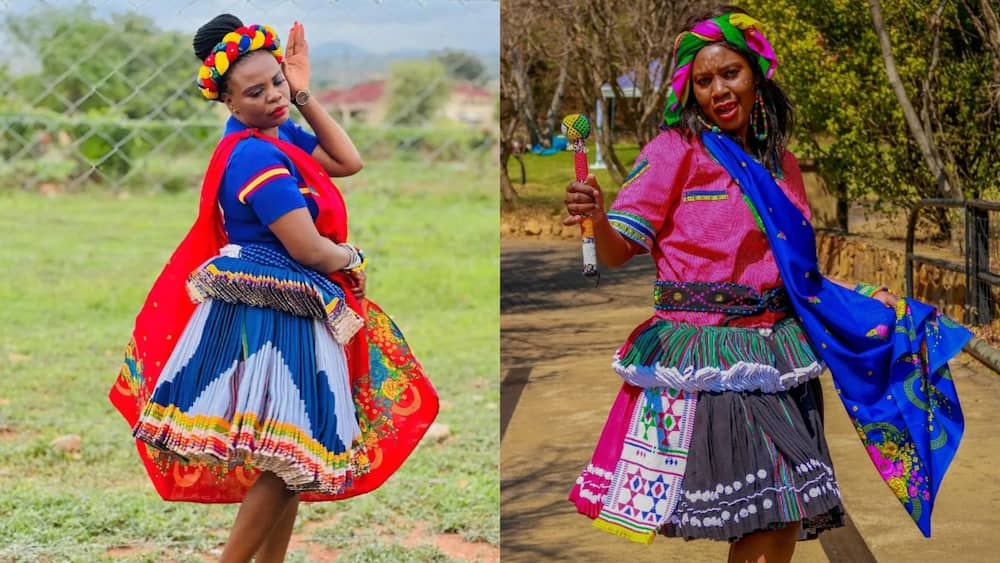 South African traditional dresses are known for being the brightest and most colourful on the continent. The blend of colours above is admirable.
Blue Swazi dress
Did you know that more than a million ethnic Swazis reside in South Africa? This Bantu-speaking community has lovely outfits. Note the beaded anklets?
Black and white African traditional dresses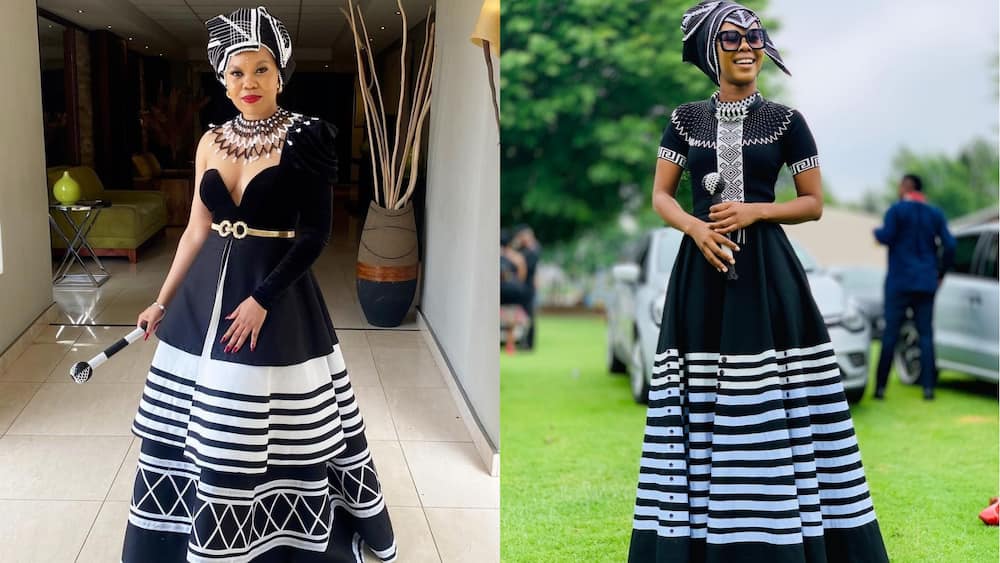 Black and white are neutral colours that can be worn to formal and informal events. The maxis above are classic and chic.
Black and white Swazi look
A black Swazi sash is something you should consider for a change, as most are bright and colourful. The look goes well with modern accessories too.
Cute kiddies' traditional dresses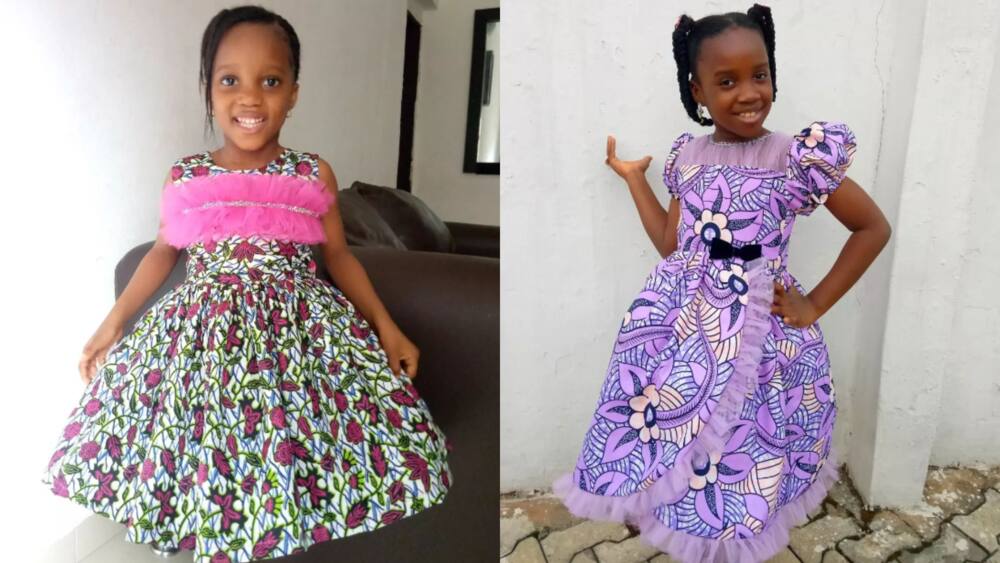 Many traditional kiddie outfits are made of Ankara fabrics. There are hundreds of prints and child-friendly designs to choose from.
One-shoulder Sapedi design
A one-shoulder outfit allows you to show a bit of skin but is less difficult to fit and wear than a fully strapless dress. The neckline's asymmetry adds drama to an otherwise streamlined design. You have to try this design in 2023.
Zulu midi dress
The detail on the midi dress above is impeccable. The white bodice blends well with the skirt with some patchwork and other details.
What is the meaning of traditional African clothing?
African clothing refers to the traditional clothing worn by the people of Africa. Different tribes from different countries pride themselves on their traditional dresses, which they use for ceremonies and special occasions.
Which traditional dress is most beautiful in South Africa?
It is challenging to pick out one community's attire because each is special to its people.
What is a traditional African robe called?
The traditional robe carries different names in different South African communities. The Venda call it tsindi, kanzu in Swahili, boubou in West Africa, and many others in various ethnic groups.
What are the main Sepedi colours?
The main colours are turquoise, bright pink, yellow, blue, and white.
South African traditional dresses are lovely and colourful. There are many designs to choose from, each inspired by a specific ethnic group.
Briefly.co.za recently published cute South African kiddies' traditional dresses. It is a parent's joy to see their child making a fashion statement.
Traditional attires are a great way to style your child for any occasion. Fortunately, designers are constantly coming up with new and amazing designs for kiddies' traditional dresses.
Source: Briefly News