A look at what happened to Pablo Escobar's wife after he was shot
Pablo Escobar is a person who most people refer to as the 'king of cocaine'. He made history by being the most-feared druglord for his dealings in the cocaine business, until the day that he breathed his last. His indestructible moves in smuggling and transporting cocaine are what troubled the authorities until they pinned him down. After his death, hell broke loose for his wife and her kids.
PAY ATTENTION: Click "See First" under the "Following" tab to see Briefly.co.za News on your News Feed!
Pablo Escobar's wife probably didn't think she needed to imagine what life without her man would be like. The death of her husband on 2 December, 1993 was a big blow to her, especially because she found out about his cocaine business after his death.
Her next resort would have a significant impact her life and that of her kids, especially since she had no family to turn to. This is probably one of the hardest decisions that she had to make.
PAY ATTENTION: Do you want to know what's trending on Briefly.co.za? Join our WhatsApp group today.
What became of Pablo Escobar's wife?
On 2 December, 1993, the whole world cheered after a special unit of the Colombian police took down the most-feared drug kingpin, Pablo Escobar. This incident came after years of the police trying to trace him in vain. Inasmuch as it was a victory for them, what most people did not know is that there was a wife and two helpless kids involved whose light had been dimmed. Pablo Escobar's wife had to start a new kind of life as a fugitive, especially after she had been threatened that she had to pay millions of dollars by the members of the Cali cartel, for reparation for the crimes that her husband had committed against them.
Maria Victoria Henao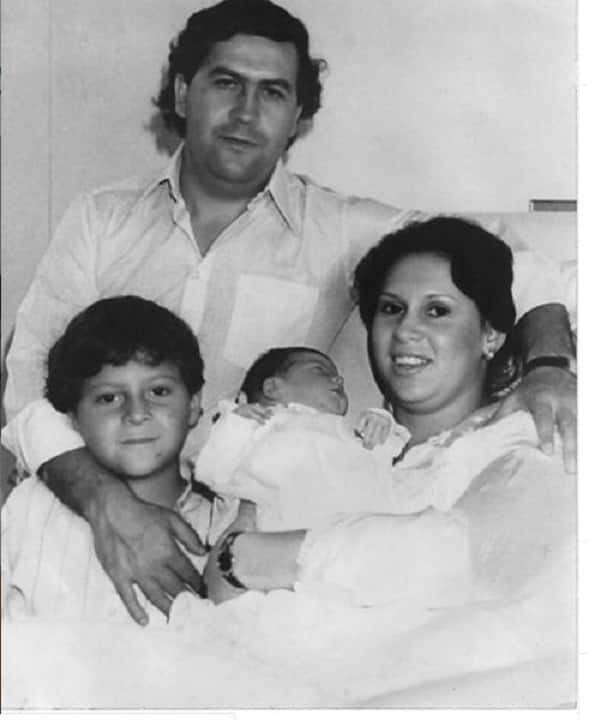 Had she not been married to Pablo Escobar, the most-feared cocaine druglord, we probably would not have known that she existed. In 1976, at the mere age of fifteen, Maria Victoria Henao got married to the love of her life. Even though Pablo was a whole eleven years older than she was, she saw a charm in him that would not make her think otherwise. She was blown away by the way he would pull a naughty smile every time he looked at her.
Maria met Pablo through her brother, who is alleged to have been Pablo's accomplice during the early days of his drug-dealing business. Maria and Pablo's relationship was 'love at fight sight'. Maria's parents did not approve of their union, so she decided to elope in 1976.
While describing her husband, Maria narrated,
"He was affectionate and sweet. A great lover. I fell in love with his desire to help people and his compassion for their hardship. We would drive to places where he dreamed of building schools for the poor. From the beginning, he was always a gentleman."
READ ALSO: Now you can stay in Pablo Escobar's old mansion
Pablo Escobar's children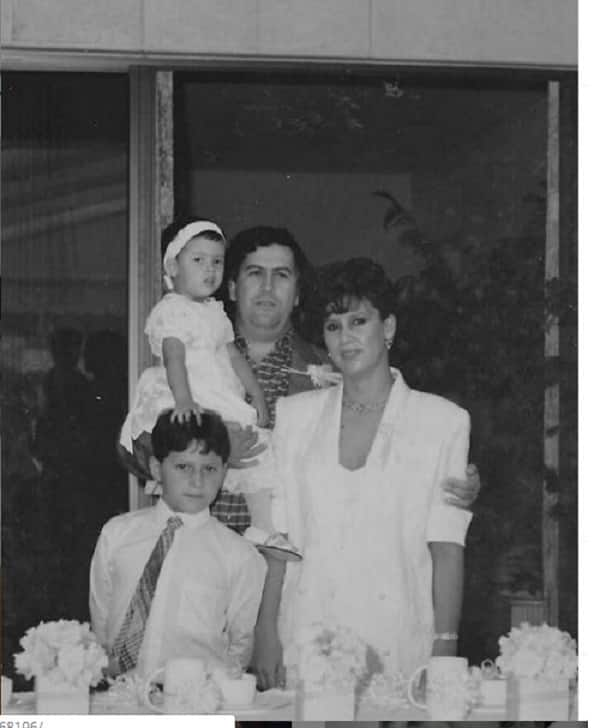 During the first year of their union, Victoria got pregnant and delivered their firstborn, a son, whom they named Juan Pablo Escobar. Seven years later, she gave birth to their daughter, Manuela Escobar, in 1984.
During the time that Victoria was married to Pablo, she lived a luxurious life. Pablo, however, had many concubines with whom he had affairs. All this time, Maria was aware of what was brewing behind her back but chose to maintain her calm and stay in the marriage and did not find the affairs strong enough to break the marriage. Furthermore, she did not have a family to turn to, since she had eloped to get married to Pablo.
Pablo Escobar's death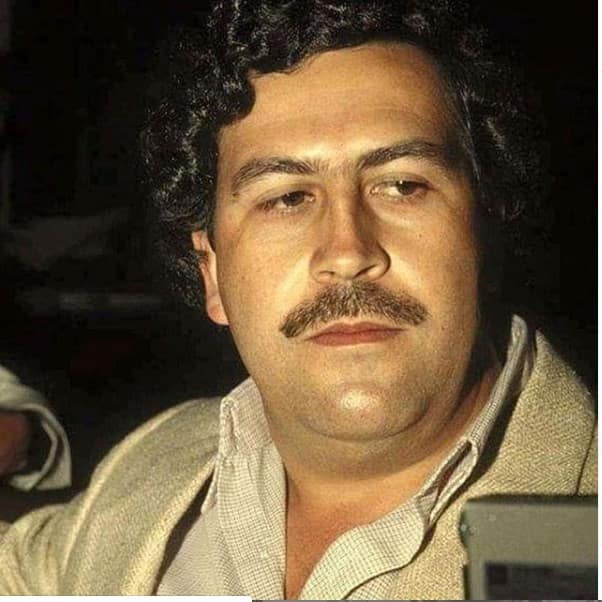 Before Pablo was captured and killed, the Colombian government had issued a directive to a particular police unit to arrest him. He had been wanted for years and had played 'cops and robbers' since the 70s, and each time he would escape being hunted down. It wasn't until 2 December, 1993 that the authorities finally managed to pin him down, after he had tried to escape across barrio rooftops. Hours later, the headlines of many media stations read, "Pablo Escobar dead." Years later, a TV series, entitled Narcos- a story based on his life - was released.
READ ALSO: Heroic police arrest suspects after refusing R100 000 bribe
For the seventeen years that she had lived with Pablo, Victoria was confident to say that she had no clue about the business that her husband was indulging in. She enjoyed the peaceful and luxurious life that the business afforded and was never troubled about their source of income, until Pablo Escobar's death came to pass in 1993. Her husband was gunned down by a particular police unit. This was the start of her miseries as what followed was a life full of distress and trouble.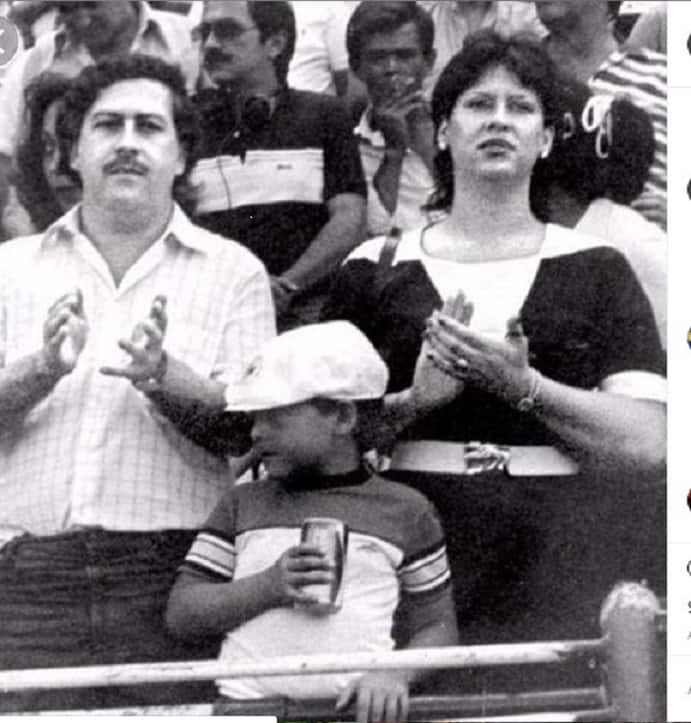 Escobar's death was followed by a series of plagues on his family. The investigations on his drug dealings led to his assets being confiscated. The police were also pursuing his wife for being a suspect in the dealings. Victoria, therefore, had to be on her heels since she was not willing to turn herself in. She, therefore, opted to flee Colombia. In a bid to ensure that she had disappeared without a trace, Maria chose to change her identity and that of her children's. She detached herself from all the connections that would trace her back to her husband.
Fleeing from Colombia was not as simple as it sounded. Victoria and her kids tried to seek asylum in several countries, all in vain. She would not be allowed into Germany and Mozambique, just because people associated her with her husband. Luckily, she tried out Argentina, and for the first time, fate favoured her. She made herself a home in Buenos Aires, Argentina. Maria changed her name to Maria Isabel Santos Caballero. Her son's new name was Sebastian Marroquin.
READ ALSO: Self-confessed drug lord gets slap on wrist, ordered to pay R1m fine
The trio later on learnt that their escape could only last her a few years when the police finally got to them. In 1999, the mother of two and her son were arrested in Argentina, and the charges imposed on them were taking part in money laundering and falsifying official documents. They stayed in prison in Argentina in seven months, after which the charges were dropped, and they were released. Maria told the press that they had been arrested for a crime she had not done, but because of who she was.
Pablo Escobar's daughter
The transformation and change in lifestyle that Pablo Escobar's children had to face hardened them and made them take different courses in life. Pablo Escobar's daughter has since then chosen to open a new page of her life. That transformation marked the Manuela Escobar death, especially in that identity. She is reported to have buried her identity as Manuela Escobar. According to a Colombian news website called 'El Tiempo', her new identity is Juana Manuela Marroquin Santos.
Pablo Escobar's son
Like his sister who chose to go silent and abandon her initial identity and lifestyle, Juan Pablo Escobar also decided to take up a new identity as Sebastian Marroquin. However, he did not submerge himself in fear of people recognising him. Neither was he ashamed of being referred to as the son of the king of the Medellin cartel. In a bid to make peace with the crimes that his late dad had committed, he wrote a book entitled My Father that highlights the sins that his father indulged in. He has also gone an extra mile to apologise in public, to the people whom his father offended while running his business.
Sebastian is an architect and a businessman. He runs a clothing line that he named after his late father's last name, and his mother's name - Heano. In as much as his father had a dark history, Sebastian has never been ashamed to do interviews about him. To add to it, he still visits his father's grave regularly to pay his respect.
READ ALSO: Trevor Noah pokes fun at Harry and Meghan's sabbatical in Africa
Pablo Escobar's wife has had to go through the pain of the consequences of her late husband's actions. She has had to bring up her children as fugitives suffering discrimination and not to forget, living in fear. Her husband's death was the ultimate U-turn of her life, something that you would never wish for, even on your worst enemy.
Enjoyed reading our story? Download BRIEFLY's news app on Google Play now and stay up-to-date with major South African news!
Source: Briefly.co.za