Born Pieter van Jaarsveld, Bobby van Jaarsveld is a pop singer, actor, model, and songwriter from South Africa. We bet all of Mzansi has heard of Bobbie van Jaarsveld songs, and may relate to him as an artist. But, who is Bobby van Jaarsveld? This Bobby van Jaarsveld biography will help you understand the celebrity better.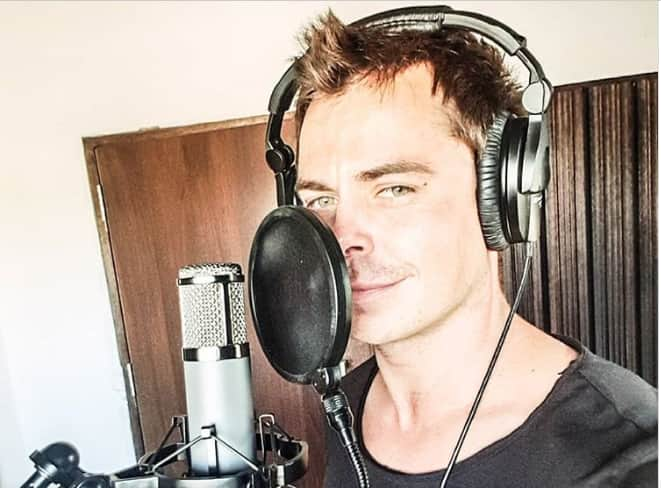 Nicknamed after his father, the talented artist, Bobby van Jaarsveld, has been singing since high school when he received his first singing record. Today, he has had a number of achievements such as having two of his albums having double platinum status, one having platinum status, and other achievements that will be discussed later herein.
READ ALSO: Boity Thulo biography - age, relations, family and career
Bobby van Jaarsveld biography
How old is Bobby van Jaarsveld? For a musician of is caliber, you may want to know his background as well as career journey. Here are the details.
Bobby van Jaarsveld profile
Born: 06 March 1987
Bobby van Jaarsveld age: 32 years old as of 2018
Origin: Paarl, Western Cape, South Africa
Marital status: Married
Occupation: Singer, actor, model, brand ambassador, and songwriter
Famous for: Having two double platinum status albums, one platinum status album, and two gold status albums
Net worth: $4 Million
Facebook: @Bobby.van.Jaarsveld
Twitter: @bobbyvjaarsveld
Bobby van Jaarsveld Instagram: @bobbyvanjaarsveld
Bobby van Jaarsveld early life
Bobby was born in a family of three children, with him being the second child. The other two siblings are ladies. One of Bobby van Jaarsveld sisters is Karlien van Jaarsveld, who is also a musician. Although there was Karlien van Jaarsveld wedding and later on Karlien van Jaarsveld honeymoon, the marriage did not work and Bobbie's sister parted ways with her husband in 2015.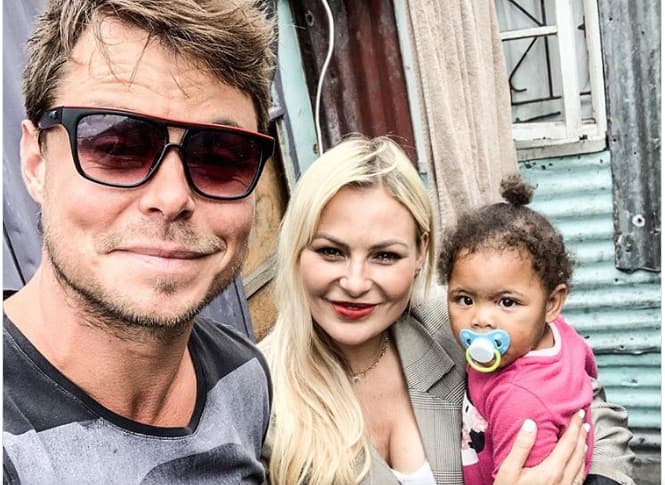 As a child, Bobby attended a number of primary schools before joining and graduating from Brits High School. It was in high school (Grade 11) that he secured his first singing record and released an album in the same year.
Bobby van Jaarsveld family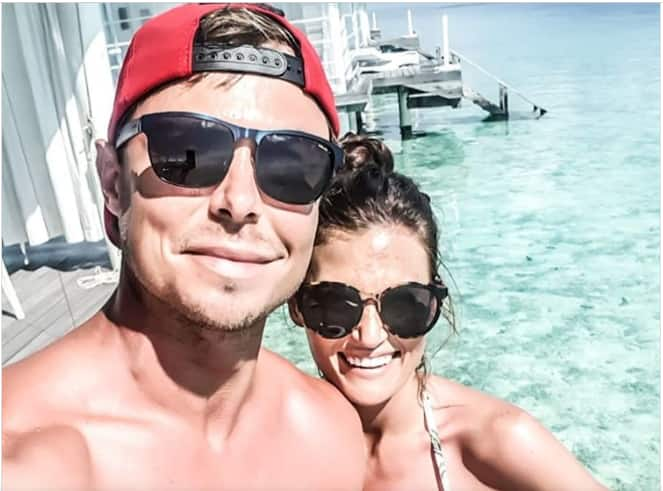 If you have been curious about Bobby van Jaarsveld wife, then you would be glad to know that he is married to Annatjie van Jaarsveld. The two strong Christians have three children: two sons and a daughter. The two sons are Leben van Jaarsveld and Sion van Jaarsveld, while the daughter is called Armani van Jaarsveld.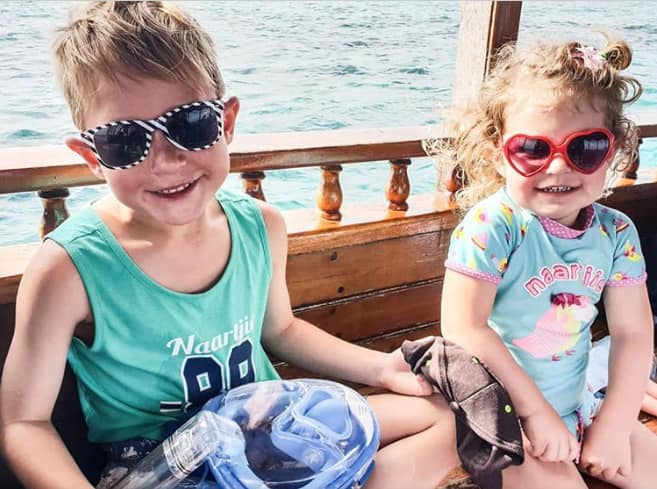 Bobby Van Jaarsveld acting career
Pieter's acting career has seen him play in roles in films like Liefling – Die Movie, which is from 2010. He has starred in As Jy Sing (2013 film) as well as judging in The Voice SA from 2016.
Bobby is also a brand ambassador for Jaguar South Africa, Diamonds Resorts, and Kalahari Lifestyl.
Bobby van Jaarsveld songs and awards
Pieter's illustrious career won him a number of awards with the first one being the 2006 Huisgenoot Tempo Awards for the category of Best Newcomer. Since then, he has released a number of new Afrikaans songs with each new album. An example of a Bobby van Jaarsveld new song that hit the waves hard was Bobby van Jaarsveld net n man, which was released in 2017 after a lengthy absence from the game. The man has an impressive collection of songs from his albums including:
My alles - 2014
Die Land - 2019
N Vrou Wil Dit Hoor - 2012
Spieeltjie - 2009
Yeshua, the Messiah - 2012
It's always been you - 2015
Een vir een - 2014
My Lewe draai om jou - 2012
Net 'n Man - 2017
Lovesong Letter - 2009
Totaal Finaal - 2014
Thank You - 2009
Geloof Hoop & Liefde - 2016
Butterflies - 2015
Net Vir Jou - 2009
Annatjie - 2009
Eens in 'n Leeftyd - 2012
Boemelaar – 2005
Kyk Waar Is Ons Nou - 2009
Liefling - 2010
Beter helfde - 2014
Storieman - 2014
Ek Moes Jou Gesoen Het - 2014
Duisende Ure - 2005
Middernag Serenade - 2015
Kan Ek Met Jou Praat - 2012
Een Vir Almal, En Almal Vir Een - 2012
Grand Finale - 2018
Storie Van My Lewe - 2009
Yeshua - 2012
Vlieg Vanaand - 2009
Wat Geld Nie Kan Koop Nie – 2012
Bobby van Jaarsveld awards
Today, the impressive and talented musician has a host of distinguished albums such as Net Vir Jou (2009) and Wat Geld Nie Kan Koop Nie (2012). Both of these have the distinguished double platinum status. His other album Maak 'n Wens (2014) has a platinum status while both Duisend Ure (2006) and Die Eerste 10 Jaar (2015) have gold status. Bobby has managed to rack up the following awards:
2006 Huisgenoot Tempo Awards - Best Newcomer
2010 KykNet DKNT - Favourite Artist for 2009
2010 SAMA Awards - Best Afrikaans Pop Album
2010 Huisgenoot Tempo Awards - Best Afrikaans Songand Best Afrikaans Pop Album
2010 Vonk Awards - Best Male Artist, Best Afrikaans Pop Album, Best Original Song Writer, and Best Afrikaans Song
2011 MK Awards Best Solo Album and Best Pop Song
2011 Huisgenoot Tempo Awards - Most Popular Male Artist
2011 Jacaranda 94.2 Awards - Won local competition on radio station: World Cup of Music
2012 Ghoema Awards - Song of the Year
2012 Huisgenoot Tempo Awards - Most Popular Male Artist
2013 Ghoema Awards - Best Music Video, Best Male Pop Album, Male Artist of the Year, Song of the Year
2013 Huisgenoot Tempo Awards - Album of the Year, Music Video of the Year, and Song of the Year
2015 Ghoema Awards - Best music video, Pop Album van die Jaar, Manlike Kunstenaar van die Jaar, Album van die Jaar
2015 Huisgenoot Tempo Awards - Pop Album of the Year, Song of the Year, Music Video of the Year
Bobby van Jaarsveld latest news
Bobby is blessing the people of Mzansi with a new album in 2019! He confirmed this earlier this year in an Instagram post. If you want to go back to the last time he released a new album, you would go back almost five years. It is therefore an exciting revelation that he is working on a new album this year.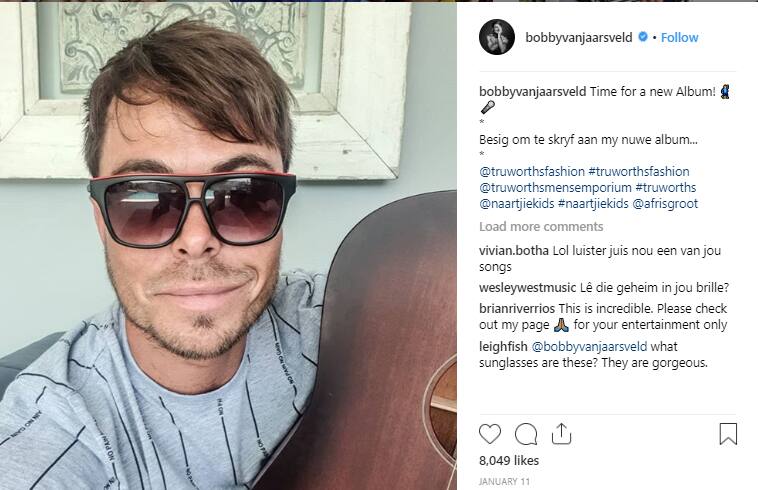 READ ALSO: AKA biography: age, real name, girlfriend, net worth, songs and latest news
This detailed Bobby van Jaarsveld biography has given you an insight on who the musician is in real life. Look out for his new album because it will definitely contain interesting songs.
READ ALSO: