How to make the perfect homemade Cornish pie the South Africa way
What is Cornish pie? This is a pastry that contains beef, onions, potatoes, and swede. However, this has changed a bit in terms of the ingredients, just as other things have evolved. The Cornish pie originated from England. It later spread to other countries, including South Africa, as it is the home of international cuisines.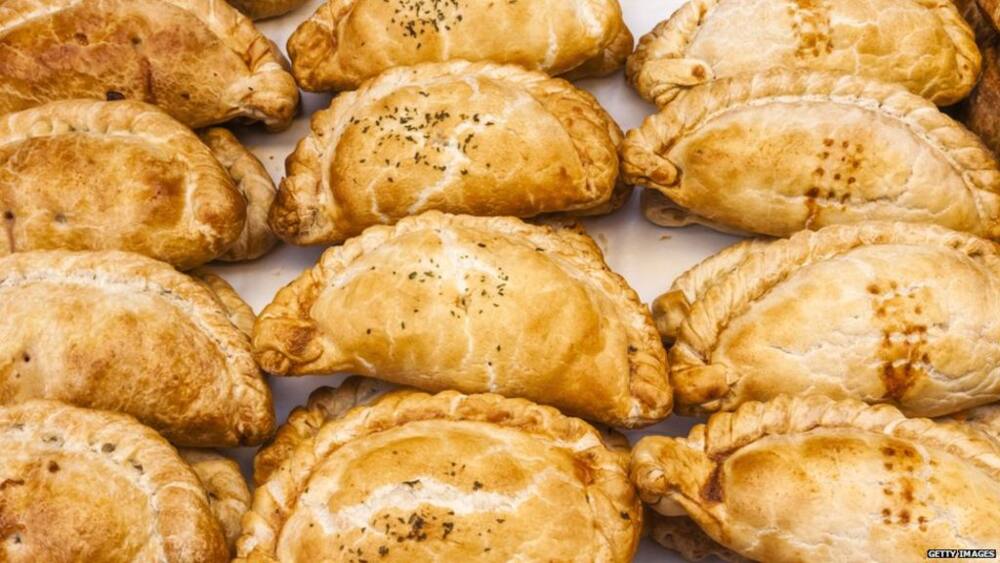 The original Cornish pie was made by putting the raw filling inside a pastry case and then baking it. It derived its name from Cornwall. There, people used to make it more often and used it as a main dish. Read more to find out the Cornish pie recipes easy steps.
Cornish pie recipe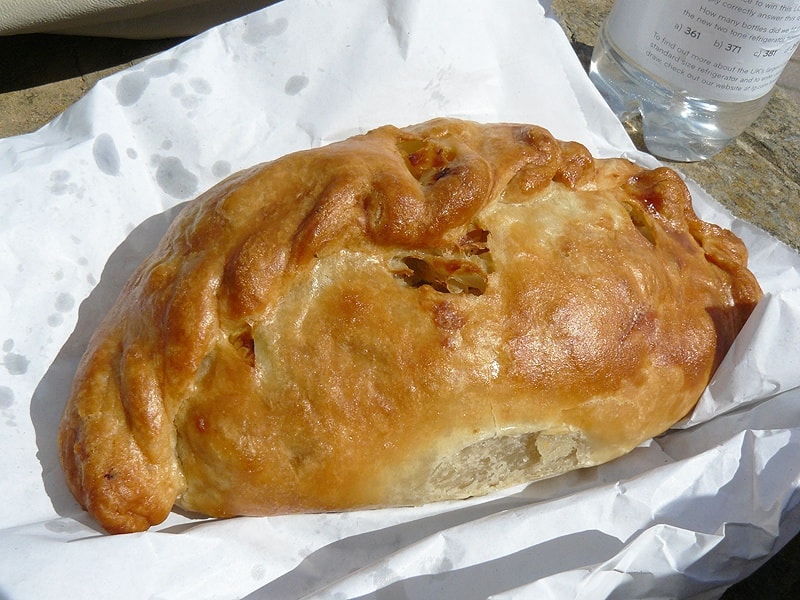 How do you make Cornish pasties from scratch? Below is an easy way to make a smooth Cornish pasty pie that will taste just great, ideally made in advance for lunches.
Ingredients
Below are the ingredients needed:
For the pastry:
5 cups Plain Flour
½ teaspoons Salt
1 cup butter, cubed and chilled
8 tablespoons cold water
1 whole egg, lightly beaten
READ ALSO: The best South African lasagne recipe
For the filling:
1 pound beef
3 whole small red potatoes
½ whole onion
2 whole carrots
1 cup frozen peas
Salt and pepper, to taste
2 tablespoons Worcestershire sauce
2 tablespoons beef stock
Cornish pie resep preparation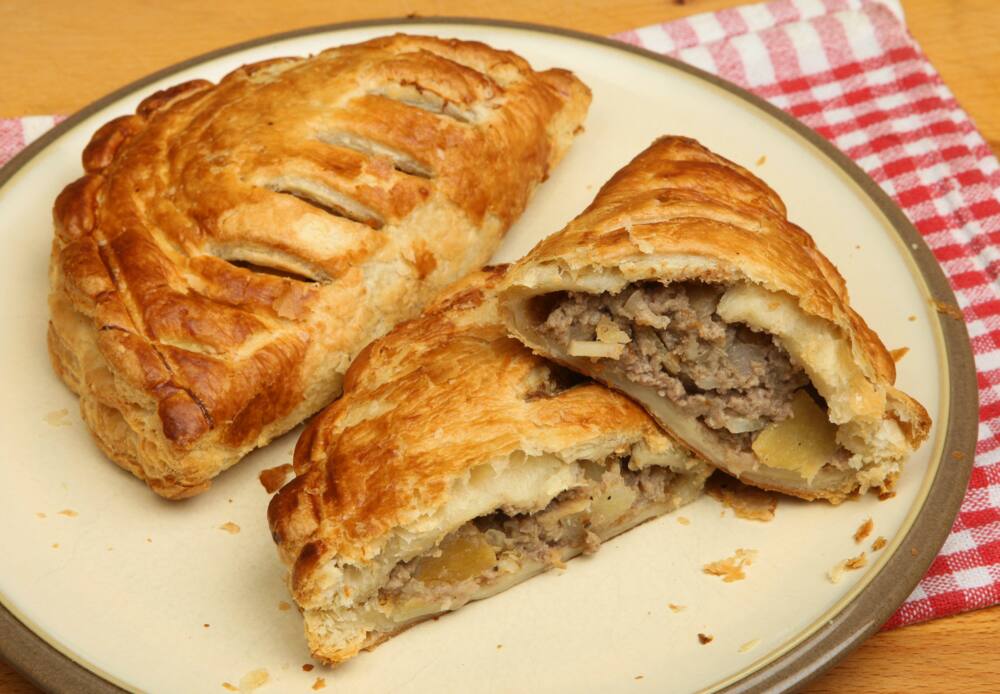 1. For the pastry, sift the flour and add the sugar and salt in a bowl and mix them thoroughly. Using either a pastry blender or just your fingers, cut the butter and put it into the bowl with the dry ingredients. Mix them thoroughly until they form fine crumbs.
READ ALSO: Best South African spaghetti bolognese
2. In another small bowl, whisk the egg with water and add to the flour mixture. Mix them thoroughly and quickly until you form a dough. Knead diligently and ensure the pastry is smooth with no cracks. By kneading it briefly, ensure the delicate pastry is fine enough for rolling without breaking to maintain its lovely crumbly texture.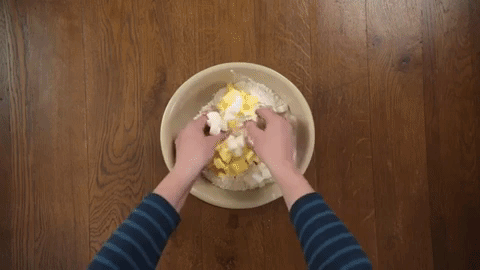 3. Press the dough in a flattened disk shape and wrap it with a plastic bag. Let it refrigerate for at least 30 minutes and up to overnight before resuming with your preparation.
4. Get your pastry from the refrigerator and unwrap it. Give it some time to soften slightly before placing it on a floured surface. Roll it up to a thickness of ¼ inch.
5. Using a small saucer or plate as a guide, cut out 6-inch rounds. Stack the cut rounds onto a plastic wrap, separating each one of them with a parchment paper or a plastic wrap to prevent them from sticking together. Refrigerate them as you prepare the filling.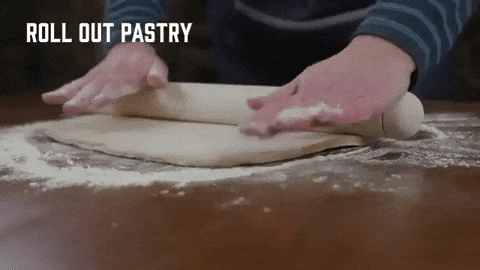 6. To prepare the fillings, preheat the oven to 400 degrees F.
7. Get your pastry rounds from the refrigerator. In a mixing bowl, combine the meat, potato, onion, carrot, pepper, and salt and mix them thoroughly.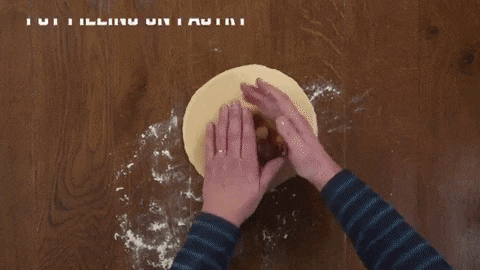 READ ALSO: Easy, mouthwatering no-bake cheesecake recipe South Africa
8. Place the pastry circles on a clean work surface. On top of the rounds, place about ½ cup of the filling in the center of one pastry. Using the whisked egg york, brush the edges of the pastry and make the ends meet by bringing the unfilled side over the filled side.
9. Press the edges together and make them seal by crimping using a fork or a finger. Repeat with all the rounds and transfer them all to a baking sheet.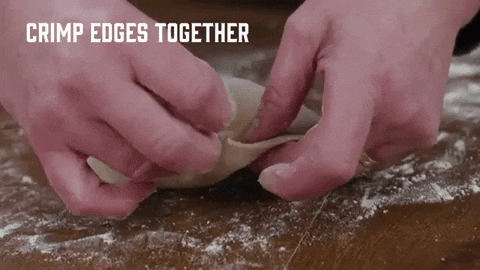 10. With the remaining egg york, brush the tops of the turnovers before making several slits into the surface of each pastry. Bake for like 20 minutes, until the pastry turns golden brown around the edges.
11. Reduce the heat from 400 degrees to about 350 degrees and continue to bake.
12. Remove from the oven and let them cool for 10 to 15 minutes before serving.
FAQs
Below are the frequently asked questions and answers.
What pastry is Cornish pasty made from?
It is made by placing an uncooked filling, typically meat and vegetables, on one half of a flat shortcrust pastry circle, folding the pastry in half to wrap the mixture in a semicircle and crimping the curved edge to form a seal before baking.
READ ALSO: How to bake scones in South Africa
What goes with Cornish pasties?
It goes well with a variety of dishes. For instance, it may go well with a choice of potato, vegetable, or peas. Pasty and chips again with gravy would also be useful.
Which are the best Cornish pasties?
You can get the best pasties at:
Ann's Pasties
The Chough Bakery
Sarah's Pasty Shop
Horse & Jockey Bakery
Rowe's Bakers
Pengenna Pasties
How do you eat a Cornish pasty?
Try to resist eating them straight from the oven. Pasties are really at their best when they are just warm. A pasty is a meal in itself, so there is no need to serve it with any accompaniments. Just enjoy!
What is a traditional Cornish pasty?
It is filled with beef, sliced or diced potato, swede (also known as yellow turnip or rutabaga) and onion, seasoned with salt and pepper and baked.
READ ALSO: Best Potjiekos recipes chicken South Africa
Are Cornish pasties unhealthy?
Consumers seem to regard a freshly-baked pasty as a healthier option than other fast food. The pasty has real, simple ingredients and contains some vegetables.
Can you freeze Cornish pasties?
Yes. To freeze the pasties, wrap them individually in plastic film wrap and then in a heavy-duty freezer bag. Alternatively, freeze several in their wrappers and then combine them into one pack. They can be frozen either baked or unbaked, as you wish.
Can you eat a Cornish pasty cold?
It can be eaten cold, and some pasties would even have the meat mixture in one half and a sweet dessert on the other half, making it a complete meal. The pasties can be eaten hot or cold, making them an ideal picnic munchy.
READ ALSO: Kingklip recipes easy, tasty and healthy
With the above process of making Cornish pie recipe South Africa, you have no excuse not to treat your family and friends to a delicacy of homemade Cornish pie. Try it today and make your family happy. The content of Cornish pie calories is low, thereby it is a healthy food for your family.
READ ALSO:
How to make to-die-for classic party jollof rice!
The tastiest Oxtail recipe ever
Easy homemade macaroni and cheese recipe
How to make juicy Alfredo pasta that melts in your mouth
Quick and easy paptert recipe with cream
Source: Briefly News