7 amazing aubergine recipes that you cannot resist
The eggplant, also known as aubergines in the U.K. and Ireland or brinjals in South Asia and South Africa, is grown worldwide as an edible fruit. It is mostly purple, spongy, and absorbent, and it is commonly used in various cuisines.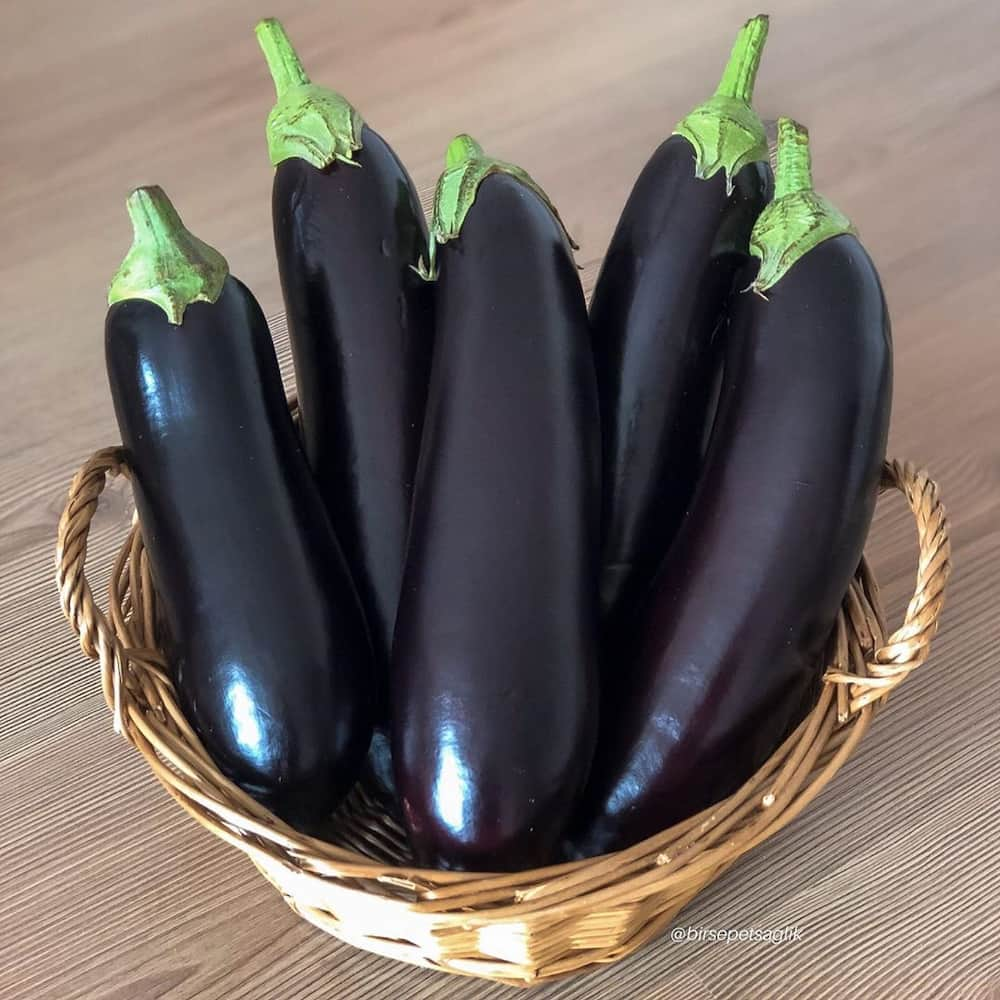 The plant species is believed to have originated from India, where it grows in the wild, or from Africa. The fruit has been cultivated in southern and eastern Asia since prehistory. Some of the health benefits of eggplant are that it is an excellent source of minerals and vitamins, helps with digestion, and prevents several illnesses, including heart diseases, anaemia, and cancer. Here are the top 7 brinjals recipes you should try.
1. Glazed aubergine with grilled green vegetables on the bed of creamy buckwheat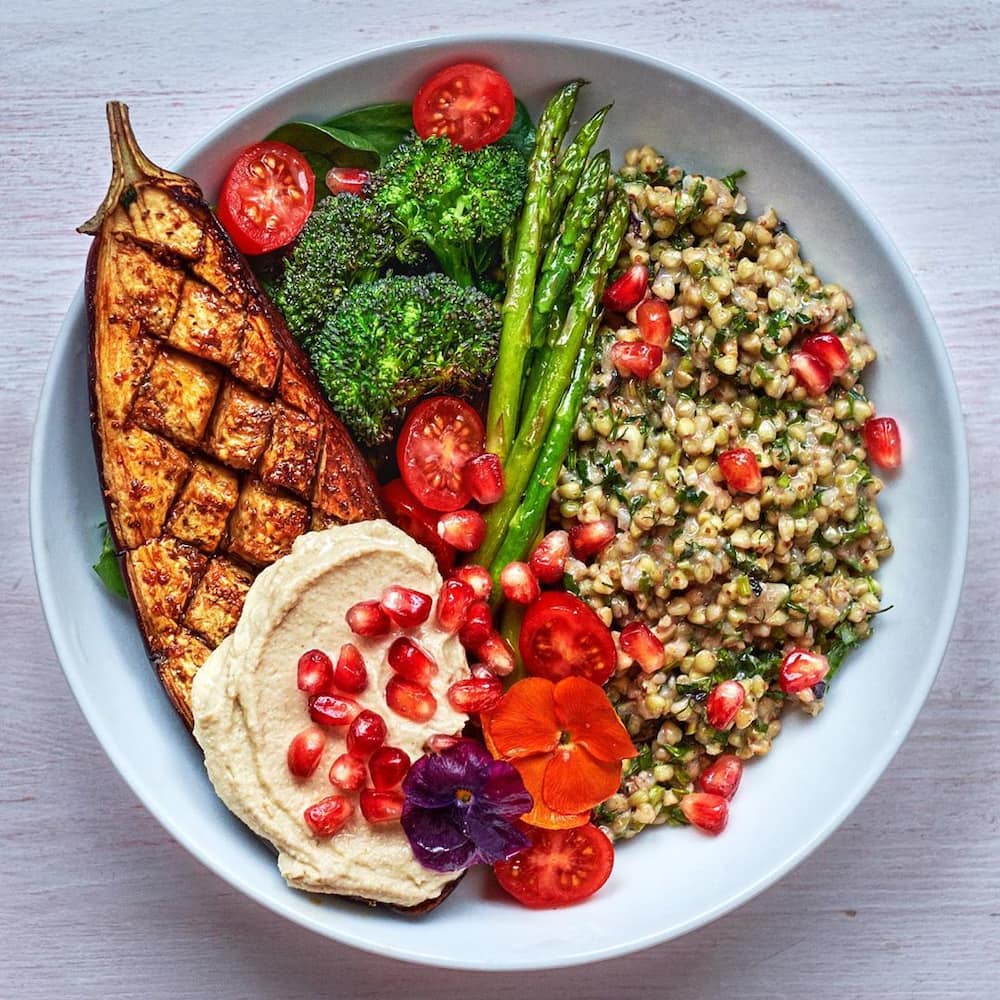 This is one of the easy aubergine recipes.
1 aubergine
1 tbsp olive oil
1 tbsp pomegranate molasses
pinch of salt
1/2 tsp of coriander
1/2 tsp of garlic powder
1 tsp of sweet paprika
1/4 tsp of cayenne
freshly cracked black pepper.
For green vegetables
small bunch of broccolini and asparagus
1 tbsp of olive oil
1/2 tsp of garlic powder
1/2 tsp of onion powder
1 tsp of smoked paprika
pinch of salt
Method
Preheat the oven to 200 degrees Celsius.
Slice the aubergine in half and score it diagonally.
Mix all the dry spices together. Drizzle the aubergine with olive oil and rub it with the dried spices.
Place it in the lined baking tray scored side down and bake for 30 minutes.
Meanwhile, wash and trim your broccolini and asparagus.
Drizzle them with olive oil, toss in your spices, and after the aubergine is baked for 30 minutes, remove the tray from the oven.
Flip the aubergine and brush it with pomegranate molasses.
Arrange the rest of your veggies around in a single layer and place the tray back to the oven for 10 more minutes, and turn on the grill for the last 5 minutes.
The broccolini should be bright green and still crunchy after that time. If you want them softer, add 5 more additional minutes, but keep an eye on the aubergine so it does not burn.
2. Teriyaki Eggplant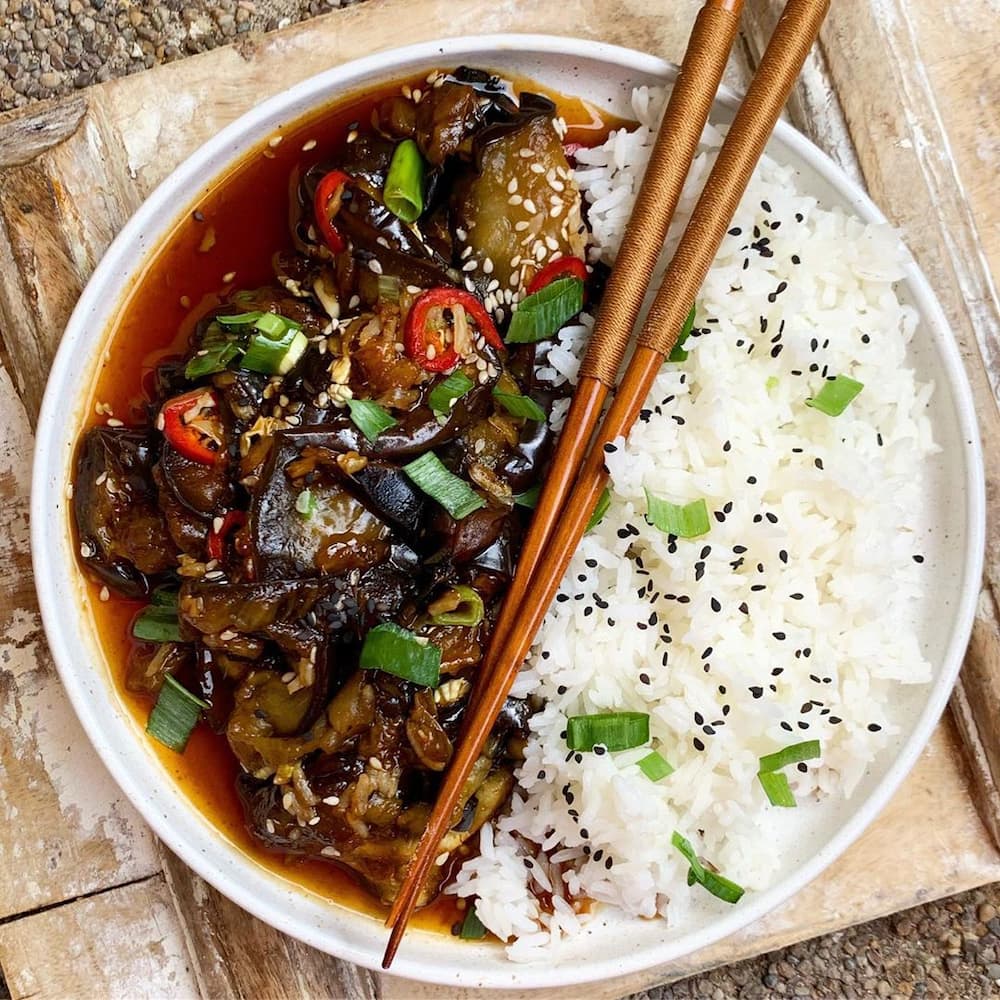 This is also another simple aubergine recipe.
1 cup water
1/4 cup soy sauce
1/4 cup sugar or maple syrup
2 cloves garlic, chopped finely
1 slice (10 grams) fresh ginger, finely sliced
3 tsp cornflour
800g eggplant
Method
Serve with rice, lots of finely sliced spring onions, diced red capsicum, and some salt and pepper, tofu, or tempeh on the side.
Add the garlic and ginger to a non-stick pan and sauté over high heat for 2 minutes - until you can start to smell their aromas.
Slice the eggplant into 1-cm thick rounds and add it to the pan.
Add the remaining ingredients except for the cornflour.
Add a lid to the pan and allow to simmer for 15 minutes until the eggplant is nice and tender (try some!).
Next, in a small dish, add 3 tsp of cornflour and 3 tsp of water, mix together to form a paste, and then add them to the eggplant and stir through.
Continue to cook until the sauce begins to thicken. This should take another 5–10 mins.
Remove from heat and top with lots of spring onions.
Serve with rice and freshly diced capsicum.
3. Sweet miso aubergine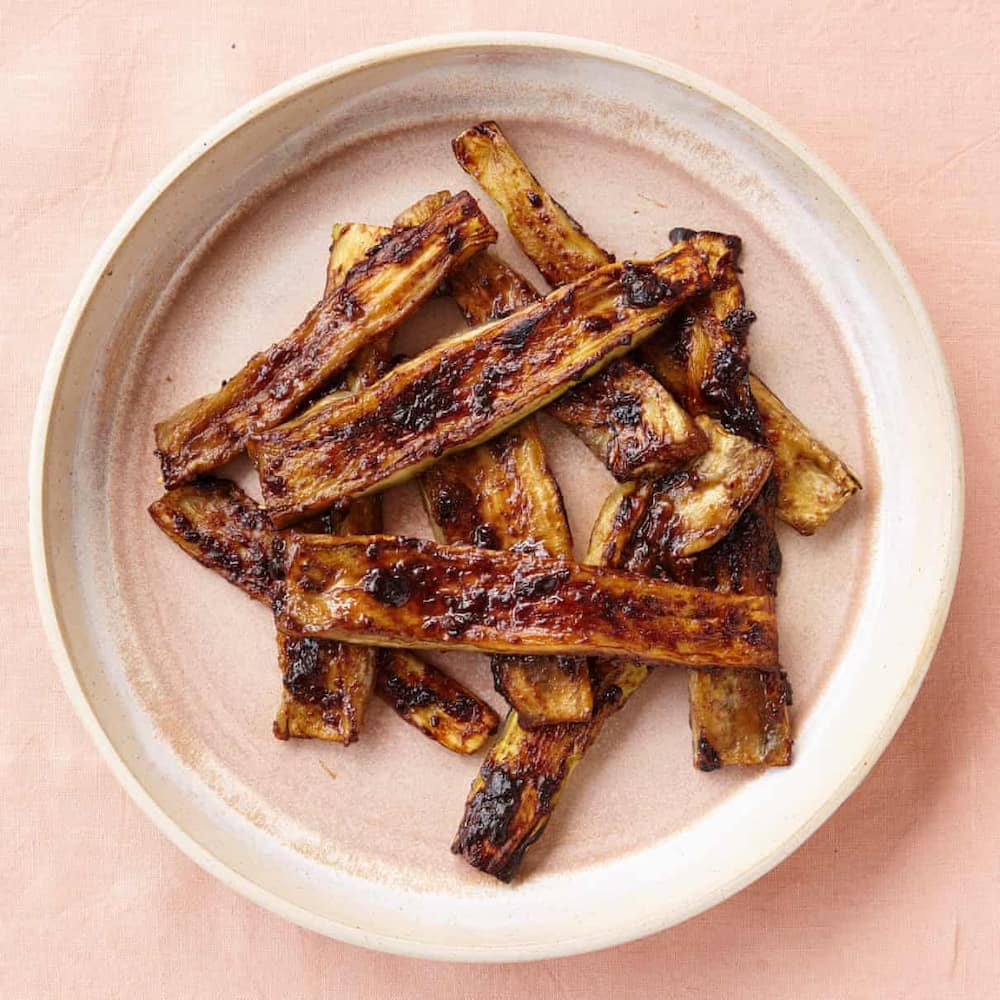 This is one of the simplest brinjal recipes that takes about 25 minutes to prepare and cook.
400g of medium aubergines
1 tablespoon sesame oil
2 tablespoon brown rice miso1 tablespoon mirin
1 tablespoon sake
READ ALSO: 10 of the best waterfront restaurants in Cape Town
Method
Cut the eggplant lengthways.
Heat a cast-iron pan over low heat.
Brush the sliced aubergines with sesame oil, add to the pan, and cook while covered for two minutes until they become soft.
Heat the grill and position a rack 10cm beneath the heat source.
In a small saucepan, whisk together the miso, mirin, and sake and warm shortly over low heat.
Scrape into a small bowl and cool for five minutes.
Transfer the aubergine pieces on a rack, set over a rim baking sheet, spread over with the miso mixture, and then grill until they become slightly glossy for about three minutes.
Serve hot or at room temp.
4. Aubergine and pomegranate salad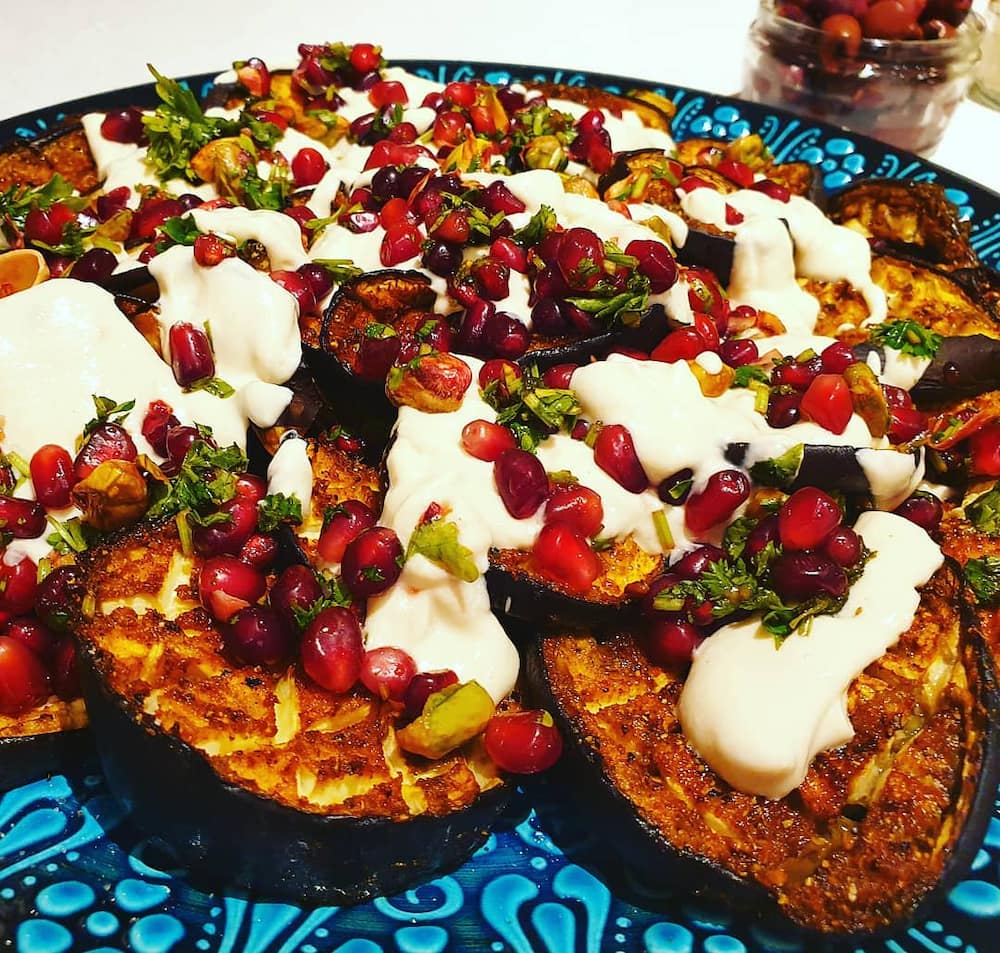 3 medium brinjals
1 tablespoon tahini
200g ripe cherry tomatoes halved
2 spring onions, thinly sliced
Seeds of ½ medium pomegranates
1 small bunch mint, chopped
For dressing
Juice of ½ pomegranates
½ garlic glove, crushed to a paste with a pinch of salt
3 tablespoons extra-virgin olive oil
Salt and black pepper
Method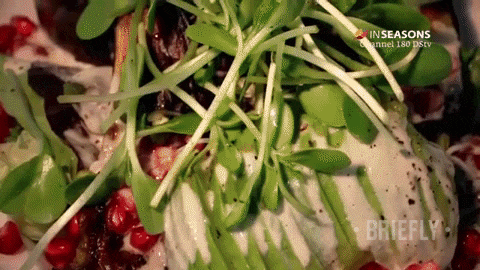 Whisk all the dressing ingredients together, season, and set aside.
Grill the brinjals whole until the skin is charred and crisp and the flesh is very soft.
Take off the heat and when cool enough to handle, discard the tops and peel off the skin, scraping the flesh from the back of the skin if necessary.
Chop the flesh roughly with a knife, put it in a large bowl, and mix until almost smooth. Add the tahini and dressing and taste for seasoning.
Add the tomatoes, spring onions, pomegranate seeds, and mint and stir well.
READ ALSO: Easy banting recipes
5. Aubergine paté with honey and cumin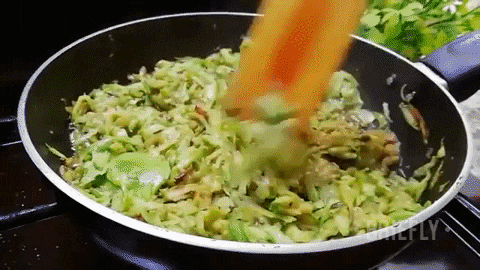 2 medium aubergines
3 tablespoons macaroni cheese
2 teaspoons ground cumin
4 teaspoon honey
Seasoning
1 glove garlic
Method
Pre-heat the oven to 180 degrees.
Cut the aubergines in half lengthways and score quite deeply with a knife.
Peel and slice the garlic glove into thin slices and tuck into the scores of both aubergines.
Place them on a baking tray, drizzle them with the honey, and sprinkle with cumin.
Place in the oven for 20 min until soft.
Scoop them out, put them in a bowl, and let them cool.
Once they are warm, scoop the mascarpone and blend.
Season to taste.
Serve with crusty bread.
6. Sesame fried aubergine and fig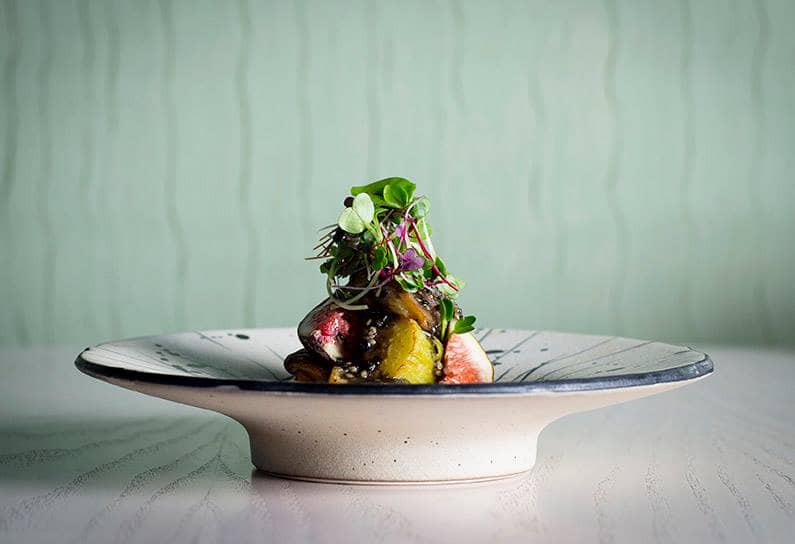 This method is of how to cook brinjal is one of the simplest.
4 small brinjals
50g plain flour
2 figs
30 white sesame seeds
50g sesame paste or tahini
30g soy sauce
30ml mirin
20g sugar
80ml white wine
Method
Peel the brinjals lengthwise, leaving strips of the skin.
Dust the brinjals with flour and then fry in 2 tablespoons of vegetable oil over high heat until nicely browned and cooked. Drain on kitchen roll.
Cut the figs into quarters, coat them in plain flour, and fry them in the same pan for 10 seconds each side.
Mix the white sesame seeds, tahini, soy sauce, mirin, sugar, and wine. Put the brinjals and figs on a large serving plate, drizzle over the dressing, and garnish with the watercress or drill.
7. Brinjal fry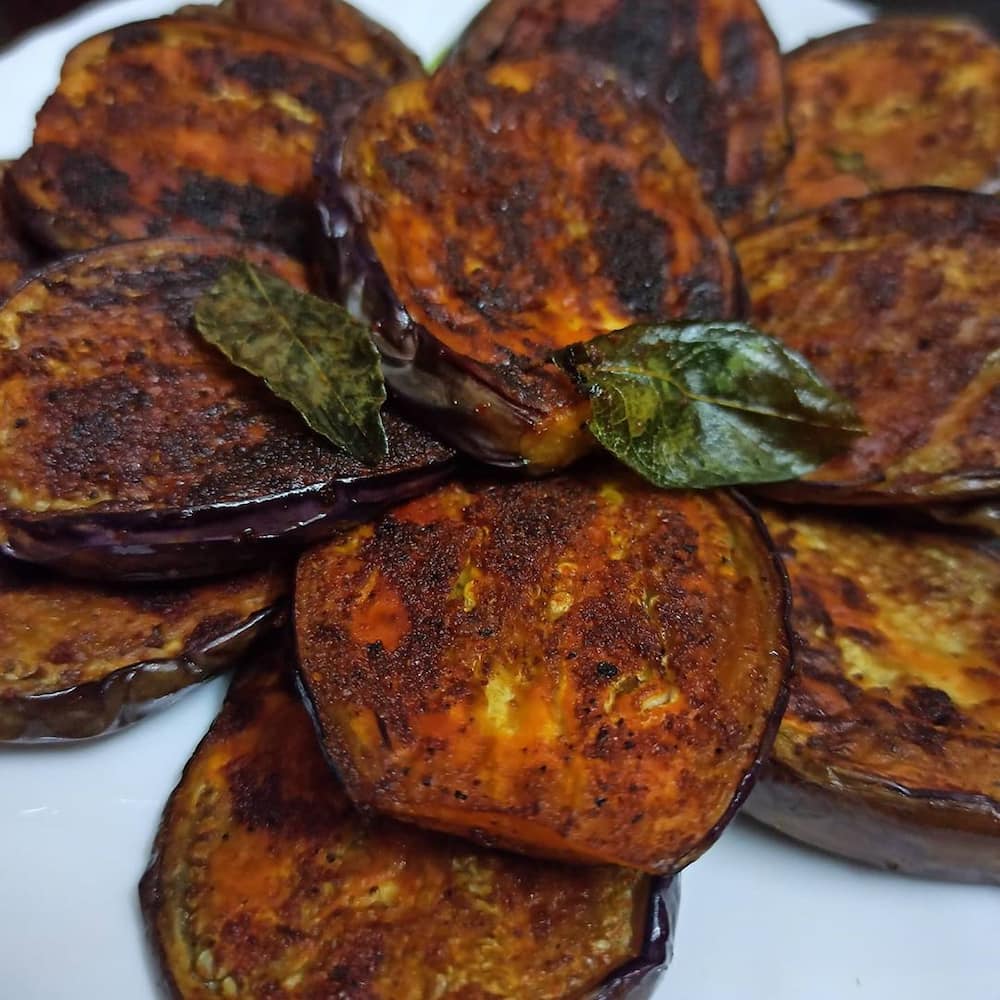 This is one of the top brinjal recipes South Africa.
Sliced brinjals
2 boxes of chilli bite mix
250ml cold water
2 teaspoons salt
Cooking oil for deep frying
1 large eggplant
Method
Empty the contents of the chilli bite mix into a medium-sized bowl. If a chilli mix is not on hand, mix 2 cups of chickpea flour, 2 teaspoons salt, 1 teaspoon of baking powder, 1 tablespoon of chilli powder, 1 teaspoon cumin, 1 teaspoon coriander powder, and 1 teaspoon of chilli flakes.
Add salt to the chilli bite mix.
Add water. The consistency should be thick.
Heat enough cooking oil for deep frying under medium heat, and place a drop of batter in the oil.
Dunk the sliced brinjals one by one to the batter, coating it thoroughly.
Carefully place the coated slices of the brinjal in hot oil and allow frying for a few minutes, turning them over until each slice turns golden brown.
Remove the fried brinjals and dry them using a paper towel.
Serve while hot and crispy.
READ ALSO: Easy Malva pudding recipe with ideal milk
Q & A
Here are the most asked questions.
What is the difference between eggplant and aubergine?
Aubergine is the word mostly used in Europe while the eggplant is used primarily in the U.S. However, they refer to the same thing.
Is aubergine good for you?
The fruit is an excellent source of fibre. It is also a good source of vitamin B1 and B6.
Why is eggplant called aubergine?
The fruit was given the name eggplant in the mid-18th century since it is shaped like a goose egg.
Can you eat raw aubergine?
Aubergine is not poisonous as it was rumoured in the past. However, while raw, it has a bitter yet pleasant taste with a spongy texture.
So, there you have it, the top 7 aubergine recipes you should try. There are also other ways of how to cook brinjals.
READ ALSO:
12 easy South African desserts recipes
10 easy mince recipes South Africa
Best crumpet recipe South Africa
Source: Briefly.co.za