Vusi Khekhe bio: age, uncle, family, case, images, release, house, profile
Vusi Khekhe is a South African man who has been accused of the assassination of a billionaire businessman called Wandile Bozwana in addition to crimes. He is also the Mamelodi taxi boss, and he also runs a security company. Nicknamed the Number 1 Tsotsi, Vusi is a man who is feared by numerous people in South Africa. He is said to lead a group of unsavory individuals that extorts cash from local business people as well as assault.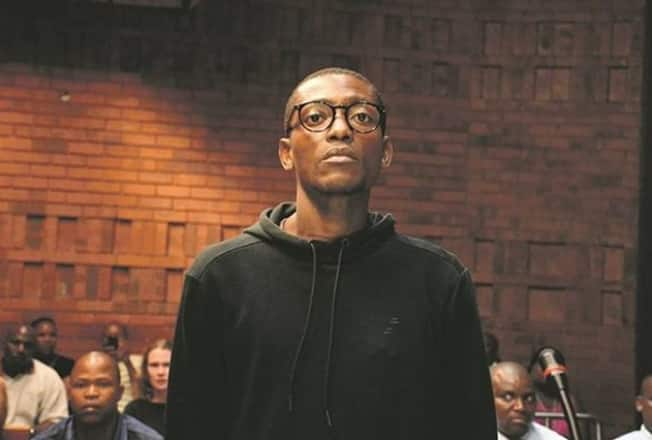 In case you are not aware, Vusi Khekhe was arrested last year after the police obtained a warrant following several complaints against him. The cops raided Vusi Khekhe house and that of his parents, and after the arrest, he was humiliated in the township where he was once feared by the locals. Three of the people arrested with him face charges of possessing unlicensed firearms. So, who is Vusi Khekhe and what is Vusi Khekhe age?
Vusi Khekhe profile
Real name: Vusi "Khekhe" Mathibela
Other names: Number 1 Tsotsi
Place of birth: Johannesburg, South Africa
Vusi Khekhe Mathibela age: 34 years old as of 2020
Nationality: South African
Occupation: Alleged crime boss
Occupation: Mamelodi taxi boss and owner of a security company
Famous for: Being charged in the murder of billionaire businessperson called Wandile Bozwana among other charges together with other people
READ ALSO: Nicole Capper bio, age, ex-husband, fiance, sexual abuse, facts, profile
Vusi Khekhe biography
Not much is known about Khekhe's background except for the fact that he was born in Johannesburg 34 years ago. His parent's house is in Mamelodi East. Mr. Mathibela is a family man with a wife and kids.
Vusi Khekhe case
Vusi, who surrendered to the cops in Germiston, east of Johannesburg in March 2019, was arrested on charges of extortion, intimidation, as well as assault on the members of the Mamelodi society. There were six other suspects arrested together with him although one of them was released pending further investigation. Elias Skosana and Kompi Stemmer Monageng were arrested for the same charges as Mr. Mathibela, while the other three suspects, Asante Alfred, Zwelibanzi Ngubane, and Justice Khumalo, were charged with the possession of unlicensed firearms.
Among the victims of Vusi Khekhe and his group are taxi owners who were forced to pay a fee of R200 every week for every mini-bus taxi. On the other hand, shop owners were said to pay anywhere between R250 and R600 every month to a relatively young man, as the Vusi Khekhe images show. Vusi Khekhe uncle, Suthu Mathibela, was also part of the taxi business and was set to be charged alongside his nephew. However, he was gunned down last year and so has not been part of the case.
While on the initial charges, a trial-within-a-trial began in connection with the murder of the businessman Wandile Bozwana, who was shot and killed in October 2015, on the N1 Garsfontein-offramp. Mr. Khekhe was charged together with Sipho Hudla, Matamela Mutapa, and Bonginkosi Paul Khumalo. The accused denied the charges and even went ahead to accuse the police of assault in forcing them to confess to the murder charges. The case started in 2019 but was postponed to 2020.
Vusi Khekhe bail
After the arrest, Mathibela's legal team applied for a bail, which was granted, initially. However, the R50,000 bail was revoked after Vusi Khekhe family, including himself, went to Mauritius on vacation for four days. He was about to leave for another holiday in Dubai when he was arrested at Tambo International Airport because it was a violation of the Vusi Khekhe Mathibela bail conditions. The bail terms stated that he was supposed to hand in his passport, meaning that he could not travel abroad. According to Mr. Mathibela, he handed in his passport, but it was returned to him after expressing his desire to travel abroad.
The court process has certainly taken some time with the murder case being postponed quite a number of times. For example, a session did not happen last year because a witness failed to appear in court, and it was postponed to January 2020. It did not happen in January and was pushed again to July.
Vusi Khekhe released
In the recent developments, it is reported that Vusi is a step closer to being released from jail now that the intimidation, assault, and extortion charges against him were withdrawn in the Pretoria Magistrate's Court on May 7th, 2020. His co-accused, Elias and Stemmer, were also freed from the charges. Mathibela's legal team led by attorney Solomon Mkhabela has appealed for the reinstatement of Vusi's bail in the murder case, but it is up to the Supreme Court of Appeal to make a ruling on this.
READ ALSO: Harvey Weinstein scandal, bio, family, health, net worth, movies, company, latest
From the Vusi Khekhe pictures, the immaculately dressed young man looks like he cannot even hurt a fly, and it comes as a surprise that he is feared by the members of the Mamelodi community. The court is the only one with the power to confirm if Vusi Khekhe is guilty or innocent, so stay tuned to Vusi Khekhe updates to know the fate of the businessman.
READ ALSO:
Bob Hewitt biography: age, children, wife, family, tennis, Suellen Sheehan and latest news
Strange facts about Sandile Mantsoe that people still cannot believe
11 most deranged South African serial killers of all time
Shocking facts about Krugersdorp killers full story
What you need to know about Janusz Walus, Chris Hani killer
Source: Briefly.co.za