Jeffree Star is an American singer, entrepreneur, and makeup artist. He is an influential figure and owner of the renowned e-commerce makeup brand, Jeffree Star Cosmetics. The artist is also a world trendsetter to more than 18 million subscribers on his social media pages. Most people look up to Jeffree Star net worth, profile, career, cars, and life story with admiration.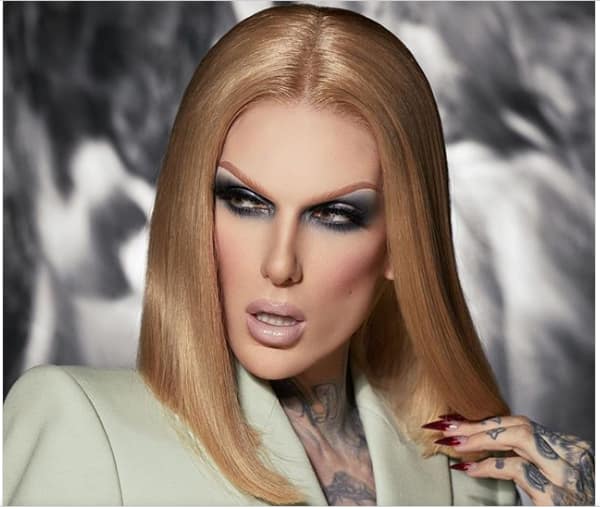 Jeffree is a glam figure with an electrifying personality often wrapped in hot-pink hair and bold eye makeup touches. The self-made entrepreneur is a force to reckon in the makeup industry. It is interesting how Jeffree has managed to build a multi-million dollar business empire out of his love for cosmetics.
Jeffree Star profile summary
Real name: Jeffrey Lynn Steininger Jr
Date of birth: November 15th, 1985
Place of birth: Los Angeles County, California, United States
Jeffree Star age: 34 years
Horoscope: Scorpio
Nationality: American
Jeffree Star Instagram: @jeffreestar
Jeffree Star Twitter: @JeffreeStar
Facebook: @JeffreeStar
Jeffree Star website: jeffreestarcosmetics.com
Occupation: Singer, entrepreneur, and makeup artist
Famous for: Skillfulness in music, success at Jeffree Star Cosmetics, a strong passion for cosmetics, unique hair colour, hot pink colours, and striking body tattoos.
READ ALSO: Madelaine Petsch bio: age, partner, parents, siblings, nationality, youtube, profile
Jeffree Star biography
Jeffree Star parents are Marra Shubyann Lindstrom Steininger and Jeffrey L. Steininger. Star spent most of his childhood in Orange County, California. At the age of six, his father committed suicide, leaving him under the care of his mother, who was a model.
Jeffree's passion for cosmetics started when he was 13 years old. He began experimenting with his mother's makeups on himself. However, it was not until the makeup mogul managed to convince his mother about wearing makeup to school.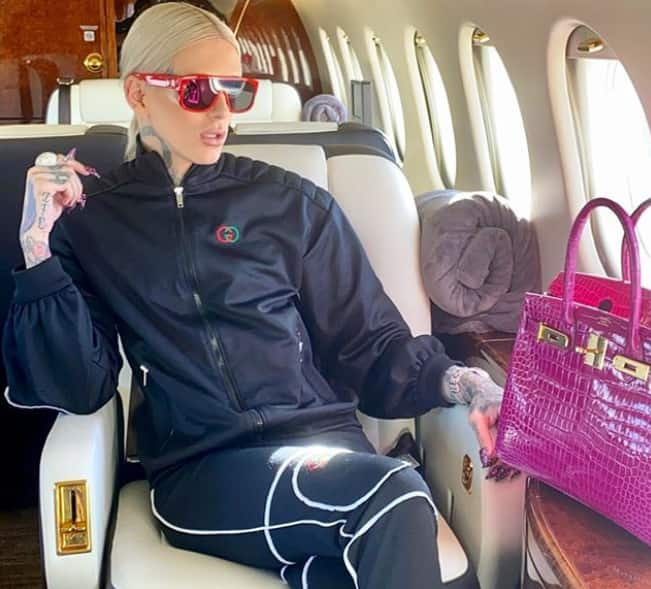 Jeffree Star career
Star relocated to his native town in Los Angeles after his high school graduation. It is here that he started cashing in on his passion for modelling, music, and makeup engagements. Sometimes he would attend Hollywood clubs using a fake identity card and managed to convince several celebrities to hire him to do their makeup at home.
Star rose to fame in 2003 and has since been doing well in his career. He became notorious on MySpace for his fashion and music promotions. Besides, he used the platform to build his confidence and self-image by sharing life and beauty stories.
His catchy photoshoots eventually earned strong followership with more than 50,000 comments in most of his posts. Working as an independent artist did not stop Star from ranking highly on MySpace.
Jeffree Star music
Star drew inspiration from Samantha Maloney, Peaches' drummer, to start his career as a vocalist in electronica and pop. He was part of the True Colours Tour 2007, which toured more than 15 cities across the United States and Canada. This tour, sponsored by the LGBT Logo channel, flagged Jeffree's name higher in the airwaves.
Two years later, US Billboard Top Electronic Albums chart ranked Star's Beauty Killer, his first and only studio album, in the seventh position. He was signed by Akon's Konvict Muzik in 2010 with the expectation that he will release his second album. The next Lady Gaga is the title that Akon pulled on Jeffree Star before he gave up music altogether, under unclear circumstances in 2013. Star later described the move to sign to Konvict as his biggest mistake ever.
Musically, Star brushed shoulders with other leading artists such as Nicki Minaj, Blood on the Dance Floor, Kesha, Millionaires, Deuce, and Larry Tee. His exit from music surprised many because it came at a time when his music was starting to go viral. His singles include:
2008- Lollipop Luxury featuring Nicki Minaj
2009- Prisoner
2012- Mr. Diva
2012- Prom Night
2013- Love to My Cobain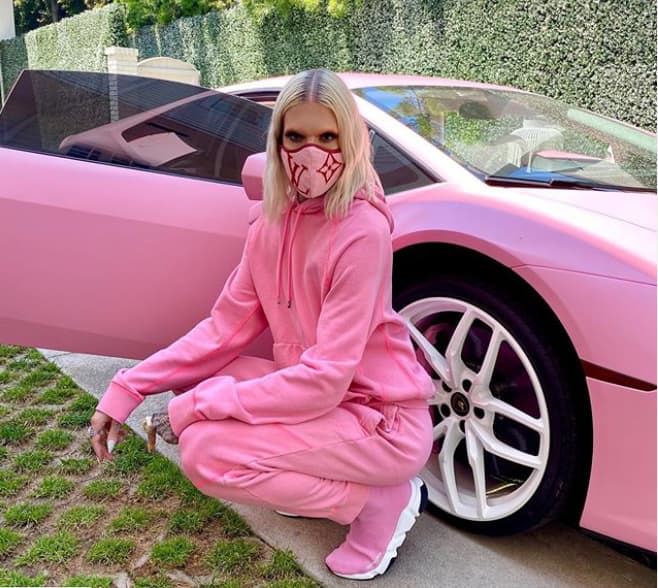 Jeffree Star cosmetics
Star launched a makeup brand using his remaining savings in 2014, soon after his music career ended. He mainly used YouTube to take the company from a simple start-up to a trusted e-commerce company. He has since grown his subscribers to more than 17 million and gained over 1.7 billion views.
The company offers different products and services. Eyeshadow palettes and highlighter palettes are among the best seller Jeffree star palettes. Other products with good market reception include makeup bags, lip scrubs, clothing, and mirrors.
READ ALSO: Pat Mcgrath bio: age, education, family, cosmetics, net worth, awards, profile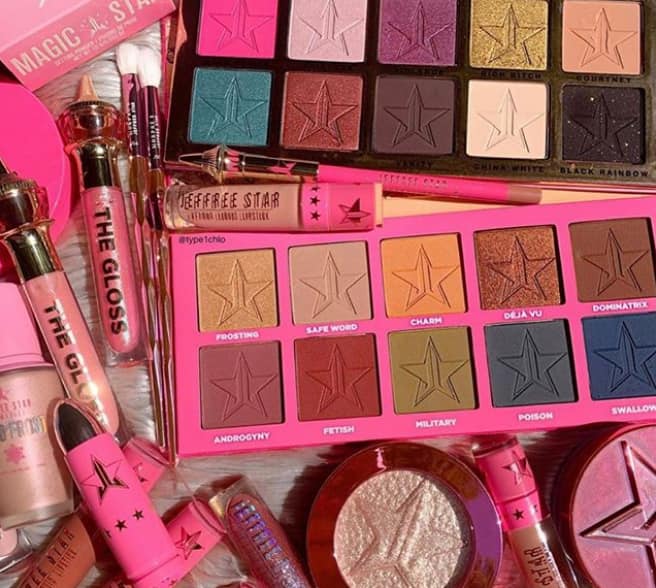 Jeffree Star productions
He has been a cast in a number of docu-series and films such as:
2007/11: LA Ink as himself
2015: What Now as Victoria
2017: Shane and Friends as himself
2018: The Secret World of Jeffree Star
2019: The Beautiful World of Jeffree Star
2020: The Dish With Trish as himself
Jeffree also took part in extended plays such as Plastic Surgery Slumber Party, Cupcakes Taste Like Violence, Virginity, Concealer, and Mr Diva. It is without a doubt that the celebrity dominates in the vlog, beauty, and makeup genres, and he has been taking the world by storm for his unequalled breakthroughs.
Jeffree Star house
In 2016, Jeffree acquired a classy house overlooking a beautiful landscape and valleys at the cost of $3.62 million. Jeffree bought yet another home in the Hidden Hills at $14.6 million. This California based property has 8 bedrooms, 13 bathrooms, and a kitchen with over $100,000 worth of custom cabinets. That is not all; the home has a two-story gym, a spa, a sauna, a movie theatre, as well as an additional huge outdoor kitchen. Better still, the living space measures 25,000 square-feet, and the mansion sits on about three acres of land.
It is now months since Jeffree Star partner Nathan Schwandt split up with him. The two internet celebrities lived in a large mansion together with their five dogs. After the split, Jeffree has been renovating the house to reflect his style, and currently lives with Maddie Taylor, his assistant, and a 24/7 security guard.
Jeffree star cars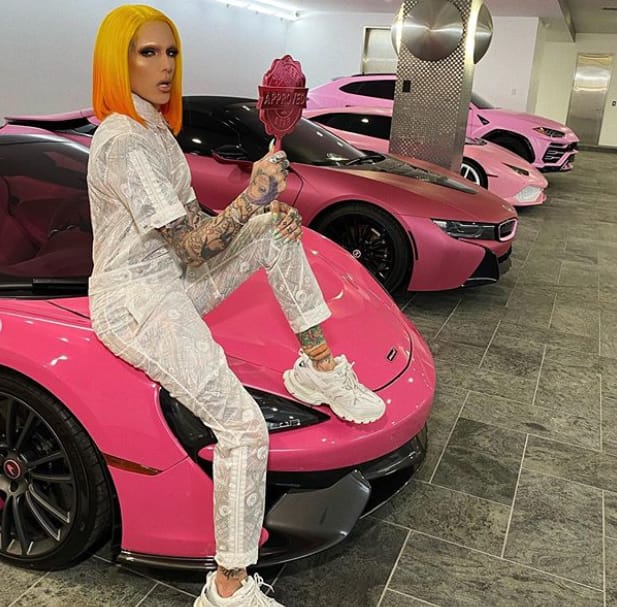 Star has good taste when it comes to luxurious cars. He has acquired a fleet of costly cruises, among them Aston Martins, Ferraris, Bentleys, and Lamborghinis.
What is Jeffree Star's net worth?
Looking at Jeffree Star Cosmetics net worth, in particular, the celebrity revealed to Shane Dawson from YouTube that his company brought in annual gross revenue of more than $100 million as of 2018. In total, Jeffree Star net worth is $200 million, which is equivalent to £161 million. A better part of this fortune comes from his cosmetic company and YouTube engagements, where he earns between $15-20 million annually, making him one of the highest-paid YouTube stars globally.
Why is Jeffree Star so rich?
How does Jeffree Star have so much money? Star is outspoken and wealthy because he translated his fame in music to launch a powerful e-commerce beauty brand. His bold nature has also played a role in the growth of his reputation. His stake in the company confirms Jeffree Star net worth could be higher.
Who is richer Kylie or Jeffree Star? Forbes list estimates Kylie's net worth at about $900 million, making her richer than Jeffree.
What happened between James and Jeffree Star?
Jeffree has had feuds with other celebrities in the past, such as Kat Von D, Kylie Jenner, Kim Kardashian, and Jerrod Blandino. However, the most recent is a heated exchange on social media between him and his 3-years-old friend, James Charles. In June 2020, Tati Westbrook, another YouTube star revealed that Jeffree and Shane Dawson used her to destroy the career of a beauty expert, James Charles, by releasing her Bye Sister video. Both have since been looking for opportunities to wash each other's' dirty linen in public.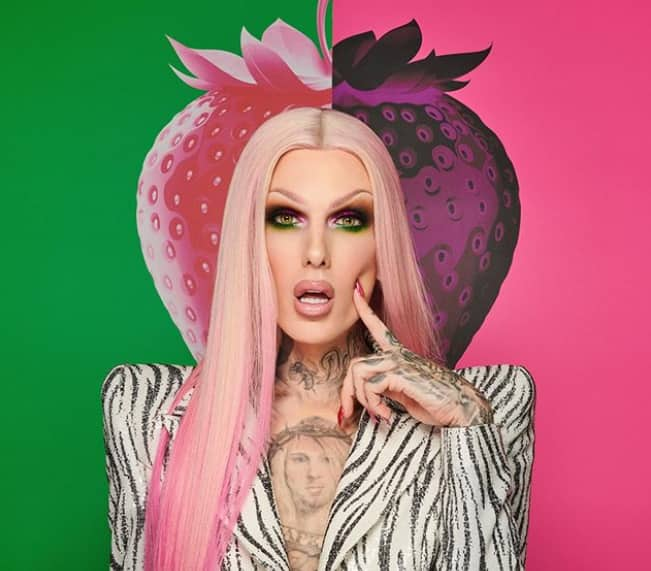 READ ALSO: Willem Petzer Discord leaks, videos, Instagram and latest news
Star is a celebrity of interest on YouTube, among other social media platforms. Besides, he enjoys good returns from his e-commerce cosmetics business, which is the main source of Jeffree Star net worth. From the figures state, Star can enjoy luxurious properties and first-class lifestyle without trying too hard.
READ ALSO:
10 top South African Youtubers worth watching 2020
Dr Duda bio: age, full name, partner, wedding, songs, albums, profile, net worth
Bobbi Brown children, spouse, net worth, cosmetics, books, profile