Land seizures: Zimbabwe plans to compensate white foreign farmers
- It seems as if the late Robert Mugabe's divisive land reform policy has effectively been reversed
- The Zimbabwean government has announced that it is moving ahead with plans to return seized land to white foreign farmers
- This comes after the government announced a R500 billion compensation package last month
PAY ATTENTION: Click "See First" under the "Following" tab to see Briefly.co.za News on your News Feed!
The Zimbabwean government has effectively undertaken to reverse its controversial land reform policy by offering seized land back to white foreign farmers. The policy saw around 4 500 commercial farmers stripped of their land under the late Robert Mugabe's land reform movement.
The end result of this policy was a collapsed food system with corruption and droughts serving only to worsen the situation.
In a statement issued by Zimbabwean Finance Minister Mthuli Ncube on Monday, it was said that the return of land to foreign white farmers through a Global Compensation Deed would be a 'major milestone in the restoration of trust and co-operation between the former farm owners and the government'.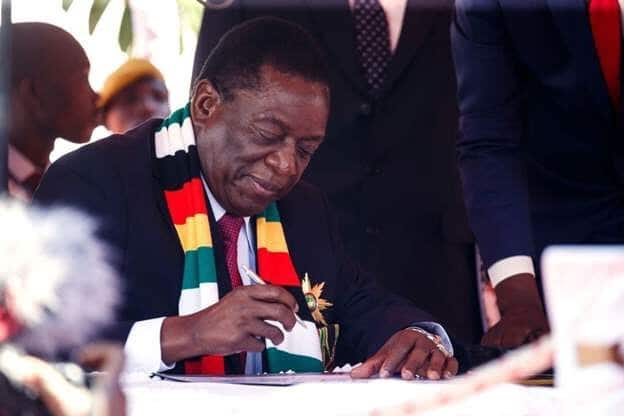 READ ALSO: Land expropriation: Zimbabwe will pay R500 billion to white farmers
The ministry confirmed that the nation would move forward with 'restoration of title to the pieces of agricultural land' which would 'in the appropriate circumstances, revoke the offer letters of resettled farmers currently occupying those pieces of land and offer them alternative land elsewhere'.
Where resettling black farmers will be impractical, the government has committed to finding alternative land to offer instead.
Earlier, Briefly.co.za reported that President Emmerson Mnangagwa had tabled a R500 billion compensation package for local white farmers.
However, with the nation facing immense financial difficulties, long-term bonds and assistance finding funding from donors were offered instead of cash payments. This move had earned the nation criticism with land expropriation supporters labelling the decision as 'treacherous'.
The Economic Freedom Fighters, whose own plans for land reform in South Africa are a major calling card, had taken an exceptionally dim view of the U-turn:
"We are of the firm view that President Mnangagwa is either deeply misinformed about the real causes of the crisis in Zimbabwe or is simply capitulating to the pressure from the white supremacist world. Either way, the treasonous act of paying to white settlers money that Zimbabwe does not have will not resolve the crisis in Zimbabwe."
Enjoyed reading our story? Download BRIEFLY's news app on Google Play now and stay up-to-date with major South African news!
Source: Briefly.co.za