The lockdown restrictions lifting saw South Africans eagerly returning to their favourite establishments after months of being stuck at home. Dr Megan Neudecker explains how to do this while minimising the risk of contracting Covid-19.
PAY ATTENTION: Click "See First" under the "Following" tab to see Briefly.co.za News on your News Feed!
By: Dr Megan Neudecker- Medical expert
Covid-19 lockdown levels have begun to ease and we are now all getting back to "normal" – and you probably want to get together with your friends or family for a few drinks or a meal.
But should you still be nervous about COVID-19 and what can you do?
As explained succinctly by Dr Thomas Tsai, a professor at Harvard University's T. H. Chan School of Public Health:
"It's really hard to wear a mask in a bar. It's hard to stay six feet apart. It's hard to constantly wash your hands and not touch surfaces other people have touched".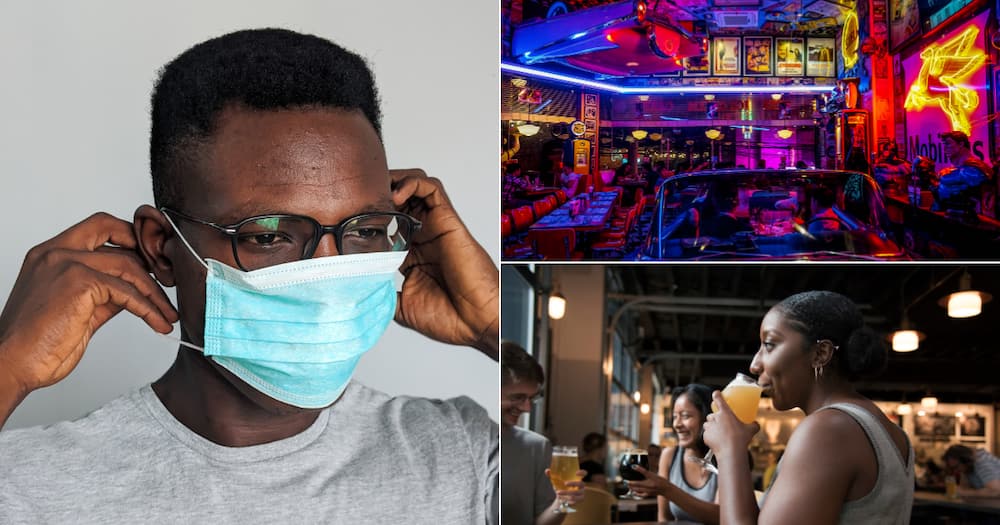 These settings, he explains, tend to lead to a breakdown of the very behaviours that help prevent new infections.
It's a dangerous mix: socializing in large groups, sometimes in tight spaces, and drinking, which lowers inhibitions and makes people less likely to adhere to wearing masks and keeping their distance.
In addition, party-goers end up talking loudly, which increases the chance of spraying virus-laden particles on others, especially indoors.
With the above mentioned in mind, here are some general principles to follow to help you to navigate safely:
If you are considered high risk, it is best is to avoid bars and restaurants altogether. There are plenty of other social activities to consider, which will not pose as high a risk to you of contracting the virus.
Choose a bar or restaurant that has an outside area. It is better than being in a crowded indoor area for the obvious reason of air movement and ventilation.
If you do end up indoors, it would be best to assess air ventilation and quality. A well-ventilated room has a fresh air supply with good air movement (like with open windows and doors).
Try to keep the numbers of your party to a minimum. If you limit your gatherings to a few close friends, the environment becomes easier to control in terms of people sitting too close together and being able to adequately social distance.
Ensure that you have sanitizer on you (a mini bottle in your pocket or handbag will suffice). Use it often, especially when touching shared surfaces.
Do not share foods, drinks, utensils and cigarettes.
Do not drink excessively. Alcohol lowers your inhibitions, making it less likely that you will end up wearing your mask and socially distancing
And as for the most common question being asked: "But how do I wear a mask while eating or drinking?"
The answer is that you do not. It is impossible to eat or drink with a mask on. When your mask is off, be extra-vigilant about social distancing.
This is why some countries have instituted rules that enforce being seated at a table when eating or drinking.
Earlier, Briefly.co.za reported that a recent event at Cape Town's Tin Roof bar has seen 89 positive Covid-19 cases confirmed after attendants, mostly matriculants, were traced back to the Claremont venue.
An investigation into the event has been kicked off by authorities after a general practitioner contacted other doctors and then the Western Cape health department.
Department head Keith Cloete held a digital briefing on the situation which is a great cause of concern with matric exams fast approaching:
"This is where individual responsible behaviour and collective responsible behaviour comes together."
Enjoyed reading our story? Download BRIEFLY's news app on Google Play now and stay up-to-date with major South African news!