- Jan Steenberg will be clocking 115 years on 31 December 2020, as he vowed to bag more years in his quest to surpass the record for the world's longest-living person.
- The old man attributed his extraordinary achievement to sticking to organic foods and avoiding drinking alcohol.
- However, Steenberg said his milestone will only be breathtaking if the Nelson Mandela Bay Municipality delivers a house they promised him last year at his birthday celebrations.
PAY ATTENTION: Join Briefly News' Telegram channel! Never miss important updates!
By Josep Chirume: Freelance journalist
Steenberg was born in Colchester on 31 December 1904. He never attended formal education as his parents could not afford to pay for school fees prompting him to work on farms as a woodcutter.
The old man still walks upright though he uses crutches and a wheelchair when going out on errands.
He proudly attributed his longevity to eating organic and health food. He is an avid drinker of traditional concoctions to boost his immune system.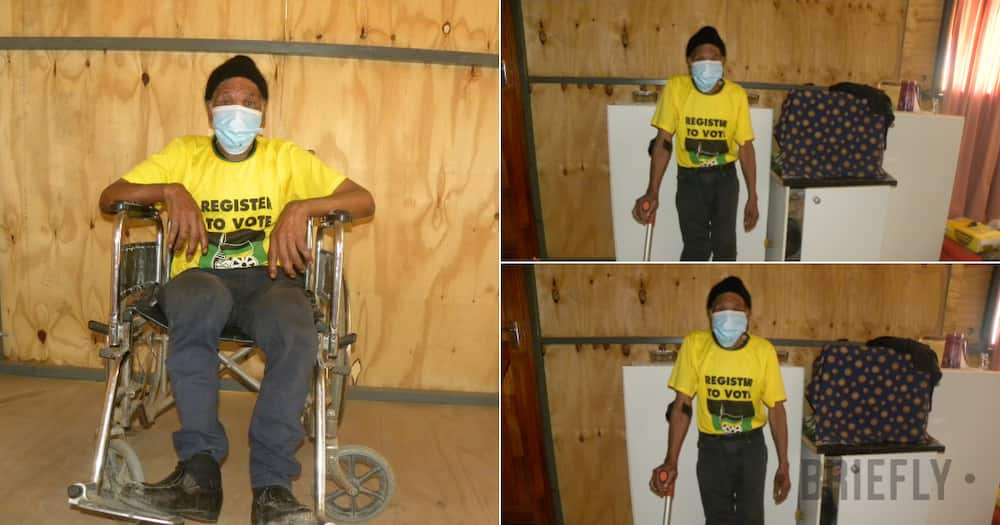 Steenberg vowed he would break the record by becoming the oldest living person in the world. He said he was optimistic that he would survive the Covid-19 pandemic. He nostalgically recalled how he survived the Influenza pandemic in 1918.
"I have seen many people getting sick because of eating unhealthy food. Most of the food eaten these days is inorganic and has lots of chemicals and preservatives that are not good for our health. I have always stuck to traditional food," said Steenberg.
Steenberg said he was racing to knock out the world record left by French woman, Jeanne Louise Calment who was born on 21 February 1875 and died at the age of 122 years and 164 days old, according to the Guinness world record for the oldest person.
Steenberg explained, "I started smoking when I was 15 years old but I smoke organic tobacco through a pipe. I think it is healthy since the tobacco does not have chemicals like ordinary cigarettes. I have never drunk alcohol in my life. Alcohol is very dangerous to our health."
Steenberg sired twelve children, nine of them passed on. He is left with three children and has several great-grandchildren. His wife died more than fifty years ago and he never remarried. He lives with his remaining children and his great-grandchildren in Colchester.
Steenberg worked as a woodcutter crisscrossing farms in the Eastern Cape province. He said he was a strong man during his days prompting farmers to prefer him to clear their land.
"I was very strong during my time. Farmers would scramble to hire me ahead of other job seekers owing to my physical strength. I was also faithful to my wife and never had a girlfriend,"
Steenberg had a word of advice for the youth whom he accused of being astray and leading lazy lifestyles.
"Young people should respect not only their parents but also elderly people living in their communities."
He pleaded with citizens to comply with government regulations on combating the spread of Coranavirus likening it to Influenza of 1918. He recalled the anguish and suffering triggered by the outbreak of Influenza.
Steenberg recalled, " Influenza was very dangerous. Many families were wiped away. There was too much suffering and people were confused. I hope a cure for Covid-19 will be found soon before many people die."
" I urge people to pray to God to eradicate the disease. This is the only way we can assist doctors and scientists who are battling to get a cure for the pandemic. People should abide by the lockdown regulations and should always wear their masks and sanitize their hands."
Steenberg's daughter, Kate Nortie pleaded with the Nelson Mandela Bay Municipality to demolish the dilapidated main house and construct a house for his father as per their promise pledged last year during his birthday anniversary.
She said, "The only befitting token of appreciation for my father is for him to move into a healthy and well-ventilated house. That will make him happy. He stays in a wooden house supplied by the same municipality but it is not habitable."
Kate said the mobile home leaks heavily and has wide openings that allow wind and dust. She said the floor is unstable and makes an irritating sound when one is walking on it disturbing Steenberg when he is asleep.
Steenberg said, "I appreciated the municipality's assistance by giving me the mobile home. However, the structure is not good. I hope they will own up to their word."
Nelson Mandela Bay Municipal spokesperson, Mamela Ndamase said the municipality is looking into Steenberg's plight.
Ndamase said, "The commitment which was made by the NMBM is still underway but was delayed due to the Covid-19 outbreak and the lockdown as all the processes and construction were put on hold. We are still going to pursue the commitment. Engagements will commence between the City and the provincial department of human settlements."
Meanwhile, Briefly.co.za earlier reported that being blessed with the chance to stay on Earth with your mother for one hundred years is very rare.
A young South African man, Mikhael Avzal Ismail, is making sure he does not take the blessing for granted, he proved this after recently taking to Facebook's ImStaying to share a sweet post about his old lady.
The post includes a picture of the two of them after taking her daily walk around the residential complex where she lives.
In the post, he also includes that the two of them had practised Covid-19 safety regulations.
"Taking my beautiful almost 100-year-old mom for her daily walk through the complex. Yes she did have her mask with her in case you were wondering," wrote the proud young son."
Enjoyed reading our story? Download BRIEFLY's news app on Google Play now and stay up-to-date with major South African news!