Battleground teasers: January 2021
The drama at the Bhadmus household takes a drastic turn. The General is on a revenge mission and ends up crippling Kolade's plans. On the other hand, Danlami is ousted as the BBP CEO, and Teni is chosen as a replacement. Discover more from the following Battleground teasers.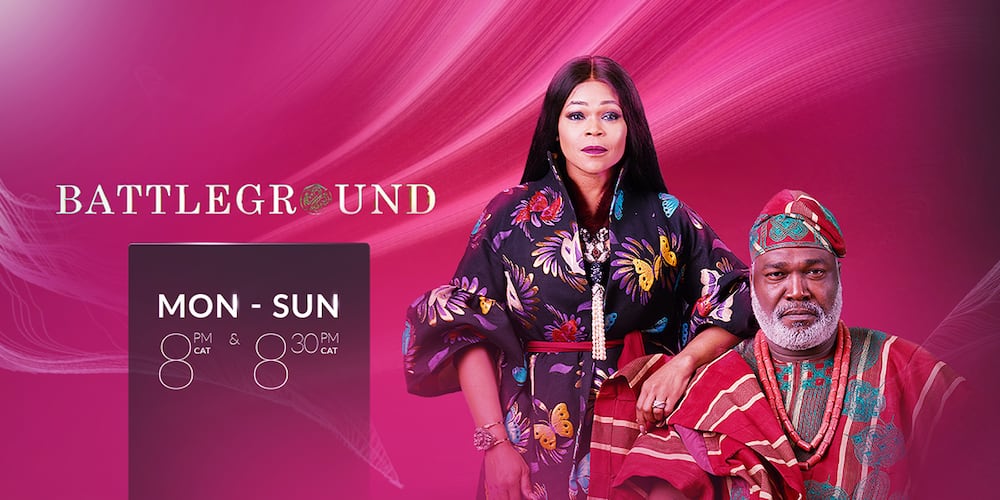 Cissy makes a blunder that creates havoc in BBP, and she ends up being sued and fired. Meanwhile, Ola struggles to deal with the death of Lara and the family shooting.
Battleground teasers January 2021
Battleground remains one of the most entertaining Nollywood telenovelas on DStv's Novela Magic. Here is what is coming up in January episodes.
Friday, 1st January 2021 (Episodes 70 and 71)
There is panic following Kolade's disappearance while Danlami, OKiemute, and Dr Kalu desperately want him to remember their plan. Meanwhile, Hadiza acts in a way that disgraces Kolade.
Mayowa and Teni do not want to be near one another, but for different reasons. On the other hand, an explanation for Adaora's acceptance is given when her other plan is disclosed.
Saturday, 2nd January 2021 (Episodes 72 and 73)
Adaora, whose backup plan involves Danlami, goes to see him. Meanwhile, Danlami has a legal issue to sort out. On the other hand, Hadiza's antenna is up while Hosu is caught by Chichi using household resources.
Sunday, 3rd January 2021 (Episodes 74 and 75)
Hadiza plans to travel while Hosu is caught by Onajite at her side gig. Later, Hosu and Chichi go out together but are caught. Things work out well for Hosu. On the other hand, Danlami and Adaora are almost caught, making Adaora suffer some embarrassment.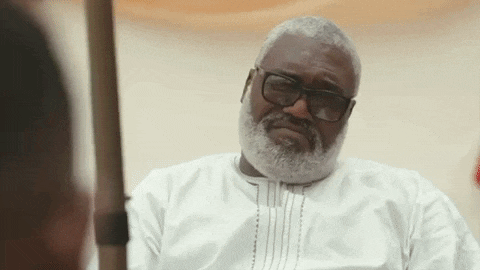 Monday, 4th January 2021 (Episodes 76 and 77)
A disturbing visitor goes to see the General while Cissy makes up her mind to make a treat for Kolade, but Onajite sets her up. Later, Ola fails to locate Cissy at work where she should be while Hosu attends school.
Vyhutu grieves following the departure of Hosu. Meanwhile, Adaora and Cissy engage in a confrontation while Danlami is offered a deal by Tanko.
Tuesday, 5th January 2021 (Episodes 78 and 79)
Danlami is still under pressure to accept the offer given by Tanko, while Adaora warns Dr Kalu to control Cissy. Meanwhile, Sophie makes a play for The General.
Dr Kalu is visited by The General, while Cissy's presence at Mayowa's home makes him react. Mayowa is also stunned by the way Kolade reacts to his return.
Wednesday, 6th January 2021 (Episodes 80 and 81)
There is an argument between Sophie and Moshood while Kolade asks Adaora disturbing questions. Later, Adaora finds an unexpected friend.
Adaora starts working on her plans while the media follows Cissy. On the other hand, Sophie hires Chichi while Kolade is reminded by the General regarding his debt.
Thursday, 7th January 2021 (Episodes 82 and 83)
Kolade attempts to recall the debt insinuated by the General while Cissy seeks forgiveness from Adaora. Meanwhile, Adaora gets yet another friend as Danlami accosts Kolade.
Kolade finds out about a hidden safe while Chichi finally calls Sophie's bluff. Meanwhile, Mayowa has to choose between helping Kolade get his memory back or leave him. Later, Danlami reveals some shocking details to Kolade.
Friday, 8th January 2021 (Episodes 84 and 85)
Vyhutu betrays Onajite while Danlami has to set up a press conference following Adaora's deeds. Meanwhile, Adaora is set up by Hadiza to get into a difficult situation.
Kolade's health takes a final turn while Vyhutu and Sophie frame Onajite. Later, Sophie discovers information that makes her suspect Onajite.
Saturday, 9th January 2021 (Episodes 86 and 87)
Okiemute briefs Kolade regarding his family while he was in a coma while Sophie is not sure where to locate her planted necklace.
Cyril is again arrested while Cissy starts asserting herself following Kolade's public acknowledgement. Meanwhile, Sophie wants to know what is contained in Onajite's document. Why?
Sunday, 10th January 2021 (Episodes 88 and 89)
Sophie has more reasons to suspect Onajite while the General's partners go into hiding. Meanwhile, Emeka assists Teni to get out of a difficult situation while Tanko frames Cissy.
Cissy's blunder causes ripples in BBP, and she is later sued. Meanwhile, Peter and Kolade agree to continue with wedding preparations while Eddy reports about the General's death, but his claims are repudiated.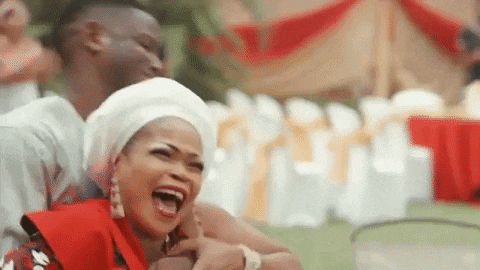 Monday, 11th January 2021 (Episodes 90 and 91)
Ola proves that he is a wise attorney, while Cyril criticizes Emeka for being a hypocrite. On the other hand, Peter wants Michael to come back while the General seeks revenge.
Kolade shocks Cissy, who is sent packing, a situation that makes Onajite celebrate. Meanwhile, Kolade may be aware of Adaora's plans with Danlami, and he later warns Emeka to get away from Teni. On the other hand, Dame Sally takes Kolade's bait.
Tuesday, 12th January 2021 (Episodes 92 and 93)
Adaora welcomes Cissy to the house, while Dr Kalu wants Emeka to get away from Teni. Later, Kolade charges Dr Kalu so that he can make Cissy go away while Dame Sally is visited by the General in her hideout.
Kolade tries to please Adaora while Mayowa expresses his displeasure in the romance between Emeka and Teni. Meanwhile, Kolade's plans do not work as expected as the General changes the rules.
Wednesday, 13th January 2021 (Episodes 94 and 95)
Kolade is crippled by the General while Teni gets an ultimatum from Emeka if she wants to keep him. On the other hand, Kolade starts working on his plan to keep his family away from danger while Lara gets unusual guests.
Lara discovers disturbing details about her organization while the new security detail shocks household workers. Meanwhile, Teni's failure to show up breaks Emeka's heart.
Thursday, 14th January 2021 (Episodes 96 and 97)
Kolade makes his family aware of the threat as Hadiza reveals details to Danlami that raise suspicions regarding Kolade. On the other hand, Emeka retaliates to Teni's alleged rejection by hurting her.
Teni gets comfort from Cissy while Kolade discovers that The General is Ola's client. Meanwhile, Ola informs Ayo and Cissy regarding the threat while Michael is pressured by Sandra to come back home.
Friday, 15th January 2021 (Episodes 98 and 99)
Mayowa gets a serious demand from Kolade, while Adaora is convinced that the Bhadmus-Ige William wedding is the only sure way to ensure the family's safety. On the other hand, Emeka goes to look for Teni.
Mayowa and Danlami work together to plan against Kolade while the Ige-Williams attend dinner, but the unexpected happens. Meanwhile, Ayo and Cissy make travel preparations. Later, Cyril discloses a surprising secret to Ayo.
Saturday, 16th January 2021 (Episodes 100 and 101)
Ayo and Sissy are sent ahead to PH by Ola, while the General wants Ola to make a choice. Meanwhile, things do not go as planned at BBP while Emeka locates Emeka at his flat. Finally, Michael comes back.
Mama Egba explains why she was absent as the family reacts to the expulsion of Kolade. Meanwhile, Cissy is still angered by her kidnapping while Teni and Emeka bond.
Sunday, 17th January 2021 (Episodes 102 and 103)
Michael discloses to Teni where he was as Teni cannot find the best way to deal with the new him. On the other hand, Hadiza gives Danlami advice on how things will be done going forward while Okiemute gets Kolade to accept their other plan.
Kolade is worried when Moshood does not come back while Teni discovers that Emeka was aware of Michael's mental instability. Meanwhile, Michael and Teni's parents try to re-organize the marriage plans.
Monday, 18th January 2021 (Episodes 104 and 105)
Hadiza gives Danlami the cold facts regarding his position while Emeka and Cyril attempt to rescue their lovers. On the other hand, Sophie goes to the General as Kolade gets an anticipated call from Moshood.
Kolade plans to make negotiations for the release of Moshood while Mazi Ibe is not willing to work with Hadiza. Meanwhile, Teni gets a shocking gesture from Michael as Abik gets more suspicious.
Tuesday, 19th January 2021 (Episodes 106 and 107)
News regarding the death of Moshood shocks staff and family while Adaora discloses how much is owed to Mayowa and Teni by the General. Later, Kolade goes to the General.
Kolade makes inquiries regarding Ayo and Cyril's relationship but avoids Moshood's wife. Later, Mayowa feels awkward when Ayo breaks down over Moshood. Meanwhile, Dr Kalu has hot words for Kolade.
Wednesday, 20th January 2021 (Episodes 108 and 109)
Family and staff discover that Moshood is not dead while Peter wants Michael to cancel the wedding. On the other hand, Kolade demands that Cyril takes him to the General, where he makes a surprising proposal.
Cissy and Kolade sort out their differences. Later, Cissy accosts Onajite for suspecting Kolade while Ejiro gets a chance from Hadiza. Meanwhile, the General makes his move against Danlami on behalf of Kolade.
Thursday, 21st January 2021 (Episodes 110 and 111)
Peter Ige-Williams decides to tackle the issue himself while Mayowa attempts to get a weapon. Danlami is removed from the CEO position, and Kolade makes a surprising proposal regarding the possible replacement of Danlami.
Okiemute goes to see Ola while Cissy feels regret for the situation she placed her children in. Is it too late to make amends? Later, Ayo wants Cissy to know that Kolade faked his coma.
Friday, 22nd January 2021 (Episode 112)
Sophie confronts Onajite as she comes from Kolade's study while Ola looks for Lara for some advice. Meanwhile, Hadiza is irritated by Danlami's sluggishness after losing his CEO position while a staff member quits.
Saturday, 23rd January 2021 (Episode 113)
Cissy exposes Kolade's infidelity to Dr Kalu while Michael and Teni recall their past relationship. Later, Teni accosts Kolade for continuing to reject Emeka.
Sunday, 24th January 2021 (Episode 114)
Teni is visited by Emeka, who proposes that they run away together. Meanwhile, Chichi makes an assumption that Onajite is borrowing cash from Sophie while Tanko seeks forgiveness from Hadiza for going against Danlami.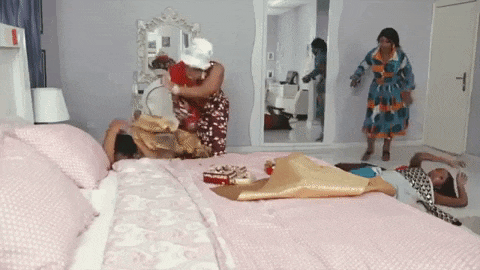 Monday, 25th January 2021 (Episode 115)
Kolade makes a proposal to Sophie if she stops blackmailing Onajite while Tanko discloses his intentions regarding Hadiza. Meanwhile, employees bet on who will be made the CEO among the Teniolas.
Tuesday, 26th January 2021 (Episode 116)
Kolade evokes reactions after announcing who will be the new CEO of BBP. Later, Kolade assures his family that the General's threat is gone, and they are now in cahoots.
Wednesday, 27th January 2021 (Episode 117)
Danlami feels Hadiza is responsible for Tanko's boldness. Meanwhile, Adaora and Teni have worries regarding Mayowa on how he feels about Kolade choosing Teni instead of him. Later, Teni gets ready for her first press conference as the new CEO.
Thursday, 28th January 2021 (Episode 118)
Ayo is happy when Teni's interview is screwed and blames Ola for allowing Teni to get the CEO position. Meanwhile, Danlami has regrets for setting Teni up while Cissy plans to get Kolade.
Friday, 29th January 2021 (Episode 119)
Ayo manages to get out of the mansion while Teni repudiates the first instructions Kolade gives her as the new CEO. On the other hand, Cyril makes Emeka aware of the imminent danger from the General, and the General alerts Kolade.
Saturday, 30th January 2021 (Episode 120)
Kolade makes attempts to find Teni before the General finds her. On the other hand, Mayowa decides to take control of Cyril's situation while Ola goes to find Lara and is unaware of the shock that awaits.
Sunday, 31st January 2021 (Episode 121)
Ola struggles to come to terms with the death of Lara and the family shooting. Meanwhile, the identity of the person stalking Emeka and Teni is revealed while the General poses a riddle and sets another deadline.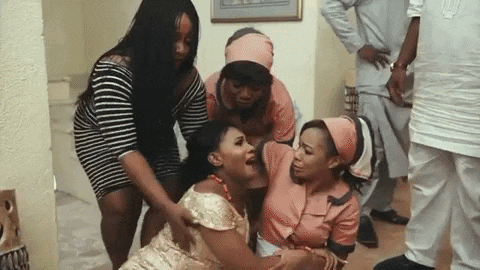 What happens to Battleground characters?
Battleground January episodes are sure to elicit mixed reactions from viewers as acts of revenge, love, power, and betrayal guide the characters' actions. Here is what you should expect to see happening to some of the Battleground characters.
Teni
She starts bonding with Emeka, although Kolade is against the relationship, and she accosts him for it. She is later chosen as the new CEO of BBP, but she worries about how Mayowa feels because the position could have been his.
Danlami
Hadiza reveals to him suspicious details about Kolade and gives him cold facts regarding his BBP position. He then teams up with Mayowa against Kolade. However, Kolade uses The General to make a move against him, and he is later ousted as the CEO of BBP.
January 2021 episodes promise great entertainment, as revealed by the above Battleground teasers. The show airs on Novela Magic every day at 8.00 p.m. and 8.30 p.m. There will be a new time slot starting 22nd January 2021 when the show will move to 9.30 p.m. with a single episode per day.
READ ALSO: The River 3 on 1Magic Teasers: January 2021
Briefly.co.za highlighted what is coming up on 1Magic's The River 3 in January 2021 episodes. Lindiwe has to deal with the effects of karma as her quest for power leaves her vulnerable to her greatest rival yet.
Beauty's business is destroyed, and she is left to pick up the ruins. On the other hand, Kedibone manages to reclaim her power while Tumi is willing to trust the new man in her life.
Source: Briefly News