Ntsiki Mazwai accused of jealousy after comments on Trevor Noah's home
- Ntsiki Mazwai took to social media to offer her unsolicited thoughts on Trevor Noah's new R400 million mansion
- The comedian has been receiving widespread praise for his win but Mazwai was not among those applauding online
- Mazwai posted her thoughts and expressed distaste at Noah's purchase which then led commenters to accuse her of just being jealous
PAY ATTENTION: Join Briefly News' Telegram channel! Never miss important updates!
Social media has recently been abuzz with videos and pictures of the Bel-Air mansion that South African comedian Trevor Noah has purchased.
Most online commenters have commented on news of the purchase with messages of congratulations for Trevor, but Ntsiki Mazwai was one notable exception who did not.
Mazwai instead shared that if she had been able to afford the same expensive house, she would be fearful of not being able to fill the home with a big family.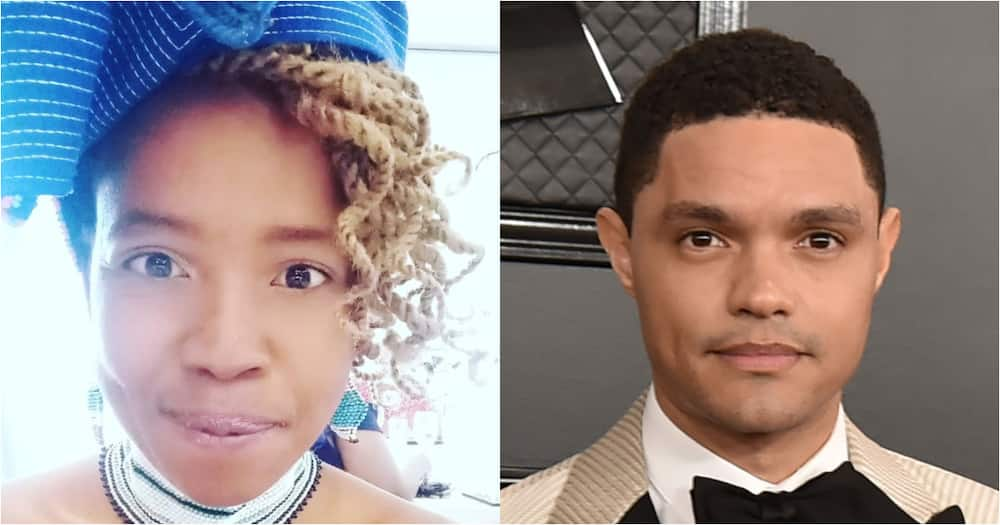 Mazwai's take seemed to go down as a bit of Twitter shade. Many interpreted her words as a jab at Trevor by trying to imply that the win of purchasing the grand house was meaningless in her eyes.
Many interpreted her comment to be jealousy masquerading as virtue and dragged her in the comments:
@SeditiIpeleng: "The real fear should be waking up one day and realising you haven't achieved close to half your set goals because you were too busy poking your nose in other people's lifestyles and trying to impose your belief on them... rest sisi."
@NgwanaNdoka: "Just say you want to move in."
@MsJay33932283: "It's your fear, other people might not have it, leave them to live the way they know how."
@LEPANTSOLA: "A simple congratulations would've just been enough."
Instead of clarifying her intentions or backpedalling, Ntsiki doubled down and began interrogating what value even Trevor Noah himself had by writing:
@ntsikimazwai: "What does Trevor Noah stand for or represent?"
The follow-up tweet only inspired more clapbacks to be directed at the poet:
@IbongweNtinde: "Umona uzonibulala, wena what do you represent?"
@NgwanaNdoka: "What kind of question is this... sounds like it's coming from jealousy."
Briefly.co.za previously reported on when it was announced that Trevor Noah had splashed out a cool R400 million on a house in Bel-Air. The property was built and designed by a Los Angeles architect named Mark Rios.
People were blown away by the scale of the home, six bedrooms, 11 bathrooms and a whole range of luxuries such as a spa and screening room. Since the story broke people have been feeling all sorts of things when they look at his sprawling mansion in the Bel-Air hills.
Here are some reactions from tweeps to his R400 million home:
@thirstysphe: "Trevor Noah deserves more than this Mansion. Deserves triple the amount or more. Man could have been a gangster in Cape Town but chose a better life. I applaud him."
@SiwyFanezy: "#TrevorNoah I was asking myself where in North Riding Bel Air this is kante is in California Japanese castleCongratulations Trevor."
@SirNtzee: "#TrevorNoah probably didn't even post that he bought that Bel-Air Mansion, some publication found out and blasted his purchase, now hommie's house is all over social media without his consent.. Being a celeb and privacy don't go hand in hand..."
@msume_tech: "Congratulations Trevor, you did well. Now that we know your address when we are in America we will visit you, we will being along Mango's Mango and other South African things like chappies, live chicken Rooster and even imbuzi Goat cause you deserve it #TrevorNoah."
@curlsbytaryn: "Well done #TrevorNoah we are so proud of you, your hustle & everything you bring @Trevornoah hard work & consistency pays."
Enjoyed reading our story? Download BRIEFLY's news app on Google Play now and stay up-to-date with major South African news!
Source: Briefly.co.za