- Dr Morgen Mabuto achieved his PhD in Education from UKZN at the age of 60-years-old.
- The sexagenarian (a person between the ages of 60 of 70 years old) from Zimbabwe concluded this milestone achievement despite facing many challenges.
- Mabuto advises the youth in South Africa to fully explore their potential while embarking on any education opportunity that comes their way
PAY ATTENTION: Join Briefly News' Telegram channel! Never miss important updates!
BY FREELANCE JOURNALIST NEESHA MAHARAJ
Obsession with success and an innate need to contribute to adult education had spurred 60-year-old, Dr Morgen Mabuto, to achieve a doctorate in education despite facing a myriad of challenges.
The sexagenarian (a person between 60 and 70 years old) from Masvingo, 300km south of Harare in Zimbabwe, recently obtained a PhD in Education from the University of KwaZulu-Natal (UKZN) after concluding his doctoral research titled: Educators enacting Non-Formal Education Policy-a case study of three schools in Masvingo District, Zimbabwe-an exploration.
Currently lecturing at the Great Zimbabwe University in Masvingo Province, Dr Mabuto embarked on his doctoral his studies with UZKN after a memorandum of understanding between the two academic institutions enabled him to pursue this education goal.
A salient finding of his research was that non-formal education was a viable solution to formal education in reaching majority of Zimbabwean citizens who are in need of skills that could help overcome their socio-economic difficulties.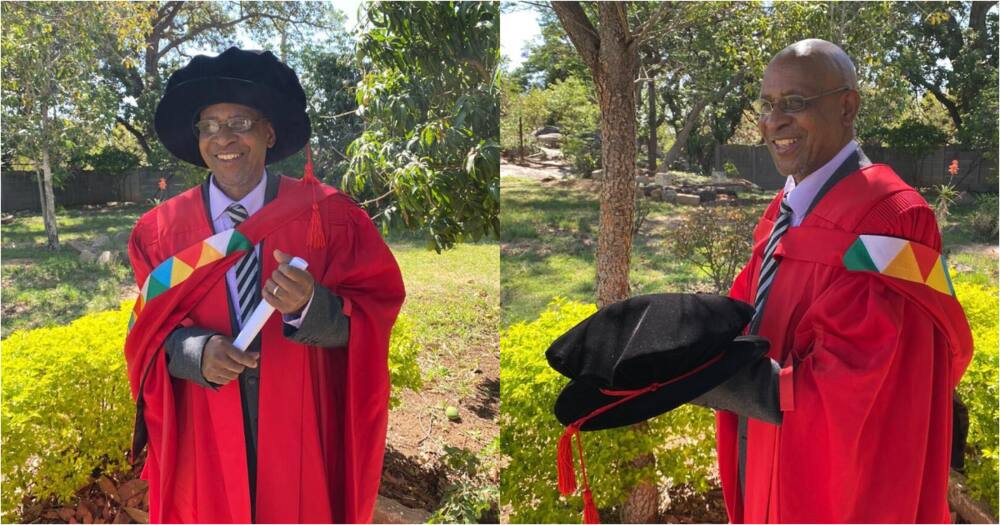 Mabuto describes his four-and-a half-year PhD journey as "hard work" with no fun.
"When obsessed with success, one eats, drinks and sleeps the degree. Nonetheless, I enjoyed working with a supervisor who was honest and a confidence builder."
His emphasis was on my having to construct a personal identity as a PhD student.
"I ensured that I neither disappointed him nor myself nor my fellow sexagenarians by overcoming perceived and real challenges. I looked forward to supervision, whose fount was a rapport of mutual trust and respect," he said.
Pursuing his studies from Zimbabwe proved challenging for Dr Mabuto who had to contend with the high cost of supervision visits, eliminate social events from his schedule and balance work, study and family responsibilities.
In his final year of studies Mabuto's challenges were fueled by electricity outages and limited internet access in Zimbabwe. This meant employing creative methods to ensure technology worked in his favour and the development of a study timetable that correlated with the national energy supplier's electricity schedule.
Mabuto recalled having to keep three computer batteries charged for use when he needed to study.
High inflation rates in Zimbabwe meant curbing his supervision visits to South Africa which became unaffordable. He said he had to turn to WhatsApp Chats and WhatsApp video calling as affordable alternatives which often succumbed to electricity and internet failures.
Dr Mabuto's education journey took on a dangerous turn at one point when he was travelling by bus to South Africa on a supervision visit and witnessed a robbery on board the bus.
"This incident is but one of the detractors that adults can meet in the academic journey, not that every journey can turn out to have risks of this magnitude. It was a mere coincidence that I boarded such a coach but it turned to be a test of my motivation and strength and it also became a beacon of light for other sexagenarians, to persevere," said Dr Mabuto
Trust in God and himself, imminent success, together with the view that nothing is impossible but the reason to try were the inspirational forces behind the lecturer's education success.
Having dedicated 45 years to teaching and lecturing he advised the youth who may be pondering higher education opportunities that nothing is impossible but to try. He urged the youth/matriculants to fully explore their potential by utilising the enviable academic resources South Africa has at its disposal.
"It is not a race against time but a race within yourself to create a personal identity that befits communal, national and international competitive environments," he said.
Mabuto believes learning moments are unique for each adult and concluding his PhD at age 60 was the result of a desire for self-fulfillment and earning a higher education qualification within a discipline that he considers marginalised.
Passionate about contributing to research in education, Mabuto indicated that the difference in obtaining a doctoral degree at his age was that he has several decades of experience in adult education and gained deep insight into research gaps in knowledge and practice within the discipline, whereas the younger students follow a PhD without the vast history he has gained.
Learning continues for Mabuto who has now set his sights on achieving a professorship. He hopes to achieve this goal in five years.
In a similar story, Briefly.co.za previously reported that a single mother with the Twitter name, tha_ashcash, has proudly gushed about her academic milestone along with stunning graduation frames.
The mother of two handsome boys posed alongside her children in the impressive photos. tha_ashcash revealed she has successfully graduated from a renowned university with a Bachelor's degree in Health Science.
Enjoyed reading our story? Download BRIEFLY's news app on Google Play now and stay up-to-date with major South African news!