- Bi Phakathi changed a young man's life forever by settling his outstanding university fees
- Thabo Mokiri had taken to Twitter to beg for help to pay his fees so he could get his degree and get a job
- Bi Phakathi paid Thabo's outstanding R6 960 and he could finally get his degree
PAY ATTENTION: Join Briefly News' Telegram channel! Never miss important updates!
Bi Phakathi took to Twitter to share that he had answered a desperate student's call for help.
The student who goes by the Twitter handle @Mokirithabo, his real name is Thabo Mokiri, asked for help to pay his fees so he could get his degree, but couldn't get work to pay the fees without it.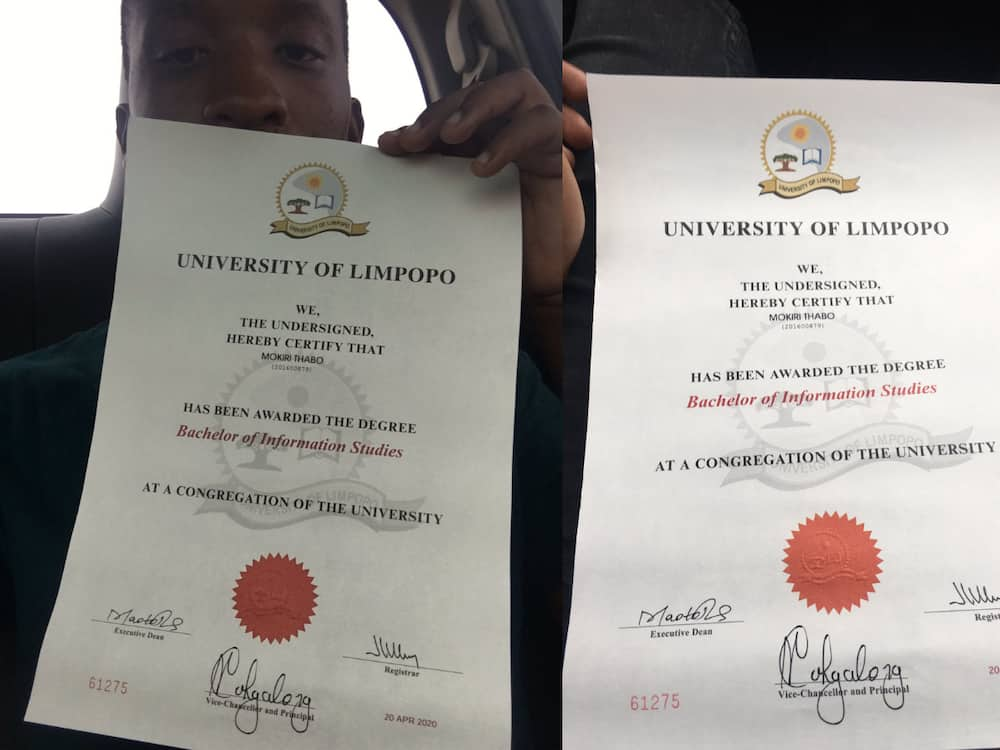 "I WOULD LIKE TO ASK 4 DONATION TO HELP ME PAY OUTSTANDING FEES."
"I have completed my degree at UL not am struggling to get employment bcos they can't give me my certificate due to outstanding fees."
Phakathi retweeted the student's message and attached proof of payment, being careful to hide his identity.
He paid the Thabo's outstanding R6 960 and told him to go and collect his degree.
"Hi sir your Outstanding School Fees to University of Limpopo has been Paid today you can collect your Degree #FeesMustFall."
Thabo was blown away thanked Phakathi for his generosity:
@Mokirithabo:
"Thank u so much abuti. I have been struggling to get employment since Jan 2020 because I didn't have the certificate. I still remember this other time I was chased out of the interview room because they thought I was playing games when I told them my story."
Thabo posted an update that he had received his degree after a full year of waiting.
"Dear Buti"
"I have finally collected my certificate after a full year of being unable to pay my outstanding fees."
"Thank you once more abuti may God bless."
"May everyone also put me in their prayers so that I can get a job sooner than later."
Earlier, Briefly.co.za reported that South African hero BI Phakathi is still changing lives. In a recent video shared to Facebook, Phakathi purchased all the stock being sold by a local street vendor and then gave it back to her. Mam Dlamini was walking around with her goods when Phakathi approached her.
Mam Dlamini had peanuts, bananas and pears packed neatly into a plastic bowl which was placed on top of her head. Phakathi started by purchasing the peanuts but then asked Mam Dlamini how much all of her stock is going for.
She revealed to Phakathi that she makes between R300 and R400 a day by selling her goods. After asking Mam Dlamini to count her goods, Phakathi handed over R1 000 and told her to keep her stock.
In other news, BI Phakathi could not be more loved by people across the globe. He recently bumped into an old friend and helped him as best as he could. At first, George did not seem to recognise himself in a video Phakathi showed him.
Eventually, he did and Phakathi took him on a small adventure. George had a haircut and shave before Phakathi took him out for a meal. Following the meal, Phakathi took him clothes shopping before he handed some cash over to George.
He told George to use the money for food when he is not around. Peeps enjoyed the adorable exchange and shared their love and thanks for Phakathi in the comments section.
Enjoyed reading our story? Download BRIEFLY's news app on Google Play now and stay up-to-date with major South African news!