Boy surprises mom by asking if he could donate blood with her to save lives
- A mom was very proud of her son after he asked if he could donate blood for the first time
- He had recently turned sixteen and his mom took him to get his ID book, she regularly donates blood
- He was inspired by her good example and did an amazing deed
PAY ATTENTION: Join Briefly News' Telegram channel! Never miss important updates!
Betty Masina-Khanyeza is a proud mother, she shared an inspirational story in the #ImStaying group on Facebook.
She had taken him to get his ID as he had turned 16. Trips to Home Affairs take notoriously long, they were there for four hours.
He was hungry and tired but still asked his mom if he could donate blood, it would be his first donation.
"I have consent and give consent to post my son."
"My son turned sweet 16, I decided to go make him an ID. We were there for 4 hours, tired and hungry. He said mom, can I also donate blood with you Today? How can I say no, so First Blood was donated. Hope it is the first of many ❤."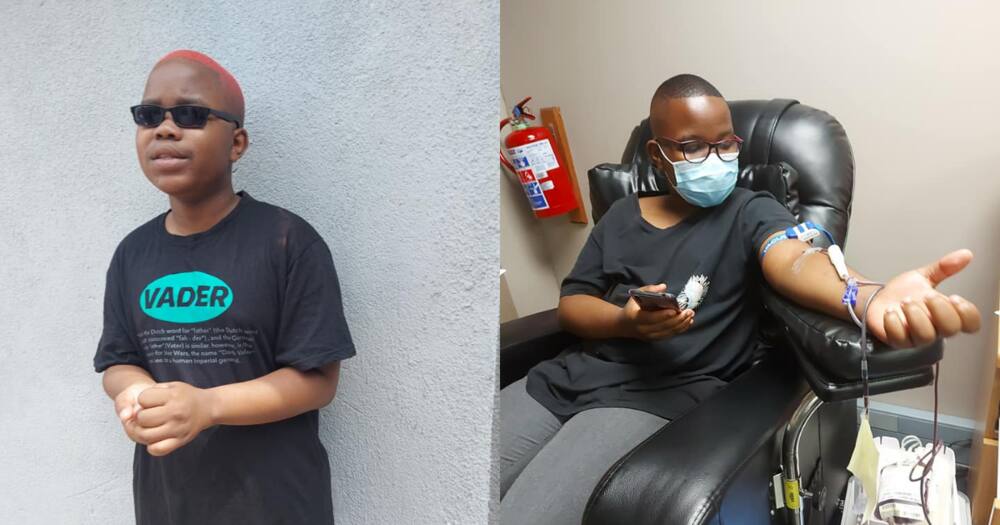 Betty often donates blood and her good example inspired her son to follow in her footsteps.
Facebook users took to the comments section to congratulate the young man on his matuer decision:
Moya Smith:
"Well done to your son and well done to you mom for raising a man who cares xx."
Rinette Pieterse Swanepoel:
"That is absolutely wonderful, realising his responsibility towards saving lives, making a difference and contributing, giving even of himself when he was hungry and tired. It takes a special mom to raise such a responsible son. Well done to both of you. I take my hat off to you. May you be blessed!!!"
Jackie Norton:
"Happy belated birthday. Wonderful to see that he is prepared to help others in need. Well done Mom on making him the young man he has become xxx."
Earlier, Briefly.co.za reported that Russell Dickson shared an amazing story in the #ImStaying group on Facebook. He explained that an elderly lady, Johanna, had come into the tire shop to have her tires and battery replaced.
When she tried to pay, her credit card wouldn't work. A lady, Tina Dolman, sitting in reception overheard what was happening and offered to pay for the woman.
Johanna burst into tears when Tina made the offer and Russel said there was not a dry eye in the shop.
In other news, a South African man with a grateful heart, Pumba Nuz Khavhagali, recently headed to Facebook's ImStaying group to share a truly touching post about a kind-hearted old lady who showed him real kindness.
In his post, Pumba explains how he went knocking at the lady's door to ask for some water. After hearing that he did not have any lunch for the day, the kind gogo then offered a taken-aback Pumba an R20 to buy himself some lunch.
"I never had a lunch box today and I went to ask for water in her house, she asked what am having for lunch and I told her I've got nothing and she gave me R20 for lunch and my day was bright. Thanks to this beautiful soul#Imstaying," wrote Pumba.
Enjoyed reading our story? Download BRIEFLY's news app on Google Play now and stay up-to-date with major South African news!
Source: Briefly.co.za