Mzansi Thanks Kind "Meneer" for Helping Stranded Woman on Her Way to Work
- A local woman has taken to social media to share her touching account of a stranger who stopped to help change a stranded woman's tyre in the early hours of the morning
- The kind "Meneer" was probably on his way to work but stopped to lend a hand while others simply passed the stranded lady
- South Africans took to the comments section to show the helpful stranger some much-deserved appreciation
PAY ATTENTION: Click "See First" under the "Following" tab to see Briefly.co.za News on your News Feed!
We're all guilty of being more than just a little occupied with our hectic mornings. So when a stranger's car breaks down on a busy freeway in the early hours, most of us would likely wish the stranded driver well as we went about our day.
At least that's what Katlego Kobedi expected when she stopped to offer emotional support to a stranded woman. Not knowing how to change a tyre herself, all Katlego could offer the panicked woman was some much-needed company.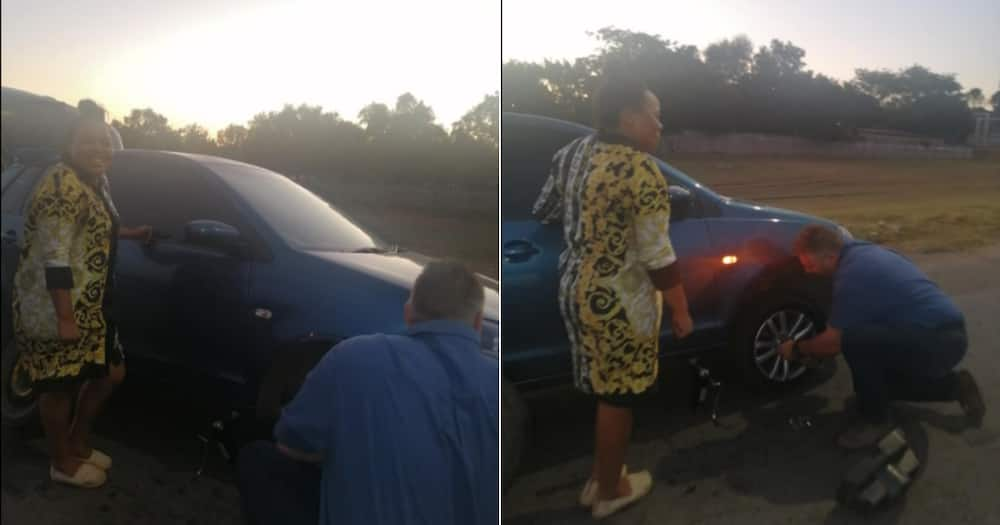 In her Facebook post, Katlego shares she was pleasantly surprised by a kind gentleman, affectionately referred to as "Meneer", who pulled over on the busy freeway to lend a helping hand.
She writes:
"This morning while we were all rushing to work this lady got a flat Tyre, people were just driving by, probably didn't want to be late for work, I felt very bad and turned to see if I can help, mind you I myself can't change a tyre...
"The lady was also panicking but God sent this good hearted man to stop and assist, you could see that he was also on his way to work, but he stopped to help a total stranger while others just passed. The tyre was replaced in no time and we all started to smile and laugh. Thank you Meneer, I didn't get your name. But you reminded me why I am staying."
Mzani was quick to show the man some love in the comments section.
Zukisa Hogana said:
"Tell that man, there are very few men like him!!! This country is beautiful because of people like him!!"
Marion Wilson said:
"What a difference a real man makes."
Mimi Rametse said:
"Good Samaritans still exist in this day and age. Thank you sir for giving us hope about life."
Megan Christie Murray said:
"Emotional support also brilliant."
Zeida Solomons said:
"That was very nice of you too. I think as women we must all try to stop when we see another woman stranded. Strength in numbers even if we can't assist with the problem physically."
Meanwhile, Briefly News previously reported a young mother, Nhlapo Sgegede Nomvula recently headed to Facebook's ImStaying to share a touching post about how she had arrived late for an interview but still got the job thanks to the understanding receptionist at the company who both reassured her and gave her a drink to pull herself together.
"On Friday I had my staying moment and I was shown kindness that's just beyond me so I had an interview only to be dropped by the person who promised to babysit my child, I ran around like a headless chicken trying to find a babysitter eventually I did but I got to my interview late as I had to walk there, when I arrived I was sweaty and breathless with dusty shoes.
"I explained to the receptionist who I was she told me I was over 30 minutes late seeing the disappointment in my eyes she offered me a wipe to go wipe off the sweat and dust. She then promised to go and ask the interviewer if they can still interview me.
"Upon my return from the bathroom she gave me her squeeze bottle with juice to drink she told me to sit down the interviewer will see me in 15 minutes. When I got to my interview the interviewer asked why I was late I answered honestly.
"The interview went well and I received a call when I was on my way home to report for duty today apparently Mr Khosa was impressed by my persistent nature. #I'm staying because of sis Ntombi and Mr Khosa," she wrote happily.
Stayers had this to say:
Maryann Banwell said:
"How absolutely wonderful!"
Denise Stevens Neilson said:
"Congratulations! I hope you will be very happy with your new job."
Enjoyed reading our story? Download BRIEFLY's news app on Google Play now and stay up-to-date with major South African news!
Source: Briefly News