Police Foil Attempted Robbery in Marabastad, 1 Suspect Wounded
- A viral video shows police apprehending three suspects in an attempted robbery in a busy local market
- According to developing reports, one suspect has been wounded
- The viral video has sparked mixed reactions with many disappointed at the slow response of police to the incident
PAY ATTENTION: Click "See First" under the "Following" tab to see Briefly.co.za News on your News Feed!
Local police have apprehended at least three suspects in an attempted robbery. The incident was caught on camera and took place inside the busy Tshwane market, Marabastad.
In the viral clip shared by Twitter user @Abramjee a suspect appears to be leading an accomplice at gunpoint through a narrow aisle in the shop. Two police officers then enter and draw their weapons in an attempt to apprehend the perpetrators.
The suspect then drops his weapon and is shortly followed by a third accomplice before all three suspects fall to the ground and surrender to officers. Nearby witnesses appear to congratulate the men in blue for their good work.
Mzansi Twitter users however were not as impressed and took to the comments section to share their mixed reactions to the clip. Read some of their comments below: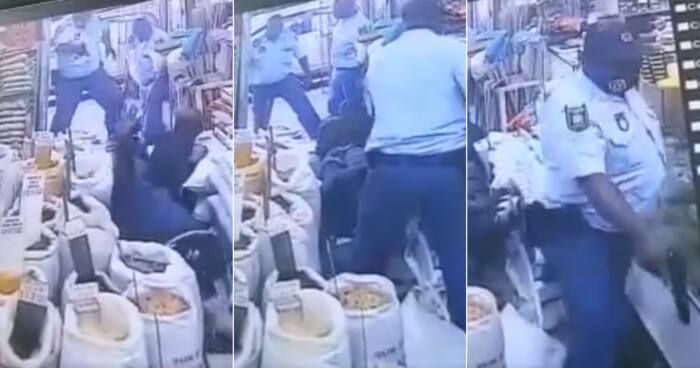 @jaspaas:
"No cover taken, no bulletproof vest, moving as slow as a Teletubby etc, so many basic response mistakes. If the robbers had more movement space it would've been a sad day for SAPS."
@moonwaln:
"He pooped his pants."
@Pennysu56524209:
"This looks like those Madluphuthu low budget movies. Anyways well-done men in blue."
@MatshobaKwezi:
"Kudos. Great Police work. Great reaction time. As much as we have so much negative stuff to say about cops in SA, credit where it's due."
@gumcee:
"Good work but lots still needs to be done in terms of dealing with these kinds of situations. Our men in blue lack experience."
@anti_ANC:
"Just watched this video. The cops do not have bulletproof vests. Their tactical approach is non-existent. Unbelievable what the @SAPoliceService has become."
@TjRaisibe:
"1st time I see our police working, always thought they are all Mabenas hey."
@tiisetsowillia8:
"Nice one! Next time cops need to wear bulletproof vests for their own safety. Nice work..."
Meanwhile, Briefly News previously reported a viral dance video created by @jones21wp may already be more than one week old but the dancing policeman's charm is certainly not wearing off.
The Western Cape cop took to popular social networking service TikTok to share a fun dance performance probably recorded after a long day on Mzansi's frontlines.
In the video, a uniformed Jones begins by coyly taking his heavy police vest off before finally getting down to a unique Afrobeat bouncing with local flavour. Of course, social media users couldn't get enough of the talented cop's dance moves.
In totally unrelated events, Mzansi's femme population couldn't help noticing the cops muscular physique and couldn't help drooling in the comments section. Take a look at some of the reactions below:
@prodeegy:
"That dance u make after getting cold drink money."
@tristato_:
"lol do that when you arrest someone, do it in their face as u put them in the van."
@angiebabe88:
"I'm about to commit a crime"
@sfjm0:
"I heard people saying good moves I myself only saw those arms omg"
@otlile1:
"The man in a uniform - my weakness"
@hannahnicolrr:
"Hamba policeman"
@saps10111popsdevision:
"Great dance moves my brother in crime"
@sheilatitus978:
"Like the moves. Aitsa"
Enjoyed reading our story? Download BRIEFLY's news app on Google Play now and stay up-to-date with major South African news!
Source: Briefly.co.za