Israel: Over 44 Worshippers Crushed in Gathering at Mount Meron
- Israeli investigators are looking into what caused a crush at a mass religious congregation in Mount Meron that killed at least 44 worshipers
- Thousands of worshipers flocked to the mountain burial site to commemorate the Lag B'Omer holiday
- It is an annual celebration in which participants sing, dance, and light fires in honour of Rabbi Shim Bar Yochai, a second-century Mishnaic sage
- The festival, however, devolved into chaos when a massive wave of people trapped others underneath them, including children
PAY ATTENTION: Click "See First" under the "Following" tab to see Briefly.co.za News on your News Feed!
At least 44 people have been killed and about 150 injured in a crowd crush at a Jewish religious gathering in northern Israel attended by tens of thousands of people.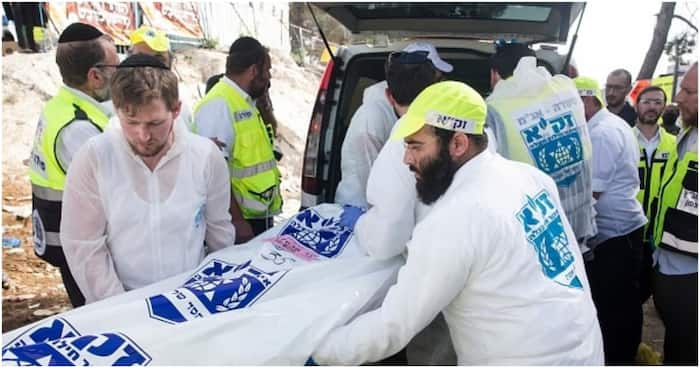 Children were among the missing, according to Eli Beer, the director of Hatzalah, an Israeli volunteer ambulance service.
The wounded were rushed to hospitals across the country, according to the national ambulance service.
"Unfortunately, we discovered small children who had been trampled there, and we administered CPR. We were able to save some of them," he was quoted by Israel's Army Radio.
"We were going to go inside for the dancing and stuff and all of the sudden we saw paramedics from MADA running by, like mid-CPR on kids, and then one after the other started coming out," a witness was quoted.
Among those rushed to the hospital were six people in critical condition and 18 people in stable condition.
The crowds at Mount Meron were estimated at 100,000.
Permission had, however, been given for 10,000 people to attend the largest event held in Israel since the start of the COVID-19 pandemic in 2020.
Ultra-Orthodox Jews had travelled to the Galilee tomb of the second-century sage Rabbi Shimon Bar Yochai for annual Lag BaOmer commemorations.
The events include all-night prayer, mystical songs and dance.
The cause of the crash was not confirmed, but witnesses said people were asphyxiated or trampled in a narrow passageway while trying to exit.
Footage from the night showed men frantically pulling down corrugated iron walls to escape while children were separated from their parents in confusion.
The National Center of Forensic Medicine in Tel Aviv said that they were prepared to receive the dead and are able to receive and assist families who will be coming to identify their loved ones.
Israeli attorney general Avichai Mandelblit said a probe had been opened into the disaster and that authorities are investigating whether there was any criminality attributable to the police.
Mandelblit further noted that Israeli police would not collect testimonies from the officers involved in the incident as part of the ongoing investigation.
Shimon Lavie, northern commander of Israel Police, said earlier on Friday, April 30, that he took overall responsibility for the crush.
Briefly News also reported T=the toughest times teach us who our real friends and family are. They also separate the chaff from the grain. A group of church members from the US decided to honour the loss of their pastor in the most thoughtful way while still observing social distancing.
In a video that has since gone viral on Facebook, the group was spotted creating their own version of a final goodbye without having to physically comfort each other.
The singers lost their pastor to Covid-19 and felt the need to check on his wife and family but at the back of their minds, they knew they could not go into the house. So they posted themselves up in the parking lot and maintained a distance between each other as they faced the home.
Enjoyed reading our story? Download BRIEFLY's news app on Google Play now and stay up-to-date with major South African news!
Source: Briefly.co.za