SA Women Flock to Opening of New "Shein" Store in Pretoria, Video of Long Queue Outside the Shop Goes Viral
A fashion store in Pretoria that allegedly sells clothing from online retail company Shein got an insane amount of foot traffic
The shop recently opened, and SA girlies flocked to the capital's CBD to grab some clothing items
The video of the long queue outside the shop went viral on TikTok, and people wondered if the hype was worth it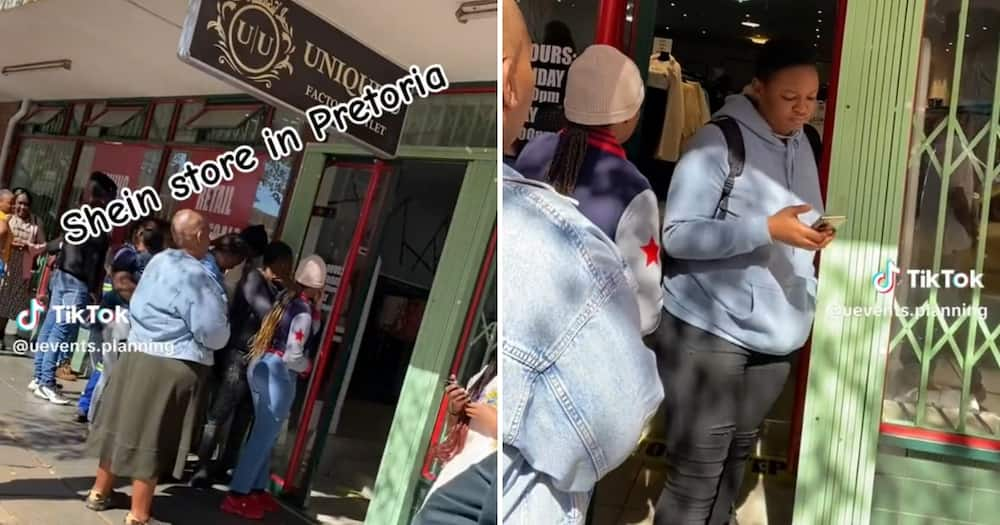 Shein is one of the most popular clothing e-retailers in the world, and people love it because it sells trendy fashion items at a reasonable price.
Word got around that a shop in the heart of Pretoria was selling clothes from the Chinese brand, and women rushed to the store in their numbers.
Video of shop selling Shein clothes gets close to a million views on TikTok
One customer, @uevents.planning, posted a TikTok video of the frenzy outside the shop, which currently has over 832 000 views.
Based on the shoppers in the 14 seconds clip, the trip to the physical store did not look worth it as they walked out empty-handed.
Some customers who went to check out the clothes said in the comments that Marabastad was still undefeated regarding bargains.
Watch the video below:
South Africans mention differences between online and physical shopping
@millicent123_1 said:
"When people come out of the shop without shopping bags, I get very concerned."
@user554211 asked:
"Where in Pretoria is this shop?"
@user9865449938980 mentioned:
"I think using an app is much better than waiting in a long queue."
@mamositsi stated:
"Online through the app is still the best and cheapest and has variety."
@mamaniwacarley commented:
"People coming out of the shop with no plastics and they don't look happy."
@_reo.x wrote:
"Those two girls went window shopping bandla."
@malekolane suggested:
"Don't waste your time. Lol, no Shein store or anything worth buying marabi will do."
@ongeziwesiboyanao said:
"Spend like 2 hours in the queue, 30 minutes shopping and another 3 in a queue to pay. It can never be me when I can shop while I'm in my bed."
Shein shopping haul by fashion savvy woman in TikTok video reveals quality winter finds, Mzansi pleased
In another story, Briefly News reported that a young woman has been trending on social media after she flexed her great winter buys she found at Shein.
Her TikTok video showcased all the items she bought from the online store. Thandolwethu Mahlangu highlighted the goods she got at a great price, from track pants, t-shirts and jackets.
Source: Briefly News