Former Naspers CEO Bob Van Dijk Bob Earned R1.29 Billion Salary, Netizens Glad He Left
Bob Van Dijk, who resigned from Naspers, walked away with riches beyond comprehension
The former CEO raked in over R1 billion in salaries and incentives and even sold his shares for R1.29 billion
Netizens are reacting to his resignation and are glad that he called it quits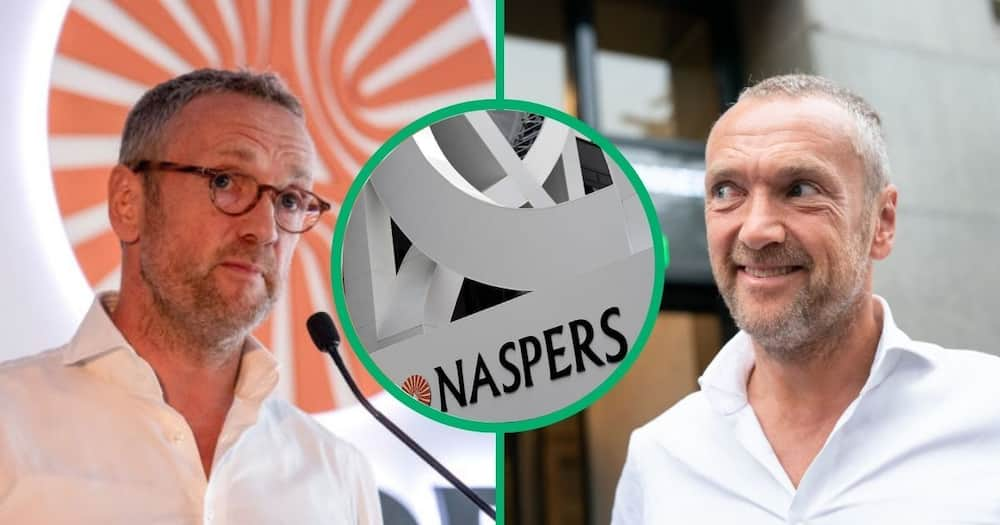 Outgoing Naspers CEO Bob Van Dijk will leave the company wealthy after receiving R1.29 billion in salaries and financial incentives.
After being at the company's helm for almost 10 years, Van Dijk's salary shocked people worldwide. Netizens believe that his resignation is long overdue.
Bob Van Dijk leaves Naspers with more than a billion
Van Dijk announced that he will step down as the CEO of Naspers and Prosus, the most extensive media company on the African continent, on Monday, 18 September. The news was posted on Twitter by @SimonPB. He has been at the company's helm since 2014, where he was said to have earned over a crazy R200 million a year.
Even the Dutch up there in the Netherlands, where he is based, were demonstrably taken aback by how much bank Bob Van Dijk was raking in. This was because he was bagging more bags than every CEO in the European country. He made so much money from Naspers, owned by one of the wealthiest families in Mzansi, that his salary dwarfed the average Naspers worker, making it look like they were getting paid in peanuts and raisins.
His resignation caused Nasper's share price to take a severe nose-dive, and many online believe he took a bow strategically. He reportedly sold R1.72 billion worth of his shares in Naspers. View the tweet here.
Netizens happy that Van Dijk resigned from Naspers
Netizens are glad he stepped down and discussed his departure from the two companies.
Andre De Wet wrote:
"Goodbye and good riddance."
Fred added:
"The man knew what was coming. Took profit early. Smart."
Know STUFF remarked:
"Long overdue. Now the rest of the B team from eBay can follow."
T-Mac suggested a replacement.
"Phuthi Mahanyele must replace him! She understands the Naspers brand and culture and challenges facing the company, including opportunities that may lead to growth."
Ess raised her eyebrows.
"Effective immediately says a lot."
Linde E added:
"Rich man."
Top-earning CEOS in South Africa include Bob Van Dijk
In a similar article, Briefly News reported that Bob Van Dijk was on a list of South Africa's top-earning CEOs. He was joined by Jens Montanana, the CEO of Datatec, Neal Froneman, Sibanye-Stillwater's CEO and July Ndlovu, CEO of Thubgela Resources.
Montanana raked in over R215.7 million in the 2022/23 financial year, while Froneman acquired R198 million. Van Dijk, on the other hand, got paid R107 million. Even though it's not as much as the other guys, it's still a lot of money.
Source: Briefly News