Madonna Accused of Trafficking Children From Malawi and Using Them for Social Experiments
American pop star madonna has been accused of trafficking children from Malawi through her non-profit organisation, Raising Malawi
A charitable organisation Ethiopian World Federation blew the whistle on the pop star's dealings and called on the government to look into the matter
Ethiopian World Federation alleged that children taken from Malawi were being exploited among other things
US pop star Madonna has been accused of trafficking children from Malawi and using them for social experiments. The award-winning singer has a soft spot for the African country and she even has a non-profit organisation named Raising Malawi.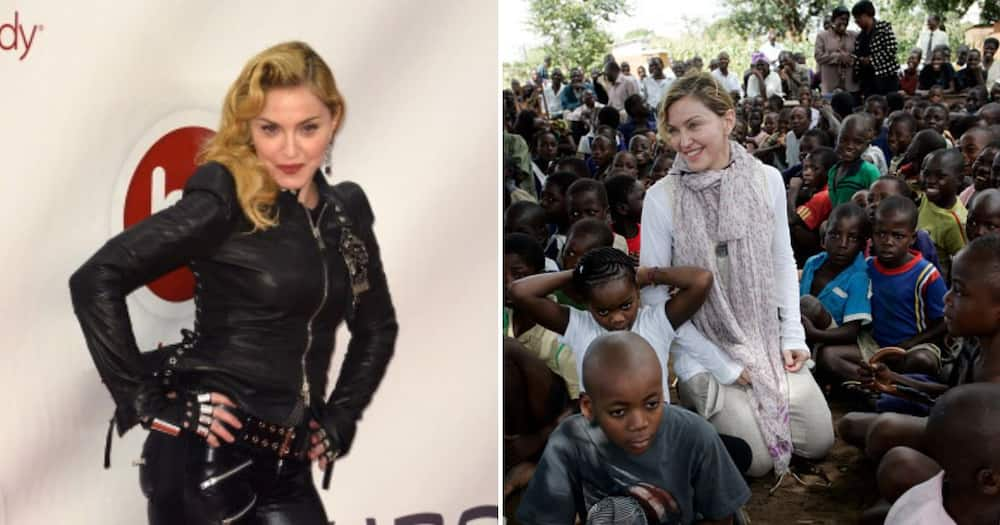 Madonna has visited the country several times and has even adopted four children including the famous David Banda who she adopted in 2008.
Madonna is being accused of using children from Malawi for social experiments
The award-winning singer has been accused of having hidden agendas when adopting children from Malawi. According to a Twitter user @itsnatlydenise, people started raising questions when David Banda started dressing up as a lady in dresses, makeup and earrings.
The families of the other children who were adopted by Madonna have also stated that she is not keeping her end of their agreement which was to grant them visiting rights.
A non-profit organisation asks the Malawian government to investigate Madonna's organisation Raising Malawi
According to Evie magazine, an organisation called Ethiopian World Federation (EWF) has looked into the matter and called on the government to investigate Madonna's adoptive agency.
EWF is arguing that the Material Girl hitmaker is hiding behind the guise of an adoptive agency while the children are being abused.
Kalawa Jazmee says they paid a lumpsum to late Trompies member Mjokes' estate as family struggles financially
In more news, Briefly News also reported that Kalawa Jazmee Records has set the record straight after reports that late Trompies member Mjokes' widow Mamello Mogane has been struggling financially since her husband's passing.
Mjokes died in a car accident in 2021 but his wife has allegedly been in and out of court trying to benefit from his estate.
Mjokes' widow says she is trying to access her husband's estate
According to TimesLIVE, Mjokes' wife told Drum magazine that she has been to court several times to attain her husband's estate so she and their children can survive.
Source: Briefly News