Chris Brown Buys Naledi Aphiwe iPhone 12, SA Divided Over Naledi's Boasting
Halala! Chris Brown is making a South African girl's dreams come true
Naledi Aphiwe recently got herself a new iPhone 12 with the money her "dad" Chris Brown gave her for sampling her song
Naledi boasted about her new phone on Instagram and had followers fawning over her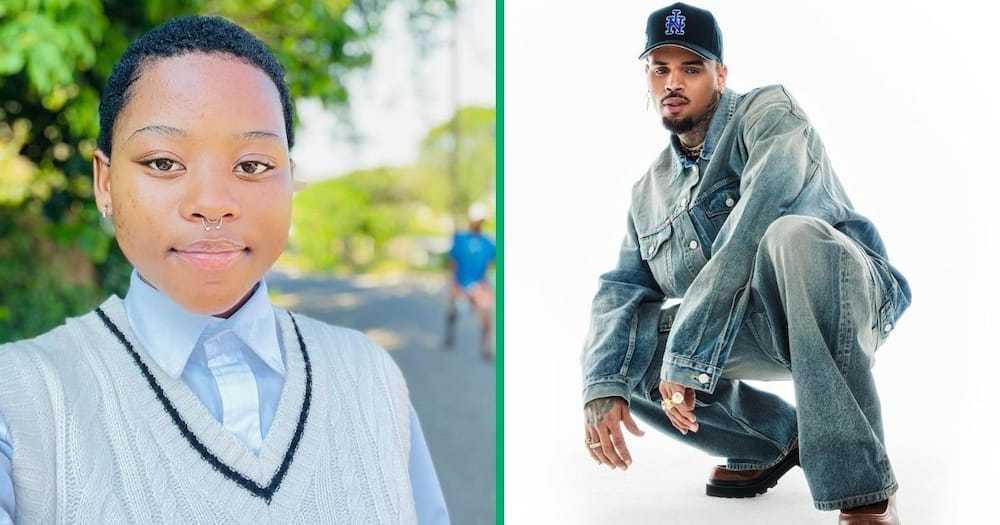 Naledi Aphiwe is untouchable since she had her song sampled by Chris Brown. The 17-year-old singer took to her Instagram page to reveal that she bought a new phone with the money she got from Breezy. Followers celebrated the news with Naledi and congratulated her on her growing success.
Chris Brown buys phone for Naledi Aphiwe
Our girl Naledi Aphiwe is having the time of her life! The young singer recently bought a brand spanking new iPhone 12 with the money she got from Chris Brown and had followers green with envy.
Naledi shared the news on her Instagram page along with six pretty mirror selfies showing off her new phone that retails at just over R15K:
"So my dad Chris Brown bought me iPhone 12, isn't that cute!"
This follows the news of Chris Brown paying Naledi over R50K for sampling her song.
The news of the collaboration took the country by surprise, much like the time netizens discovered that the only person Jay Z followed on his Twitter (X) account was an unknown South African man - not even Beyoncé!
Netizens react to Naledi Aphiwe's new phone
Followers flooded Naledi's comments congratulating her on the new phone as well as her budding success:
khedjpy said:
"Chris Brown's 'Shooter' is the best song in the album. Congratulations to naledi_aphiwe from South Ahh!"
smah_039 encouraged Naledi:
"Pray always babygal… God is with you."
kyratraniece fawned over Naledi:
"Love this for you!!! I've been following you ever since that same video that Chris Brown sampled went viral. Your voice is incredible and you deserve all the success coming your way!"
marowhite_ wrote:
"It's a nice gift, the best is yet to come, Naledi."
On the other hand, some followers weren't impressed with Naledi's boasting:
azwiq95mthembu said:
"Eeey le gender yama 2k. YOU SHOULD NOT CLOUT KAA SOO DOESNT SUIT YOU."
azwiq95mthembu posted:
"Manje ususqambela manga, you're just chasing clout now. I saw you in the iStore buying your IPHONE!"
metalicstarmahlasela wrote:
"Sokuthwa my dad, aaay iyouth!"
Kairo Forbes unboxes new phone
In a recent report, Briefly News caught online reactions to Kairo Forbes unboxing an R18K phone gifted to AKA for winning Song of the Year at the DSTV Content Creator Awards.
Source: Briefly News