Christmas Toilet Paper Prank With Funny Farting Sound Takes TikTok by Storm in Viral Video
A family has taken Christmas decorations to a whole new level by using red-coloured toilet paper with a funny farting sound effect
The video of this hilarious Christmas-themed toilet paper has gone viral on TikTok, with many people finding it amusing
Some people have shared how they would avoid using Christmas toilet paper, such as taking the roll off or buying their own tissue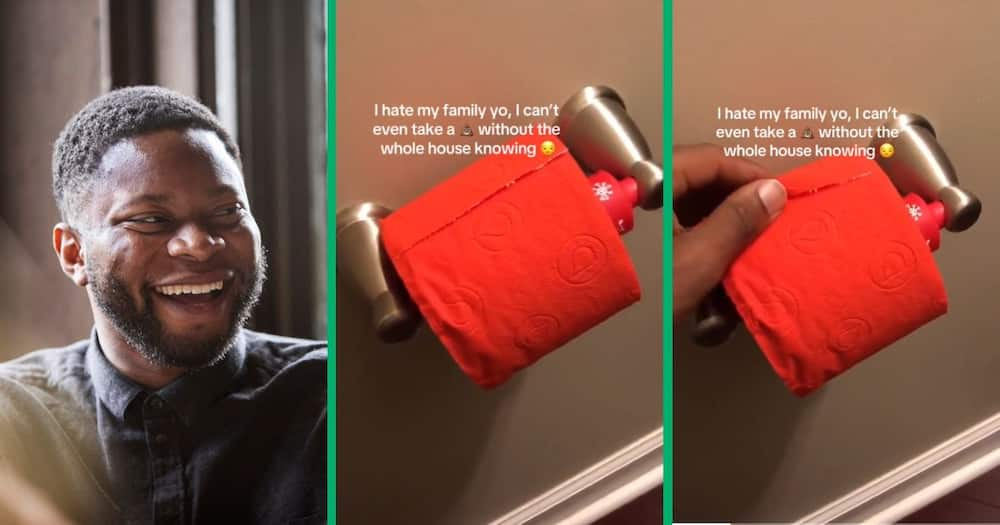 Christmas is approaching, and one family's festive spirits had netizens laughing out loud.
Festive family turns toilet paper into Christmas cheer
A funny video of a person using red coloured toilet paper to keep in theme with Christmas went viral on TikTok.
What made it even more amusing was the fact that every time the man tried to roll some toilet paper, a Christmas tune featuring a funny farting noise rang loudly.
"I hate my family yo, I can't even take a dump without the whole house knowing," the video was humorously captioned.
This family has taken Christmas decorations to a whole different level, LOL. Watch the video below:
Christmas toilet paper as netizens in stitches
Many people found the Christmas-themed toilet paper roll amusing, while others shared how they would avoid using it.
Gracie said:
" I'd take the roll off."
Letso commented:
"It's simple buy your own tissue and go with it to the toilet ."
MadaleinvanWyk replied:
"They would know if you had not wiped also."
Aaryn Steele commented:
"Imagine staying the night at your friends for the first time and you finally go to the bathroom at 2am and didn't know it made sound lmao."
evedesma44 said:
"My anger issues could never."
unseen commented:
" Imagine using the bathroom at 3am."
Black-owned tissue manufacturer inspires Mzansi to dream big
In another story, Briefly News reported that Thembinkosi Mthembu from Umlazi township went from working in a big toilet paper manufacturing company as a packer to establishing his own company.
The businessman is the CEO of Mthembu Tissue Converting, South Africa's first black-owned tissue manufacturer.
In a recent Facebook post, Briefly News shared that his business has grown from employing 37 people to 104 people and from making 400 tons of tissue to more than 750 tons.
Source: Briefly News