African Woman Plays Hot Coffee-Spilling Prank on Husband, SA Laughs at Hilarious Reaction
This African mom decided to play the hot coffee-spilling prank on her husband, and she got him good
TikTok user @smileandlaughlol, the daughter, shared a video showing her dad's reaction
Mzansi loved seeing the relationship this married couple had and what a team player the man was
Mzansi got a good laugh out of a recent TikTok prank video where a woman had her husband jumping in his seat.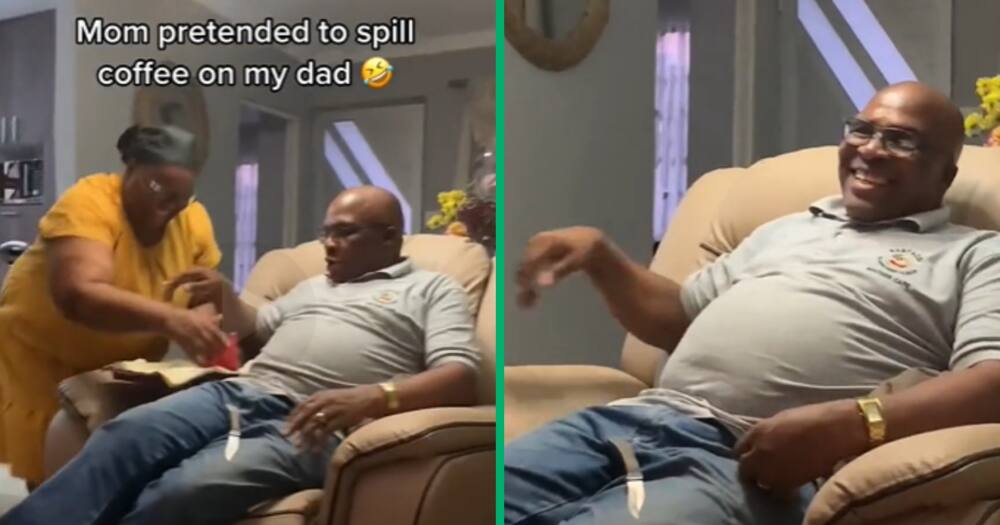 A video like this reminds people of the power of carefree moments, and this older couple are marriage goals.
Woman pulls hot coffee spilling prank on husband
In a delightful video shared by user @smileandlaughlol, recorded by the daughter of the sweet couple, showed her mother's mischievous prank on her unsuspecting husband.
In the video, the mother is seen serving her husband a cup of hot coffee while he lounges in his favourite lazy-boy chair. Seemingly by accident, she pretends to spill the steaming coffee onto him.
What happens next is pure comedy gold. The husband's reaction is nothing short of priceless, as he jumps out of his chair at lightning speed, reacting to the imaginary hot liquid.
Take a look:
South Africa crys tears of laughter
The way Baba jumped in his seat had people wheezing! This priceless prank video shows people what real, lasting love looks like.
He took it like a champ. Read some of the comments:
NWoman'sMadlala loved it:
"I watched this too many times."
R. O. W said:
"I so wish to be like this with my wife but not in this generation."
Khonadaweti Lhubby's commented:
"You got him auntie."
Gogo Mangaka was finished:
"I can't stop laughing."
Mr Truly shared:
"Hahaha, parents are still playing happily in their marriage, but the children are already divorced."
Woman's TikTok video about online shopping spree on hubby's credit card leaves Mzansi in stitches
In related news, Briefly News reported that a woman's cheeky online shopping spree, charged to her husband's credit card, has taken TikTok by storm, and Mzansi can't help but laugh at the video.
The amusing escapade unfolded when the woman indulged in some retail therapy, making several online purchases using her unsuspecting husband's credit card. To her amusement, the packages started arriving, and her husband became the accidental recipient of the shopping haul.
Not one to miss out on the fun, she documented the entire thing on TikTok, where the video quickly gained popularity.
Source: Briefly News