TikTok Video of Boy Impersonating Limpopo Rapper Shebeshxt Amuses Mzansi: "Stage Name Is Sherbert"
A TikTok video featuring a young boy impersonating Limpopo rapper Shebeshxt had Mzansi in stitches
The kid went all out to look like the artist by rocking fake tattoos, a signature backpack, and a cap
The boy became a viral hit, but concerns arose about the appropriateness of the role model for kids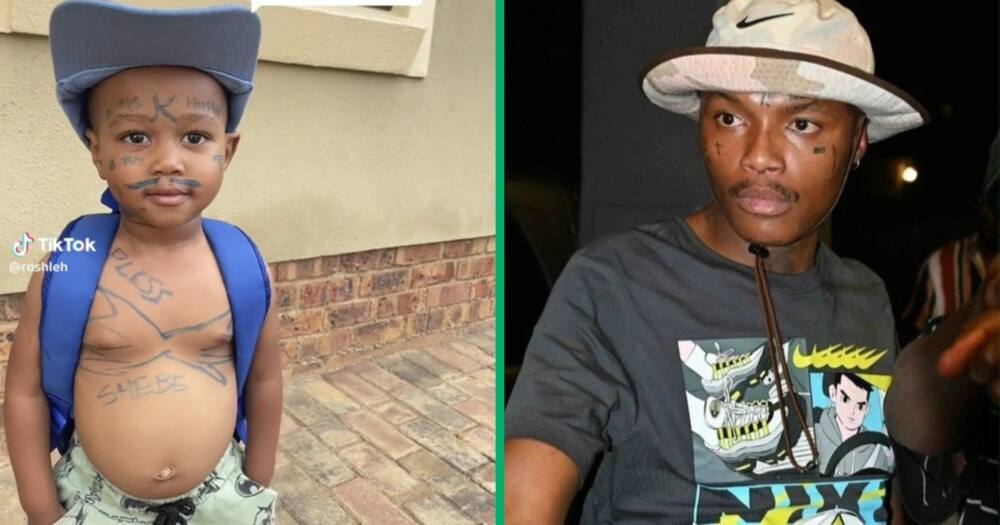 A young boy's hilarious impersonation of Limpopo rapper Shebeshxt has taken Mzansi by storm.
Young boy rocks fake tattoos
The video, posted by @roshleh, shows the kid's unexpected transformation, leaving viewers thoroughly entertained.
From fake tattoos that mirror the ex-con media personality's ink to the signature backpack and cap, the kid's attention to detail is nothing short of impressive.
Concerns about kid's impersonation
While most people enjoyed the lighthearted entertainment, some netizens questioned if it was appropriate. They highlighted the influence of celebrities on impressionable minds.
Shebeshxt has blown up since his record-breaking interview on MacG's Podcast and Chill and Mzansi cannot get enough.
Mini Shebeshxt trends on TikTok
In just two days, the kid's video gained over 752,000 views and 50,000 likes on TikTok.
Watch the video below:
See some of the comments below:
@luxen stated:
"Who knew Shebe would trend and repent?"
@forfunnythings asked:
"Le ruta bana eng mara? Is like I can see his future already."
@thabz391 mentioned:
"Someone said his stage name is Sherbert."
@kane911_ commented:
"At this rate, we must all go to thwasa as a country, something is not right."
@karabo.pooe8 wrote:
"Mzansi nna I give up. I didn't see this one coming. Mpolaye gape."
@theonewhodoesnotbelive shared:
"Role models are very important in child development."
@nathembelasodiye added:
"I am here for the tattoos tsa shebeshxtra."
@lethabo9813 posted:
"I am sure at creche he has his own office."
@snowey2015 said:
"That undertaker move finished me."
Shebeshxt blasts Focalistic on 'Podcast and Chill'
In another article, Briefly News reported that Shebeshxt had much to get off his chest during his Podcast and Chill interview.
The Di Chomi rapper revealed his discontent with Focalistic since the Amapiano star's Straata Nation Address event, saying Foca never showed him love despite bringing a huge crowd.
Source: Briefly News