Stunning Bride and Groom's Infectious Energy and Dance Goes Viral on TikTok, Mzansi Shows Them Love
A newlywed couple's infectious energy and playful spirit captivated the hearts of millions in a viral TikTok video
The bride and groom's dance moves exuded a palpable sense of connection and joy as they swayed their bodies in perfect harmony with the music
Netizens were enchanted by the couple's infectious energy and the beauty of their love story, with many expressing admiration and joy for the newlyweds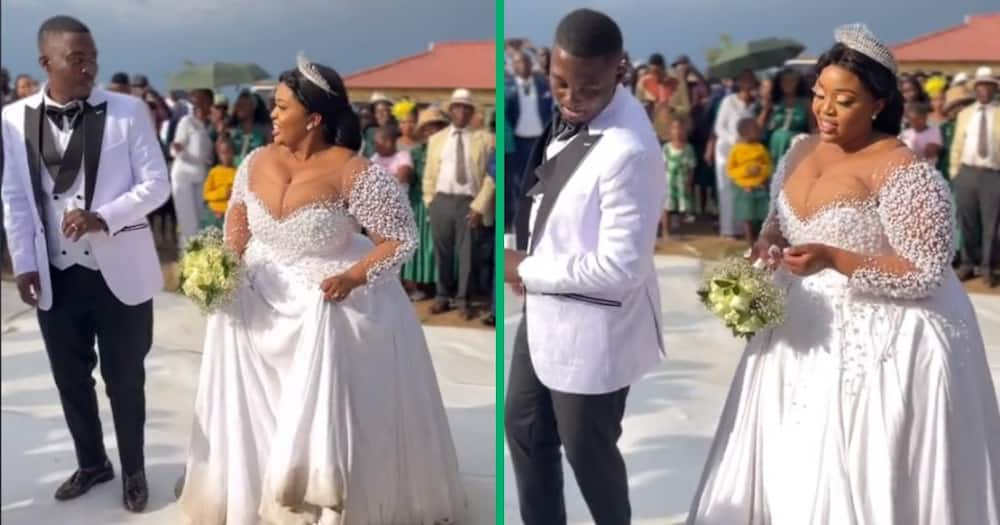 Amidst the vibrant backdrop of a South African wedding celebration, a newlywed couple took to the dance floor, their infectious energy and playful spirit instantly captivating the hearts of millions.
Couple dances impressively at wedding
The viral TikTok video shared by @primeexclusiveevents captured the essence of their love, a heartwarming blend of joy and lightheartedness that transcended cultural boundaries.
As the rhythmic beats of the music filled the air, the bride and groom swayed their bodies in perfect harmony, their laughter echoing through the venue. Their faces beamed with unrestrained delight as they twirled and jived, their movements exuding a palpable sense of connection.
The bride's radiant smile mirrored the vibrant hues of the celebration, while the groom's playful antics added a touch of lighthearted charm to their performance.
Watch the video below:
Mzansi in awe of the vibey couple
Netizens were enchanted by the couple's infectious energy and the beauty of their love story. Comments flooded the video, each expressing admiration and joy for the newlyweds.
ORIGINALSHEZI said:
"No kodwa this dress ayy bandlaa."
Mrs Motloung commented:
"Let me save this video for the dressgetting married soon."
Snowflake commented:
"My labour ward experience with lo sisi was so smooth, I've never met a nurse so kind and as humble as her ❤️big ups ❤️."
user4909800155413 replied:
"Naze nangchaza umuntu nestufuza sakhe❤❤❤❤❤."
Fikekahle_Mdlalose commented:
" Zishadile izidudla kulonyaka."
Tebo Moeletsi responded:
"The bride looks like Relebogile Mabotja❤️."
Video of bride and groom at wedding gets many worried
In another story, Briefly News reported that a video of a bride and groom struggling to use a doorway simultaneously has many people talking.
The confusing clip was shared by @axmedzaki440 on TikTok and had amassed over 14.5 million views at the time of this report.
In the video, the groom refused to back down from his bride as they struggled to emerge from the small iron sheet doorway together.
Source: Briefly News