Gorgeous 24-Year-Old Woman Celebrates Bagging BMW on Birthday, Posts Pictures of Stunning Whip
A beautiful 24-year-old lady has posted photos of her brand-new Beemer that she bagged on her birthday
The sis looked gorgeous in the pictures she posted on Facebook alongside her new whip
Many people were inspired by the young woman and her wonderful achievement and congratulated her
A gorgeous young woman is over the moon about bagging a brand-new BMW and shared photos of the stunning car on social media.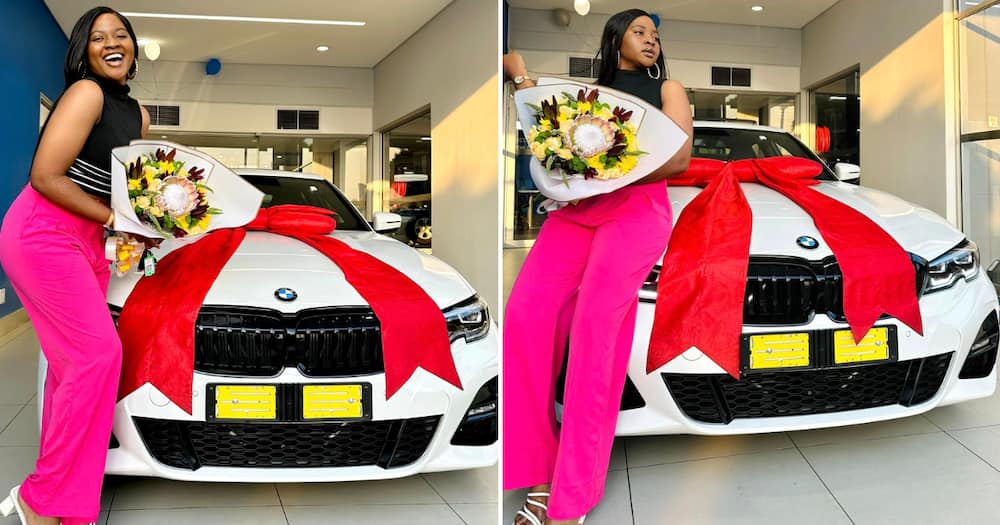 The 24-year-old sis explained that she obtained the new Beemer on her birthday and thanked God for the wonderful win.
Facebook user, Adziambei Mashila, shared her news online and captioned her post:
"Year 24, and God has done it again! We remain grateful for the countless blessings! From me to me, happy birthday."
Young woman with BMW wows peeps
Many netizens were impressed with the young lady and noted how proud they were of her for obtaining the wonderful ride.
Here are some top reactions:
Kgopotso Adinah Adix said:
"Happiest birthday and congratulations, sweetheart."
Mashaba Wa Bantu wrote:
"Happy birthday, and congratulations."
Tshepisho Mabudushane left her a sweet message:
"Reputable inspiration, girl. Happiest birthday to you."
R Khumo Molokwane commented:
"Congratulations, Dodo. And happiest birthday."
Vuyokazi Majola KwaPhike noted:
"Congratulations, Doc, just saw on Instagram."
Khutjo Pottes Mphahlele shared:
"Congratulations, levhenda laka, and happy birthday, ntwanaka."
Young entrepreneur with clothing & adventure businesses excited about bagging whip: "It hasn't registered yet"
In another inspiring story about a successful woman making things happen for herself by Briefly News, a hard-working young entrepreneur is over the moon after purchasing her first car, which will help her grow the businesses she runs.
Khona Dunjwa posted the fantastic news on Facebook, receiving praise from inspired netizens.
Speaking exclusively to Briefly News, the innovative 24-year-old said that it hasn't registered with her yet that she is an entire car owner.
The sis has big dreams for the future and knows that having a car will definitely help her achieve them.
From working in tourism to growing her existing enterprises, this woman is on a mission and will keep working hard until she achieves all her heart's desires.
Source: Briefly News