SA Businesswoman Shares Why She Downgraded Her Lifestyle From Owning Audi to Renault on TikTok
A South African woman, @kay_radebe_, shared how she had to downgrade her lifestyle and let go of her beautiful Audi after changing careers
She shared that she was proud of taking the bold step of downgrading her lifestyle and having a car that she could comfortably afford while working for herself
Her story resonated with many netizens, with many sharing their own stories of how they chose to prioritise their finances over having a luxury car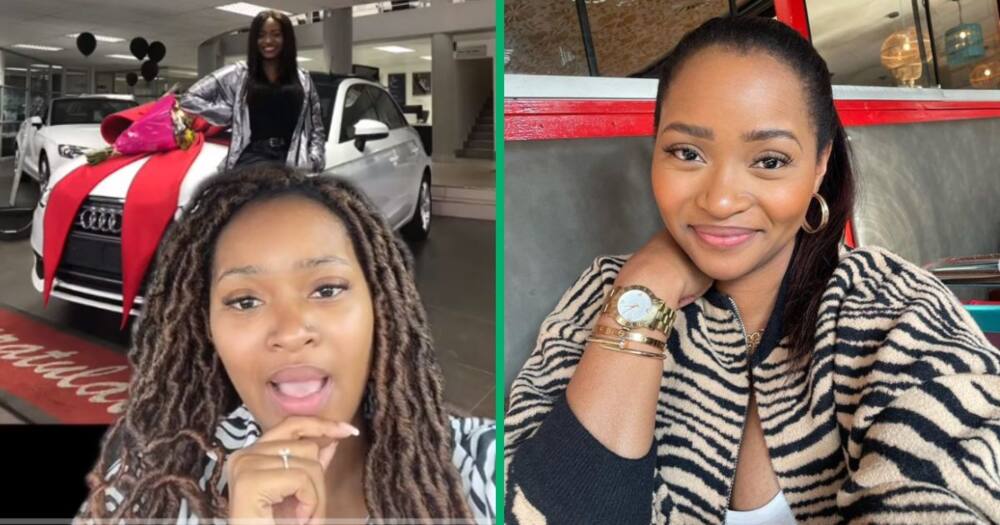 In the trying times we live in, it is no surprise that many South Africans are doing all they can to tighten their belts and cut back on expenses.
Lady shares how she downgraded her lifestyle
One South African woman, @kay_radebe_, shared how she had to downgrade her lifestyle and let go of her beautiful Audi after changing careers.
Downgrading your lifestyle means making a conscious decision to reduce your expenses and live more simply.
@kay_radebe_ shared a story about how her mother bought her a BMW 1 series while studying mechanical engineering at UCT. She went on to buy herself an Audi when she started working as a mechanical engineer.
However, things took a turn when she decided to leave her job as an engineer to pursue entrepreneurship as a social media manager.
@kay_radebe_ shared how she worked as a freelancer, often receiving a fluctuating income. After doing away with the hefty bill of paying for an Audi, she downgraded to buying a Renault Kiger.
She shared that she was proud of taking the bold step of downgrading her lifestyle and having a car she could comfortably afford while working for herself as an entrepreneur despite how the next person may look or perceive it.
"I can definitely afford a better car than this but I just want to be financially free. I don't want to be stressed by money and hefty instalments," @kay_radebe_ shared in the video.
SA reacts to woman's story
The woman's story resonated with many netizens. While some shared why they chose to drive smaller or more affordable cars, others shared how they prioritised their finances.
Palesa | Life Coach wrote:
"AND ITS OK!!!"
Mrs OG commented:
"I chose an expensive house & private school fees over upgrading my car."
@moleoa_loungo commented:
"I'm enjoying my Kia Picanto ."
Ronald'daGreat said:
"Borrow me your degree I'll be fine."
MissKeni commented:
"Was paying almost R10K incl insurance a month for my Audi A3 Sedan. I'm 3 years now without a car and can still afford it but I used this time to save."
mooochie responded:
"I drive KWID. People are always making fun of me and I don't care bandla because at the end of the month, I'm the one who must pay."
Woman celebrates her success with new Kia Sonnet
In another story, Briefly News reported that in a world where tales of inherited wealth and privilege often overshadow self-made success stories, it's refreshing to see a young Mzansi woman proudly showcase her hard work and determination.
This is exactly what @londekanonoti did when she shared an inspiring TikTok video of herself collecting her new KIA Sonnet from the dealership.
The TikTok video opens with @londekanonoti standing in front of the covered vehicle in the showroom with a beaming smile.
Source: Briefly News