South Africans Side-Eye Premier Panyaza Lesufi's Alliance with Private Security for Crime Crackdown
Gauteng Premier Panyaza Lesufi has sparked mixed reactions as he partners with a private security company to combat crime in the province
The collaboration is a key element of the Grow Gauteng Together 2030 (GGT2030) vision, reinforcing the National Development Plan (NDP)
Lesufi's partnership triggered varied responses from South Africans, with some praising the initiative while others criticise the shift from empowering the South African Police Service (SAPS)
From covering school incidents in Durban, South Africa at Isolezwe, Phumelele Nxumalo contributes to crucial discussions on safety as a current affairs journalist at Briefly News.
JOHANNESBURG - Gauteng Premier Panyaza Lesufi's step in keeping Gauteng residents safe has been met with mixed feelings from South Africans. Lesufi recently got into a partnership with a private security company.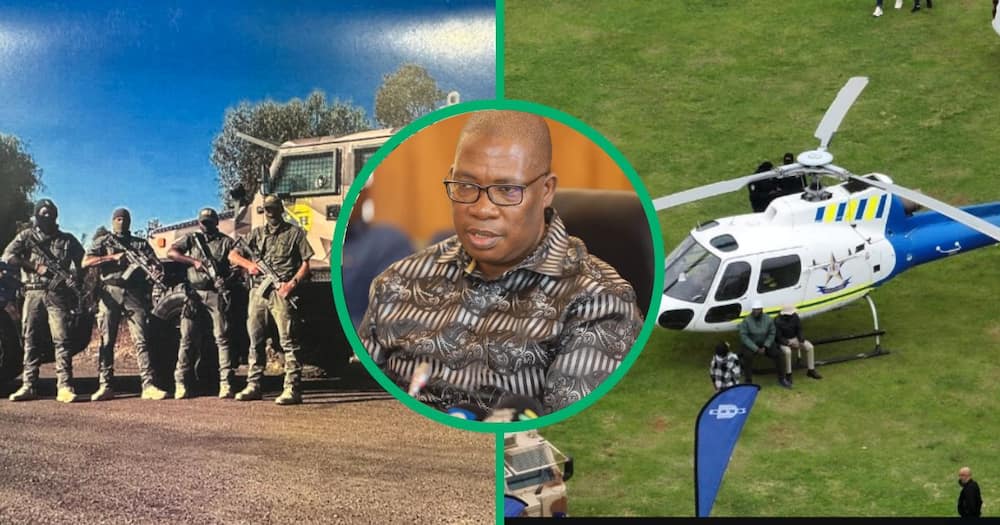 The partnership forms a crucial part of the Grow Gauteng Together 2030 (GGT2030) vision aimed at deepening the National Development Plan (NDP).
Lesufi expresses gratitude for the partnership
Lesufi posted a heartfelt thank you message for the partnership between the government and private security company on his X account with the username @Lesufi. The caption on the post read:
"Thanks to the Gauteng-based private security firms for the amazing partnership signed today. A safer Gauteng is shaping up! Less talk, more work!"
Accompanying the thank you message was the pledge between the Gauteng Provincial Government, South African Police Service, and Private Security companies. The pledge aims to combat crime, vandalism, corruption, and lawlessness threatening the stability of the province. It said:
"To affirm our responsibility in enhancing police visibility across Gauteng Townships, Informal Settlements and Hostels areas. To avail our crime prevention resources to reduce crime levels in the province and ensure that Gauteng communities feel and are safe."
Below is the post shared by Lesufi:
South Africa shared mixed reactions
South Africans took to the comment section of Lesufi's X post some thanking him for all his hard work in keeping the province safe, while some were taken aback by the privatising of this service instead of empowering the South African Police Service (SAPS) to face the course.
These are some of the reactions they shared:
@Mazi16761181 called for more information:
What's the cost of this partnership to the Gauteng government, can you share the MOU about financial implications and the agreed terms including duration?"
@sontondlovu shared appreciation:
"Any effort to keep us safer is much appreciated."
@paballo_maseko posed the question:
"Why are you giving private companies so much power instead of improving the SAPS, they are under-trained and underpaid. They are corrupt. They commit crimes as well, however, they are still national security. We have soldiers sitting in offices doing nothing!"
@Keasyll asked:
"Who are you arming? Does Psira have any idea what this will lead to?"
@tshepom619 commented:
"Great job Ntate Lesufi. This is all that we expect as residents, a safer province to live in."
@fntse remarked:
"Watch as security companies clash with each other and start a civil war. This is what happens when you treat the symptoms instead of the underlying cause."
@TokoMasemola expressed gratitude:
"Keep on going Premier Panyaza Lesufi. We shall see the fruits of all these efforts my leader. You are an inspiration. Less talk, and more work."
@sbo_nelou lambasted:
"Eating through private security companies now I see. Equip government law enforcement!"
Panyaza Lesufi Apologises to Bheki Cele for Tongue-Lashing
In a previous report by Briefly News, South Africans stood behind Gauteng Premier Panyaza Lesufi after apologising to Police Minister Bheki Cele for lashing out at him.
In a viral clip, Panyaza attacks Cele and criticises him for not permitting the Gauteng Crime Wardens, known as "AmaPanyaza", to carry guns. He then said that Cele's days are numbered. Netizens encouraged him not to apologise for speaking the truth.
PAY ATTENTION: Сheck out news that is picked exactly for YOU ➡️ click on "Recommended for you" and enjoy!
Source: Briefly News