African Mom Celebrates Domestic of 10 Years, Plans to Make Her Head of Other Staff in New Home
Passy Ma Travor celebrated a decade of unwavering support from her househelp, expressing gratitude for the pivotal role she has played in her family
The post, filled with nostalgia and appreciation, outlined the challenges they faced together and the positive transformations that have taken place over the years
Passy began her heartfelt post by reminiscing about the tough times when the family struggled to make ends meet
Nairobi-based mum Passy Ma Travor has expressed her gratitude and celebration for her dedicated househelp who has been with her family for an incredible ten years.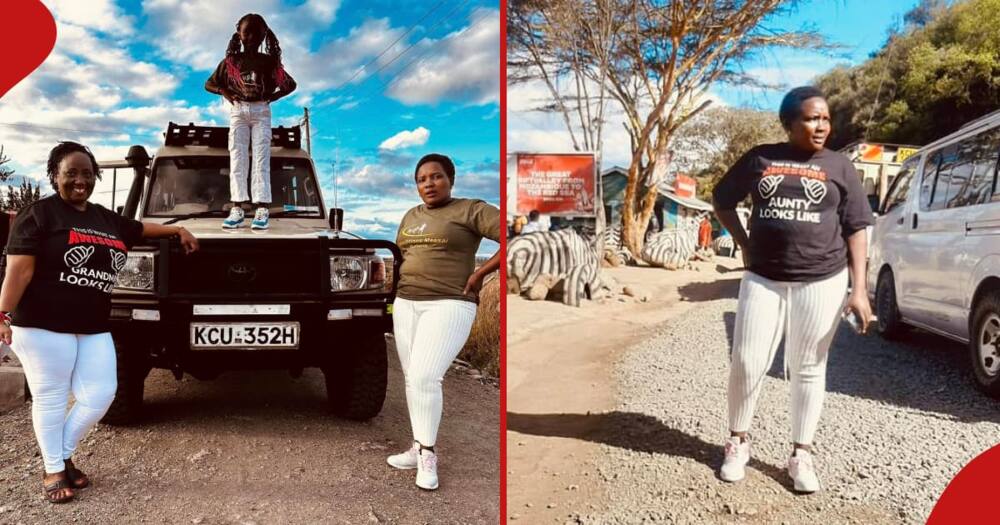 Why did the househelp stick around?
Pasy shared the remarkable journey they have shared on her Facebook page, from challenging times to a place of stability and growth.
The mum of two began her post by recalling the tough times when her family struggled to make ends meet, going without food and enduring months without pay.
"This gal has been with us through it all, from the days we would go without food, the many months she would go without pay, but she trusted one day things would be different," she wrote.
Despite the hardships, the househelp remained steadfast, believing that better days were ahead.
Passy shared the poignant moment when she had to terminate the househelp's services due to financial constraints when her son Travor joined boarding school.
However, fate had a different plan. In 2020, when Passy welcomed her latest addition to the family, baby Nyambu, she found herself in need of a househelp once again.
Passy's househelp returns to work
Passy contacted her former househelp, who jokingly thought Passy had another baby. She accepted the offer and returned to work for the Travor family, to everyone's surprise.
Passy highlighted the positive changes since the househelp's return—moving to a better environment, improved living conditions, and a more stable life.
She emphasised the crucial role the househelp plays in running the household, ensuring everything runs smoothly even in her absence.
She went on to celebrate the househelp's caring nature, citing instances such as her dedication to Passy's well-being, even during a difficult time of recovery at Kenyatta National Hospital.
"I can write a book about this gal, but today I'll just celebrate her because she is part of my family, the best aunty to my kids, the controller of the remote this one wakes me up with Kamba music every single morning and updates me on every new song on YouTube not forgetting celebrities updates," wrote Passy.
Passy expressed her admiration for the househelp's commitment and disclosed exciting plans for her future.
Hoping to make her a manager
In a surprising twist, Passy revealed that the househelp has transitioned into a driver and is set to take on more responsibilities.
Passy envisions her househelp becoming the manager for other staff in their new home.
The post concluded with warm birthday wishes and a hopeful message for the future, expressing love and appreciation for the invaluable ten years spent together.
"One day, I know I'll fulfil all my dreams towards her, she's a driver now, and soon my small car we be in her hands, she can use it to run errands here and there, when we move to our new home she wl be the manager to the rest of the workers," wrote Passy.
"May the ten years you have been part of us never go to waste, when the right time comes, may u leave this house as a boss, not an employee, and may u be loved out there more than we love u here," she added.
The heartwarming story has resonated with many on social media, receiving an outpouring of positive comments and well-wishes for the dedicated househelp.
Mum, who educated househelp emotional as she graduates
In a similar story, entrepreneur Zippy Kendi was over the moon, and it all had to do with the fact that her househelp, whom she sponsored, finally graduated from Mount Kenya University.
"We can't keep calm; celebrating one of my greatest wins. We appreciate those who walked with us," said the elated Kendi.
"This beautiful soul has been my personal assistant, my daughter calls her bestie. Some years ago, we made this bold step and enrolled her at MKU. It hasn't been easy but I thank God we made it through. I am a happy parent of a graduand today as she was conferred and received the power to read and do what appertains to the degree," she added.
Kendi told Briefly News, Bestie joined her household years ago to care for her little daughter as she moved to different places in search of opportunities.
PAY ATTENTION: Сheck out news that is picked exactly for YOU ➡️ click on "Recommended for you" and enjoy!
Source: TUKO.co.ke