5-Star Indian Hotel Unknowingly Hosts Man for 608 Nights, Lodger Leaves Without Paying
An Indian man checked into a New Dheli 5-star hotel for a night, but he walked out over a year and a half later without settling his stay
The guest's long stay racked up an astonishing R1.32 million bill which left the hotel staff pointing fingers at each other
A similar fate happened in Cape Town when a boutique hotel manager defrauded his former establishment of R1.1 million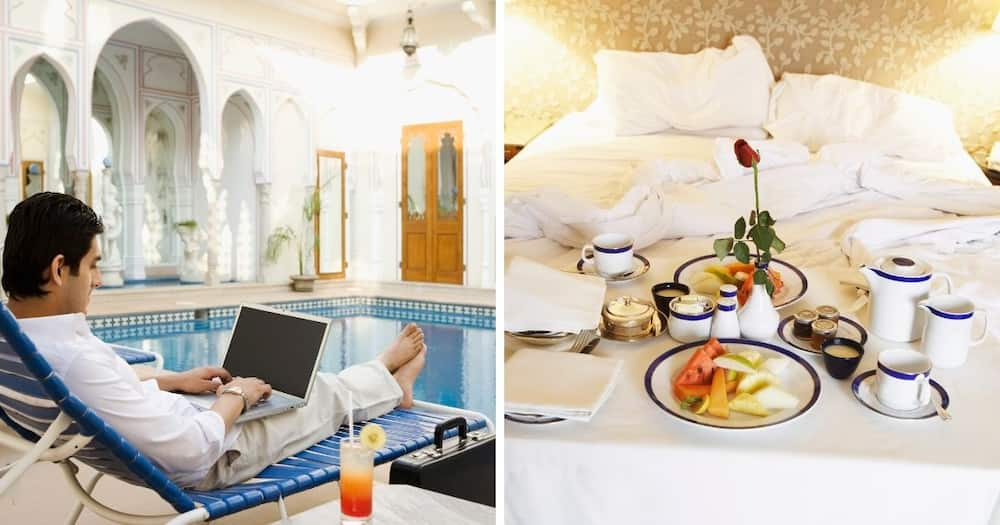 NEW DELHI - A hotel board in India has reported a man who stayed in their hotel for nearly two years without paying his bill.
Indian man lives it up for over a year and half in 5-star hotel without anyone knowing
Roseate Hotel checked in Ankush Dutta in 2021 for a night in their 5-star hotel near Indira Gandhi International Airport in India's capital city.
Dutta, however, ended up staying for 608 nights and walked out, leaving behind an INR 5.8 million (R1.32 million) bill.
The hotel discovered the enormous bill in a recent audit and alerted the police. Staff members told police in a Daily Maverick post that the front desk manager is among those who helped the lodger walk away for free:
"The complaint said staff at the hotel allegedly forged, deleted, added and falsified a large number of entries in the account of the said guest."
Cape Town hotel suffers a similar fate after general manager defrauds owners
A Camp's Bay boutique hotel was also defrauded over R1.1 million by its general manager, Tinomudashe Samuel Chitonga, IOL reported.
Chitonga was arrested in February 2023 for multiple cyber crimes including fraud and theft says Hawks spokesperson, Zinzi Hani:
"It is reported that between August 2021 and February 2023, the accused accessed various online bookings and changed the banking details to his personal bank account."
An accountant embezzles R500 million from her employer
In a separate Briefly News report, a Benoni woman was arrested in May for stealing R537 million from her former employer.
The former accountant had been embezzling a multinational medical equipment supplier, Medtronic, for 13 years by duplicating payments to real clients and service providers and paying them into her deceased husband's bank account.
She had created several businesses to justify her extravagant lifestyle when the Hawks caught up with her.
Source: Briefly News