Frederik Gauthier age, girlfriend, family, contract, salary, net worth
Frederik Gauthier is one player that has lost a bit of his height due to surgery. While playing with the Marlies in the second round of the 2017 Calder Cup playoffs against Syracuse Crunch, he suffered an avulsion of the hamstring, which ended his season. Nevertheless, his unique playing style has won him several accolades and endeared him to many sports fans worldwide.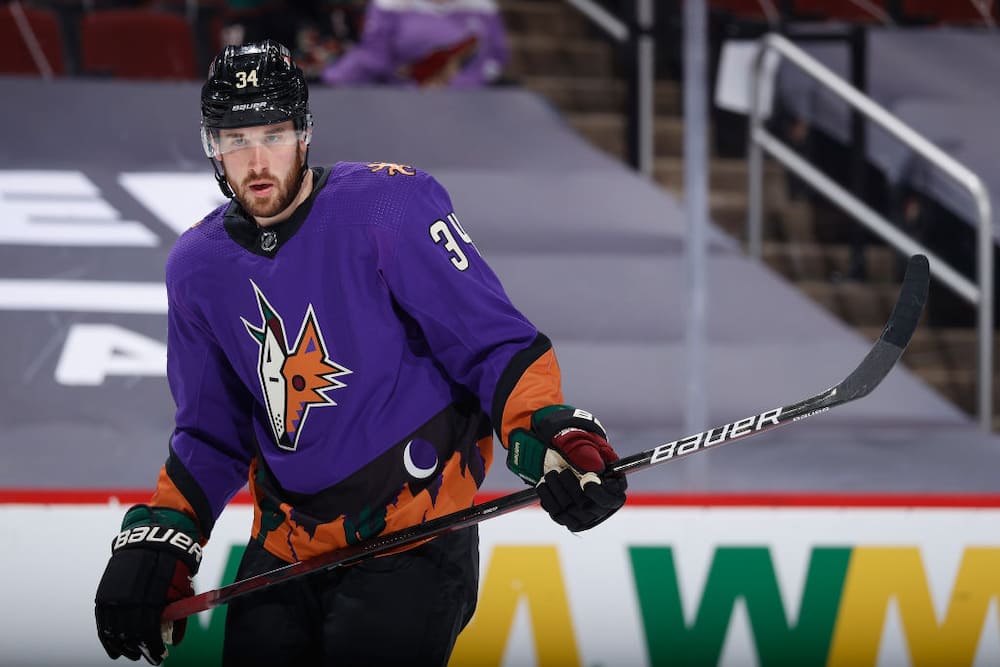 Frederik planned to pursue a collegiate career instead of the QMJHL before the Océanic selected him in the QMJHL. Eventually, Sidney Crosby encouraged him to pursue a career in his native province. Since then, he has recorded an impressive career as a professional ice hockey centreman.
Profile summary
Full name: Frederik Gauthier
Nickname: Freddy Gauthier
Date of birth: 26th of April, 1995
Age: 26 years old
Nationality: Canadian
Place of birth: Laval, Quebec
Profession: Professional Ice Hockey player
Playing position: Center
Frederik Gauthier height: 196 centimetres
Weight: 107 kilograms
Early life and family
Gauthier was born in Laval, Quebec, Canada, to Stéphane and Sophie Gauthier. He grew up in Mascouche, Quebec and was a fan of the Montreal Canadiens while growing up. How old is Frederik? The Canadian professional ice hockey centre player is 26 years old. He was born on the 26th of April, 1995. On his love life, there is no information on Frederik Gauthier girlfriend yet.
Does Frederik Gauthier have a brother? Yes. Frederik Gauthier brother, Julien Gauthier, is also following in his footsteps. He plays ice hockey with the New York Rangers. As a professional forward, the Carolina Hurricanes signed him in 2016. Julien scored his first goal on the 10th of February, 2021, against the Boston Bruins.
Career
Toronto Maple Leafs Frederik Gauthier developed a passion for ice hockey while growing up. In 2008, he played in the Quebec International Pee-Wee Hockey Tournament with the Montreal Canadiens minor ice hockey team. Before Rimouski Océanic selected Gauthier, he had advanced to the Collège Esther-Blondin Phénix in midget AAA.
In 2012, he led the team to the year's Telus Cup and recorded nine assists and two goals in seven games. He competed for Team Canada at various international tournaments and even won gold medals in 2013 and 2015.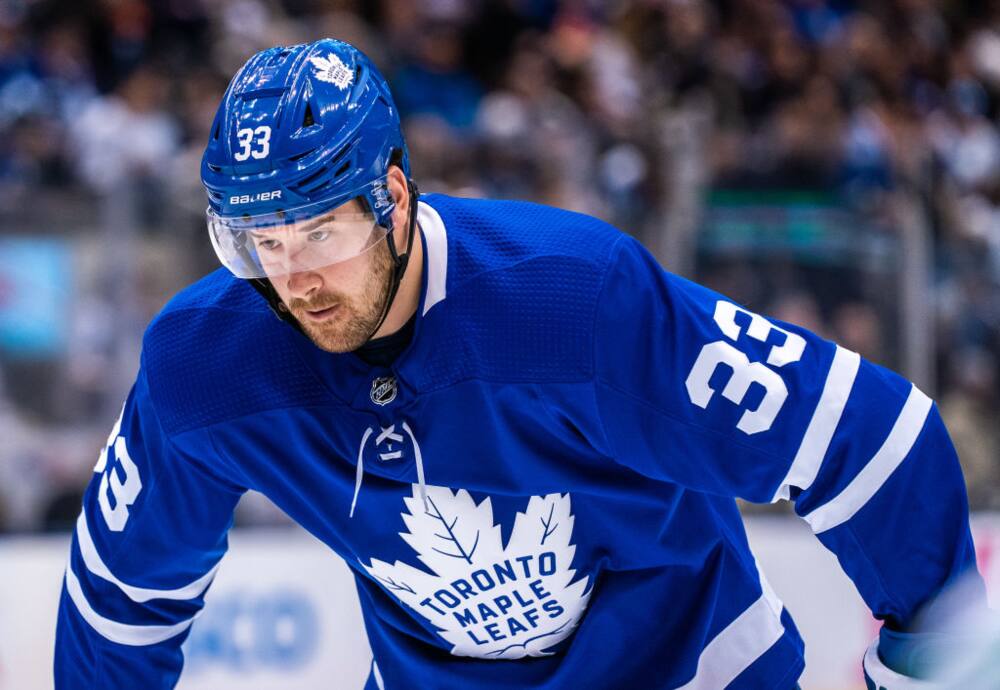 Moreover, Gauthier won the CHL Top Prospects Game in 2013, Guy Carbonneau Trophy in 2015, President's Cup Trophy in 2015, and the Calder Cup in the AHL with the Marlies in 2018. At some point, he was praised as a proficient skater who could use his 6 feet 5 inches body to control the puck. As a top prospect with 60 points in 62 games, the NHL Central Scouting Bureau ranked him eighth among North American skaters.
Although Gauthier played fewer games in his final junior season, he received the Guy Carbonneau Trophy when the 2014/2015 season ended. What number is Frederik Gauthier? Frederik wore the number 33 as his preferred number while playing for Maple Leafs and Toronto Marlies. However, that changed in Arizona Coyotes and Tucson RoadRunners, where he wears number 34.
Where is Frederik Gauthier now?
He currently plays for Tucson RoadRunners. 25-year-old Gauthier signed the dotted lines for a one-year standard two-way contract with the Arizona Coyotes on the 11th of January, 2021. This came after spending five seasons with the Toronto Maple Leafs.
The terms of Frederik Gauthier contract were not officially disclosed, but the numbers are available. It has a 0.86% cap space, a cap hit of $700,000, and a base salary of $700,000. Also, there is a minors salary of $150,000.
Frederik Gauthier stats
He has played in three leagues: Quebec Major Junior Hockey, American Hockey, and National Hockey Leagues. From the 2012/2013 to 2014/2015 seasons, he was lar season., He made a total of 12 points in 61 games last season, with a career highlight of seven goals.
He has played in three leagues: Quebec Major Junior Hockey, American Hockey and National Hockey Leagues. From the 2012/2013 to 2014/2015 seasons, he was an amateur playing for Rimouski Oceanic in 153 games in the QMJHL. He bagged 144 points in the regular season, while in the playoffs, he played 37 games and accumulated 27 points.
In the AHL, he has played 177 games with 40 points accrued in the regular season and 25 games and 12 points in the playoffs. He has represented Canada seven times in the World Junior Championships of 2015 and 2016.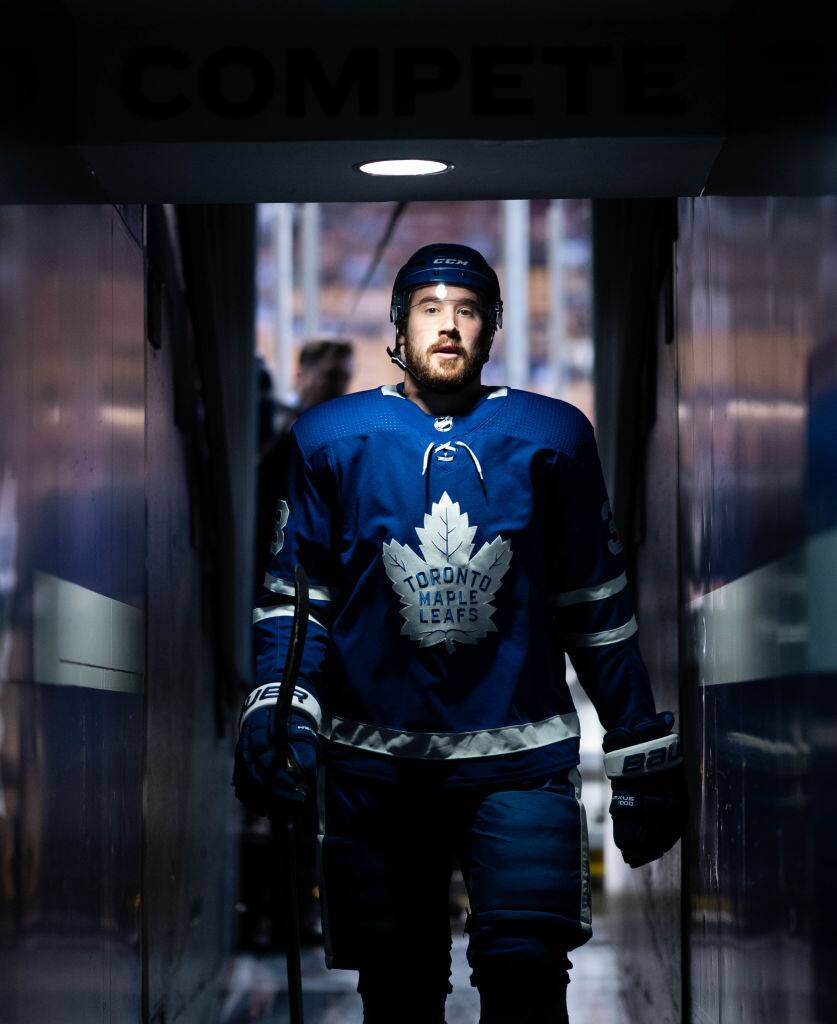 Who is the goat on the Maple Leafs?
Frederik Gauthier was nicknamed Freddy the Goat by his teammates at Maple Leafs. It was after former teammate Connor Brown made the name stick. The name, in a way, references Gauthier's last name and the popular acronym GOAT, which means the greatest of all time.
Frederik Gauthier CapFriendly figures
Gauthier's cap hit of his current one-year standard contract is $700,000. For his entry-level contracts, which ran for three seasons, from 2014 to 2018, he amassed an accumulated cap hit of $4,409,166.
Also, for the past two seasons, from 2019 to 2020, he had a combined cap hit of $1,350,000. On his one-year contract, he had an accumulated cap hit of $12,069.
Frederik Gauthier salary and net worth
Although Frederik Gautheir net worth is not exactly known, his salary is currently $700,000, while his minors salary is $150,000. Between 2014 and 2018, at the entry-level, the minimum was $150,000 before it increased in the 2019/2020 season to $200,000.
Frederik Gauthier's NHL chances looked slim at one point, but he became a pretty good defensive player. This incredible accomplishment shows how much work he put in to get there, although he has not scored in two top-level appearances this year, having played one AHL game this season.
READ ALSO: Elizabeth Tilson age, children, husband, career, net worth 2021
Elizabeth Tilson is a record maker as far as NBC network is concerned. As published on Briefly.co.za, being one of the youngest vice presidents in the organisation's history, Elizabeth is versatile in her career as a journalist.
She has proven this by working as a television journalist, publisher, and editor.
Source: Briefly News