Nick Robertson age, nationality, brother, injury, stats, salary, IG
Sports are celebrated worldwide, and being a sports person playing for a big club puts your life in the public limelight. One such player is Nick Robertson. Nick is an American professional ice hockey left winger for the Toronto Marlies of the American Hockey League (AHL). He always wanted to play hockey from a young age, and his dream came true. His hockey journey has been challenging yet exciting.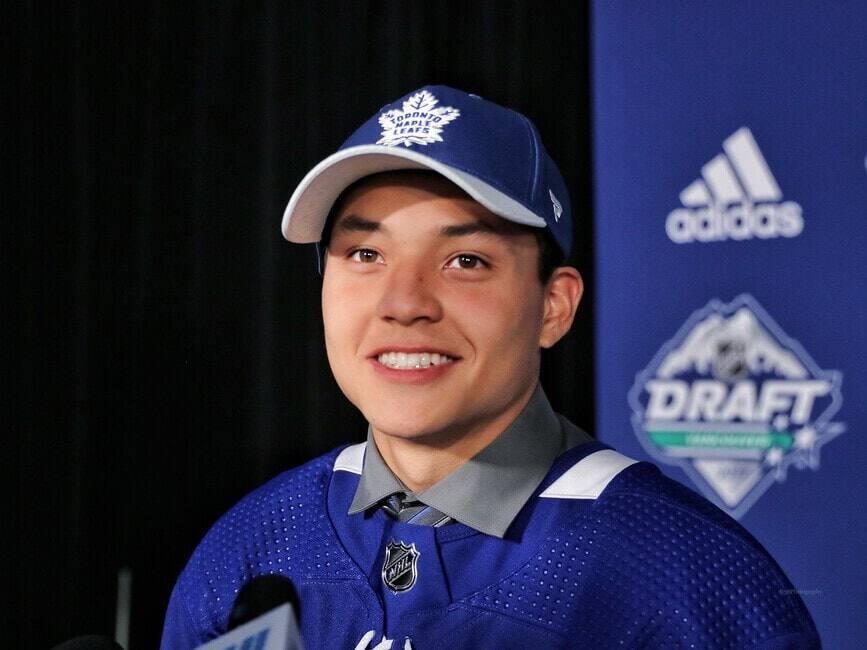 How old is Nick Robertson? Nick was born prematurely on September 11, 2001, in Arcadia, California. He is 19 years as of May 2021. His parents are Hugh and Mercedes. Her mother born in Manila, Philippines, before relocating to North America when she was a kid. That was where she met the husband.
Robertson began playing minor hockey while living in Southern California, where his dad operated a law firm. The family decided to relocate to Michigan for better hockey opportunities.
Nicholas Robertson profiles
Name: Nicholas Robertson
Date of birth: September 11, 2001
Nick Robertson age: 19
Place of birth: Arcadia, CA, USA
Nick Robertson height: 175 cm / 5'9"
Weight: 73 kg / 161 lbs
Nationality: American
Position: LW (left winger)
Nick Robertson Instagram: @nickrobertson01
Hockey career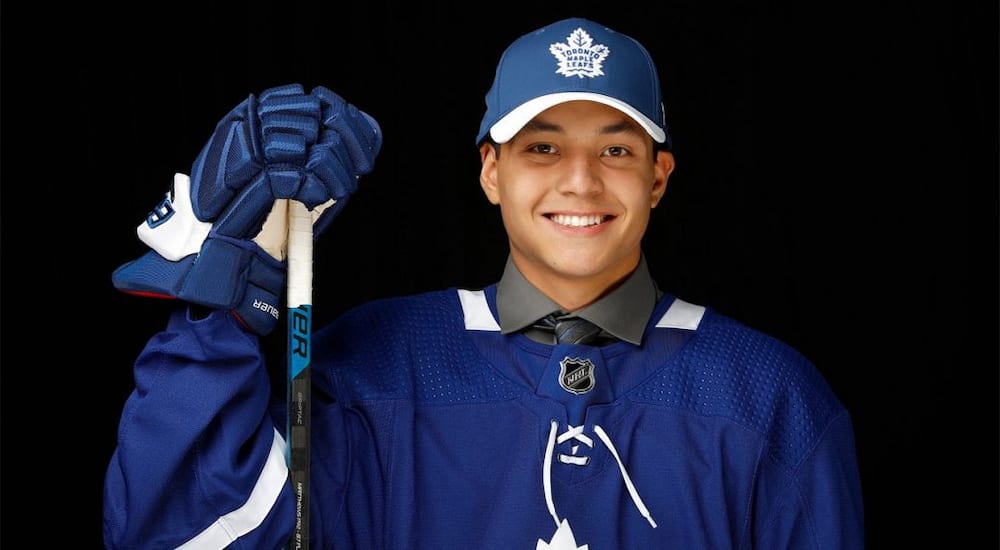 Nick moved to Michigan with his mother and two older brothers. He later relocated to Toronto, where he joined the Toronto Red Wings and was later drafted to the Petes in the 2017 OHL Priority Selection. He was also lucky to sign a standard player agreement following the team's annual development camp.
In 2019, he was drafted by the Toronto Maple Leafs and signed an entry-level contract on September 19, 2019. He participated in the Leaf's training camp before the 2020 Stanley Cup playoffs and made his NHL debut. On August 6, 2021, he beat Joonas Korpisalo, Blue Jackets goaltender, for his first NHL goal in a 4-3 overtime loss. He set the record as the third player in franchise history to record a playoff goal before their 19th birthday.
He credits his career success to his parents, who made great sacrifices to see him through. Much regard goes to the dad, who has worked tirelessly to support the family. The mother, too, was always by his side and moving from one place to the other, all in the name of growing Nick's hockey careers.
Family
Nick has been blessed with a family of diligent members who have conveyed the dedication necessary to make success tangible. Jason Robertson is his brother, and he also plays hockey. Besides Jason, he is also proud to have other siblings. His older sister Alexa works at their father's law firm, and his oldest brother Michael is currently schooling in Hong Kong.
Nick Robertson stats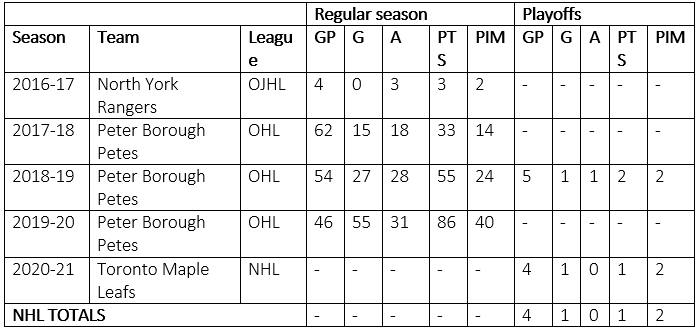 Above are Nick's stats that depicts his performance in his professional hockey career. The seasons run from 2016 up to date. The table contains all the points earned for the regular and playoffs season.
Nick Robertson injury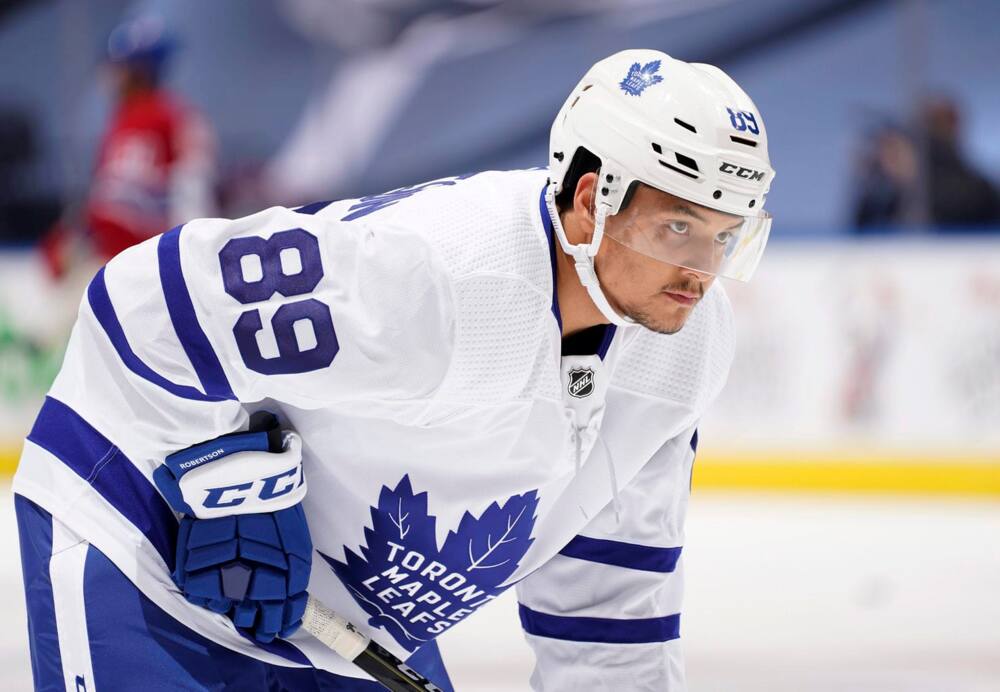 As part of the game, injuries do happen to players. The case was no different to Robertson. Is Nick Robertson injured? Robertson was assigned to AHL Toronto after being activated from long-term injured reserve Saturday. He logged just 2:20 of ice time in his NHL debut before suffering a knee injury in January 2021. The player is healthy, and he will continue his development in the minors.
Salary
Nick is a professional hockey player and earns a handsome package from his thriving career. He is guesstimated to earn $14,712 per week, $765,000 per year playing for Toronto Maple Leafs as a Left Wing. He is expected to make more as he progresses with his career.
Frequently asked questions
Below are the frequently asked questions about Nick Robertson. The questions revolve around his hockey career, family life, and much more.
What happened to Nicholas Robertson?
Toronto Maple Leafs forward Nick Robertson was forced to leave the game for a month after sustaining a knee injury against the Ottawa Senators. The Toronto Maple Leafs have placed ahead Nicholas Robertson on their long-term injured reserve. He is, however, back now.
Are Jason and Nick Robertson related?
Yes, they are related. Jason, Nick Robertson's brother, also plays hockey and he was selected 39th in the 2017 NHL Entry Draft by the Dallas Stars.
Above is an inspiring bio of Nick Robertson, a young successful hockey player. He had to make some tough choices to achieve his dreams. For instance, he had to make an alternative educational route to accommodate hockey, which impacted his social life. He also trained a lot and it paid off.
READ ALSO: Bishop Makamu age, wife, divorce, contacts, P.O.B, cars, house
Briefly.co.za reported about the bio of Bishop Makamu? Who is Bishop Makamu? He is a pastor, a TV show host, and a reality star. Why is he in the limelight? He has been accused of asking for sexual favours from a minor. How true is that? Read this article and get to know the whole truth and much more.
Source: Briefly News