Bishop Makamu age, wife, divorce, contacts, P.O.B, cars, house
Bishop Makamu has made headlines this entire week for all the wrong reasons. The pastor, a TV show host and reality star, has been accused of asking for sexual favours from a minor. Is there any truth to the rumours? Get to know all the juicy details here.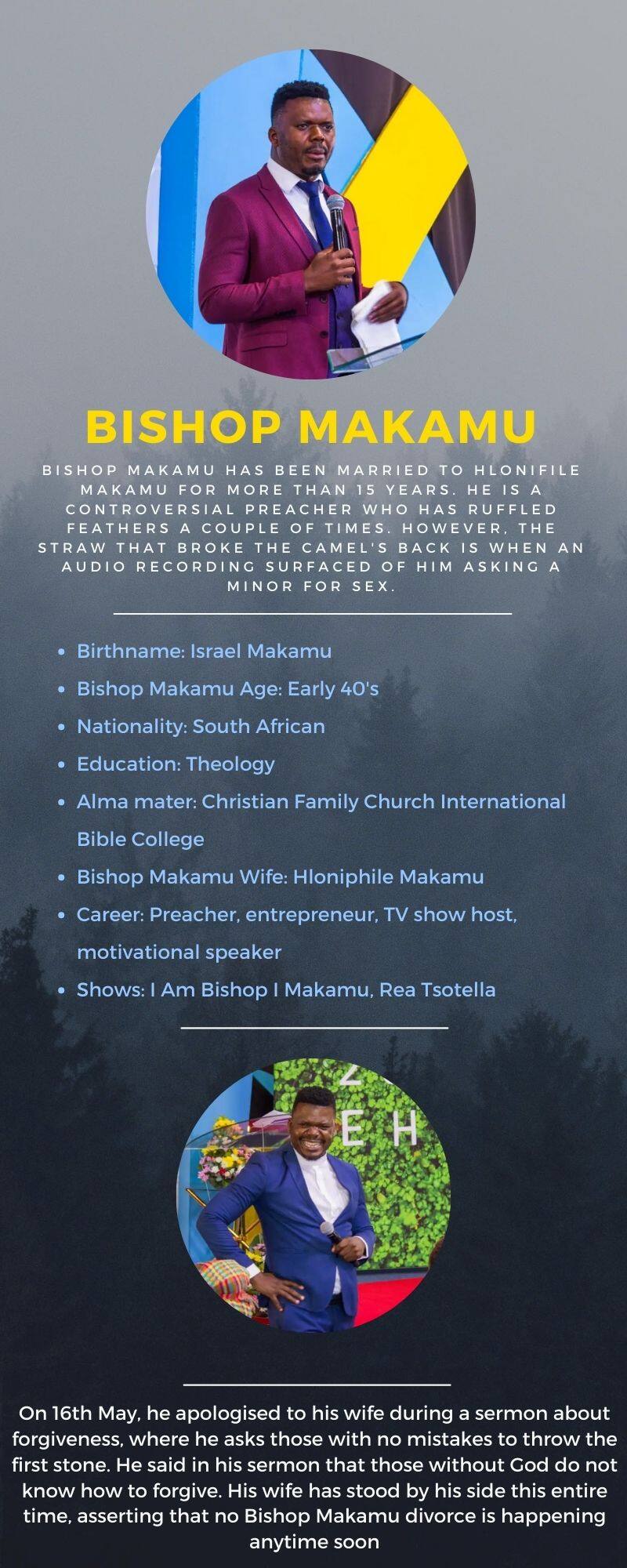 Bishop Makamu has been married to Hlonifile Makamu for more than 15 years. He is a controversial preacher who has ruffled feathers a couple of times. However, the straw that broke the camel's back is when an audio recording surfaced of him asking a minor for sex. What is his story? How did he get to where he is now? We tackle Bishop Makamu biography and more below.
Bishop Makamu profile
Birthname: Israel Makamu
Bishop Makamu Age: Early 40's
Nationality: South African
Education: Theology
Alma mater: Christian Family Church International Bible College
Bishop Makamu Wife: Hloniphile Makamu
Career: Preacher, entrepreneur, TV show host, motivational speaker
Shows: I Am Bishop I Makamu, Rea Tsotella
Early life and family
Where was Bishop Makamu born? The Bishop was raised in Katlehong, Gauteng. His father was a pastor, which placed a lot of pressure on the young man growing up. He was expected to be a perfect kid because of his father's status, but he was far from perfect in his own words.
He did not indulge in terrible behaviour but felt burdened by going to church and participating in activities after the service. However, by the time he reached secondary school, he immersed himself in the church by preaching to and praying for students, earning him the nickname Bishop.
Israel's parents are Titus and Rophinia Makamu. Titus Makamu, his father, died in 2017, and his mother is still very involved with the church.
Education
After completing high school, Israel attended Bible school to study Theology. He went to the Christian Family Church International Bible College. He believes his gift to preach is inborn and comes naturally, and the college was just a way to supplement his God-given talents.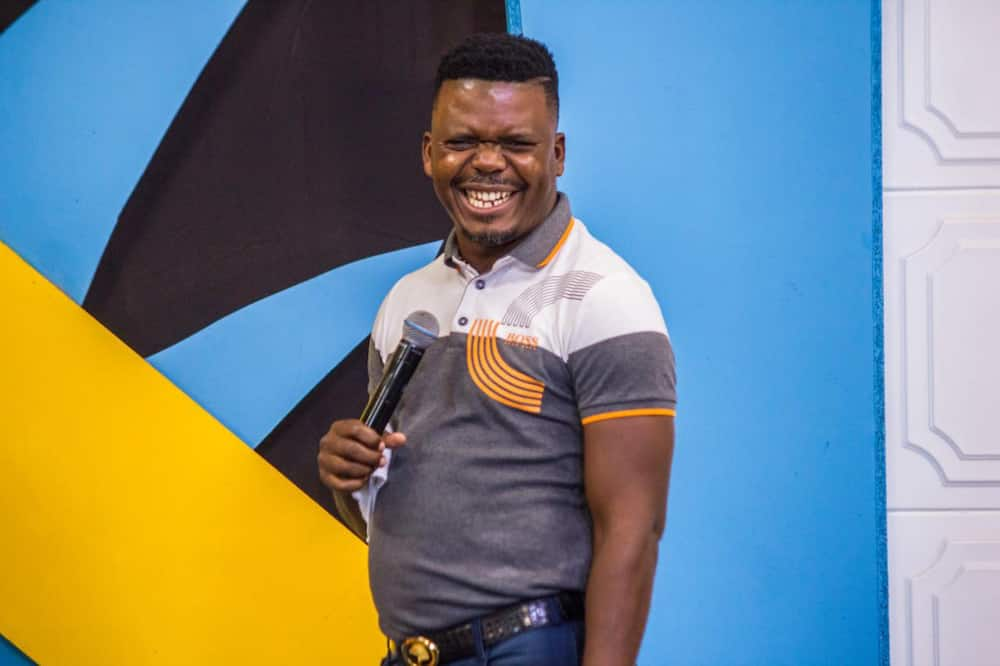 Bishop Israel's career and professional life
It may come as a surprise to many, but Israel was not always a pastor. Before finding his way back into the church, he worked as an operations manager.
The Bishop as a preacher
After his stint in the corporate world, he founded the popular Bishop Makamu church Endless Hope Bible Church. Since its inception, the church has grown and now has more than 10 branches countrywide. He has revealed that he receives a salary just like his 84 employees spread across his 14 churches.
His unconventional preaching style has landed him in hot soup before, but the famous pastor has no apologies for his method of getting his message across.
The Bishop as a TV show personality
His boisterous nature landed the popular pastor several gigs in the entertainment industry. He is the host of the TV show Rea Tsotella on the DStv channel Moja Love. He has recently stepped down from this position because of some controversy he faced trying to solicit sex from a minor.
He also has a reality show I am Bishop I Makamu on Moja Love. It is a 13 part reality TV show that shows his followers the challenges he faces as a pastor, his day-to-day activities, family life, and more. You can catch a glimpse of Bishop Makamu house on the show.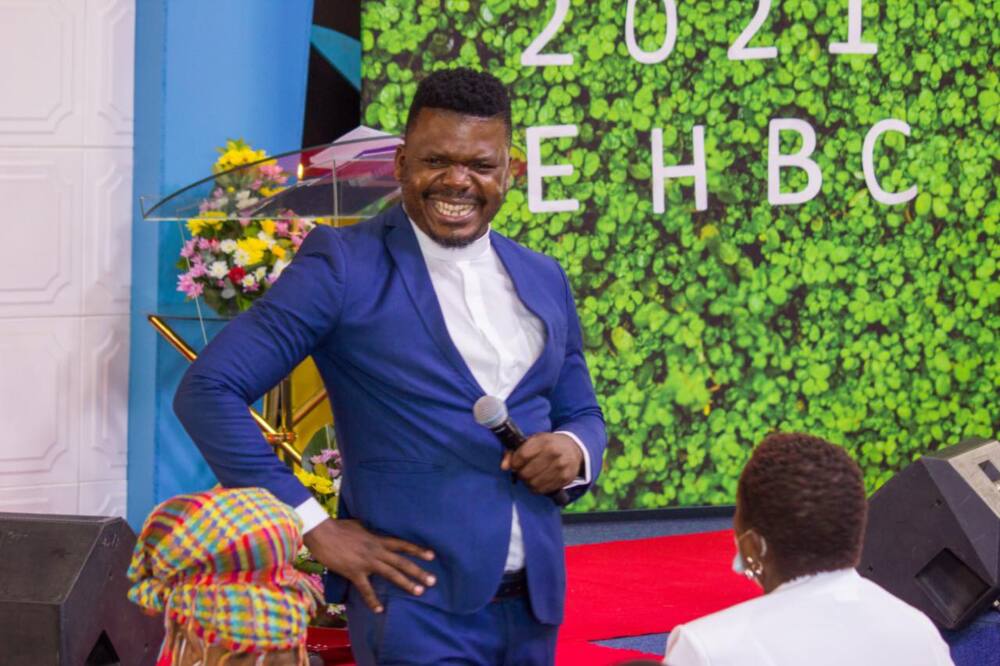 Bishop Makamu business
He also has a funeral home service that operates within the borders of South Africa. iMakamu funeral home, launched in 2013, offers all forms of funeral services to South Africans.
Bishop Makamu wife and kids
He met his stunning wife, Hlonifile, in 2003, and they tied the knot two years later in 2005. Israel's persevering nature is what landed him with his current wife. He spotted her standing under traffic lights after he had dropped off a friend. She instantly enamoured him; his only task was to get out of the car and speak to her.
Hlonifile was only 19 when they met and was studying nursing at Ann Latsky Nursing College in Johannesburg. Hlonifile Makamu job now is as a nurse.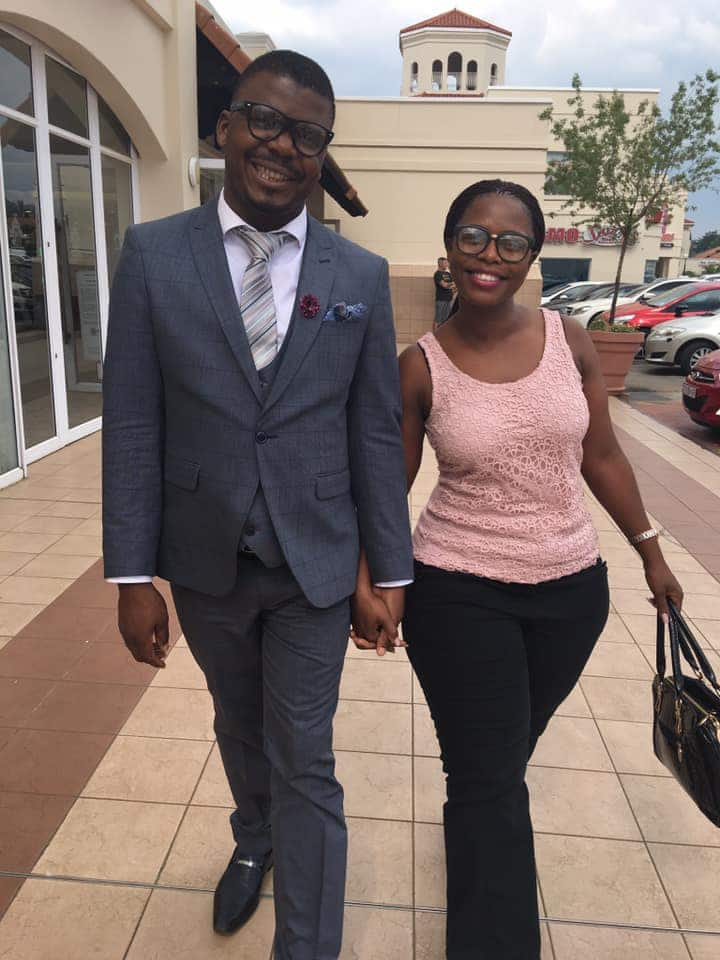 She was the first in her family to be born again, so she and the pastor understood each other when it came to religion. She was nervous about being a bishop's wife because of the spotlight it came with, but she could not refuse God's calling. Apart from nursing, she has also studied theology.
The couple is blessed with three children; Ntwanano, Ntokozo, and Ntsumi Makamu.
Bishop I Makamu scandal
The prominent pastor has recently faced backlash from the public for a voice note from 2017 that resurfaced where he allegedly asked a teenager for sex. He has been trending online ever since it leaked. You can watch the Bishop Makamu scandal video in the tweet below.
In the leaked audio circulating online, he is heard asking a lady he refers to as ngwanaka (my child) to give him something that can be interpreted as him asking for sexual favours. When she tells him that she is alone, Israel then asks her: Otlo mpha (Will you give me)? When she refuses his advances, he says Wa bhora, ngwanaka (You are boring, my child)
The lady at the centre of this controversy is spilling all the beans, even revealing that the Bishop tried to give her father R 1,000,000. The money was for the family to be silent about the matter and make the story go away. They refused his money, and she ended up leaving her work at the church because she felt unsafe.
On 16th May, he apologised to his wife during a sermon about forgiveness, where he asks those with no mistakes to throw the first stone. He said in his sermon that those without God do not know how to forgive. His wife has stood by his side this entire time, asserting that no Bishop Makamu divorce is happening anytime soon.
This chaos has led to him stepping down from Moja Love as the channel investigates the matter.
Bishop Makamu contact details
The official social media accounts for the Bishop are:
Bishop Makamu has always been a controversial man, but did he take it too far this time? Do you think his wife is wise to support him in this matter?
READ ALSO: Charles Charamba age, wife, children, albums, house, accident
Briefly.co.za recently published an article on Charles Charamba, one of Zimbabwe's famous gospel artists and pastors. He has a thriving career, which might explain why fans ask different questions. So, how much is Charles Charamba worth?
Source: Briefly News