30 best traditional wedding decor ideas in South Africa
Decorations are to weddings while the icing is to cake. The ideal decor for a wedding creates a welcoming and relaxed ambience. For those who love their traditions and culture, what is more welcoming than traditional wedding decor? Read on to find out more about the latest decor ideas and designs.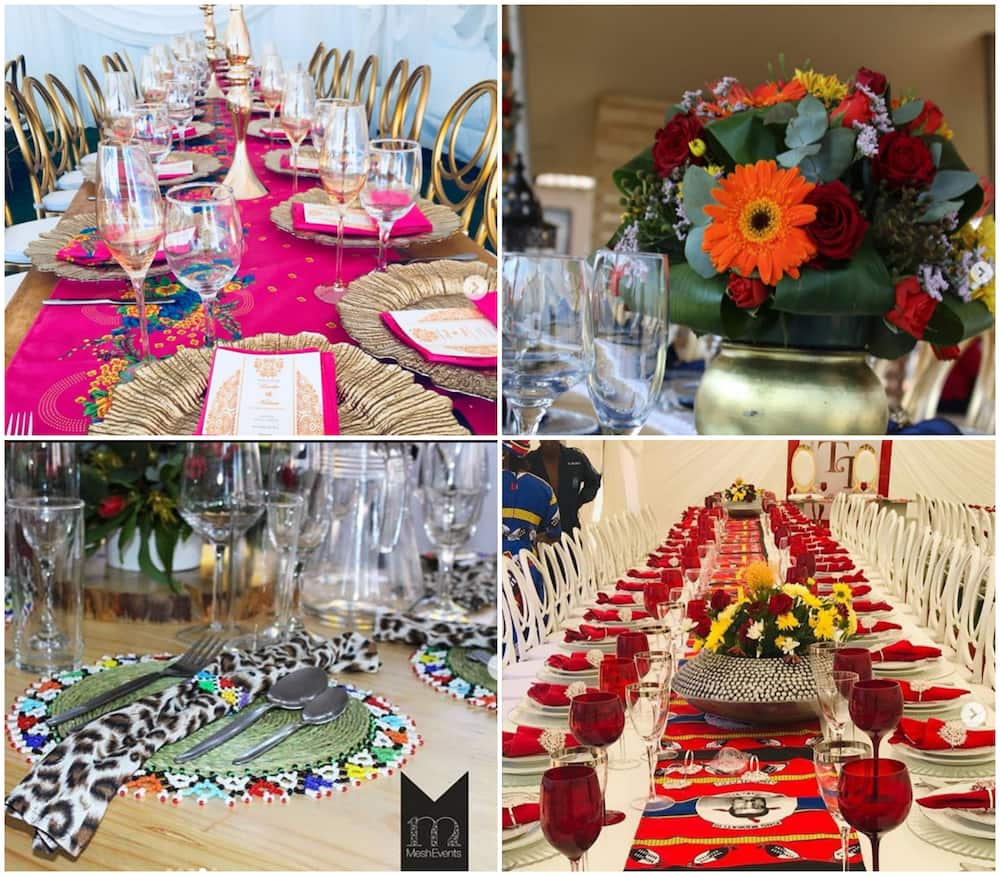 When selecting decor for your big day, you have to consider your budget, colour scheme, and your venue. Wedding decor includes centerpieces, chairs, flowers, lighting, tables, and minor details such as plates, wine glasses, and folks. Therefore, the more the guests, the more you will have to spend on decor. If your venue is plain, you will probably have to put extra effort on decor. Lastly, your wedding decorations should complement your colour scheme.
Traditional wedding decor themes and centerpieces ideas
Authentic South African traditional decor pieces are inspiring, dynamic, and unique. Below are some traditional wedding ideas that you can borrow.
1. The African story theme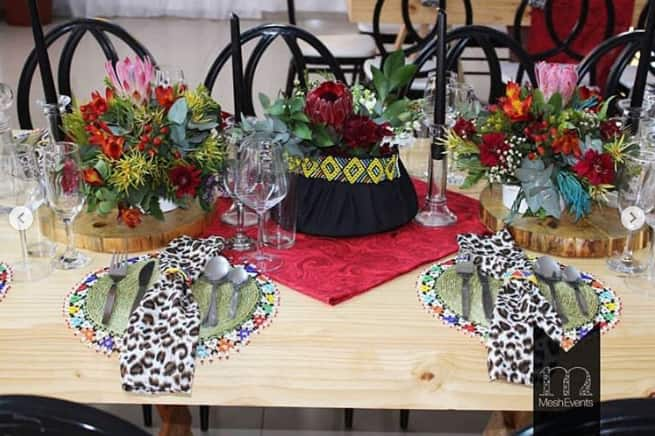 African colors depict the richness of this side of the world. They show the richness of the savannah, vibrancy of the rainforests, the beauty of the sunset, and the uniqueness of Earth. Here in South Africa, most African decor pieces are made from earth colors.
READ ALSO: South African celebrity weddings 2018
2. African print flowers as centerpieces
You can modify African print cloth and make a beautiful flower center-piece. Now, imagine the beautiful African print rose flower below as a centerpiece. Breathtaking, right?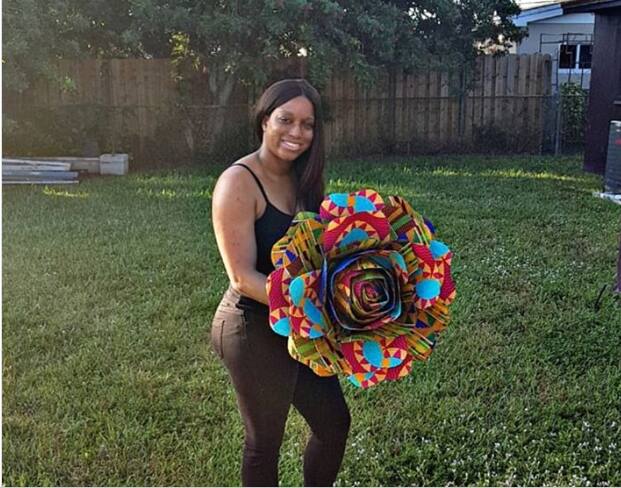 Flower arrangement always draws all the attention. The African print roses are unique and eye-catching. Moreover, you can make these roses at home using the prints you prefer.
Personalised Wreath Wedding Journal is a great wedding planner to keep your wedding plans in. You can customise the journal with names inside the floral wreath design. This beautifully designed journal will help a couple keep their wedding day ideas organised. Buy it for R405.
3. Stripped black and white theme
The Zulu and the Xhosa are some of the South African tribes that embrace black and white in their traditional wear. The beauty of a black and white theme is that you can incorporate other pieces in different colors. In the case above, the beautiful rose flower centerpieces complement the color scheme. The cost of such wedding decor varies depending on the event organizer or rental company.
4. African king and queen reception area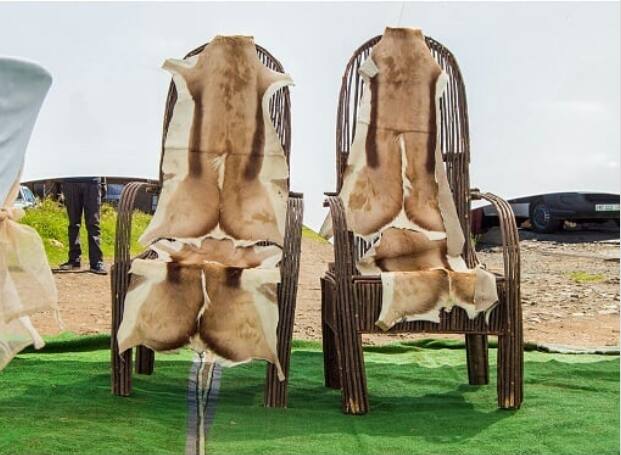 You can also decide to have a tribal themed reception area for the bride and groom. The high table chairs are covered in fine skin and are made of bamboo. The price depends on the number of pieces you use. Since you may not want all the pots in your house after the event, you can simply rent them, as well as the chairs, at a fair price.
5. Traditional pots as centerpieces
What better way to put across your African theme than the use of pots designed and colored as centerpieces. A good example is the use of Zulu ceramic pots (the Ukhamba) as decor.
6. Safari themed decor
A wedding is just like a safari. But unlike a safari, the wedding journey lasts a lifetime. The above image is of zebra and leopard prints, but if you are keen, you will see some beautiful elephant centerpieces. Is not it unique and beautiful?
7. The serenity of the African outdoor
For an outdoor wedding, you can capitalize on the beauty of nature and your surrounding. Therefore, your decor should complement nature. This is a very affordable option because you do not need much to make the venue elegant. On the tables, you can use natural-looking centerpieces like the ones shown below.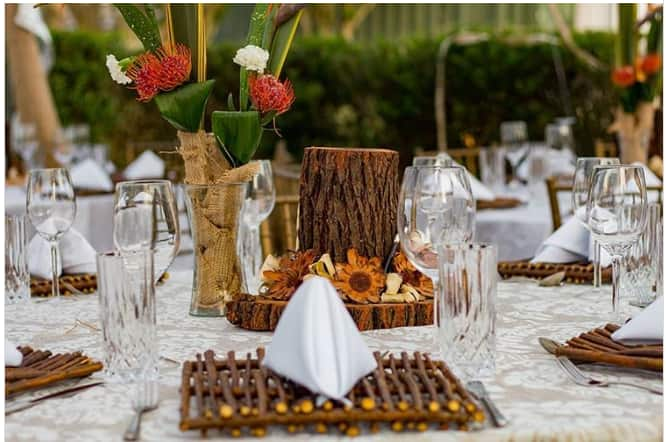 8. Animal print themes
You can base your wedding decorations on the various beautiful African wild animals. Zebra or cheater prints for the chair designs bring an exciting twist to the wedding.
9. Beaded centerpieces
Beadwork and embroidery enhance the cultural theme. Beautiful beaded mats and rugs can be placed appropriately on tables and even beaded rugs to add pizzazz. The Ndebele beadwork can, for instance, be used for décor across Africa. The above image is of a beautiful African themed beaded table for the wedding.
10. African print traditional wedding decor ideas
Prints define almost all different cultures. African prints are bold and comprise of different awesome patterns which can spice up your wedding. Endow the tent with African printed fabrics and cover the tables with printed African tablecloths. The napkins can also be of African prints. Examples are the rich Ndebele blankets.
Looking for a special pair of wedding champagne flutes? This Wedding Champagne Glass Set can be used for your wedding and every anniversary toast for the rest of your life! The glasses are engraved with Mr and Mrs and the surname of the couple. The set will also make a lovely wedding gift for anyone you know.
11. African home theme
Another awesome way is the use of the African home theme. You can try and mimic the kitchen area by using kitchen tools and equipment as décor. Brooms for instance, when decorated and painted to add color, form unique decorative pieces.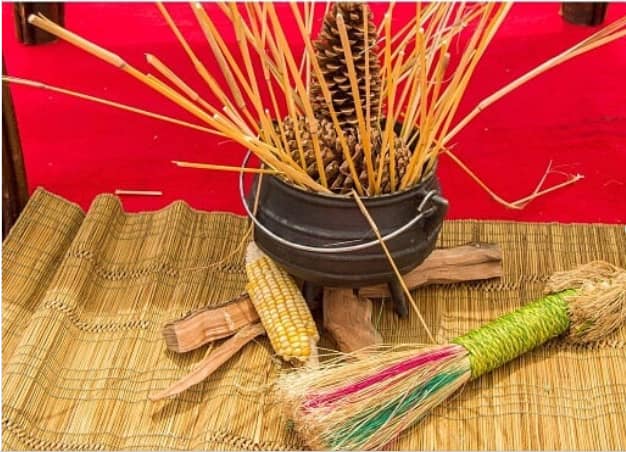 12. Colourful traditional wedding ideas
Most traditional weddings feature earth coloured themes. You can choose to be different by using brightly colored decor. At the same time, you can incorporate traditional pieces such as the ceramic pots or dull-colored mats.
READ ALSO: Kwesta wedding pictures, video and story
13. Handwoven traditional wedding decor pieces
Woven bamboo mats and baskets are excellent pieces that you can use as décor. You can use the woven mats and baskets as centerpieces, wall hangings or table décor. Also, the baskets could serve as snack holders.
14. Palm leaves traditional wedding decor ideas
Leaves and flowers are all part of a perfect traditional wedding. Palm leaves are ideal décor pieces for wedding entrances. Also, you can use palm leaves as centerpieces to add color. Palm leaves can also be used to beautify the venue as shown below.
15. Vintage African traditional wedding decor
Vintage never goes out of style. So, utilize vintage decor pieces more around the cake area or tables.
16. Peacock feather tree centerpiece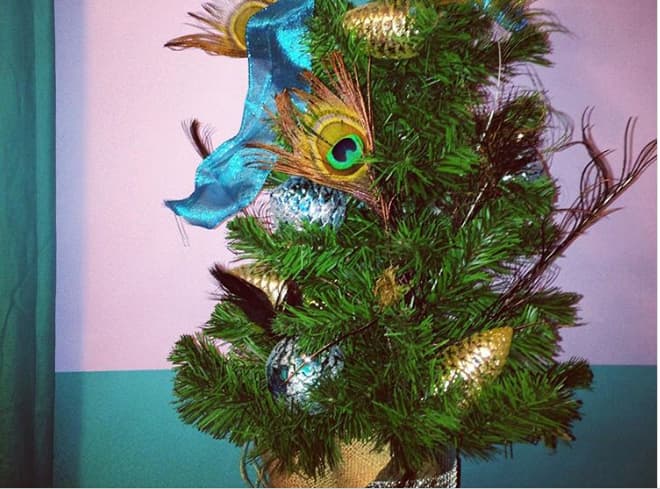 The peacock feathers centerpiece is colorful and attractive. Also, the peacock feather centerpiece complements African print table runners. The above tree can look beautiful in an African themed wedding. Also, the peacock feathers can be further used to decorate the cake as shown below.
17. Simple traditional wedding decor ideas
If you love simple but classy decorations, find plain coloured fabric combinations for the tables and the walls. Then, find gorgeous bamboo seats instead of the plain white ones shown above, and you will surely love the outcome.
18. Banana leaves traditional wedding decor ideas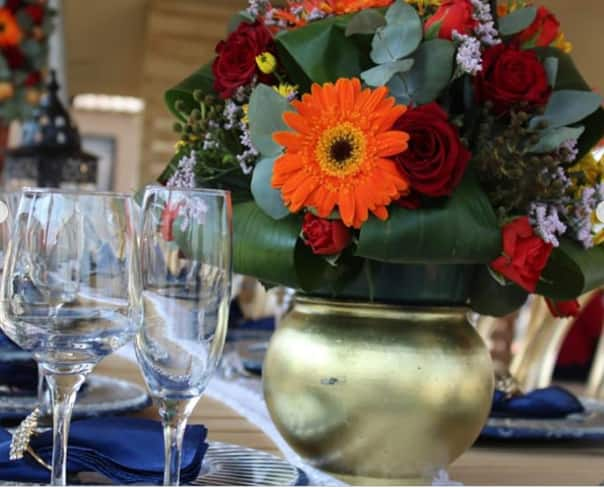 Banana leaves decor can be used at the entrance, high table area or as centerpieces. The green leaves stand out and add structure to your decor. Since the leaves are easily available, the cost of using them to decorate your big day should be affordable.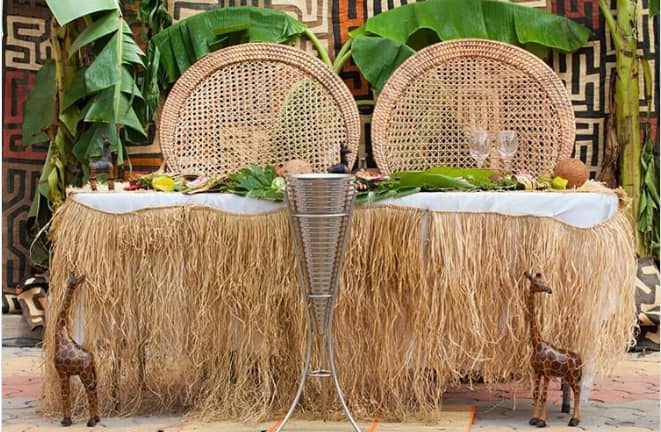 19. African print table runner and gold centerpiece
Another simple traditional wedding decor idea is to find an elegant African print table runner. Then, pair it with a matching centerpiece.
20. Elegant traditional wedding decor
A touch of African prints brings out the life in any party. Adding a traditional sculpture further enhances the appearance of the venue.
21. Tree with hanging flower centerpiece
The tree with hanging flowers complements the other table decor. If the flowers are expensive, you can opt for a tree as a centerpiece.
22. Color blocked Tsonga traditional wedding decor
If you are wondering whether certain colours can pair up well, this should be the proof you need.
READ ALSO: Black Coffee wedding dance video, pictures and story
Traditional wedding ceiling decor ideas
Ceiling decorations are among the first things one notices when entering a room. So, whether you are holding an indoor or outdoor wedding, make sure the ceiling decor is top notch. Below are some traditional wedding ideas for ceilings.
23. Woven lattern decor pieces
You can decorate the venue with latterns using reeds, sisal, or threads.
24. Stretch tent with colourful paper latterns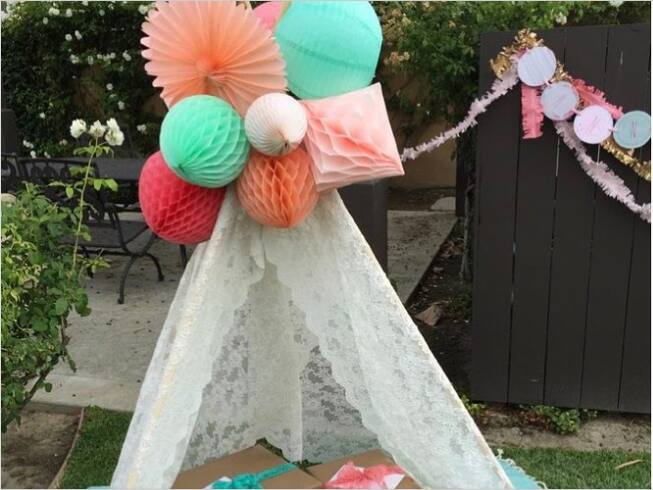 Although most baby showers borrow ideas from weddings, you can borrow the above baby shower idea for your traditional wedding. The colorful paper latterns will add beauty to the overall decor.
25. Animal print mixed with plain decor ideas
Yes, you can have it all. You can choose to mix animal prints and plain colored fabrics to achieve the beautiful outcome above.
26. Draped fabric ceiling decor
You can use your African wedding theme colors or select African print designs of your liking for the above design.
27. Hanging flowers ceilings
Fresh flowers make any day beautiful. Hanging flower ceilings is the way to go if you want your day to look lovely.
28. Multicolored fabric ceiling and walls
You can make a ceiling that is similar to the pattern above using your favorite colors.
Traditional wedding wall decor ideas
You can spice up the walls to make your wedding stand out. However, be careful as too much decor could ruin the whole concept. For example, if you have excellent ceiling pieces, you can tone down the wall decor. Below are some traditional wedding decor ideas for walls that you can borrow.
29. Animal footprints wall hangings
The tent can be designed as above, or you can have wall hangings with the beautiful African patterns above.
30. Multicolored drapes
Just like the ceiling, you can dress the walls with beautiful multicolored drapes.
READ ALSO: Duduzane Zuma wedding story and photos
Prices of decor may vary depending on your service provider. To save costs, try shopping for the best deals in town. For example, compare the costs of having the event planner procure everything against the costs of purchasing or renting decor items separately. Also, if you have a large bridal party, you can use the numbers to make some pieces such as paper trees and beaded decor. Lastly, ensure you plan and get everything some days before your wedding. The traditional wedding decor ideas above will help you kickstart the planning process.
DISCLAIMER: Please note that some of the links in the article are affiliate links and Briefly.co.za will earn a commission if you purchase through those links. However, we always choose only the best quality products that we use ourselves and recommend to our readers. The earnings we get from the affiliate marketing help us continue preparing useful and entertaining content, that our audience enjoys.
READ ALSO:
South African celebrity couples 2018 - pictures and stories
How to style braids 2020
Designer wows Twitter with stunning traditional-inspired wedding dress
Bonang Matheba dresses 2018
Best Boity Thulo dresses
Source: Briefly News