Vin Diesel family: members, photos and stories
How much do you know about Vin Diesel family? Originally known as Mark Sinclai, the accomplished American actor, producer, screenwriter and film director who dubs as the winner of the MTV Movie Awards, has some interesting stories worth discussing his family life. Consequently, in this article, you will get to find out everything you should know about Vin's parents, sibling and his immediate family.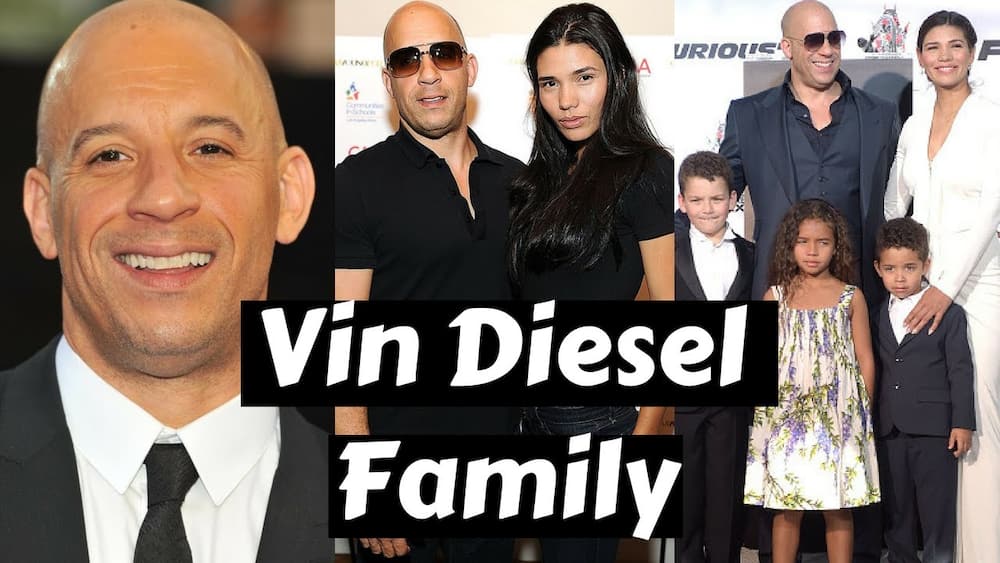 Over the time, Vin Diesel has risen to stardom because of vital roles he has played in major award-winning movies and his impact in the film industry. With his name becoming a household name and his face taking over major big screens, it is worth noting that one of the things that make this successful and accomplished American actor stand out is his family. Although, as much as he does not like to talk much about his family, there is still some information that cannot be kept secret about him.
Vin Diesel Family
One of the things that cannot be overlooked about Vin Diesel's family story is the fact that it is still unknown to him who his biological father is. As much as he would have desired to get more information about his dad, the mother decided to make it an issue that is not worth talking about. However, Vin Diesel has always stressed the point that his ethnic background is mixed. While his mother has English, German and Scottish ancestry, it is probable that his father also belonged to another race which could be mixed as well. Keep reading to know more about Vin Diesel's biography.
READ ALSO: Who is Vin Diesel's wife Paloma Jiménez? Her age, movies and photos
Vin Diesel parents
Vin Diesel is blessed with a fantastic mother named Delora Sherleen Sinclair, a successful astrologer/psychologist, and her origin is not really clear. This is because Sherleen has Scottish, German and English backgrounds. Apart from his mother, as said earlier, Vin Diesel has not had the opportunity of meeting his biological father. This is because, at the early stage of his life, there was a separation between his mother and father after which his mother married Irving H. Vincent, who became the stepfather of Vin Diesel. Vincent was a theatre manager as well as an acting instructor before he later became a filmmaker. Even after his retirement from the acting industry, he continues his career as an educator in the area of acting.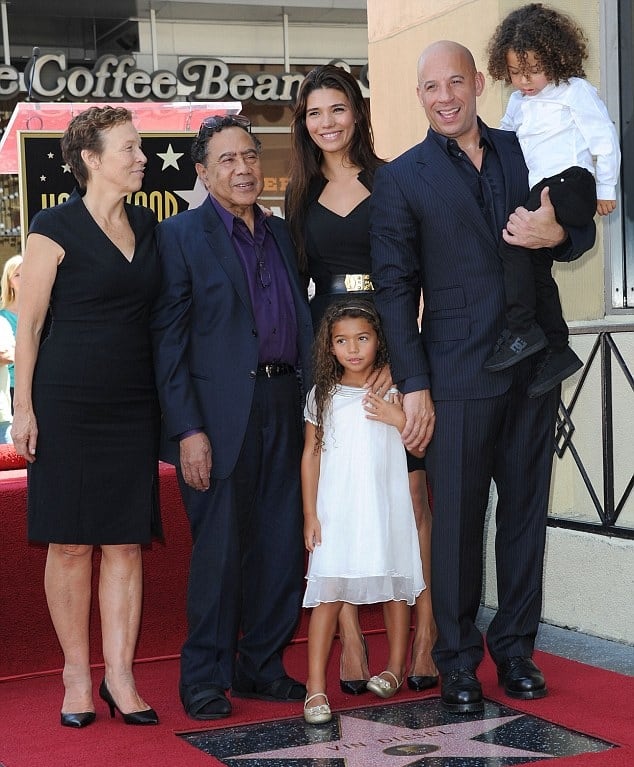 Vin Diesel siblings
Vin Diesel has a twin brother known as Paul, and by virtue of the remarrying of his mother, he also got a half brother and a half-sister who are Tim and Samantha Vincent respectively. An astonishing thing about Vin Diesel and his twin brother Paul Sinclair (Vincent) is that, at first sight, the two of them do not look alike. More so, they seem to be brothers with different behaviours. Despite this, the two brothers are very close.
READ ALSO: Who is Dwayne Johnson's wife Lauren Hashian? Her age, height, songs, movies, net worth, and pics
Vin Diesel girlfriend
Vin Diesel began dating Paloma Jimenez back in 2007. She is a renowned Mexican model who is also known for her collaboration with some top multinational companies such as Coca-Coca, Honda and Pantene. Paloma is known for her work with some prominent modelling agencies like those of ID Model Management and Look Models of Mexico.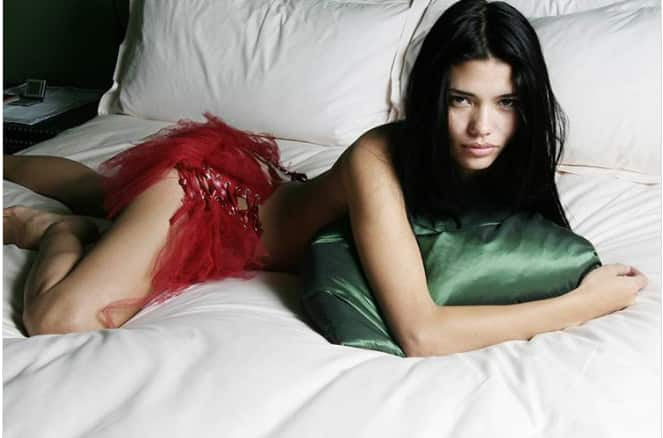 Paloma Jiménez was born on August 22nd, 1983, in Acapulco, Guerrero, Mexico with the full birth name known as Karla Paloma Jiménez Denagustin. However, on her marital affair, some sources claim that Ms.Jimenez is married to Brianna Ammons. Based on the year of birth of Paloma and that of Vin Diesel, it is clear that there is a 16 year age difference between the two.
Vin Diesel kids
The marriage union of Vin Diesel and Paloma Jiménez is blessed with three children. Paloma Jiménez gave birth to her first child Hania Riley (born April 2nd, 2008) who is a girl and the second child, boy, named Vincent Sinclair was born in 2010. Then, Pauline was born on March 16th, 2015. It is worth noting that Pauline was given the name to honour the late Paul Walker, a close family friend and co-star of Vin Diesel in 'Fast and Furious' who died in a tragic accident in November 2013.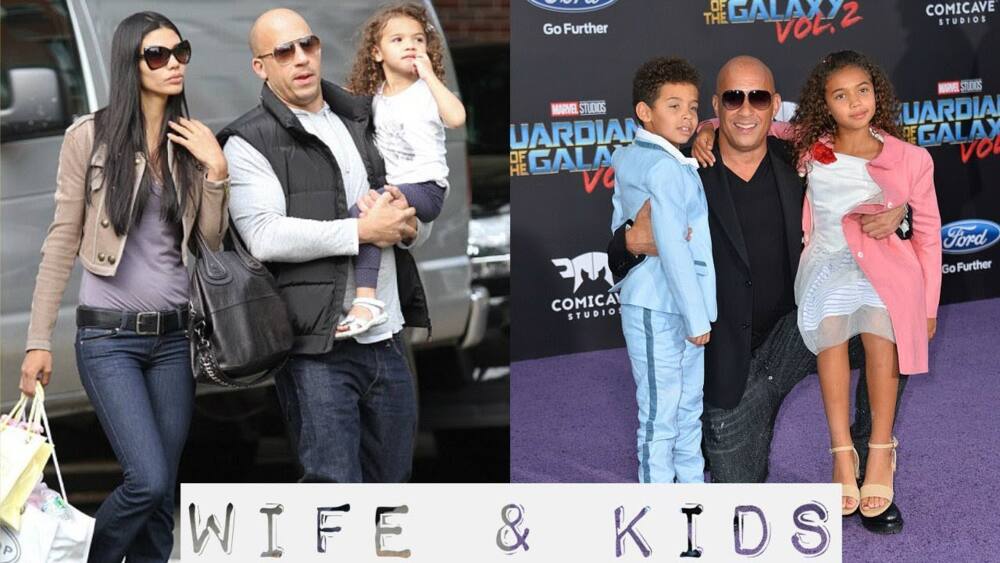 Vin Diesel biography
Mark Sinclai, who is better known as Vin Diesel, was born on 18 July 1967 in Alameda County, California with his twin brother Paul. He was raised by his stepfather Irving Vincent who was a theatre Manager and an acting teacher. Vin Diesel got exposed to theatre performances and premieres of films, and this ended up making a significant impact on the boy and largely determined his future interests.
Today, Mark Sinclai is known for his character as Dominic Toretto in 'The Fast and the Furious' movie series. He has also featured in a number of other movies like 'The Pacifier' (2005), "Find Me Guilty" (2006), "Iron Giant" (2006), and "Guardians of the Galaxy" (2014) among others. He has also won several other awards like "Teen Choice Award", "People's Choice Awards", and "CinemaCon Award".
In conclusion, there is no doubt that family is essential and remains an integral part of anyone's life. Having looked into Vin Diesel family story, it is not wrong to conclude that the support of his family partly orchestrated the rise to stardom of this great actor. This is one of the reasons why it is always good to have the needed support from one's family as this can help so much to spur the rate of success that one would record eventually.
READ ALSO:
Cheryl Zondi: The story of an ordinary person who became an exceptional woman
Italian legend Pirlo names Juventus, 4 others favourites to win Champions League title
List of hottest South African actresses with pictures
Source: Briefly News