FNB reverse payment - How can you reverse an EFT payment FNB with ease?
It is better not to make a mistake while carrying out a bank transaction than making one and then looking for how to rectify it. But since errors are sometimes inevitable, understanding how to correct it when it happens is essential. Therefore, in case you have made an EFT transaction, and you suddenly discover an error, this article takes you through how to go about your FNB reverse payment. You will also learn the process you need to follow to get proof of transaction, among other things.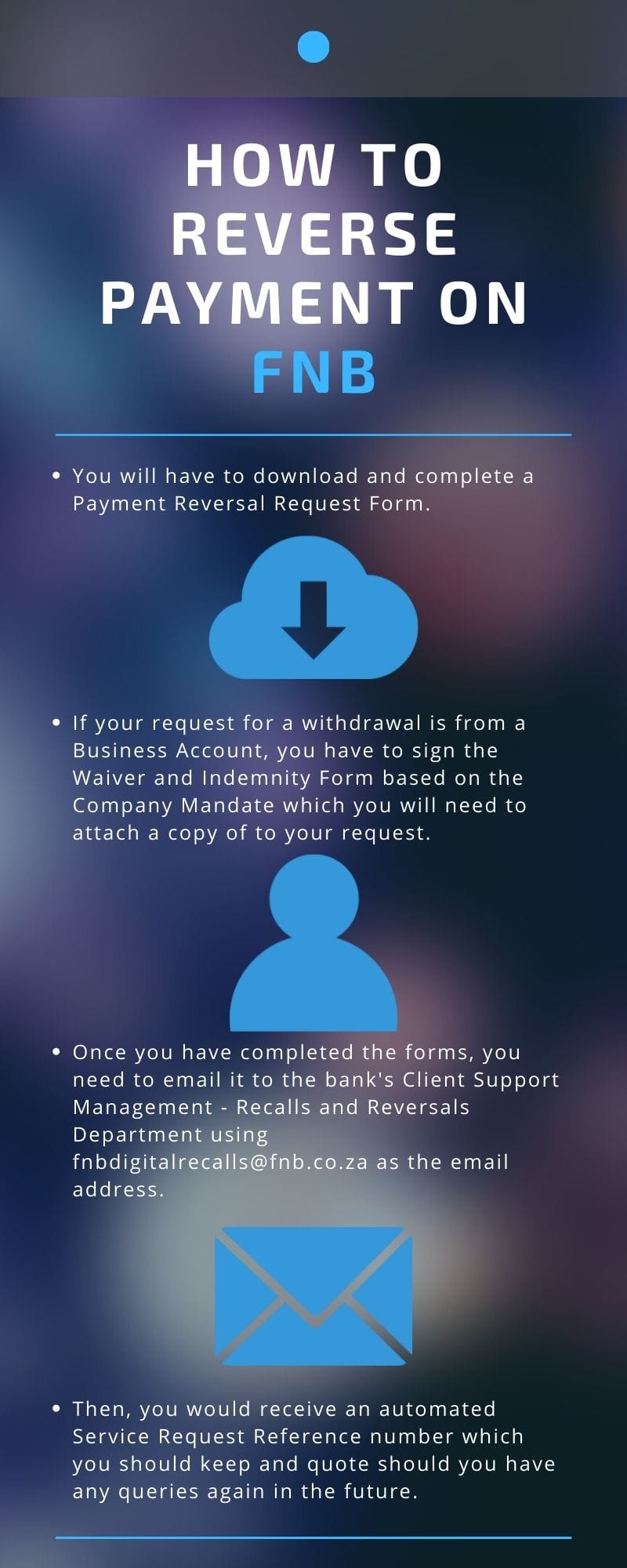 What is a bank reversal payment? This has to do with a return of the funds of an account holder usually as a result of a wrong transaction, change of mind, transfer of the wrong amount of money, and so on. As an FNB account holder, if for any reason you initiate an improper transfer, the steps to take to reverse payment FNB are explained in the following paragraphs.
FNB payment reversal
Applying for revocation of an electronic funds transfer (EFT) transaction to a wrong recipient with FNB is possible under certain conditions. For instance, you can only attempt a reversal if the transaction was made within 30 days and while this reversal is not automatic, the process can only be executed with authorisation from the recipient that got paid incorrectly. Then, you should bear in mind that there is a reversal request fee of R298 per transaction which you have to pay, and you will be charged even if the reversal is not successful eventually.
READ ALSO: FNB PayPal withdrawal service: How to withdraw money securely in South Africa
However, FNB reverse payment will not be possible under certain conditions. If, while processing your transaction, you chose the "Pay & Clear Now" service type or the transaction is for "Scheduled Payments", automatically, the bank is helpless in this condition. Also, any transaction that you make that are up to R5 million or more can only be processed through SWIFT. By implication, any transaction withdrawal process that you follow will not work; the only thing that you can do is to send an email to s&spayments@fnb.co.za or s&smessaging@fnb.co.za.
Also, any transactions that you make to companies like South African Revenue Services and public recipients (Edgars, Telkom and SARS, for instance) cannot be reversed. More so, if you wrongly pay into accounts used for Vehicle Finance, loan, Credit Cards, suspense, municipal, Estate Late, recovery, and other related ones cannot be reversed.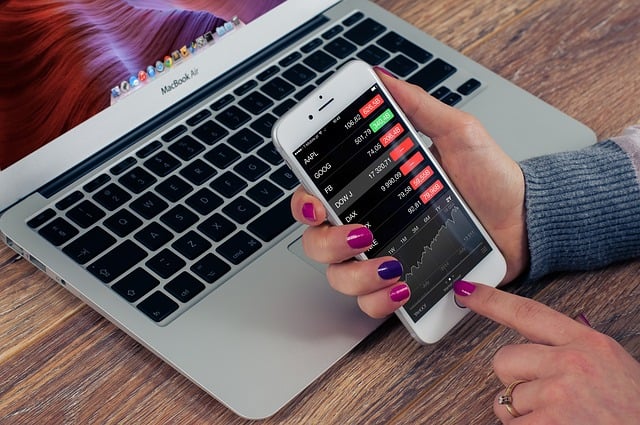 How to reverse payment on FNB
Questions like "Can you reverse an EFT payment ABSA?" "How do I reverse a payment with FNB?" have often been of concern to some internet banking users. But this is the purpose of this article, in case you have wrongly submitted a transaction on an FNB account, the first thing you should find out is if the transaction is in line with the conditions for withdrawal mentioned above. Once you are sure that you have a basis for applying for the withdrawal, then, the following steps must be followed on how to reverse payment on FNB:
You will have to download and complete a Payment Reversal Request Form.
If your request for a withdrawal is from a Business Account, you have to sign the Waiver and Indemnity Form based on the Company Mandate which you will need to attach a copy of to your request.
Once you have completed the forms, you need to email it to the bank's Client Support Management - Recalls and Reversals Department using fnbdigitalrecalls@fnb.co.za as the email address.
Then, you would receive an automated Service Request Reference number which you should keep and quote should you have any queries again in the future.
Bear in mind that before an FNB reversal can be made, as said earlier, the first thing that the bank does is to obtain authority from the holder of the account in which the transaction was wrongly made into before they can process the withdrawal. If the account holder does not authorise the revocation, it means that the withdrawal process will be discontinued.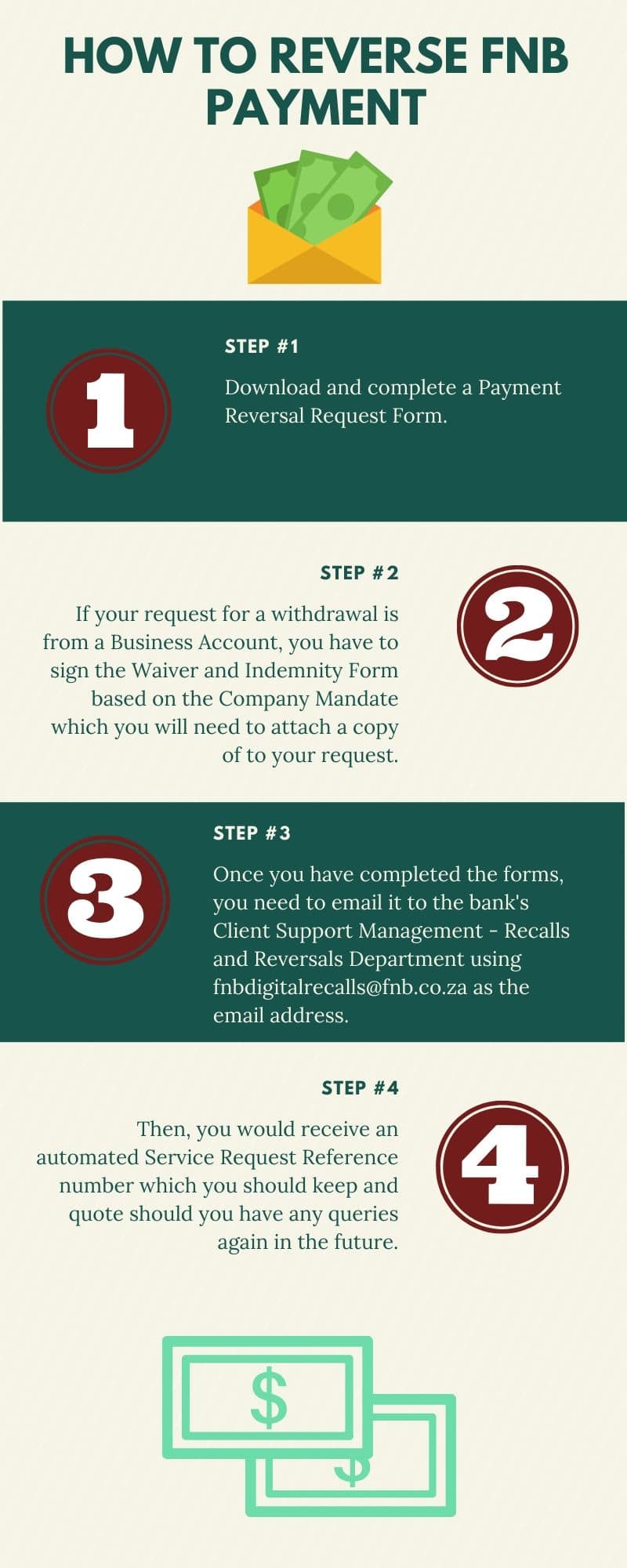 READ ALSO: What you need to know before taking student loans in South Africa
However, if an authorisation is obtained, the next thing that the bank does is to confirm if the account is still funded. If there is money in the account, it would be electronically returned into your account or whichever one you nominate. Then, an email will be sent to you confirming the successful withdrawal.
How long does it take to reverse money at FNB? If it is a major bank, usually, the whole process should be completed, all things being equal, within five working days after the bank receives the initial instruction. But if the recipient's bank is a smaller one, you should expect feedback within ten working days.
How to get proof of payment FNB
In case you have effected a transaction and you need to generate a proof of payment, the following are simple steps that you can take to get that done:
Visit the official website of FNB and then sign in using your online banking registration details.
Once you are on your dashboard, you will see the Payments Tab at the top of your computer screen, then, click it.
After you have been redirected, you will also see "Payments History" button on the left side of your computer screen; click on it, and it will open your payment history.
At this point, try and locate the transaction information that you are looking for and then, click on the recipient name to see the proof of payment.
After it has opened up, click on the download button which is located at the bottom of your PC screen. Then, save the file to your computer.
From all that has been said so far, we have established the fact that in case you have wrongly transferred fund to an account holder, you can get back the money through the FNB reverse payment service. But while this is not automatic, the consent of the holder whose account you have wrongly transferred into must be sought. If he or she approves it, then, your money would be refunded electronically, but if he or she disapproves, that means the bank cannot help you any longer.
READ ALSO:
How to reverse eWallet payment in 2019?
FNB cellphone banking: how to transfer money and register
Latest universal bank codes 2019
Source: Briefly News