The best Jan Braai seafood potjie recipe
South African sumptuous seafood dishes are a rare traditional serving favorite for delicious tastes. Seafood potjie never disappoints whenever you are hungry. Whether you are planning to host a party or invite some friends over for dinner, Seafood potjie recipe is a must-know for the preparation of a delicacy that your guests will love.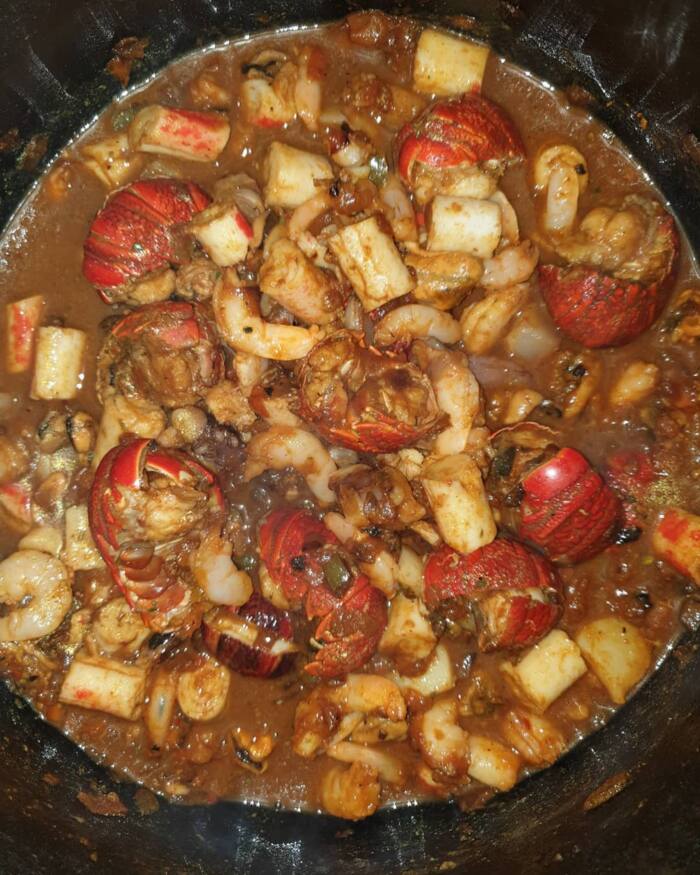 If you are a township resident into cooking, then, you are already aware that seafood makes the best potjie recipes. For this reason, learning how to make a potjie in South Africa is not an option that any recipe explorative-chef can turn down. Besides our selection of seafood potjie (mussels, white fish, and prawns), biltong potjie recipe is another favorite variation of the delicacy. These two mouthwatering servings have a lot in common except that biltong potjie resep takes in some bacon, mushroom, beef, and some sliced biltong. For any of the above braai pot rocking recipes, you can use checkers potjie pots or your favourite cooking pot.
Simple Jan Braai seafood potjie recipe
How do you make the best seafood potjie? South Africa is home to potjiekos recipe lovers, and almost every household has someone who knows how to make potjiekos. There are endless potjie recipes out there, but our choice is a prevalent treat on South African tables. Here is a simple cooker's guide on potjiekos recipes for mussels, white fish, and prawns as seafood.
Potjie ingredients
75 ml of olive oil
4 bay leaves
1½ large sliced onions
2 chopped red chillis
8 sliced cloves garlic
2 heaped teaspoon sugar
2 (125g) sun-dried tomatoes
2 teaspoon chili flakes
1 teaspoon fish sauce
1 cup of water
4 Teaspoons of finely chopped Italian parsley
750g of prepared calamari tubes
2 kg of fresh mussels
500g of cubed kingklip or alternative firm white fish
500g fresh or frozen prawns, shelled, and cleaned
Salt to taste
4 (410g) peeled tomatoes, chopped and blended
Lemon wedges for serving
Potjie preparation method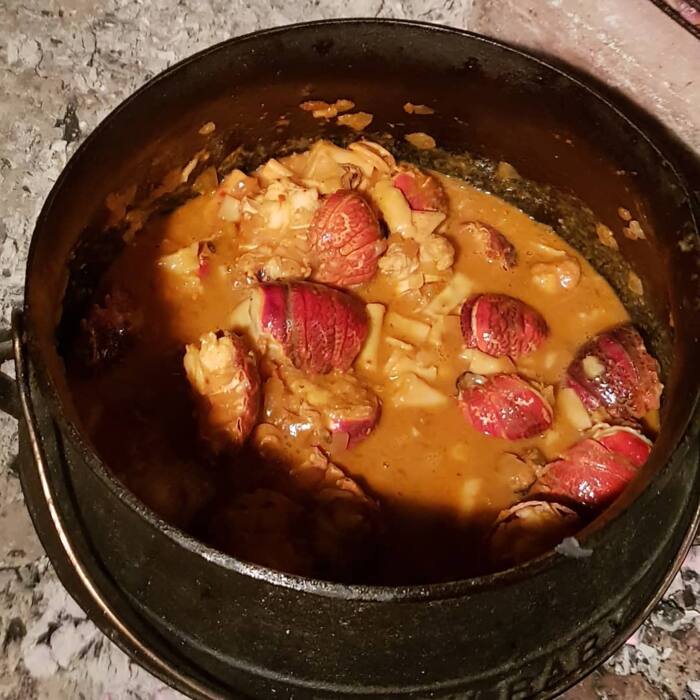 Step 1: Start with tomato base preparation
Place the potjie on a large cast-iron pot or potjie stand and heat it on a medium heat.
Add the cooking oil and onions.
Fry and then stir for a few minutes.
Add chopped chillis and bay leaves.
Add sundried and pureed canned tomato once the onions soften.
Cook as you stir gently for a few minutes for the sauce to thicken before adding chili flakes, salt, fish sauce, and water.
Lower the heating and cook for a few minutes and then add the parsley.
Leave the sauce to cool for proper thickening and store it in a cool place.
Step 2: Continue with seafood preparation
Place the potjie on the braai, taste, and re-season if necessary.
Add kingklip and prawns to the sauce, allowing it to cook about 20 minutes on medium-low heat without stirring for the fish and prawns to cook enough.
Now, add the mussels and let them cook for about 5 minutes.
Meanwhile, use a kitchen paper towel to dry calamari. Use a non-stick pan to fry brown with olive oil on high heat, and then add to the potjie
Gently mix the seafood in the sauce as you season.
Serve the delicacy with slices of crusty bread, white rice, more parsley, and lemon wedges.
READ ALSO: The best fish pilchard recipes South Africa
The above is our simple spicy potjie seafood recipe, but you can try seekos potjie and biltong potjie recipes as well. Here are some images of seekos and Jan Braai biltong potjie meals.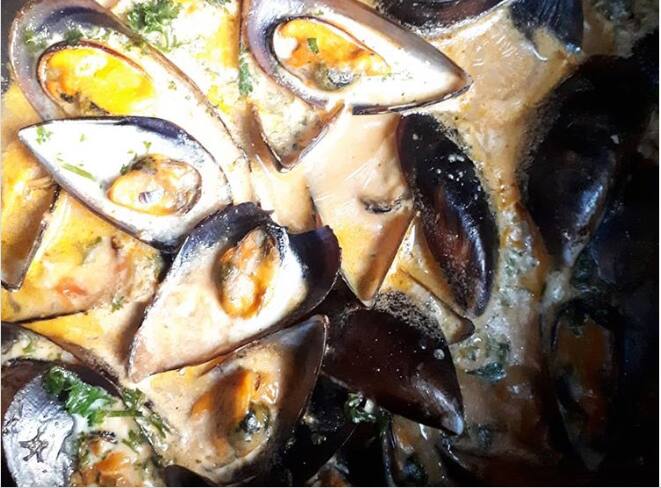 READ ALSO: 10 easy mince recipes South Africa
READ ALSO: 30 easy and tasty dinner ideas South Africa
What will you be doing on National Braai Day? The above is among the Jan Braai potjie recipes that you should prepare on that day. Try some seafood potjie in your kitchen, and you will have yourself wanting for some more late on. Explorative cooking is all you need to cheer up your family, guests, and friends regardless of the occasion.
READ ALSO:
Simple pancake recipe and guide for the perfect bake
Banting food list: A guide to the right food to eat while on a banting diet
Zulu traditional food with pictures
The tastiest milk tart recipe ever!
The tastiest beef stew recipes here!
Source: Briefly.co.za