Thembi Seete biography: age, baby, husband, boyfriend, wedding, weight loss, movies, songs, house, cars, and Instagram
Every time you think of a go-getter, what comes to your mind? Thembi Seete is the perfect definition of someone who would do all that it takes to get to where she wants to be. The latter has proven to be a risk-taker, especially since she has taken all the available chances to become the household name that she is. She also devoted the same energy towards getting the body that she has always dreamt of. You might want to know about her and her journey towards getting her life in order.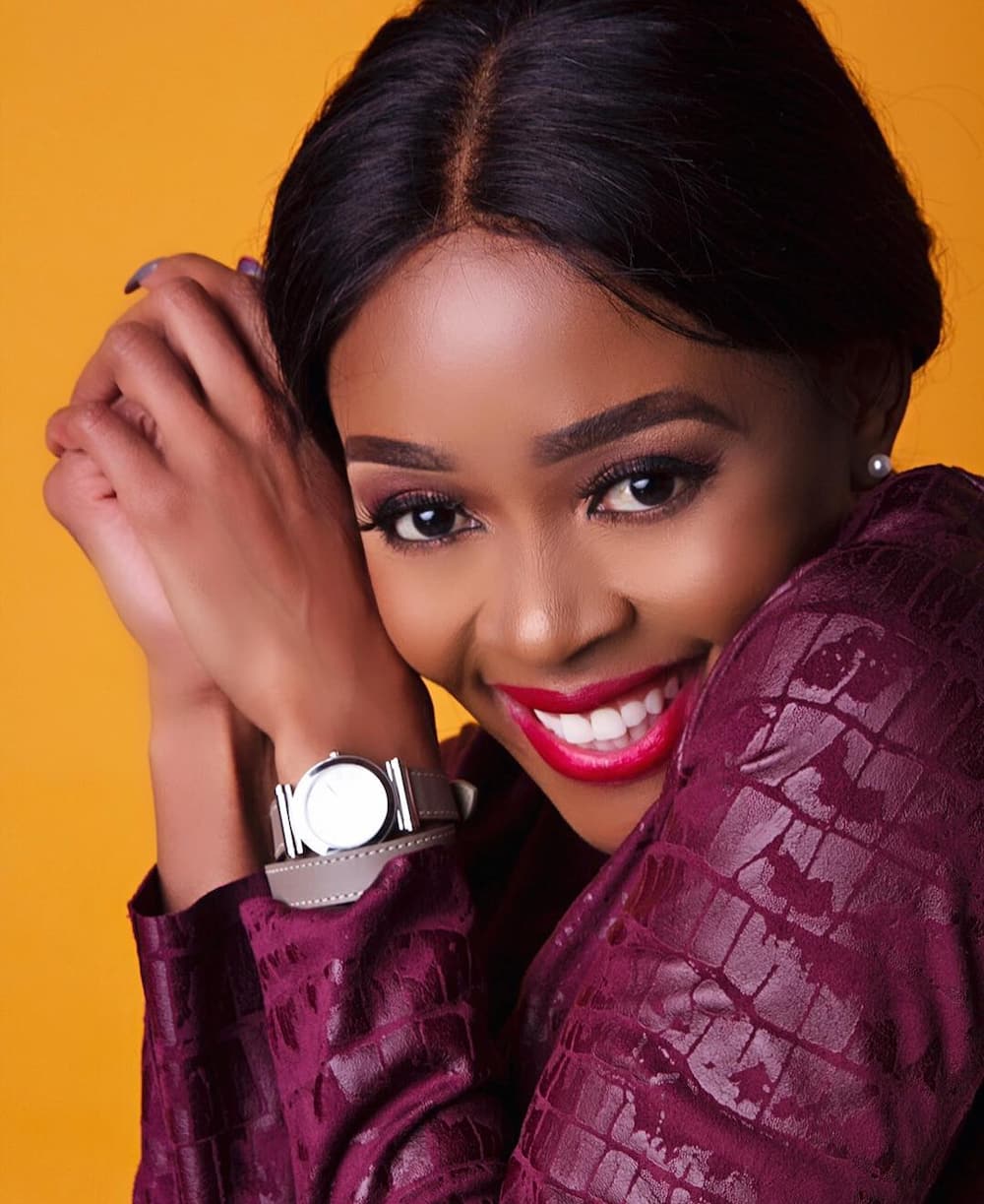 Thembi Seete is a presenter, an actor, and a singer. She has an admirable career history. She started as a musician who used to sing in a group that later on split, making her venture into being a solo artist. She grew her solo music career before trying out acting, and then she ventured into media and grew her brand as a presenter on radio. She would also host shows on TV. Her life is an inspiration to most people. You might want to get insight into how she made it to where she is currently.
Thembi Seete biography
How old is Thembi Seete?
The latter is an icon that most people look up to. Her beauty is way out of the world. She has the body of a goddess that leaves men drooling. Besides the good looks, she has an admirable career background that might leave you wondering how she has managed to have it all figured out. All these details might leave you asking what is Thembi Seete age is? The gorgeous lady was born on the 25th March 1977 in Soweto, Gauteng province. As of date, she is forty-one years old, even though she does not look anywhere close to it.
READ ALSO: Pearl Thusi shares cute snap of Thando on set with her #workingmom
Thembi Seete husband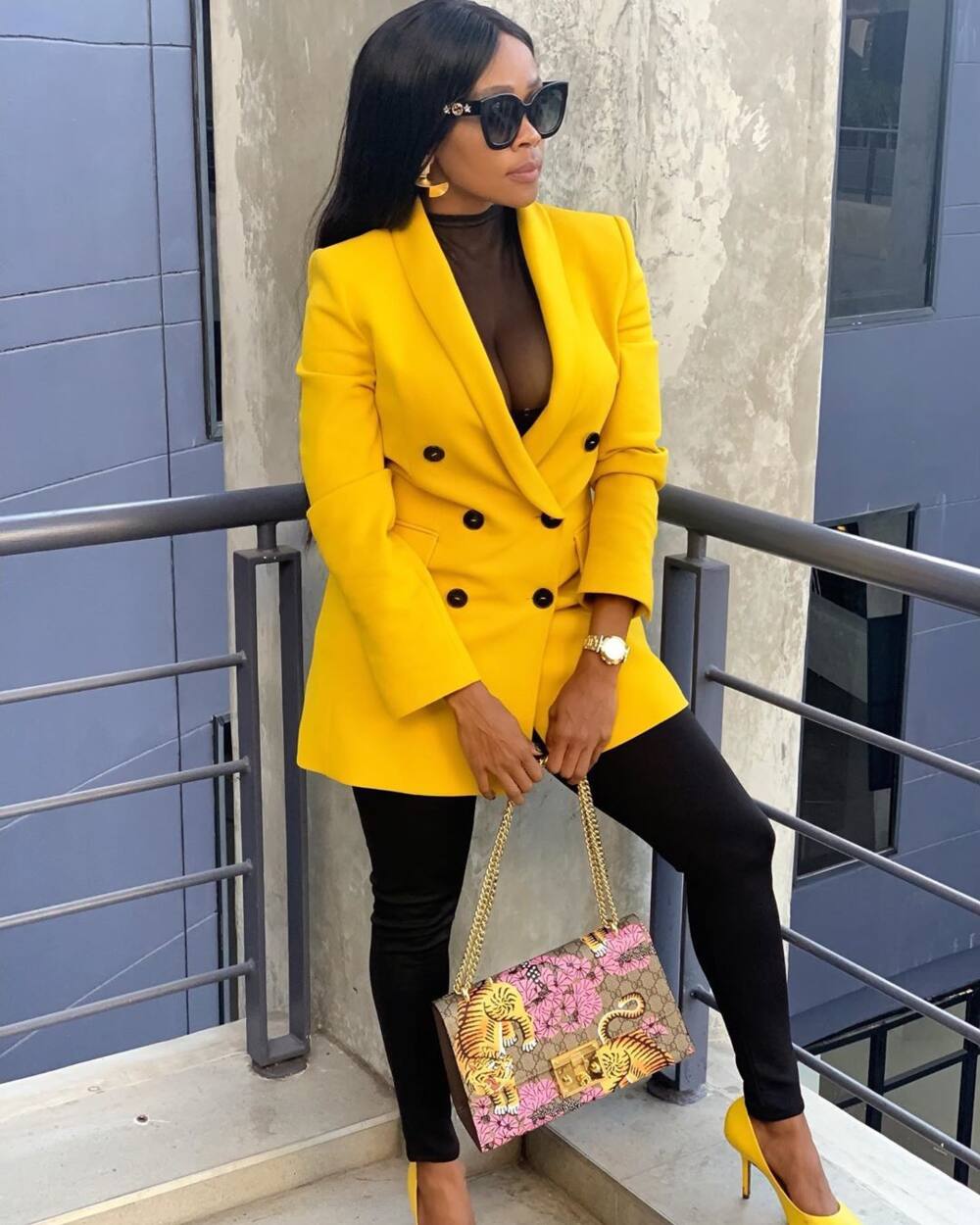 Thembi Seete is one of the celebrities who caught the country by surprise after news of her break up with her fiance surfaced. The name of Thembi husband-to-be then is Bobo "Bo" Seritsane. The two were had been dating for over ten years, and Bobo proposed to her in 2012. When asked why she and Bobo did not get married months after he had proposed to her, she says that she had delayed the marriage in her interest.
During an interview with True Love magazine, she stated;
"I delayed setting a wedding date because I've realised that marriage isn't about the wedding ceremony or a ring on my finger, it's about the connection you build with your partner,"
"It was obviously awkward at first to have the conversation with Bo… that I didn't want to get married too soon after getting engaged."
About four years later, the latter posted about being single. This is a statement that caught most people by surprise, especially since they had been through the test of times and proven to be inseparable. Most of her fans felt let down, especially after they had been kept at bay and were anticipating for Thembi Seete wedding pictures.
Thembi Seete boyfriend
The break up came after she had hinted that there was trouble in paradise. She confirmed the break up during one of her shows on Massiv Metro by stating;
"A few months ago, I met someone. I have been dating and going on dates, but I think there is something brewing, something amazing, that is going to come up with this one person,"
It is speculated that the guy that she is referring to is Collen Mashawana, who is an established businessman. The two were rumoured to be in a relationship for the longest time, until recently, when a picture that proves the claims became online. In a post by Jabulani "Cashflow" Ngcbobo, who is also a businessman and a Forex trader, Thembi appeared to be cosily, embraced by Collen. This is the one shred of evidence that has made most people believe that Collen is the father of Thembi Seete baby. Collen has not made any remarks whether he is Thembi Seete baby daddy.
Collen had initially married Lerato "Zah" Moloi; a TV presenter, before they called it quits.
Thembi Seete child
When it comes to motherhood, Thembi was more than prepared for the new role that awaited her. She could not hide how much she was anticipating her baby's birth. During an interview with Drum Magazine, she was asked to comment about Thembi Seete pregnant and how prepared she was. Her response was;
"In my culture we don't share information about the baby until it is born. The time will come when I am ready to share, but for now, let's just say 2018 is going to be an eventful year for me."
"It's always been my dream to have a baby because I think I am ready for it. I'm calmer and every opportunity that's happening right now in my life is because I'm so peaceful. I'm so ready for it."
In April 2018, Thembi gave birth to her baby. It took her a while to post that she had delivered her bundle of joy. She, later on, made a beautiful post dedicated to her son on mothers' day. She, however did not reveal the sex of her baby in the post.
On 15th April 2019, she threw her son; Dakalo, a beautiful and lavish birthday party. The warm colour of the decorations during the birthday party spoke a language of love. You could tell how much the baby is treasured. The birthday message that she wrote her son was so overwhelming, and it goes without question that she loves her baby. Here is the message:
"I can't believe it's been a year already. Oh, time flies. God is truly amazing. Happy first birthday to my joy, my perfect, beautiful gift of life, Dakalo. Mommy and daddy love you very much my punchu punchu,"
Thembi is so overprotective of her baby. She does not share Thembi Seete baby pictures on her social media pages, not even on Thembi Seete Instagram where she is active.
Thembi Seete career
Going through her journey in her career, one thing is evident; Thembi trusted her gut. Her journey was uncertain, but the latter took all the risks that came her way to get to where she is. She currently is a celebrated icon that most people emulate.
Music career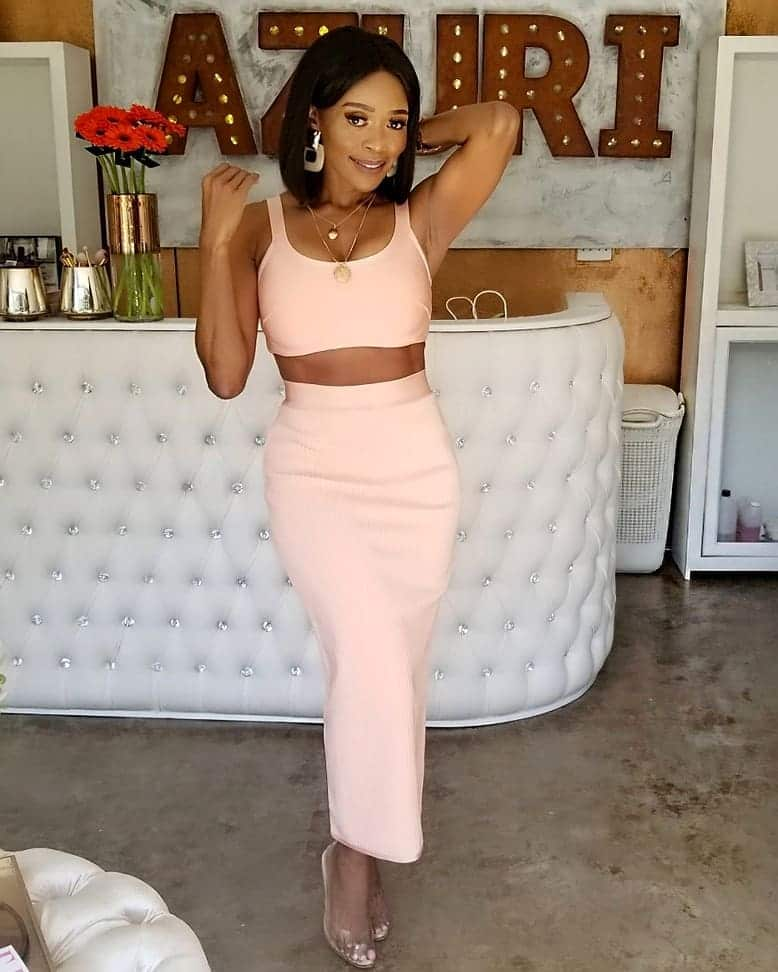 If you are a 90's baby, you must have heard of Boom Shaka. The group is a Kwaito supergroup that grew and became famous between 1994 and 2000. If you have been keen enough, you must have noted that Thembi was part of the group. The multi-talented artist established her musical career during this period. Even after the group split, the latter went forward to grow her career as a solo artist. Thembi Seete songs were not a disappointment at all. They sold so well and earned her fame as a solo artist.
Acting career
After the Boom Shaka group split in 2000, Thembi chose to try out her acting skills besides her solo music career. In 2000, she landed a minor role in Hijack Stories; a film that was released later that year. She, later on, landed a role in Yizo Yizo, a hard-hitting drama series that used to be aired on SABC1. While in the show, the latter made the most out of the golden opportunities that came her way. She had the chance to sing the soundtrack for Yizo Yizo 2. The title of the song is Sure Ntombazana, and it made her grow her fame.
Between 2000 and 2004, she landed a role at Gaz'lam, which is a drama series at SABC1. In this series, she played the role of Lerato. She featured in the first and second season of the series. She also had a role as a guest appearance in the season premiere of the show that was entitled; "Ghosts of the Past." This final episode went up on 18th February 2005. Later that year, she landed a role in 'Crossing the Line', which is an African movie that was made for TV. Here, she pulled the role of Pumla.
In January 2006, Thembi took part in Mtunzini.com, which is an SABC1 drama series. She appeared in the third episode of the series, playing the role of Lily. Later that year, she had the chance to play the leading role in SABC1's Zone 14; a soccer drama series. Here, she played the role of Nina Moloi for the four seasons of the show.
In 2015, she landed opportunities in Rhythm City; a soap opera on e.tv. Here, she played the role of Bongi.
Thembi as a presenter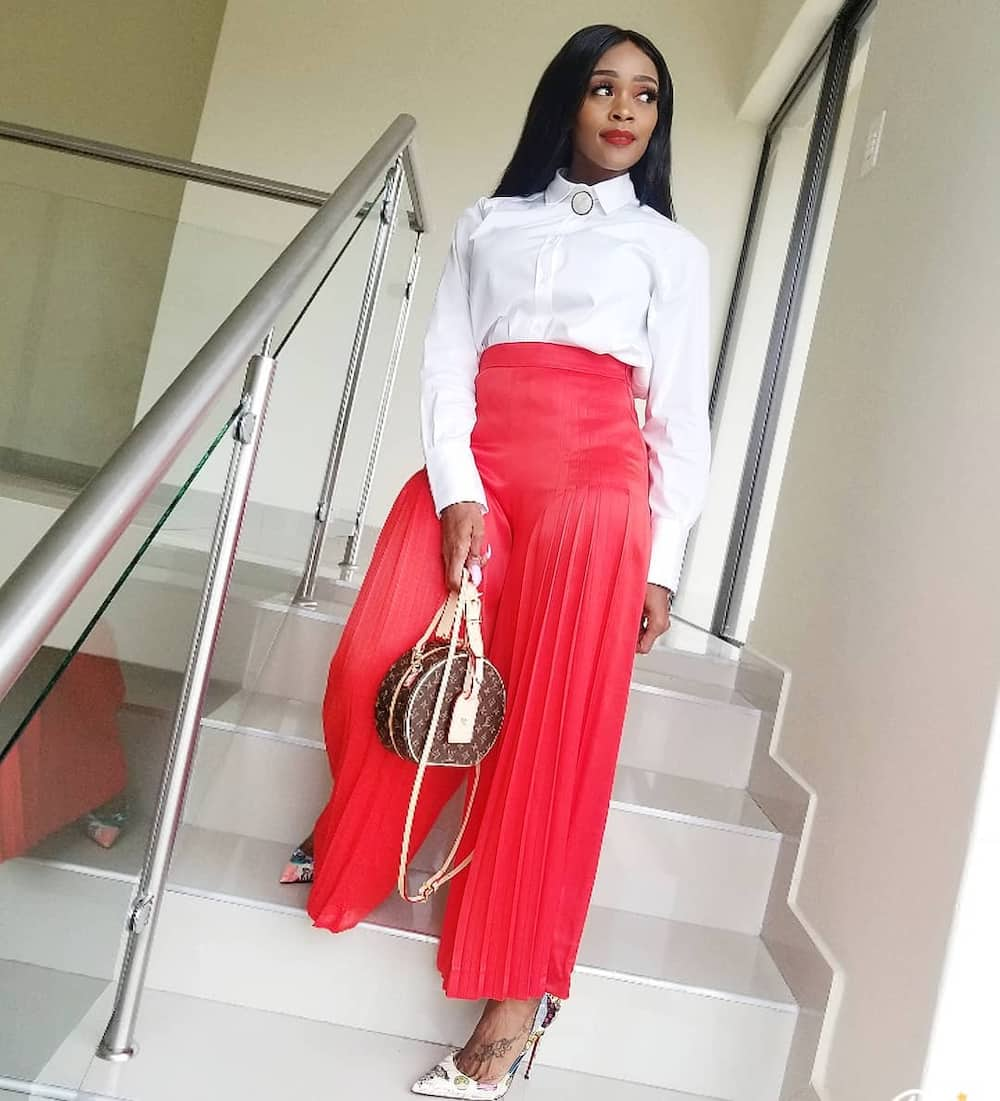 What started as baby steps grew to become a significant thing. Thembi grew to venture into presenting in 2006. The first show that she landed was Jika Majika, which was a dance show on SABC1. She took the show through the first ten seasons that went on until 2012. She then had the opportunity to be among the choirmasters that would take contestants through; Clash of the Choirs South Africa, which is a reality competition on Mzansi Magic. She coached the choirs that were from Free State.
The following year, she had a better opportunity to host "Nguwe Na?", which is a game show that would be aired on Mzansi Magic or Mzansi Wethu. Her excellent performance as a host had her host the show in 2014 as well.
On 17th November 2013, Thembi was a presenter for the first time at the 6th annual Crown Gospel Music Awards, which was aired on SABC2. This was the highlight of her career in the media industry. By then, she had already become a household name.
Besides her flourishing career, she is also the co-founder of Azuri beauty bar, a cosmetic company
Thembi Seete is an icon who beats all the odds to get to where she is. She has taken risks ever since she was a young girl. It all started with working towards her weight loss journey to attain the body that she has always dreamt of. Then, she also took risks in her career to get to where she is.
READ ALSO:
10 Buhle Samuels most stunning photos
Nhlanhla Nciza biography: age, wedding, husband, divorce, daughter's death, songs, outfits, and Instagram
Who is Black Coffee's wife?
Source: Briefly News