King Zwelithini is the current king of the SouthAfrica's Zulu nation. He is a king under the Traditional Leadership clause, which has the authority of the republican constitution of South Africa. Officially, Zwelithini has been king since his coronation on the 3rd December 1971, taking over from Cyprian Bhekuzulu kaSolomon, his father.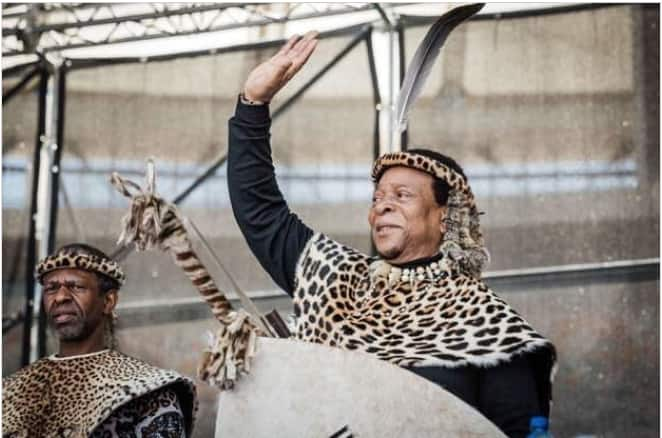 Is King Zwelithini related to Shaka Zulu? The simple answer is yes. His lineage can actually be traced to the great King Shaka himself. Did you also know that Zwelithini was handed the keys to the kingdom at the age of just 21? Find out these details and more including how old is King Goodwill Zwelithini in the sections below.
READ ALSO: Hlengiwe Mhlaba biography: age, husband, accident, songs, albums, record labels and nominations
King Zwelithini profile summary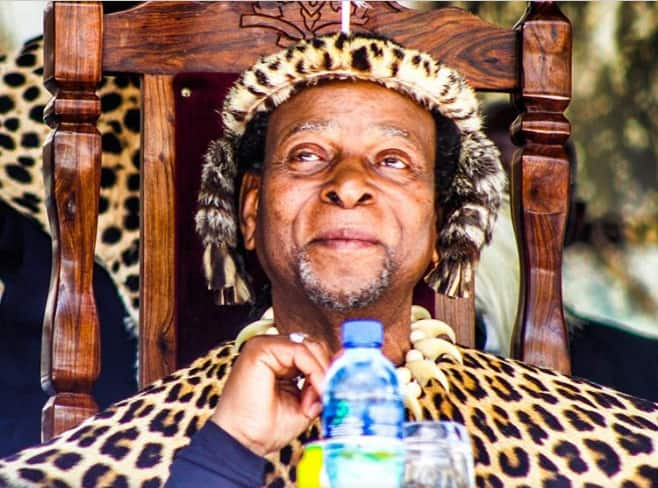 Full name: Goodwill Zwelithini kaBhekuzulu
Date of birth: July 14th, 1948
Place of birth: Nongoma, Union of South Africa
King Zwelithini age: 71 years old as of 2019
Nationality: South African
King Zwelithini Facebook: @King Goodwill Zwelithini
Relationship status: Married
King Goodwill Zwelithini salary: Over R1 million every year (around R83,000 per month)
Occupation: The Zulu King of South Africa
Famous for: His kingship role
King Zwelithini biography
Who is the father of King Goodwill Zwelithini? Goodwill is the son of King Cyprian Bhekuzulu kaSolomon and Queen Thomozile Jezangani kaNdwandwe. His grandfather was King Phumuzuzulu kaDinuzulu who lived between 1890 and 1933, and ruled from 1913 to his death.
Goodwill Zwelithini kaBhekuzulu became the king in 1971 after the death of his father in 1968. He did not become the king immediately because he was in St. Helena taking refuge to avoid being assassinated, so from 1968 to 1971, Prince Israel Mcwayizeni kaSolomon was the regent. Eventually, Zwelithini became the eighth Zulu monarch in a ceremony held at Nongoma, which was graced by around 20,000 people.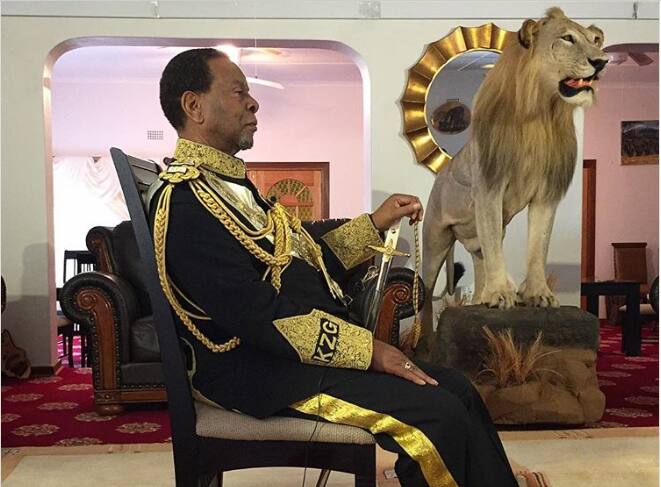 Goodwill Zwelithini Kabhekuzulu spouse
How many wives does King Zwelithini have? As things stand, His Majesty has six wives namely Mantfombi Dlamini (great wife) Sibongile Winifred Dlamini, Buthle MaMathe, Thandekile Jane Ndlovu, Nompumelelo Mchiza, and Zola Zelusiwe Mafu. In total, the king has 28 children meaning that the House of Zulu is guaranteed of continuity.
The eldest child is Prince Lethukuthula Zulu who is the child of the first wife, Sibongile Winifred Dlamini. Prince Misuzulu Zulu was born of the great wife, Mantfombi Dlamini, on 23rd September 1974, and is currently a strong contender for the throne. Misuzulu is not married, has one son, and is currently studying International Studies (degree) in Florida.
Xenophobia controversy
In 2015, during a Pongolo community meeting, King Zwelithini said that he was grateful for the help of other countries in liberating SA. However, he also said that it was not reason enough for foreigners to go to Mzansi to compete with the locals for the scarce opportunities. He went further to suggest that foreigners should go back to their countries.
His timing with those words was extremely poor as it was the time when there was tension between the locals and foreigners. There was xenophobic-related violence at that time in Soweto and Kwazulu Natal that saw the death of three people.
The spokesperson of the Democratic Alliance came out labelling the comment as highly irresponsible while an official from SAHRC termed it as xenophobic. In typical political fashion, the king's spokesperson saved his face by stating the king was talking about illegal immigrants.
Cars
Aside from the above xenophobia issue, King Zwelithini is known for his lavish lifestyle. For example, the royal family spent millions on 7 luxurious Mercedes-Benz E-Class sedans for his wives in 2015. They cost about R5 million. All his expenditure has been criticized before because his subjects live in abject poverty.
King Goodwill Zwelithini house
Based on how much he loves luxury, it is not a surprise that his kingship pampers himself filthy when it comes to houses. For example, in 2017, he was given three government houses in Ulundi worth R1.7-million for his guests. The rationale was that the king's guests should not live in hotels. He has seven palaces in Ulundi (one) and Nongoma (six).
Part of his controversy is that he keeps asking for more money because his expenditure is high. Consequently, he runs out before the end of the financial year. For example, in 2012, he asked KwaZulu-Natal administration for R18 million for new houses and upgrades.
King Goodwill Zwelithini latest news
For the first time, the king's annual imbizo included women this year. Impressive, right?
In other news, a few days ago in the wake of the xenophobic violence in South Africa, the king came out stating that he has a plan for ending the problem. Interestingly, he said that the very people who accused him in 2015 are the ones asking him to help stop the problem. The king's solution will start with the Zulu nation before spilling over to others.
READ ALSO: Steve Komphela biography: age, nationality, children, wife, education, teams coached, interview, memes, book, Instagram, and latest news
There is a lot about the Zulu King Goodwill Zwelithini, although the important bits have been covered for your benefit. With honorifics such as the King Zwelithini stadium, surely the king will live for long.
READ ALSO: