The South African national team has played in the Rugby World Cup games many times, the most recent appearance being in 2019. During these games, the national team won in a match against the English team. One of the players in this team is Damian Willemse, who works well with the rest of the team members. Here is all about him.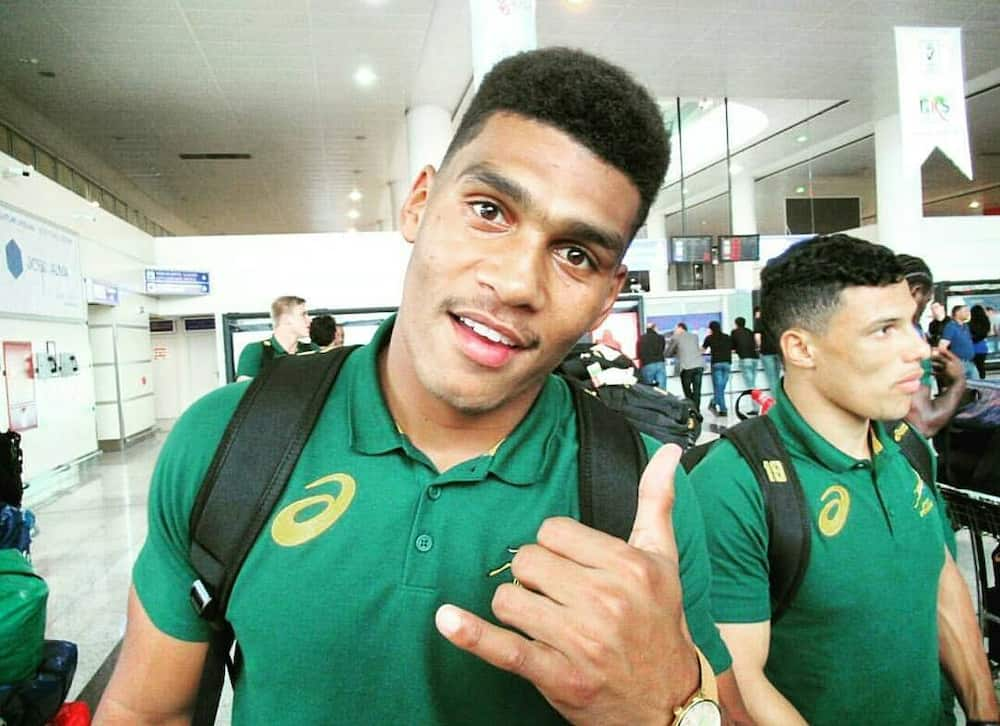 Who is Damian Willemse? He is a professional rugby star who has been playing in the South African national team. He plays for the country's rugby union and is also a Stormers player in the Super Rugby games. The young athlete is known for his agility and smooth moves on the field.
Profile summary
Name: Damian Willemse
Age: 21 years
Date of birth: 7th of May 1998
Star sign: Taurus
Brother: Ramone Samuels
Parents: Francois and Charlotte
Girlfriend: Mia du Toit
Profession: Rugby player
Alma mater: Somerset West Methodist School and Paul Roos Gymnasium
How old is the rugby player?
Willemse was born in Strand, South Africa, on the 7th of May 1998. The young athlete is 21 years old. He is a South African citizen by birth, and his Zodiac sign is Taurus. Damian showed interest in the game when he was still a young boy.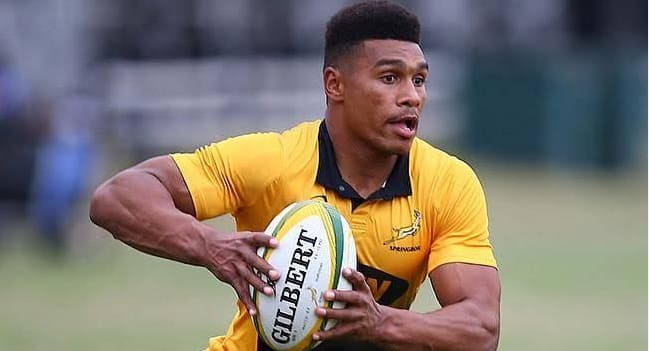 Damian Willemse rugby measurements
The star has a large body frame with a height of 6 feet, 0.5 inches, which is equivalent to 184 centimetres or 1.84 metres. He weighs about 90 kilogrammes, which is the equivalent of 200 lbs.
Education background
The young star went to Somerset West Methodist School for his primary education and later joined Paul Roos Gymnasium in Stellenbosch, which is a well-known school that nurtures talented children and young people.
Damian Willemse family
Who are Damian Willemse parents? The star comes from a very supportive family. His mother is Charlotte, while Damian Willemse father is Francois. When the star made his walk at the Kings Park Stadium for his first international match ever, his parents were present.
They both reported that they are proud and overly excited to watch their son play and added that watching him on the field was their unique birthday gift.
READ ALSO: Stephen Saad age, children, wife, parents, education, contact details, and net worth
Does Damian have a girlfriend?
Is this star dating anyone at the moment? Yes, he is in a happy relationship with Mia du Toit, who is an accounting student. She identifies herself as a feminist and a female rights champion, and she also enjoys travelling. Additionally, the young lady is a blogger at Girl Globe.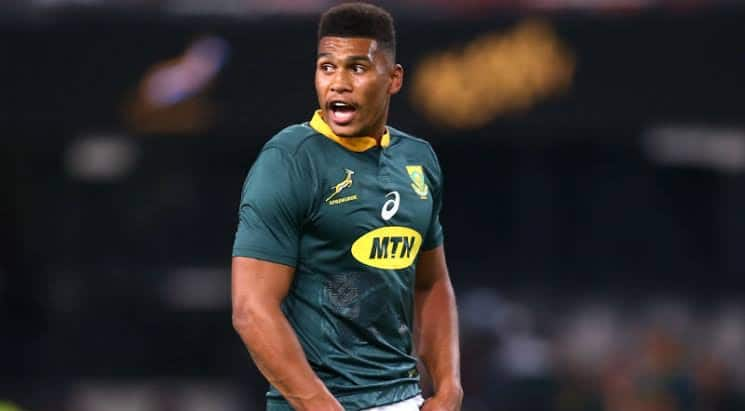 Career milestones
The rugby star has achieved several career milestones and has faced some challenges as well.
World Cup
2019 was a big year for the national rugby team in the country. The players performed very well and made it to the World Cup games, which was the first time for Damian to participate in the event. In 2018, he made his debut in international matches when he played in the 2018 Rugby Championship. The South African teammates played against Argentina in a game that was held at Kings Park Stadium.
This year, the team made it to the World Cup games, but Damian did not make it to the playing squad at first. He was later picked as the replacement of his teammate, Jessie Kriel, who sustained an injury. Although he was a replacement, his presence was crucial, and together, the teammates won against the English team.
READ ALSO: Moeletsi Mbeki age, children, wife, parents, siblings, education, books, articles and contact details
Damian is not the only athlete in the family. He is the younger brother of Ramone Samuels. Damian Willemse brother is also a professional rugby player who plays for the national rugby union and Stormers, just like his younger brother.
Damian Willemse injury
Since he was appointed a player in the national rugby union, this young star has been sharpening his skills. Coach Rassie Erasmus has been working closely with him so that he can make it to the World Cup squad in the coming years. In 2019, just before the World Cup games, the player suffered a knee injury.
The injury kept him away from the field during the 2019 Super Rugby campaigns. He had not fully recovered by the time the squad for the World Cup was named. Even so, he got to play after a fellow teammate sustained an injury and could not play during the World Cup games.
Current team
This rugby star is currently in the South African national rugby team and is also a teammate in the Stormers team that plays in the Super Rugby championships. Additionally, he is in the Western Province team, which plays in the Currie Cup championships.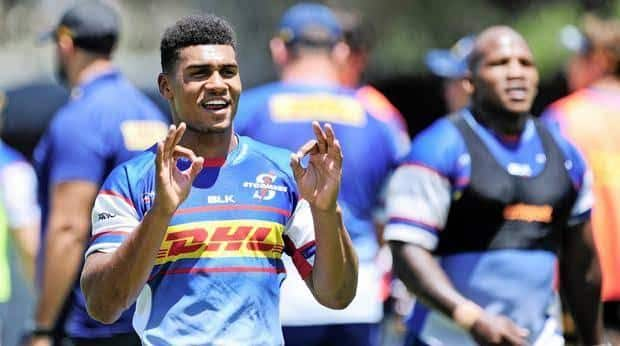 Position
This player typically assumes three positions depending on the arrangement by the coach. He thrives as a flanker or a hooker and can also play in position number eight.
READ ALSO: Jane Dutton age, children, husband, ENCA, show and Instagram
Stats
In all Damian Willemse Stormers games, the athlete continuously proves that he is an excellent player. He has contributed significantly to the outstanding performance of the teams in which he played. The athlete joined Stormers in 2017, and since then, he has made about 30 appearances and has scored 143 points.
He also joined the Western Province team in 2017 and has since made 19 appearances with 49 points so far. In 2018, he joined the South African national rugby team. He has made six appearances since then, and he has scored five points for the team.
Damian Willemse salary
The young star makes an income from his rugby career and has signed several deals so far with various stakeholders. However, he is yet to disclose the amount that he makes from playing rugby.
Damian Willemse Instagram
This rugby player does not seem to have an official Instagram account yet, and neither does he have a verified Twitter account.
In 2019, the national rugby team in South Africa made the country proud after beating the England team in a match. Damian Willemse was one of the players who played in this game. Initially, he was not selected as part of the World Cup squad, but he replaced Jessie Kriel, who sustained an injury. In recent years, the athlete has made crucial strides in his rugby career.
READ ALSO:
Lerato Mvelase age, children, husband, siblings, movies, pictures, song and Instagram
Acie Lumumba age, wife, father, education, party and Instagram
Andile Masuku age, children, loss of son, husband, wedding, pictures, SABC and Instagram